Robin Williams And Dustin Hoffman Played A Key Role In Casting Jurassic Park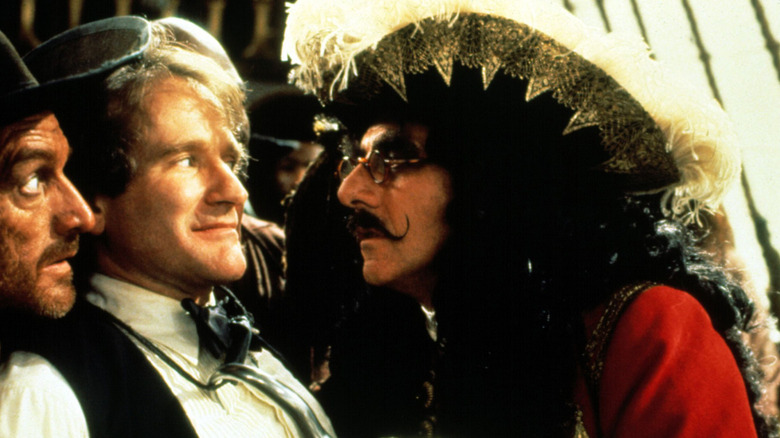 TriStar Pictures
When you write about the movie industry for a living, you quickly come to realize there's just as much drama going on behind the scenes as there is on screen. It's why I welcome the reminders that there are, in fact, those in Hollywood who are not only courteous in the way they treat their co-workers, but are more than willing to help them out for selfless reasons (the same way people in any other line of work do).
Take, for example, Robin Williams, who starred in Steven Spielberg's "Peter Pan" sequel (or reimagining, call it what you like) "Hook" in 1991. He later reached out to the filmmaker during production on "Schindler's List," knowing Spielberg could use a mental break from the strain of having to revisit the real-world horrors of the Holocaust on a daily basis. "Robin knew what I was going through and, once a week, Robin would call me on schedule, and he would do 15 minutes of stand-up on the phone," said Spielberg, speaking at the Tribeca Film Festival's screening of "Schindler's List" in honor of the film's 25th anniversary in 2018. "I would laugh hysterically because I had to release so much."
Even when he was on the job, Williams was known for doing his best to make people laugh, especially if it seemed like they needed to. Other times, he would do it just to make an otherwise tedious part of the filmmaking process go by a little easier for those around him. In fact, he did exactly that when he and Dustin Hoffman (who starred opposite Williams as the titular pirate in Spielberg's "Peter Pan" movie) participated in a screen test for "Hook," hoping to cast a key role in the film. Amusingly, however, they ended up casting a key role in another Spielberg movie entirely.
'Don't worry Joey, I'm gonna get you in a movie this summer'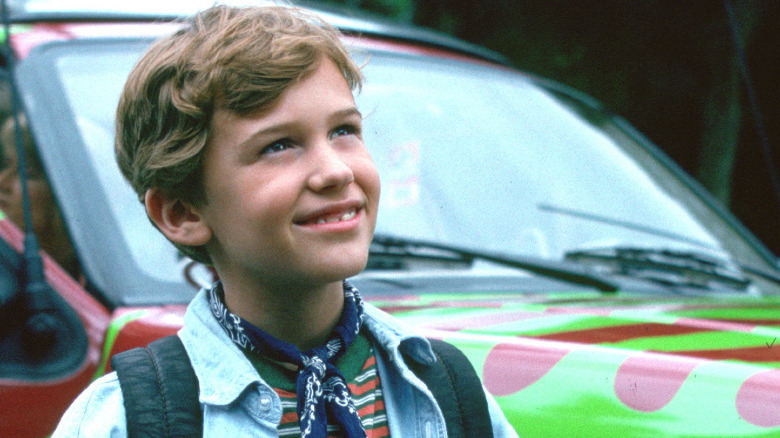 Universal Pictures
The "Hook" screen test in question was for the role of Peter Pan's young son, Jack, who would end up being portrayed by "Dick Tracy" and "What About Bob?" actor Charlie Korsmo. Prior to that, Steven Spielberg had his eye on casting Joseph Mazzello, having seen him in action on the set of the film "Radio Flyer." 
Mazzello would later play John Hammond's dinosaur-loving grandson in "Jurassic Park." Recounting all this during an online watch-along of "Jurassic Park" in 2020, Mazzello:
"... We were shooting ['Radio Flyer'] on the Warner Bros. lot, and [Spielberg] had all of his 'Hook' sets, like, Neverland was on the lot. And so he would take me over there and show me everything, and I ended up doing a screen test, just Steven Spielberg, Robin Williams, and Dustin Hoffman in a room together for an hour and a half, just the four of us, to test me to play Jack."
Mazzello admitted he simply couldn't "keep it together" while acting out more emotional scenes with Jack in "Hook," explaining that Williams "just [kept] cracking me up." Far from holding that against him, Mazzello reckoned that Spielberg "wanted someone who looked a little more gruff and was a little older" to handle Jack's strained relationship with his father in the movie and decided to go with Korsmo (who was 12 by that point):
"So Steven came up to me and he just said, 'Don't worry Joey, I'm gonna get you in a movie this summer.' And that movie ended up being 'Jurassic Park,' and he switched the ages of the characters in the book so that I could be in the film."
There's a whole lot of conflict behind the scenes in Hollywood. It's essential for writers like me to shine a light on that as needed. That's also why it's nice when stories like this come out and show that there are, in fact, people in Tinseltown who're out there doing their best to be kind to those around them.