Why Apocalypse Now's Marlon Brando And Dennis Hopper Refused To Share A Set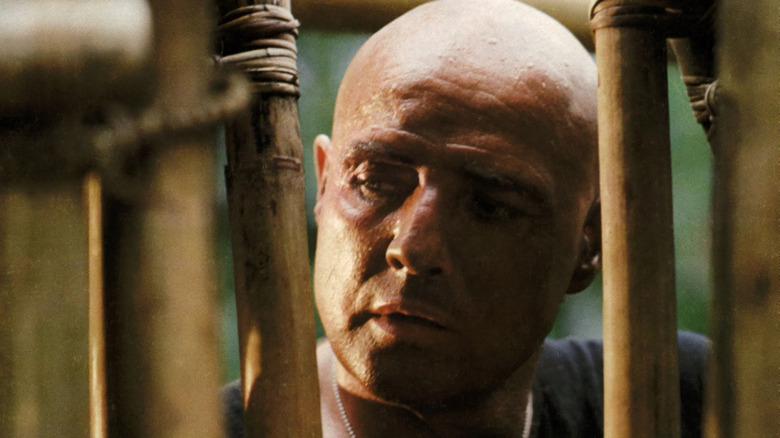 United Artists
Taking over three years to shoot and edit, the production of "Apocalypse Now" was riddled with squabbles, controversies, and disaster — from star Martin Sheen nearly dying of a heart attack to a deadly hurricane destroying sets. Francis Ford Coppola's fortune and mental health was at stake as he tried to keep everything afloat, including his temperamental cast. 
Set during the Vietnam War, "Apocalypse Now" is a reimagining of Joseph Conrad's 1899 novella, "Heart of Darkness." In the film, Captain Willard (Martin Sheen) searches the treacherous jungle and winding rivers for Colonel Kurtz (Marlon Brando), a faithful soldier who became a ruthless killer when the horrors of Vietnam drove him to madness. He hides in an ancient temple, where he is worshipped by an indigenous village. An American photojournalist (Dennis Hopper) is enamored with the megalomaniac, describing him as a great man, genius, and poet warrior — despite how he sometimes chops off people's heads, which he leaves strewn about the ruins.
One of the toughest things Coppola had to navigate was the rocky relationship between Brando and Hopper, who were difficult to work with all on their own. Throughout the shoot, Hopper did not shower, which made him foul-smelling. He was also perpetually drunk and high, following "a regimen of drugs and alcohol that would kill a horse: a case of beer, a half gallon of liquor, and three ounces of cocaine" that was supplied to him by production, which fueled his frenetic role as the babbling photojournalist (via Looper). According to The Hollywood Reporter, Hopper had only agreed to do the film on the condition that he get one line on screen with the legendary Brando — one of his favorite actors — but that would not happen.
Brando misunderstood Hopper's joke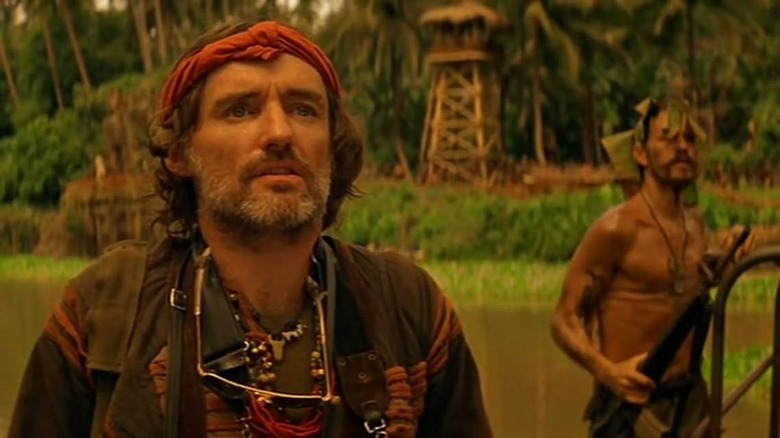 United Artists
When Marlon Brando finally arrived on set weeks after he was scheduled to begin, he was overweight, incapable of memorizing his lines, and he hadn't read any of the source material. While it is widely reported that Brando disliked Hopper's rampant drug use and unhinged manner, The Hollywood Reporter discovered an interview with Dennis Hopper that clarifies the origins of their strained relationship. 
Hopper explained that before Brando arrived on set, he was doing specialized training based on a book used by the Green Berets. One evening during a cast dinner, Hopper told Brando, "I bet you haven't read the book." Brando assumed Hopper was talking about "Heart of Darkness," which Coppola was already chastising him for not reading. "He gets up and says 'I don't have to listen to this! I don't have to take this!' And he is screaming and yelling 'Why do I have to hear it from him? I have to hear it from this punk!' And he storms out of the house," Hopper recalled. 
Their fight continued throughout the evening and almost led to punches being thrown, with Hopper egging Brando on. Hopper continued: 
"We go to see the 'Seven Samurai' in a movie theater and I am sitting behind him. And at one point, I get up and say, 'There's an actor in here that said of a dead friend of mine (James Dean) that he wore his last year of Levis, drove his last year of motorcycle, and did his last year of bongo drums, and I sure would like [to fight him].'"
During their private excursion to study the script, Brando told Coppola: "I'll work with him, but you come in and do your scenes first and then I'll come in and listen to you, but we'll never be on the set together." And the rest is history.
For more on the tension between Hopper and Brando in "Apocalypse Now," take a look at the fascinating "Hearts of Darkness: A Filmmaker's Apocalypse," which details the behind-the-scenes mayhem of one of the greatest war epics of all time.