Choose Or Die Trailer: A Retro Game Unleashes A Deadly Curse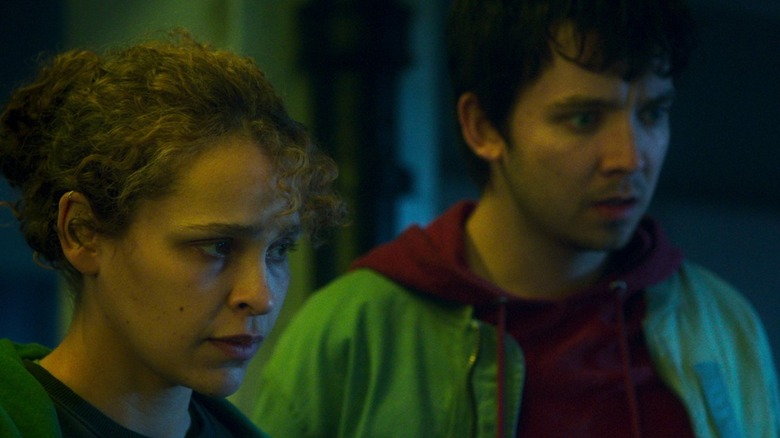 Netflix
Get ready for another "death game" horror title coming from Netflix, because the trailer for British horror film "Choose or Die" really wants to remind you of "Squid Game" or "Alice in Borderland."
There is also a video game twist that brings to mind the Greed Island Arc from "Hunter x Hunter", and how its game affected the real world, with players acquiring spell cards and items that they could use in the real world to kill each other mercilessly. 
"Squid Game" may have brought the death game genre to new heights of popularity on the TV front when it premiered on Netflix last year, but it's been one of the most popular horror sub-genres for decades.  From "Escape Room," and "Cube" to "Battle Royale," "Saw" and even "Death Race 2000," it's a genre that is prime for new material, and "Choose or Die" wants to join that pantheon.
What if a video game could kill in real life?
The trailer for "Choose or Die" introduces us to a penniless student, played by Asa Butterfield, who discovers that plenty of 1980s video games have unclaimed prize money. Of course, he picks the wrong game to try to make a fortune on, because the game he plays starts affecting reality in dark and mysterious ways, forcing the players to make horrible decisions or risk being killed. 
What kind of decisions, you ask? Like making a diner waitress either break glass or clean it up by literally eating it all up, who said video games are just make-believe?
Toby Meakins makes his directorial debut with "Choose or Die," from a script by Simon Allen. The film's cast also includes Eddie Marsan, Kate Fleetwood, Iola Evans, and the legend Robert Englund as himself. The trailer feels a lot like Netflix's own "Black Mirror: Bandersnatch" interactive special, but with even more horror, and honestly, it looks pretty good. How far will the film take its supernatural element remains to be seen, but the death game genre has been on a roll lately, and combining that with retro video games could result in a good and thrilling time.
"Choose or Die" premieres on Netflix on April 15, 2022. Netflix describes the plot of the film as such:
"After firing up a lost 80s survival horror game, a young coder unleashes a hidden curse that tears reality apart, forcing her to make terrifying decisions and face deadly consequences."