The Animal House TV Spinoff You Likely Forgot Existed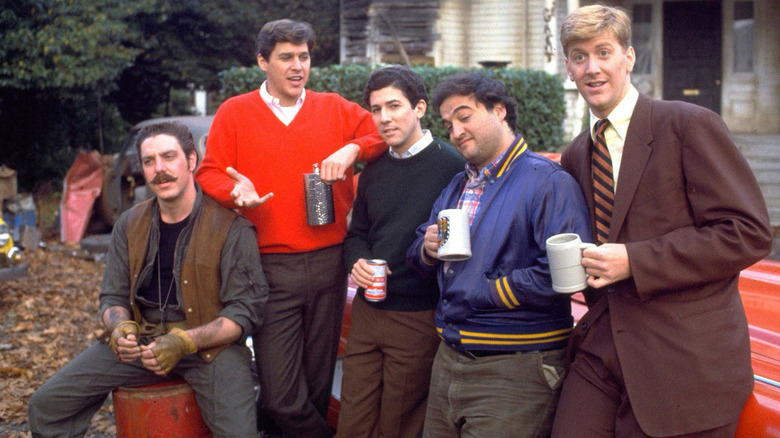 Universal
TV shows spun off from successful movies have a spotty history. Some become successes in their own right, such as classics like "Dr. Kildare," "Alice," and "M*A*S*H," and more recent efforts such as "Fargo," "Friday Night Lights," and "Westworld." However, for every spin-off show that emerges from the shadow of its cinematic forebear, there are dozens that remain not just failures, but obscurities.
One such show was 1979's "Delta House," a spin-off and semi-sequel to 1978's hit college comedy "National Lampoon's Animal House." Lasting just one half-season of 13 episodes, "Delta House" failed to please either fans of "Animal House" or general audiences, finding itself cancelled before the year was even half-over. While there are a number of reasons the show never found its footing, it's ironic that it's largely been forgotten, given that it contained a surprising amount of talent behind and in front of the camera.
Why Delta House doesn't quite deserve double secret probation
Where most spin-off TV shows lazily use the name of the movie they came from, and often don't have the involvement of any of the original cast or crew, "Delta House" at least attempted to maintain a sense of continuity both on-screen and behind the scenes. Executive produced by the same team of Ivan Reitman and Matty Simmons, "Delta House" saw "Animal House" actors John Vernon, Stephen Furst, Bruce McGill and James Widdoes reprise their characters, and actress Priscilla Lauris not only returned to her role as a secretary from the film, but she was finally given a character name, too.
While the original actors for the lead characters of Pinto (Thomas Hulce) and Otter (Tim Matheson) were simply replaced by Richard Seer and Peter Fox, respectively, there was some thought put into addressing the show's most glaring absence. Rather than recast the role of John "Bluto" Blutarsky as portrayed by John Belushi, original "Animal House" writers and series creators Harold Ramis, Douglas Kenney and Chris Miller created the character of Jim "Blotto" Blutarsky, Bluto's younger brother. In the pilot episode (seen above, the only one of the series to be written by Ramis, Kenney and Miller), Blotto is positioned as the show's core character, a new student and inductee into the Delta House who just happens to resemble his now graduated older brother in every way. Sadly, Josh Mostel (son of Zero Mostel) could not reach the gloriously manic levels of Belushi's performance.
It wasn't entirely Mostel's fault, however. "Delta House" was always going to be confined by television's more strict standards and practices of that period, meaning that the boundary-pushing, immature crassness of the film would be impossible to properly replicate. Adding insult to injury, the ABC network chose to air the series during the infamous "family hour," a timeslot where shows were even more closely scrutinized for any slightly objectionable content. Thus, "Delta House" found itself having to cut back and/or sanitize all sexual innuendo and coarse language, making a show about rambunctious misbehaving college frat bros into a bizarrely safe and largely joke-less sitcom. The use of a laugh track over a single-camera shooting style only serves to increase the dissonance, though the style at least adapts John Landis' slick directing from the film well enough (Landis, by the way, would go on to make his own semi-sequel reference to "Animal House" in his segment from "Twilight Zone: The Movie").
An impressive and surprising alumni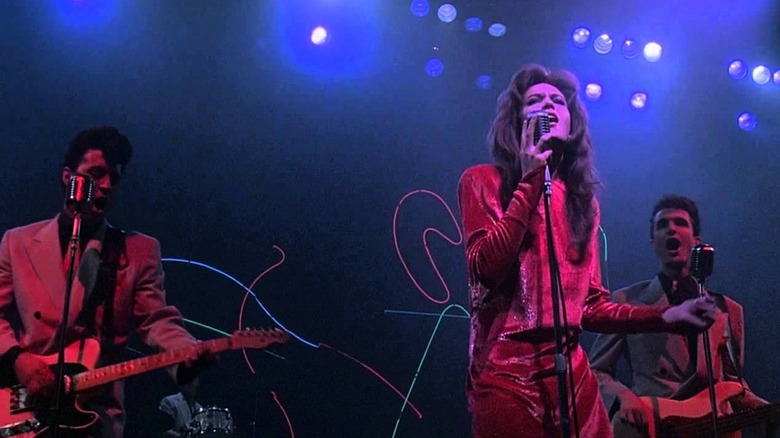 Universal
The returning members of "Animal House's" cast and crew were far from the only notable names that signed up for "Delta House." The show became an early credit for writer John Hughes, who was upgraded from his position as a regular contributor to "National Lampoon Magazine." Hughes would go on to write the similarly ill-fated follow-up, "National Lampoon's Class Reunion," before finally hitting it big with scripts for "Mr. Mom" and "National Lampoon's Vacation," eventually writing and directing his own influential and classic films.
"Delta House" also featured some other up-and-comers: Carl Gottlieb, one of the co-writers of "Jaws," got some early directing work on a few episodes of the show, and Dana Kimmel (a frequent TV guest star during the '80s, and Final Girl of "Friday the 13th Part III") appeared in a couple episodes. However, the biggest breakout star of "Delta House" is undeniably Michelle Pfeiffer. Beginning with the second episode, Pfeiffer appeared as a series regular known only as "The Bombshell," a largely silent role capitalizing on the actress' beauty. Thanks to her appearance on the show, she caught the attention of more filmmakers, leading to her emergence as a star just a few short years later.
Perhaps the most intriguing bit of "Delta House" trivia is the involvement of Jim Steinman. The songwriter was already a known hitmaker and renowned musician when accepting the gig to write the series' theme song, dutifully adapting the show's early '60s setting into a jazzy, sax-and-piano-filled rock n' roll ditty using the title as a chorus. The song turned out so well that when "Delta House" was quickly cancelled, Steinman reused the melody from the theme song for another tune, "Dead Ringer for Love," which was eventually performed by Meat Loaf and Cher. What's more, he took a background vocal part from "Delta House" and adapted it into the song "Tonight is What it Means to Be Young," the climactic number of Walter Hill's "Streets of Fire."
While "Delta House" is far from an unfairly maligned hidden gem, it has a history and intriguing quality that makes it a more worthwhile look than most misfires. Had it been made just a little later, during the more permissive era of cable, it might've become a show worthy of its cinematic ancestor. Instead, it resembles the average person's college experience: nothing too special, but not worth completely forgetting, either.