Julia Garner's Ozark Accent Came By Accident During Her Audition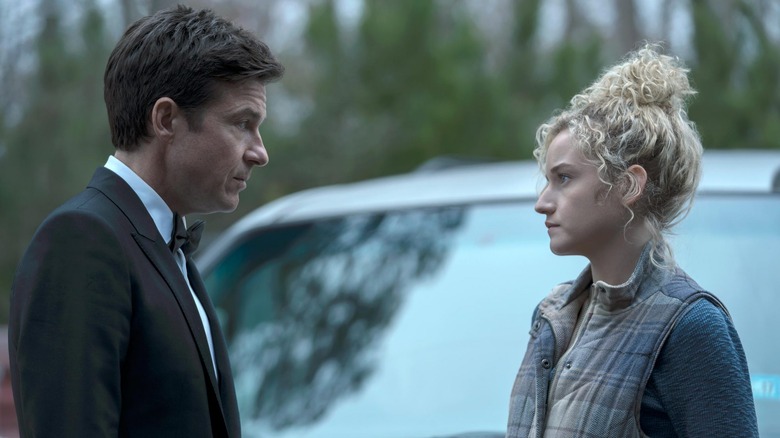 Jessica Miglio/Netflix
Comic book author and DC Comics Chief Creative Officer Jim Lee has an intriguing take on accidents and the creative process. As he once told Fast Company, "Creating and producing creative work, to me those are all happy accidents." When it came to Julia Garner nabbing the role of Ruth Langmore on the hit Netflix series "Ozark," you might say it was one big happy accident. In fact, her entire career seems to have a touch of chaotic magic to it.
According to People, Garner enrolled in acting classes while a teenager to overcome her shyness. While working on student films at Columbia University, she made a connection that led to her first film role in 2011's "Martha Marcy May Marlene" at the age of 17. From there, Garner found some success through small parts in bigger films and recurring roles on TV dramas. But it was a happy accident that led to her career-defining (up to this point) role as the scrappy, street smart Ruth in "Ozark."
Call it karma, kismet, whatever you like, but a fateful incident at her audition led to an Emmy-winning role and sent her career from the shores of the Lake of the Ozarks into the stratosphere.
Garner couldn't remember her lines without an accent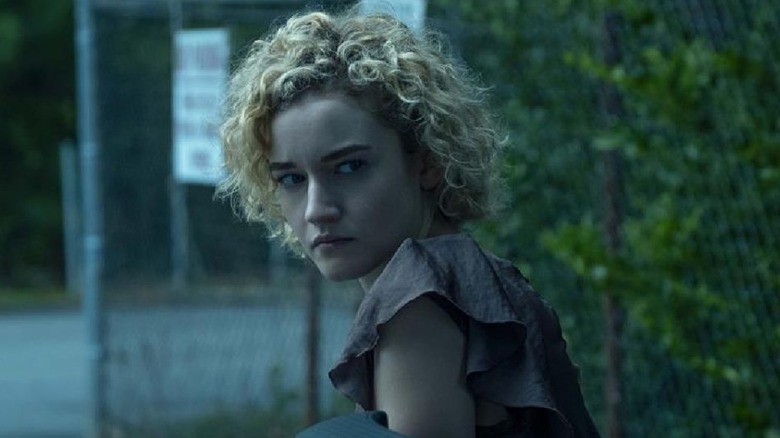 Steve Dietl/Netflix
As Garner tells Vulture, she had appeared in a movie a year before auditioning for the role of Ruth that informed her approach to the character. "I'd done a movie [Tomato Red] with a Missouri accent," Garner explained, "so reading about Ruth and knowing that she grew up in a trailer, I just thought, This girl's got a Missouri accent."
So, Garner prepared for the audition using only the accent, believing it added another layer to the character. While waiting her turn at the casting office, though, Garner revealed that thanks to the thin walls, she could hear all the other actors reading their lines for the part, and none of them were using an accent. She then came to a horrifying realization. While telling the story to The Hollywood Reporter, she said, "I was like, oh my God, I'm going to be that actor that is super annoying, so actory."
Garner tried to ditch the accent, but because she had used it to memorized all her lines for the audition, she couldn't do the reading without the Missouri twang. Despite her reservations, Garner had to use the accent for her audition — the one we're all familiar with now.
Clearly, it worked out, and Garner was offered the role a week after her audition, but it wasn't always that easy. She was even once told she wasn't cut out for the business.
Garner was once told she didn't have star quality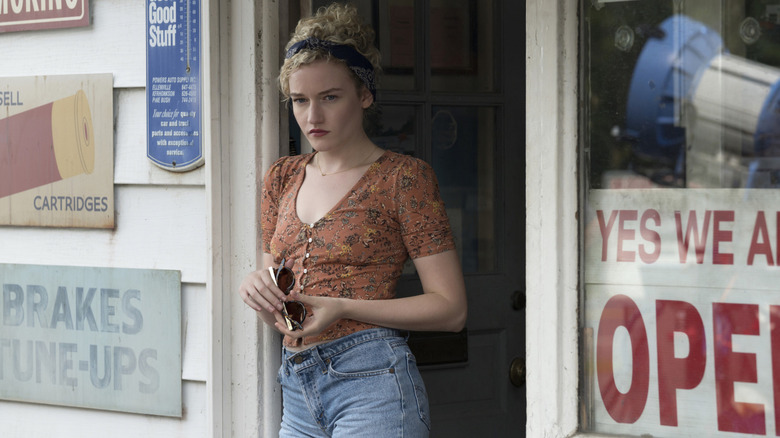 Netflix
Perhaps Garner plays Ruth Langmore so naturally because she can relate to the character's struggles. As told in The Hollywood Reporter, a Nickelodeon casting director stopped a then 15-year old Garner mid-audition and told her, "Honey you're great, but you shouldn't be here." She was told instead to look for smaller independent film roles. Garner found a series of what she calls "weird roles" before finally landing "Ozark."
She used "the method" to prepare for the role of Ruth, speaking in the accent for over a month and walking around in cheap CVS flip-flops to perfect her stride, to become Ruth Langmore. It's a style that "Ozark" co-star Laura Linney (Wendy) saw on the set of the series. Linney told THR:
"Julia throws herself into her work with an abandon. She doesn't even remember what she's done after they yell cut. You can see her face morph in ways that you cannot do if you're self-conscious. She sticks her finger right into the socket."
Would Garner had gotten the part of Ruth Langmore without her Missouri accent? We'll never know, but for fans of "Ozark," it's a happy accident we're thankful for. And it's led to big things for Garner. In addition to two Emmy wins in the best supporting actress category, she currently stars in the popular Netflix series "Inventing Anna," which tells the story of German con-artist Anna Delvey. Of course, playing a German, she had to again perfect a new accent.