A Plague Tale Is Being Adapted Into A TV Series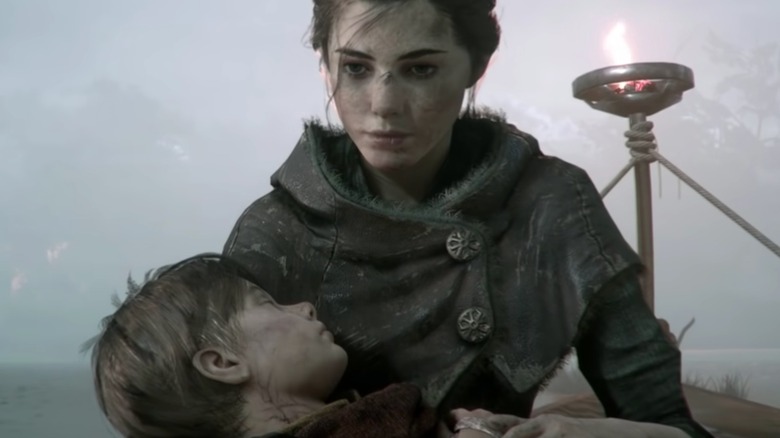 Focus Home Interactive
"A Plague Tale," a beautiful and horrifying game by Focus Home Interactive, is getting the TV show treatment. Director Mathieu Turi announced the news on Twitter yesterday with a link to French website Allocine, and it was later confirmed via IGN.
On paper, "A Plague Tale" doesn't sound like an easy story to adapt, as it's at once a harrowing and emotional historical story and a supernatural thriller. Also, there are lots and lots of rats. The game is a visual stunner, though, with striking art design that means Turi and his team have their work cut out for them.
The filmmaker, who has worked as an assistant director on projects like "Inglorious Basterds" and made his feature directorial debut with 2017's "Hostile," celebrated the announcement with a series of emojis and a statement in French. The translated tweet reads:
It's official! I have the great honor of working on the series adaptation of this French nugget: @APlagueTale. Thanks to @AsoboStudio and @Focus_entmt for their trust. Can't wait to bring the story of Amicia and Hugo to the screen! https://bit.ly/3wvv8P1 #APlagueTale – @MathieuTURI
Rats!
The first "A Plague Tale" game was released in 2019 and subtitled "Innocence." A sequel game, subtitled "Requiem," is forthcoming. "A Plague Tale: Innocence" is set in France during the Hundred Years' War, and follows a teenage noble named Amicia and her sickly five-year-old brother, Hugo. The pair must run for their lives when a revelation about their bloodline puts them in the crosshairs of the politically powerful. The story takes place against the stomach-churning backdrop of the Black Plague, and hordes of rats play a major role in gameplay.
It's worth noting that unlike many major video game adaptations, "A Plague Tale" is a stealth game, meaning the heroes live or die by their ability to hide and solve puzzles rather than engage in combat. Amicia isn't left totally weaponless–she carries a sling and rocks that can land a well-placed headshot–but the gorgeous, tension-heavy game values intrigue as much as action.
Turi seems like a great fit for the series, as his previous feature filmmaking projects align well with the story of "A Plague Tale." "Hostile," which the filmmaker also wrote, follows a woman who survived an apocalypse only to be threatened by basic needs like hunger and thirst. "Meander" is a horror film about a woman trapped in a series of deadly tunnels. Both feature resilient female leads traversing mysterious and unsafe landscapes, just like "A Plague Tale."
The TV adaptation of "A Plague Tale" does not have an announced release date at this time.