Michael Chiklis Is Playing The Long Game In Winning Time: The Rise Of The Lakers Dynasty [Interview]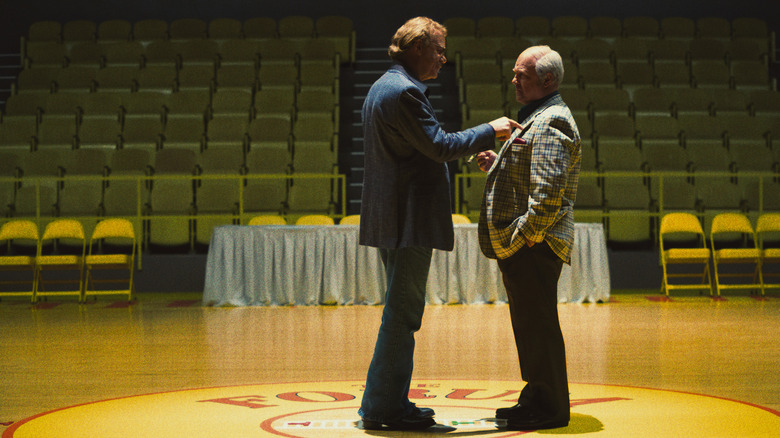 HBO
Red Auerbach is like the boss level of "Winning Time: The Rise of the Lakers Dynasty." The man behind the Boston Celtics, not to mention the guy who helped change professional basketball forever, is the greatest threat to the Los Angeles Laker and its owner, Dr. Jerry Buss (John C. Reilly). Auerbach holds all the rings — (almost) literally. In nearly three decades, he collected over 16 NBA championship rings during his time as head coach, general manager, and team president. 
In the most recent episode of the HBO series, entitled "Is That All There Is?", the epic clash between Buss and Auerbach begins, and it only gets better throughout season 1. In an episode directed by Jonah Hill and featuring a cameo by Beastie Boys member Mike D, the Lakers owner is dismantled by the King of Boston. He rips the doctor apart, casually and truthfully. It's a fun scene showing the power Auerbach wielded, which he often used for good. That's a side actor Michael Chiklis hopes to show in the future, but for now, "The Shield" star is a shadow looming large over the Lakers in the new series. 
Recently, during a brief interview, Chiklis told us about playing Auerbach and the first meeting with Buss. 
'If you were on Red's side, you loved him'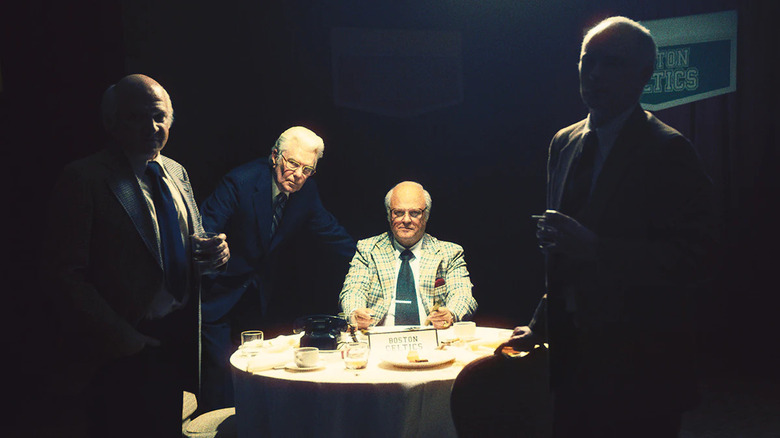 HBO
You're playing one the most powerful figures ever, maybe not even just in the NBA but the sports world. How'd you want to project the power he had over the game?
Well, first of all, I'm born, raised, and educated in Boston. I grew up listening to my father rant and rave about the brilliance of Red Auerbach, because my father played basketball in high school. I didn't play basketball. I played football, hockey, and baseball. But I loved team sports, and I was a basketball fan.
There's no way you could have lived in Boston and not been a fan of the Boston Celtics, especially in that rivalry against the Lakers — just an intense, incredible period of time to be there. And I went to Boston University from '81 to '85. So right when it was blowing up, I was in town, going to those games, screaming at the Lakers and at the television set.
So, the thing in my research about Red that was really interesting and fun to find out about him is how beloved he was by his players, and by the administration, as well as New England in general. It was because of how respectful and how brilliant he was at managing people. He understood that in order to win championships, you couldn't just do one thing right, you had to do a lot of things right — not the least of which was you had to make your team feel valued, and appreciated, and part of it.
This guy won nine championships as a coach. It's not just because they spent more money, or anything like that. It's because of his management style, his style as a coach. It was a benevolent dictatorship, if you will. He understood how to lead. He understood how to get the best out of his guys, by making them feel like they were not just players for him, but a part of the whole thing.
There's so much to respect about Red's time in the game, including drafting the first Black basketball player. Even though he's played as an antagonist in the show, did you want to communicate all the good he did as well?
Right. I think that I knew, coming into this, that he would be primarily viewed as a principal antagonist, because it's being seen through the Lakers' point of view. So, I knew that. But I hope that over time, especially if this goes into multiple seasons, that you'll get more of a three dimensionality to Red. But I understood, for now, and it's really true, by all accounts, if you were on Red's side, you loved him. If you weren't, you f***ing hated this guy. Because he was powerful, and he was out to beat you, and he was going to do that, however he needed to do it. He earned that ire of his rivals. I think that's why I love that first scene that I have in the restaurant with John [C. Reilly].
Great scene.
Here are two titans. And he doesn't even consider him a rival. He just dismisses him. It's so patronizing, because he's basically like, "What the...? What do you know about this? Your shirt's unbuttoned to your navel. F*** out of here." So it was the establishment versus the interloper, the newcomer, the hot sh*t, full of charismatic Lakers. They were Hollywood. They were everything Hollywood represents, just all of that. And he was the absolute converse. He was just orthodoxy.
The first season of "Winning Time: The Rise of the Lakers Dynasty" is in progress on HBO.