16 Best Maggie Gyllenhaal Movies, Ranked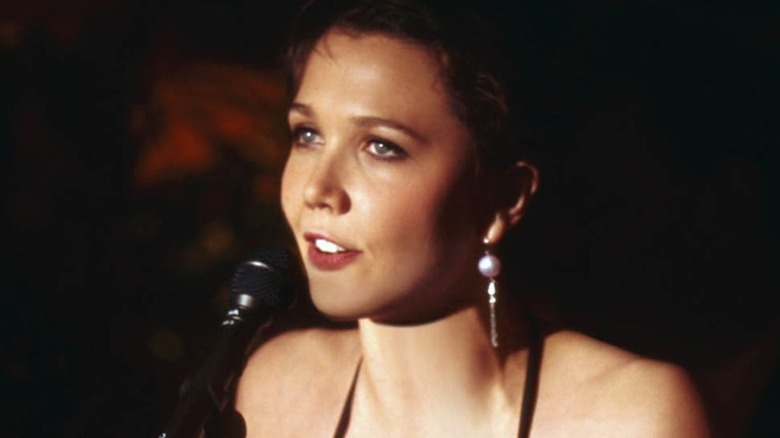 Lionsgate
Although she is part of a Hollywood film dynasty, Maggie Gyllenhaal has had a long, successful, and interesting career as an actress, producer, writer, and director. Gyllenhaal made her feature film debut at the age of 15 in one of her father's films, director Stephen Gyllenhaal's 1992 feature "Waterland." Her lifelong experience of spending time on film sets would lead to naturalistic ease and charm in front of the camera. Additionally, she made her feature film directorial debut with 2021's "The Lost Daughter," which earned three Oscar nominations.
Gyllenhaal has typically pursued roles that showcase unique and dynamic women. Gyllenhaal's bold and varied artistic choices have made her an indie film darling, leading to much acclaim throughout her career. Regardless of the role, Gyllenhaal brings genuine warmth, empathy, and intelligence that make her an actor worth recognizing and celebrating. Here are 16 of Maggie Gyllenhaal's movies from worst to best.
16. Won't Back Down (2012)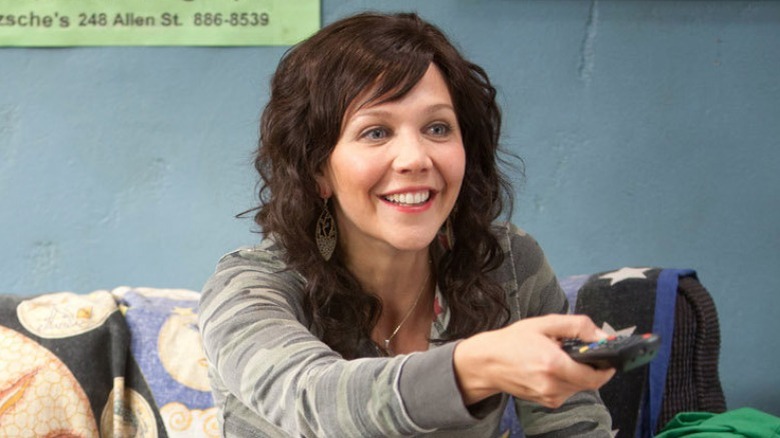 20th Century Fox
Far from the most interesting film in Maggie Gyllenhaal's filmography, 2012's "Won't Back Down" is a straightforward social message film about the state of the public education system. Gyllenhaal stars as Jamie, a struggling single mother whose daughter, Malia (Emily Alyn Lind), is falling behind in school due to an overlooked learning disability. Jamie refuses to let Malia face the same treatment in school she once did. Inspired by a local radical charter school, she decides to take charge to reform the school. 
After meeting Nona (Viola Davis), a fellow mother and teacher, Jamie recruits her for her effort to improve the failing school to help both of their kids, but it's an uphill battle with the rest of the teachers and school administration. Gyllenhaal has a worthy partner in Davis, both turning in moving and grounded performances that are better than the source material. Gyllenhaal's Jamie is bubbly, charming, eternally optimistic, and incredibly loving in an endearing performance that elevates the film's energy.
15. Cecil B. Demented (2000)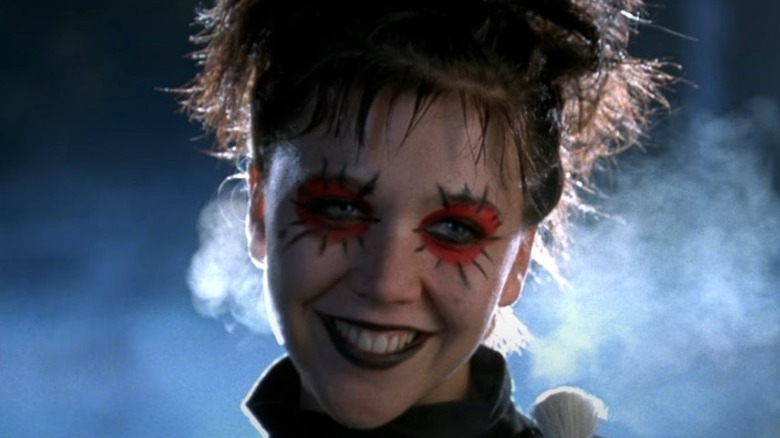 Artisan Entertainment
One of John Waters' latter features, "Cecil B. Demented" is the cult icon's take on the "film about a film trope," with an even campier and more meta twist. Melanie Griffith stars as Honey Whitlock, a famous and beloved movie star who is privately horrible to her staff and acquaintances. Honey is in Baltimore promoting a new film when Cecil B. Demented (Steven Dorff), an independent filmmaker, and his crew take her hostage to make his movie. Each of Cecil's cast and crew cultishly devote themselves to and style themselves after classic film auteurs like Pedro Almodóvar and Spike Lee as part of their guerilla filmmaking collective. 
Gyllenhaal has a small role as makeup artist Raven, who styles herself after the experimental filmmaker Kenneth Anger. Gyllenhaal handles the campy material well, tapping into a genuine sincerity with her character that makes for a fun and charismatic performance. In the zany and campy world of "Cecil B. Demented," Raven manages to feel like a real and grounded character while still showcasing Gyllenhaal's comedic chops.
14. Trust the Man (2005)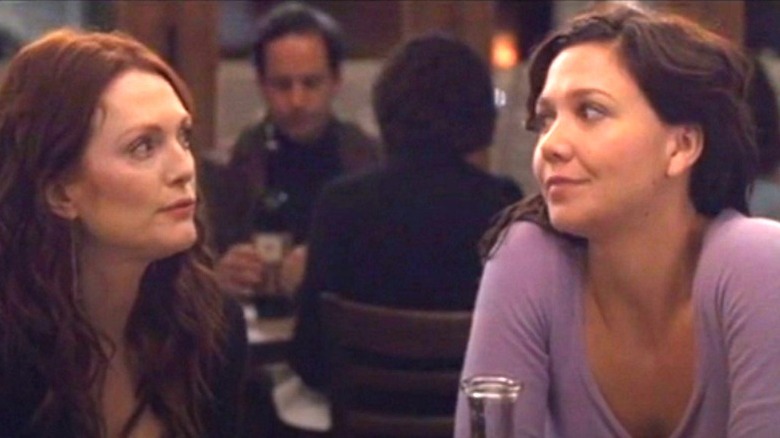 Fox Searchlight Pictures
Written and directed by Julianne Moore's husband, Bart Freundlich, "Trust the Man" is a silly romantic dramedy that follows two New York couples and their struggles to navigate their relationships. Rebecca (Julianne Moore) and Tom (David Duchovny) are a married couple with kids. They are in love but unsatisfied with their marriage. Elaine (Maggie Gyllenhaal) and Tobey (Billy Crudup) have been dating seriously for years but are struggling to take the next step. 
Tobey and Tom buddy up in their downward spirals of masculine debauchery, leaving Rebecca and Elaine to determine what they want out of their relationships. The film is sort of a standard and dated romantic comedy in terms of the way it views relationships and gender roles, but Gyllenhaal's performance is heartfelt and winning. She holds her own in an endlessly charismatic cast. As Elaine, Gyllenhaal proves she can charm as a romantic comedy lead in addition to her grittier dramatic roles. Her role in "Trust the Man" is an impressive addition to her diverse repertoire.
13. World Trade Center (2006)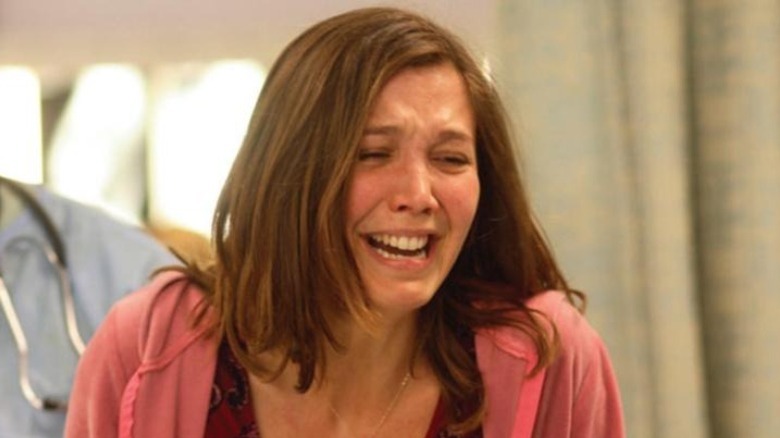 Paramount Pictures
Oliver Stone's epic drama details the aftermath and devastation of the September 11th terrorist attacks through the eyes of John McLoughlin (Nicholas Cage) and Will Jimeno (Michael Pena), two real New York Port Authority police officers who were trapped alive in the rubble of the towers and awaited rescue for days. The film's story shifts between the men's fight for survival and their families' turmoil as they wait for news of John and Will. Maggie Gyllenhaal plays Will's pregnant wife, Allison. 
"World Trade Center" is a fairly standard patriotic melodrama with very archetypical characters. Still, Gyllenhaal manages to make the most of what she has to work with, bringing Allison's fear and love to life in some of the film's most heart-wrenching moments. Gyllenhaal's trademark pathos and warmth create a multidimensional character that is far from the typical wife waiting by the phone. Overall, Gyllenhaal brings much-needed humanity to a film that often loses sight of its subject.
12. Donnie Darko (2001)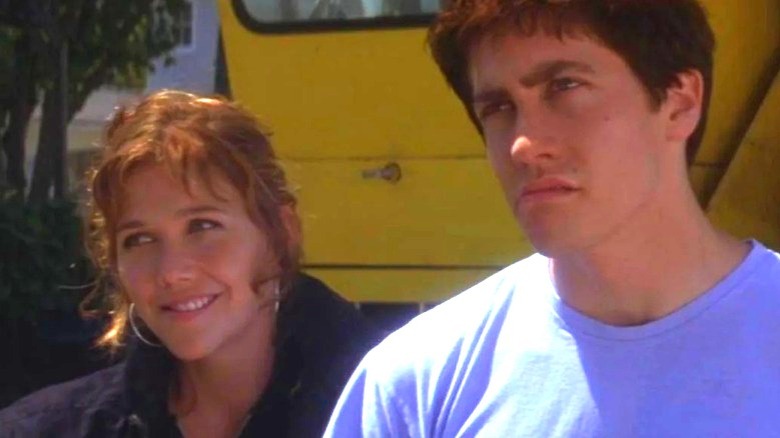 Newmarket Films
The 2001 cult classic "Donnie Darko" tells the story of the eponymous Donnie (Jake Gyllenhaal), a withdrawn, depressed, and sardonic high school student who has hallucinations of a manipulative man in a bunny suit named Frank (James Duval). When he appears to Donnie, he compels him to commit a series of strange crimes and foretells the end of the world. 
The plot, which deals with questions of reality, time, and space, is set in motion by the shocking event of an airplane engine dropping into Donnie's bedroom at the exact moment he doesn't happen to be there. Donnie is in therapy for his issues but still has to deal with the day-to-day hell of high school and the pressure to fit in with his normal and happy family. Real-life sibling Maggie Gyllenhaal plays Donnie's older sister, Elizabeth. Although it's a small part, she shines as a stereotypical teenager, and it's fun casting to see her and Jake play brother and sister. "Donnie Darko" is one of only three films in which the two have appeared in together.
11. Mona Lisa Smile (2003)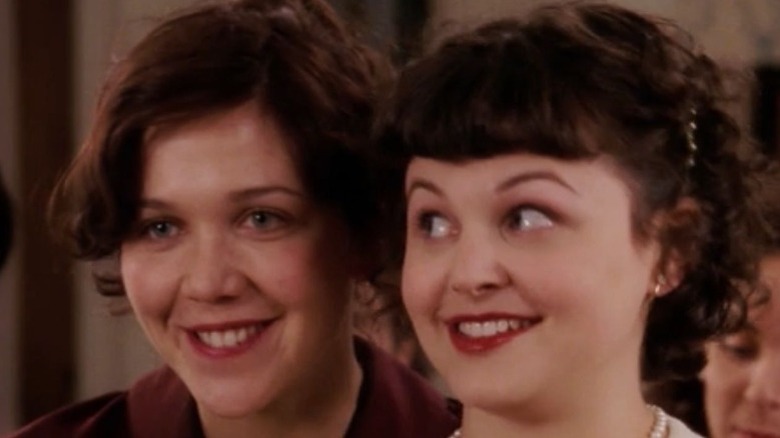 Sony Pictures Releasing
Mike Newell's 2003 film, "Mona Lisa Smile," follows Katherine (Julia Roberts), a young, progressive teacher who arrives to teach art history at the conservative all-girls college Wellesley in the 1950s. Katherine is extremely knowledgeable and skilled but unprepared for the culture shock of the school. Nevertheless, she's eager to challenge the young women she teaches to reconsider their roles in world around them. However, one of her students, Betty (Kirsten Dunst), is determined to fight back and hold on tight to Wellesley tradition, even as the other girls become enamored with Katherine. 
This includes Giselle (Maggie Gyllenhaal), the resident bad girl who has been carrying on an affair with a teacher. Giselle is a different kind of role for Gyllenhaal, but her characteristic empathy and charm shine through, bringing pathos and intelligence to a character that could otherwise be seen as a thin archetype. Gyllenhaal never takes the character too far into outsider territory. Instead, she creates a realistic, nuanced portrait of a young woman in the 1950s.
10. Stranger Than Fiction (2006)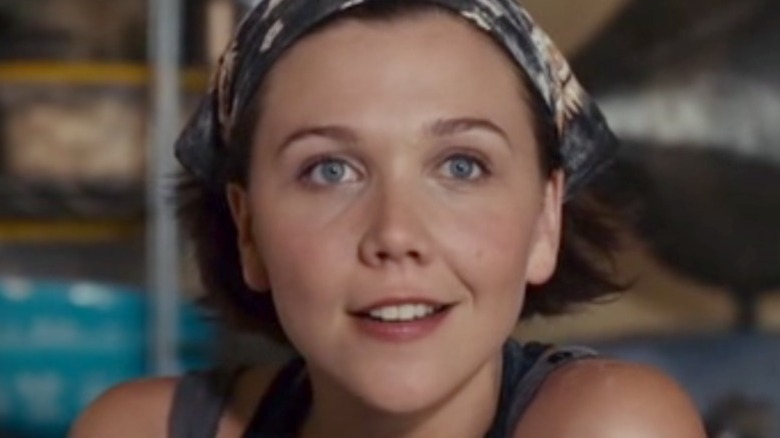 Sony Pictures Releasing
A speculative romantic comedy that blurs fantasy and reality, 2006's "Stranger Than Fiction" follows Harold Crick (Will Ferrell), a tax auditor who is plagued by the narration of his own life. Harold is an orderly, regimented, and particular man who soon recognizes the voice very accurately narrating his life as belonging to a famous author. When the narrator seems to predict his upcoming death, Harold has to race against the clock to find the author who may be controlling his fate and convince her to rewrite the ending of his story. 
Complicating matters is his burgeoning romance with anarchist baker Ana (Maggie Gyllenhaal), who Harold is auditing for tax evasion. Gyllenhaal has fun with her character's sillier leftist traits, taking advantage of playing opposite a quiet and restrained Ferrell. In a movie that can be a bit heady and sad at moments, Gyllenhaal's Ana provides genuine moments of comic relief as well as an important throughline of hope for Harold as he fights for his personhood. One of the biggest films of her career, "Stranger Than Fiction" is a showcase for Maggie Gyllenhaal's incredible range as an actor.
9. Sherrybaby (2006)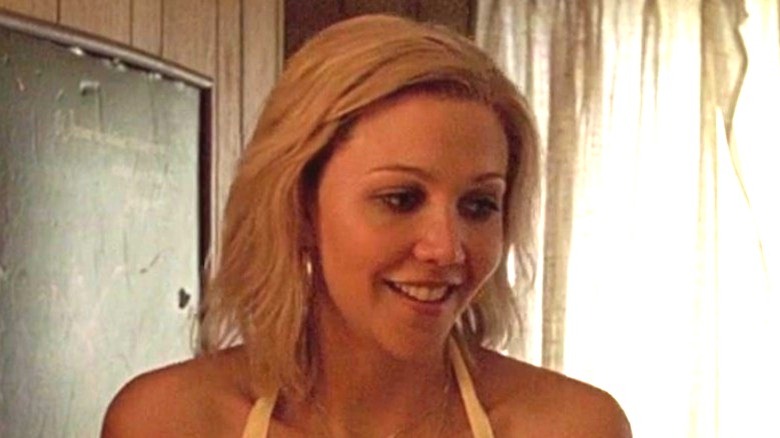 IFC Films
Written and directed by Laurie Collyer, "Sherrybaby" is a quiet character drama that stars Maggie Gyllenhaal as Sherry, an addict fresh out of prison, who struggles to reintegrate into society. Collyer focuses her addiction story on family, using Sherry as a lens to examine how addiction can damage a family and how a person in recovery can pick up the pieces. For Sherry, this largely means building a relationship with her young daughter, Alexis (Ryan Simpkins), who has been in the care of Sherry's brother (Brad William Henke) and has no memory of her mother. Sherry hopes to pick up where she left off, expecting automatic and unconditional love from Alexis. She grows frustrated and disappointed when she doesn't fit in. 
As a story, "Sherrybaby" is largely a standard and straightforward portrayal of addiction with few surprises, but Gyllenhaal portrays her character with enormous empathy. While Sherry genuinely loves her daughter and wants to be a good mother, it's clear she cannot do so in a healthy way. Even when Sherry makes her worst and most unfeeling decisions as a mother, it's easy to relate to her and see where she's coming from. This makes the film's final moments all the more poignant and powerful. The role earned Gyllenhaal her second Golden Globe nomination for best actress.
8. Hysteria (2011)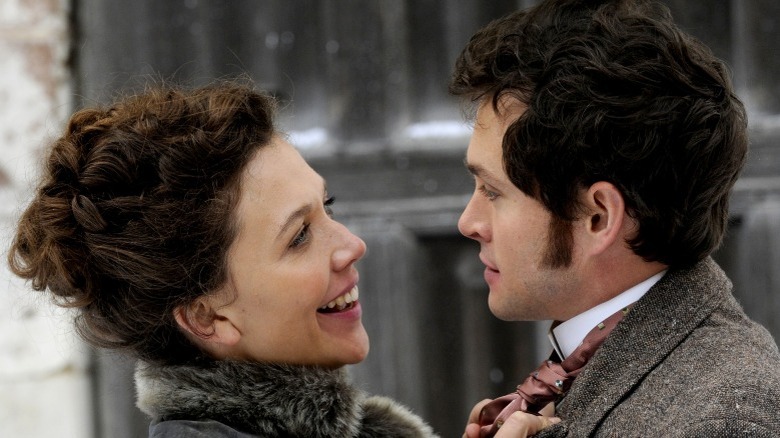 Sony Pictures Classics[
An offbeat historical romantic comedy, "Hysteria" tells the true story of Dr. Mortimer Granville (Hugh Dancy) and his invention of the personal massager as an unconventional treatment for the psychological condition once known as hysteria — a term doctors used to diagnose women with any behaviors men didn't understand. Maggie Gyllenhaal stars as Charlotte, a radical suffragette fighting for women's rights who is also the daughter of the doctor leading Granville's effort to treat hysteria medically. 
Considering the subject matter, the film frustratingly focuses more on Mortimer than Charlotte, but Gyllenhaal maximizes every moment of screen time in a charming and witty role as a Victorian revolutionary. Opposite the adorably awkward Dancy, Gyllenhaal shines as a cheeky, funny, and passionate woman determined to change the world around her. A character seemingly made for Gyllenhaal, Charlotte is a larger-than-life woman in a bubbly film that's focused on a little-known moment in women's history. Charlotte serves to challenge the era's antiquated notions and, as a result, brings modern sexist hypocrisies to light.
7. Away We Go (2009)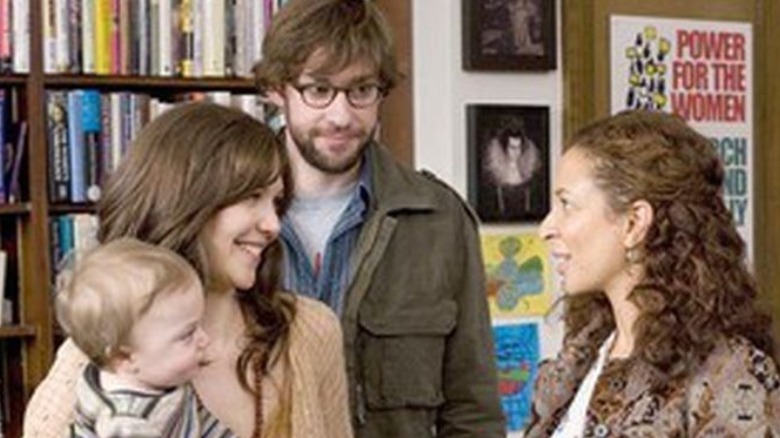 Focus Features
Sam Mendes' only romantic comedy sees Burt (John Krasinski) and Verona (Maya Rudolph) facing an unexpected pregnancy and searching for the right home in which to put down roots and raise their young family. "Away We Go" sends Burt and Verona on a journey across the country in a series of heartfelt and hilarious vignettes as they visit friends and family to determine if they want to live near them. 
Maggie Gyllenhaal has a small role in one of these sequences as LN, a childhood friend of Burt's who has grown into the epitome of the hippie granola mom, going so far as to breastfeed someone else's child. Gyllenhaal leans into the obnoxious energy of the character, giving LN little self-awareness and maximum pretension as she doles out nonstop parenting advice to an overwhelmed Burt and Verona. In a film stacked with comedy legends, Gyllenhaal's performance is one of the funniest. "Away We Go" is a truly impressive moment in her career.
6. The Dark Knight (2008)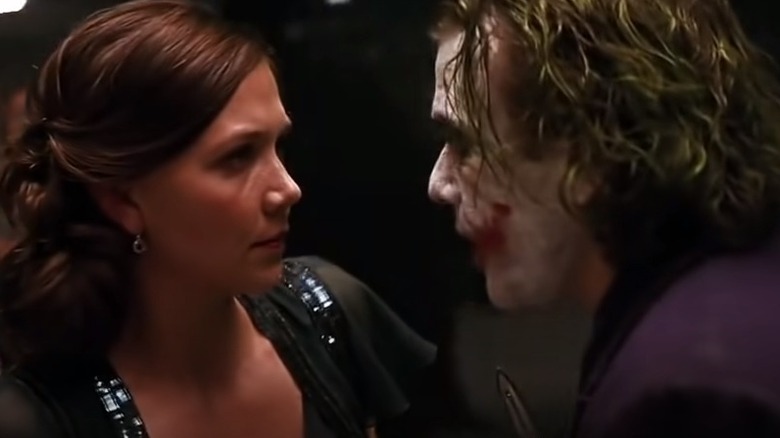 Warner Bros.
The second film in Christopher Nolan's Batman trilogy is widely considered one of the greatest superhero films of all time and introduces several new characters to the series. In the film, Bruce Wayne (Christian Bale) fights a neo-terrorist Joker (Heath Ledger) while Harvey Dent (Aaron Eckhart) begins his tenure as district attorney. "The Dark Knight" sees Maggie Gyllenhaal taking over Katie Holmes' role as Bruce Wayne's on-again, off-again girlfriend, Rachel Dawes, from 2005's "Batman Begins." It's tough to step into the shoes of another actor in the midst of an epic franchise, but Gyllenhaal manages to make the character her own. 
Rachel is also an attorney and finds herself drawn into both Bruce and Harvey's battles for Gotham City. Gyllenhaal holds her own in a sea of men, including Ledger's imposing Joker in one of the film's most iconic scenes. When the Joker reveals how he got his scars, Gyllenhaal portrays Rachel as horrified but brave and determined to stand up against him. It's a subtle performance that makes the character far more complex than a typical superhero's girlfriend. And that makes her fate all the more tragic.
5. Happy Endings (2005)
Lionsgate
The first of Maggie Gyllenhaal's film roles in which she sings, 2005's "Happy Endings" is a quirky dramedy following multiple interconnected characters through the themes of family, love, and relationships. Mamie (Lisa Kudrow) and Charley (Steve Coogan) are step-siblings who once slept together as teens, leading to an unplanned pregnancy. Everyone except for Mamie believes she had an abortion. Instead, she gave up their son for adoption. As adults, Charley manages their deceased parents' restaurant and Mamie is an abortion counselor. 
Charley's employee, Otis (Jason Ritter), is in the closet and afraid to tell his dad, Frank (Tom Arnold), that he's gay. His friend Jude (Maggie Gyllenhaal) poses as his girlfriend. When Jude realizes Frank is wealthy, she dumps Otis and goes after him instead. In a huge sea of characters and storylines, Gyllenhaal still stands out as a lovably world-weary Jude. Gyllenhaal plays her as a tough, loud, and brash woman who hides her true emotions at all costs. This makes the moments in which she reveals them all the more powerful. The role earned Gyllenhaal her second Film Independent Spirit Award nomination for best supporting female.
4. Frank (2014)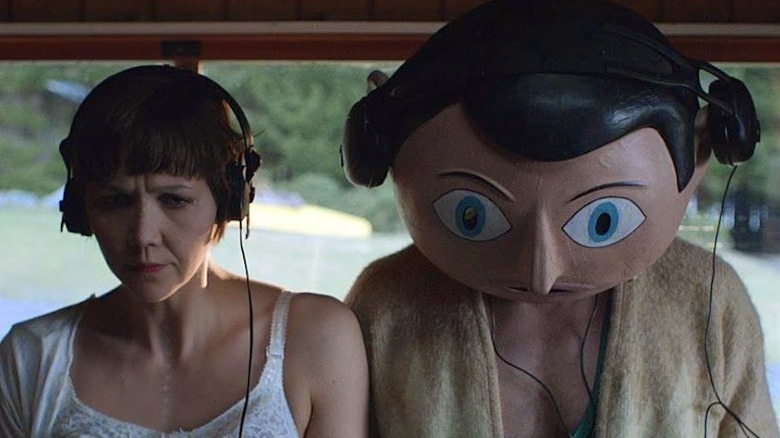 Element Pictures
Based on Jon Ronson's article about his real experience working with comedian Chris Sievey, "Frank" is a peculiar and moving story about what it means to be an artist. The story follows Jon (Domnhall Gleeson), a struggling musician who dreams of being a songwriter. Jon gets his chance sooner than he anticipates when he has the opportunity to step in for a band's keyboardist. The band is led by Frank (Michael Fassbender), a shy and eccentric man who wears a giant cartoonish head at all times. Nevertheless, Frank has immense musical talent. Jon is drawn to Frank and wants to understand him as he tries to unlock his own musical abilities. 
As Jon grows closer to the band, synthesizer player Clara (Maggie Gyllenhaal) and the other bandmates become threatened by Jon's apparent grab for Frank's talent. Gyllenhaal's performance is quite different from her other roles. As Clara, she is biting and acerbic as she clearly sees through Jon in her desire to protect Frank. Still, Clara seeks her moment to shine. She also sings and plays theremin in the film, adding to an already impressive turn. "Frank" earned Gyllenhaal a British Independent Film Award nomination for best supporting actress.
3. Secretary (2002)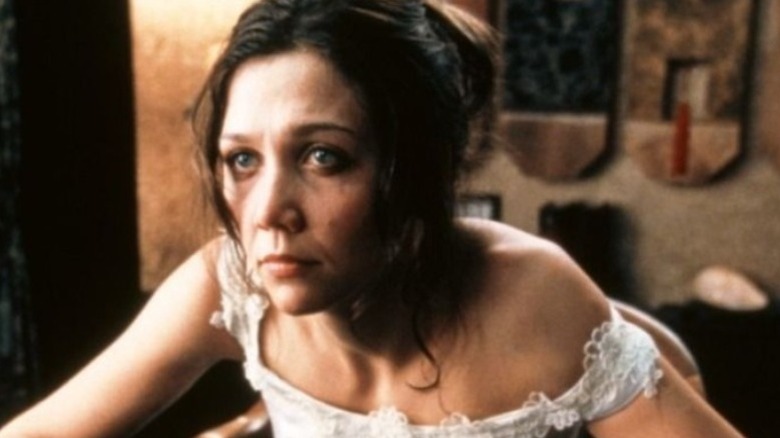 Lionsgate
An incredibly subversive and unique film, "Secretary" follows Lee Holloway (Maggie Gyllenhaal), a young, withdrawn, and naive woman who has recently been released from a mental institution and begins a new job as a secretary. Her boss is an imposing and intimidating attorney named Edward Grey (James Spader). Based on his name, you might guess where this is heading, but this film precedes "50 Shades" and explores sadomasochism with far more subtlety and nuance. As Lee and Edward become more closely acquainted, a steamy romance simmers between them. 
When the two take their work relationship to the next level, Lee is surprised to find Edward's dominance as a boss extending into a masochistic role. He punishes her for errors in correspondence and controls how much she eats. As a submissive, Lee finds a new side of herself and becomes determined to live her role with Edward full-time. Gyllenhaal plays the role with care and intelligence, making the erotic emotional in a thoroughly nontraditional but heartfelt romance. Gyllenhaal's performance earned the actor her first Film Independent Spirit Award nomination for best female lead and her first Golden Globe nomination for best actress.
2. Crazy Heart (2009)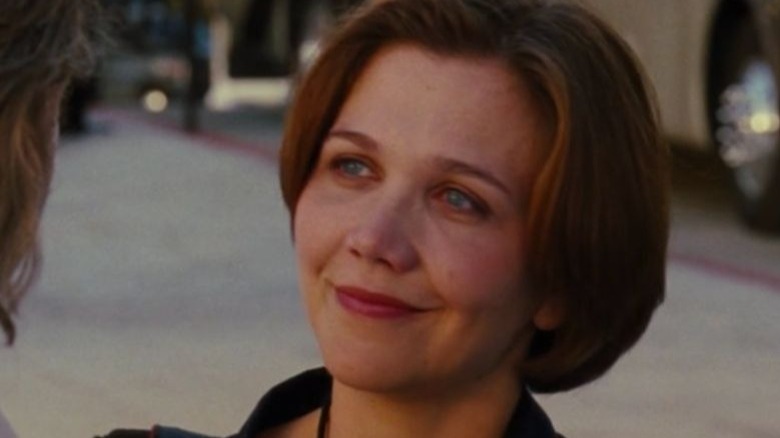 Fox Searchlight Pictures
Released in 2009, "Crazy Heart" stars Jeff Bridges as Bad Blake, a legendary country musician in the later stage of his career, who has been relegated to playing casinos and bars. He spends his free time between gigs drinking. Blake meets local journalist Jean (Maggie Gyllenhaal) when she interviews him for a story. The two hit it off, striking up an ill-fated romance. While Blake is grumpy, older, and withdrawn, Jean and her young son Buddy are hopeful and loving, giving the musician a second look at what his life could be like. Even as Jean tries to go slowly and be protective of herself and Buddy, Blake falls head over heels with the idea of a second chance at life. 
However, when Jean sets hard boundaries about Blake's drinking, he has to choose between his burgeoning love for Jean and alcohol. This decision leads to a devastating climax. Gyllenhaal shines in a complex performance that elevates a role that is otherwise quite simple. As Jean, she is effortlessly sweet and heartbreaking, complementing Bridges' stellar performance. "Crazy Heart" garnered Gyllenhaal her first Academy Award nomination for best supporting actress.
1. The Kindergarten Teacher (2018)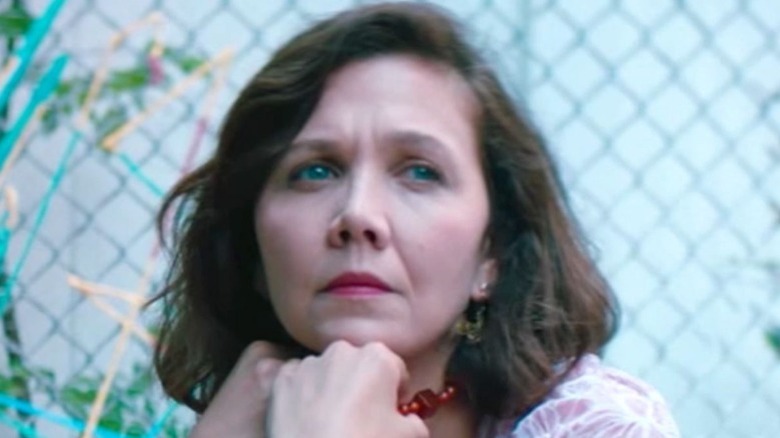 Netflix
Writer-director Sara Colangelo's "The Kindergarten Teacher" showcases Maggie Gyllenhaal in one of her most dynamic and complex performances yet. Gyllenhaal stars as Lisa, a middle-aged kindergarten teacher who longs for a deeper and more meaningful life. She takes poetry classes in the evenings but fails to impress her classmates or her instructor. At home, she has a loving marriage and a soon-to-be empty nest. Still, she seems to long for something more from her family. 
One day, one of her students, Jimmy (Parker Sevak), spontaneously recites a poem, which she then passes off as her own. Lisa soon develops a deep fixation with Jimmy. Convinced he's a child prodigy, she desperately tries to capture all of his poems. As she attempts to nurture his creativity, she becomes lost in a world that no longer belongs to her. Gyllenhaal's performance is emotionally complex, enthralling, and impossible to look away from. While Lisa makes multiple questionable decisions, she remains empathetic and relatable. Gyllenhaal's performance earned her an American Film Award for best actress.