Emilio Delgado, Who Played Luis Rodriguez On Sesame Street, Has Died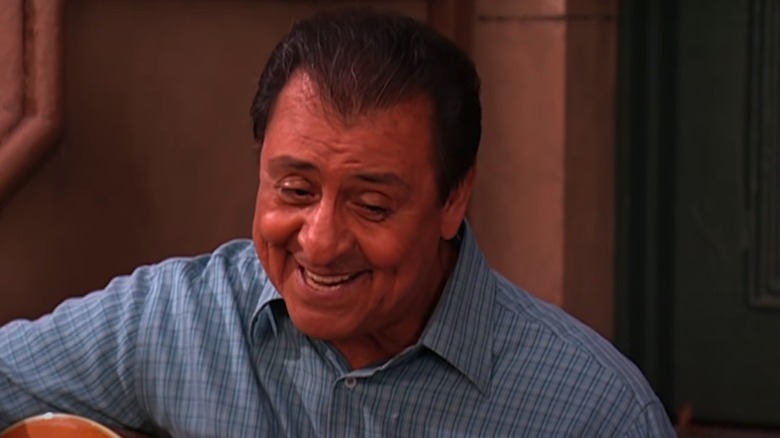 WarnerMedia
You saw the headline, and I'm sure that if you, like me, grew up watching "Sesame Street," your heart is broken right now. Emilio Delgado who played "Sesame Street" resident Luis Rodriguez from 1971 to 2015 has died, according to Variety. Delgado passed away on Thursday, March 10, 2022, after dealing with a blood cancer diagnosis that was given in December of 2020. 
In the show, Luis Rodriguez was the repairman for the neighborhood. He first appeared in 1971 and was often paired up with Maria (Sonia Manzano). The characters got married in 1988 and had a child named Gabi. "Sesame Street" has been airing since its debut on November 10, 1969, on the National Education Television Network, and then a year later on the Public Broadcasting Service. The series moved to HBO for first-run broadcasts during its 46th season, with PBS showing reruns. Delgado appeared on an episode in 2017 and represented the show in public appearances even after his character left.
Delgado was born in Calexico, California on May 8, 1940, and moved to Glendale, California as a teenager. He worked in his uncle's bicycle shop, so the fact that Luis worked at The Fix-It Shop on "Sesame Street" is even sweeter.
Goodbye to a legend
Outside of "Sesame Street," Delgado played roles on "Lou Grant," "The Get Down," "House of Cards," "Falcon Crest," "Quincy M.E.," "Law & Order," and "Law & Order: Criminal Intent." He has also done voice work for video games like "Red Dead Revolver" and "Red Dead Redemption." 
Delgado was a guitar player, performing with the band Pink Martini, and of course, he played a number of songs on "Sesame Street," like "Three of These Kids," "Hola, Como Estas?," and "At Your Library."
I'm sure everyone has stories about their connection to "Sesame Street," so I'll leave mine here. When I was little, we only had a black and white TV. When characters named colors like red or blue and I started repeating while staring at shades of grey, my parents decided it was time to get a color television. I also remember learning my first Spanish words and how to count to 10 in Spanish on "Sesame Street," and from Luis in particular. It's hard to believe that someone who was a staple of my childhood, and that of my niece and nephew, is gone. Somehow I know that Luis would have wise and kind words about what it means to miss someone.
Delgado is survived by his wife Carole and his two children. We at /Film send our condolences to his family and loved ones.