Ralph Ahn, Who Played Tran On New Girl, Is Dead At 95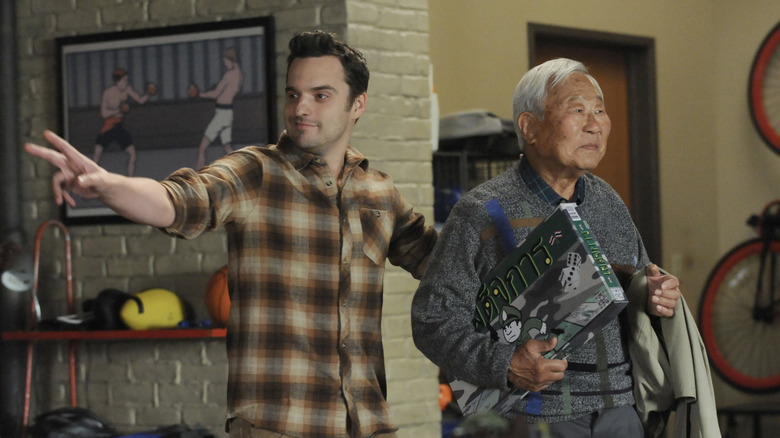 Fox
Ralph Ahn, a character actor best known as recurring fan-favorite Tran on "New Girl," has died at 95. News of his passing came via the Korean American Federation of Los Angeles, honoring Ahn as a leader in the community. Ahn was the youngest child and only living descendant of Korean independence activist Dosan Ahn Chang-ho. In addition to his six decades of acting, Ralph Ahn helped to keep the legacy of his father alive for future generations. No cause of death was revealed. A Facebook post from the KAFLA, originally written in Korean, reads:
First of all, I am deeply shocked and saddened by the sudden passing of the late teacher Ralph Ahn.

Ralph Ahn is the only surviving direct descendant of the nation's teacher, Dosan Ahn Chang-ho, and he dedicated his life to passing on the spirit and belief of Dosan to his descendants.

He was also the greatest spiritual leader of our time, who lived through the times and history that passed down the aspirations of many independence activists over the past generation to our present generation.

Even now, the moving image of Korea marching with Lee Seok Hwang in the 100th anniversary of the March 1st Movement held on Wilshire Street in 2019, wielding the Taegeukgi vigorously, is as vivid as yesterday, with an emotion that our generation will never forget.The Korean Association of Los Angeles, on behalf of the Korean community in Los Angeles, deeply grieves over the news of Ralph Ahn's passing, and offers deep condolences to the bereaved family.
Though he was a silent presence on "New Girl" — only uttering two sentences throughout his seven episodes — Ahn's voice could be heard in various roles throughout his career. He first came to acting thanks to his brother, Philip Ahn, who's widely regarded as the first Korean American film actor in Hollywood. Phillip Ahn (who passed away in 1978) was one of the most recognizable and prolific Asian American actors of all time, garnering over 180 film and television credits in the span of his 43 year-long career. In 1984, he was posthumously honored with a star on the Hollywood Walk of Fame.
Inspired by his brother, Ralph Ahn spent 10 years acting between 1953 and 1963, before taking a hiatus to teach at a California high school. Ahn would resume acting in 1988 and later became known for his recurring stint on the hit Fox sitcom, "New Girl." Ahn also made appearances in television series such as "Gilmore Girls," "The King of Queens," and "Walker, Texas Ranger."
New Girl honors a fan-favorite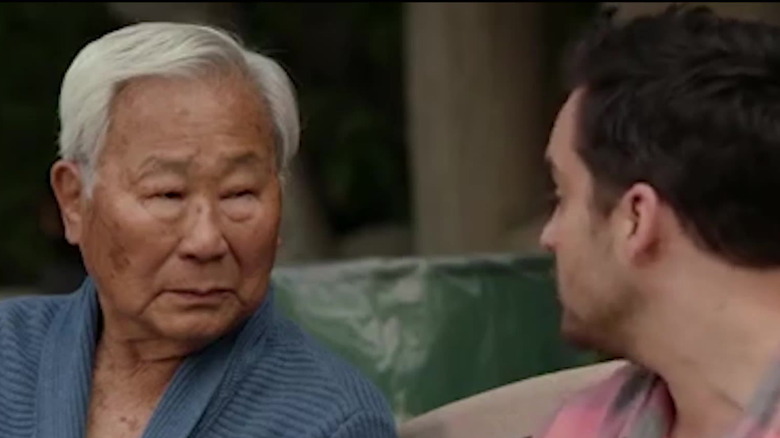 Foc
Ralph Ahn made his first "New Girl" appearance in the show's sophomore season, in a role that series creator Elizabeth Meriwether hints was meant to be a one-off joke. The season 2 episode "Menzies," included Jake Johnson's Nick Miller in the midst of a crisis, seeking help from a silent stranger he meets on a park bench. In a 2014 interview with THR, Meriwether explains that Ahn's character Tran returns because, "he's really easy to write for [laughs]." She added:
"It was Jake Johnson's idea, originally. He texted me about it. We all thought it was so funny. Going into this year, I think one of the writers in the retreat pitched his granddaughter being a love interest. But Jake also wanted to do something like that."
Ahn would go on to appear in six more episodes of 'New Girl" — including the series finale, to give you a sense of his emotional significance. Always a companion to the sarcastic and socially inept bartender, Tran was both a friend and grandfather figure, guiding Nick in the right direction through body language, facial expressions, and what can only be described as telepathic conversations. His only lines of dialogue include his initial appearance, when he calls Johnson's character a "huge baby," and a separate occasion when he hops in the backseat of a car and simply says: "drive."
Johnson took to Instagram to honor Ahn, writing, "RIP. So much fun to work with. He gave so much with literally no lines. I loved when he was on set. I was always expecting to somehow work with him again. Condolences to his family/friends."
Following suit, other cats members expressed their condolences, along with fans of the series who used social media to emphasize the memorable nature of the recurring character. Lamorne Morris, who starred as Winston Bishop, paid tribute to his former co-star by writing that Ahn's appearances on the show were "always the funniest scenes in the episode." Olivia Munn, another season 2 guest star, added on Twitter: "Thank you Ralph Ahn for being the best. You brought so much joy to our lives and helped pave the way for all of the AAPI actors that would follow you. We love you."