The Reason Matt Damon Agreed To Cameo In EuroTrip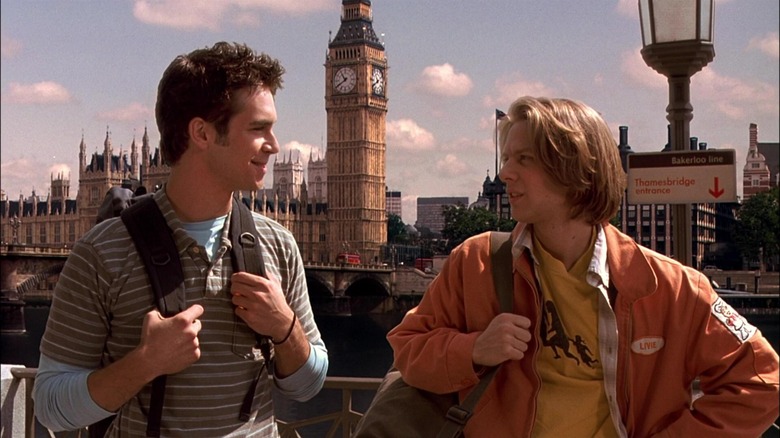 DreamWorks
Sandwiched in-between mega-hits "The Bourne Identity" and "Ocean's Eleven" and their sequels, Matt Damon made an oft-forgotten, highly curious cameo in a teen sex comedy. The 2004 film "EuroTrip" came at the height of the popularity of millennial teen comedies in the early 2000s that included "American Pie" and "Mean Girls." In "EuroTrip," high school angst overcomes Scotty (Scott Mechlowicz) when he is unceremoniously dumped by his girlfriend on the night of their high school graduation, leading him and his best friend Cooper (Jacob Pitts) to Europe in search of his pen pal crush. 
As is par for the course with any teen comedy from this era, plenty of hijinks and nudity ensue. But what makes the movie's opening act memorable is that Scotty's girlfriend dumps him for a punk rock singer played by Damon. It's not exactly the plot of "Good Will Hunting." And this is not the case of an actor making the artistic decision to appear in a small arthouse film. So how did Matt Damon end up as a simple plot device in a teen sex comedy?
Go ahead, shave my head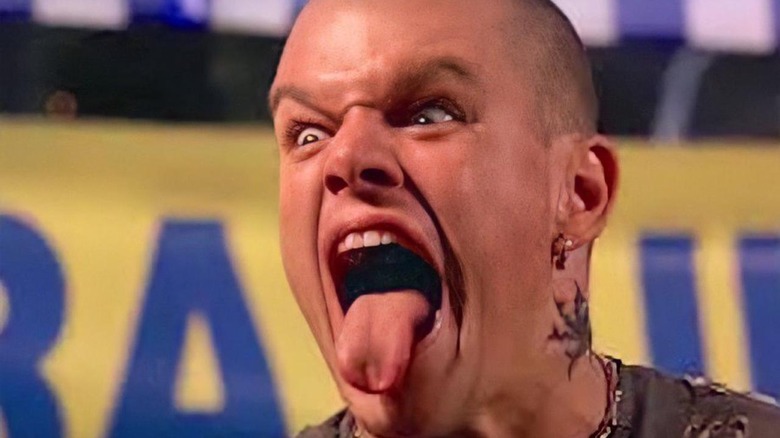 DreamWorks
During an "ask me anything" session on Reddit, Damon explained how he got involved with "EuroTrip" as the punk rocker Donny. The film was written by Jeff Schaffer, Alec Berg, and David Mandell. The three have ties to Damon through their time together at Harvard University. Damon went as far as to call the group "three of the best comedy writers in the world."
But they needed more than just a connection — it took a huge coincidence to make it happen. When "EuroTrip" was in production in Prague, Czech Republic, Damon just happened to be shooting "The Brothers Grimm" in the same city. Damon remembers:
"They said 'Will you come play this, you know, Henry Rollins kind of insane, bad version of a suburban, you know, punk band guy?' and I said 'Yea, I'm in Prague.'"
The Donny character was visually unique, and Damon was committed to helping his friends. Because he was wearing a wig for his role in "The Brother's Grimm" he agreed to shave his head, and the piercings and tattoo completed the look of the punk rocker. Although the role was minor, it was part of the inciting event that sends Scotty and Cooper off to Europe. And the connection to the screenwriters wasn't the only reason Damon agreed to appear in "Euro Trip." The actor went as far as to call the movie "a family affair."
Damon considered it a family affair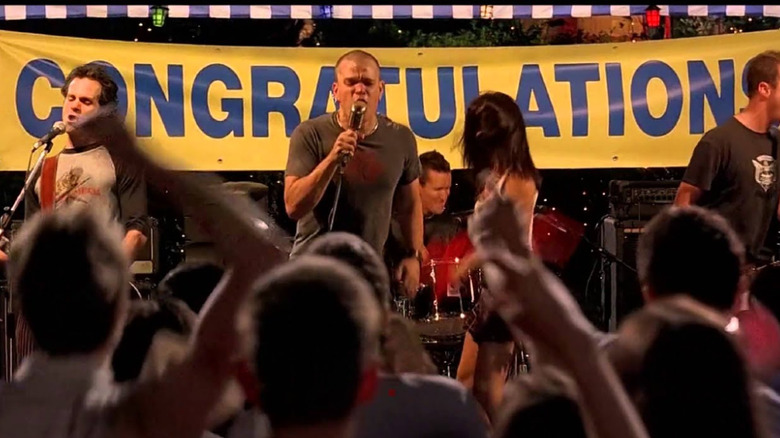 The writing trio wasn't Damon's only connection to the film. The song Donny sings about his affair with Scotty's girlfriend, "Scotty Doesn't Know," was written by the brother of one of Damon's college roommates. And Damon's college roommate, Jason Adams, appears in the film as the guitarist in Donny's band, Lustra. The cameo is a hilarious scene where Scotty's classmates bounce around while Damon croons "So don't tell Scotty, Scotty doesn't know, whoa..." while pulling Scotty's girlfriend onstage for a make-out session.
Damon considers having come up together in Hollywood with the writers and called "EuroTrip" a family affair. He shared a story about the group sending a bottle of champagne back and forth to congratulate each other on the milestones in their careers. The silly teen sex comedy "EuroTrip" became a bit of a "six degrees of Matt Damon" game with all sorts of connections to his college life at Harvard. The movie exists as an embodiment of collegiate friendships that continued to the unlikeliest of places: Hollywood. It's like a story you'd only find in the movies.