The Fairly OddParents Live-Action Series Trailer Is Here To Kick Your Nostalgia Bone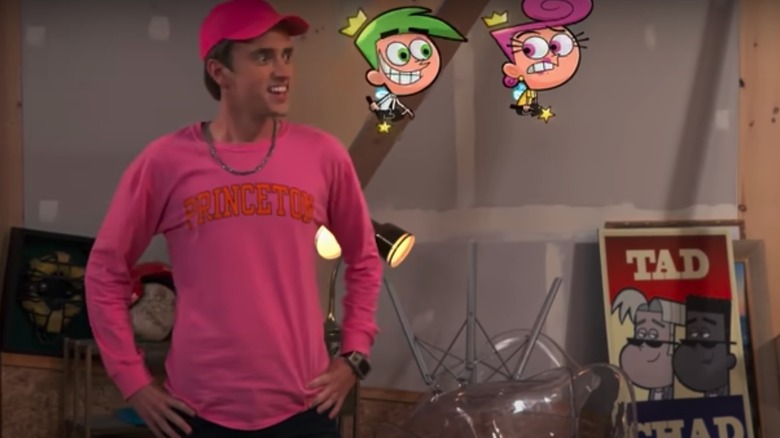 Paramount+
Timmy Turner is all grown up and passing on his magical fairy godparents! Today we have a new trailer for "The Fairly OddParents: Fairly Odder," the live-action continuation of the "Fairly OddParents" animated series that ran on Nickelodeon for a whopping 10 seasons (via EW). In the live-action series, a grown-up Timmy (Caleb Pierce) is passing his fairy godparents Cosmo and Wanda to his 13-year-old cousin Viv Turner (Audrey Grace Marshall). 
Viv, it seems, is having a rough time of it, much like Timmy did in the animated series. Viv has moved to Timmy's fictional hometown of Dimmsdale, California with her dad Ty (Ryan-James Hatanaka), so he can reunite with his high school sweetheart Rachel Raskin (Laura Bell Bundy). Viv also has a new step-brother in Roy (Tyler Wladis), who can see the fairies, leading Viv and Roy to agree to take turns with the wishes. Those fairies, Wanda and Cosmo, are rendered in the style of the animated series, and will be voiced by the original voice actors Susanne Blakeslee and Daran Norris respectively. Watch "The Fairly OddParents: Fairly Odder" trailer below. 
Be careful what you wish for, because poof, it could happen!
In the trailer above, you'll see another character you'll remember from the animated series in Jorgen Von Strangle (played by Mark Gibbon, though he was voiced by Daran Norris in the animated series), the leader of Fairy World who makes Wanda and Cosmo clean his bathrooms, apparently. Imogen Cohen will play Zina Zacarias, a friend of Viv and Roy. 
In the trailer, we get to see a few wishes go wrong. Viv wants to be taller, and she barely fits in her house. Roy wants solid gold pants, and falls over. He also turns his mom into a gold statue. Cosmo and Wanda certainly do spruce up Viv's new room though. The whole thing looks really cute.
This isn't the first time we've seen an older Timmy Turner. The role of a 23-year-old Timmy was played by Drake Bell in 2011's "A Fairly Odd Movie: Grow Up, Timmy Turner!" The original series was created by Butch Hartman for Nickelodeon. 
"The Fairly OddParents: Fairly Odder" will have 13 episodes with Christopher J. Nowak ("Danger Force") serving as showrunner. I did notice another character from the animated series, Nate Buxaplenty, on IMDB, played by Liam Kyle. He's likely the son of the character Remy Buxaplenty whose fairy godparent was Juandissimo Magnifico.
"The Fairly OddParents: Fairly Odder" will begin streaming on March 31, 2022, exclusively on Paramount+.