The Daily Stream: Celebrate Alan Rickman's Birthday With A Little Chaos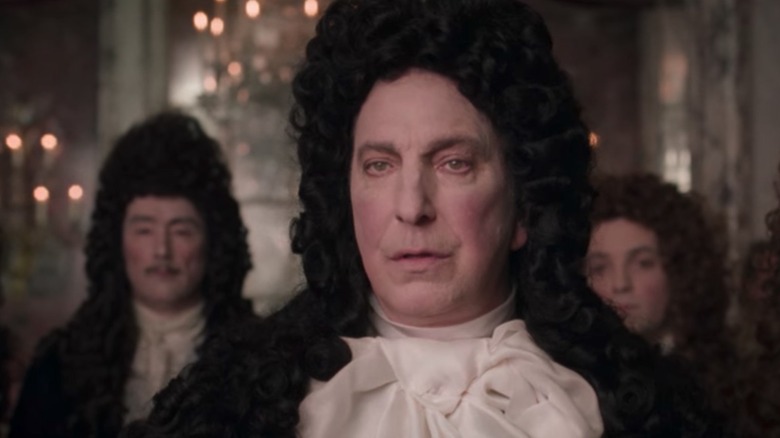 Lionsgate
(Welcome to The Daily Stream, an ongoing series in which the /Film team shares what they've been watching, why it's worth checking out, and where you can stream it.)
The Movie: "A Little Chaos"
Where You Can Stream It: Netflix
The Pitch: It's the late Alan Rickman's birthday today, and in honor of that, let's shine a spotlight on one of his final films, "A Little Chaos." Rickman wrote the screenplay along with Jeremy Brock and Alison Deegan from Deegan's story. It was his second turn as a director, and he also plays the minor but important role of King Louis XIV of France. "A Little Chaos" is the story of Sabine De Barra (Kate Winslet), a landscaper in 17th century France who has been through personal tragedy. When the King decides to build the Garden of Versailles, he assigns the job to architect André Le Nôtre (Matthias Schoenaerts), who needs an assistant, and Sabine applies for the job. Though there are some issues, Sabine is hired, manages to meet the king, and win over his ladies — though she is sabotaged at every turn. There is a love story, a story of healing, and a beautiful tale of a woman ahead of her time finding what she treasures most: someone who appreciates her talent and, more importantly, her own sense of self. 
Why it's essential viewing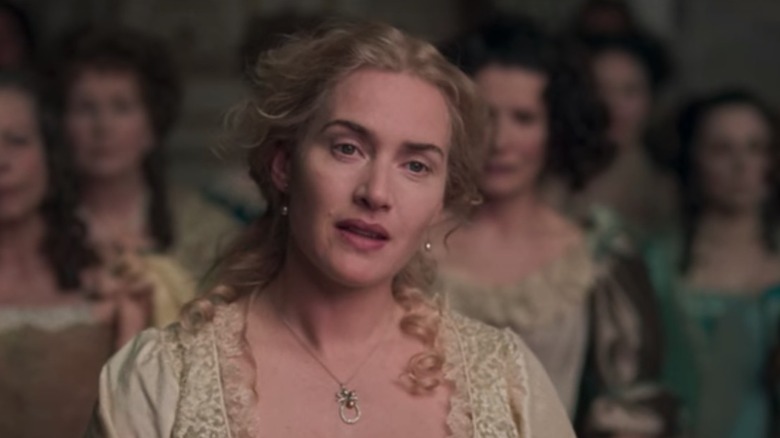 Lionsgate
I'm of the opinion that watching Alan Rickman dancing in the costume of King Louis XIV should be enough to sell this film, but more than that is its heart. This is not a grand or bombastic story, the way things with French kings in them often are. This is a quiet story about a woman who has lost almost everything, and yet never loses her creativity or drive to make a better life for herself. Maybe I'm reaching here, but I think part of what makes it so lovely is that it feels so personal.
Not to get all symbolic on you, but the film is sort of a discussion about order and chaos as much as it is a love story. That sounds very lofty, but it doesn't come across that way. It's very clearly stated. André's style is all about order, something you often see in the gardens of that century's nobility. Sabine, however, has found refuge and peace in things being unstructured. She doesn't follow the idea of symmetry in her designs, and at one point is observed moving something in a garden so it's off center. André sees that moment from a window, and dismisses her because of it, just as the rest of the designers do. 
A little chaos is good for the soul
Her acceptance by the other designers isn't just put in jeopardy by the fact that she's a woman. Women were relegated to certain parts of society during this time, of course, but in the court (whether you're nobility or working for them), there was actually room for women to have a skilled profession. Hey, the wealthy do what they want, right? The thing that upsets the status quo, however, is that Sabine is not following the rules of order, which makes her hard to predict. It makes the other designers question their own choices, and no one is comfortable with that. However, sometimes it takes being shaken up to discover things about yourself and the world that you never knew before.
The symbolism is clear in this film. There is a moment when Sabine is speaking about a fading flower to the King, but is very clearly speaking about his out-of-favor courtesan Madame de Montespan (Jennifer Ehle), and why he should reconcile with her. And amid the chaos are little moments, like when Sabine meets a grieving man and offers a small kindness, which changes her life.
I won't spoil the end for you, but I will say that the final scene with Alan Rickman seems like the perfect send-off for a man who has given us so much entertainment over the years. Even if you watch it for that alone, I think you'll get something wonderful out of it. We miss you, Mr. Rickman.