Here's Where You Can Stream Or Buy Every Season Of Gotham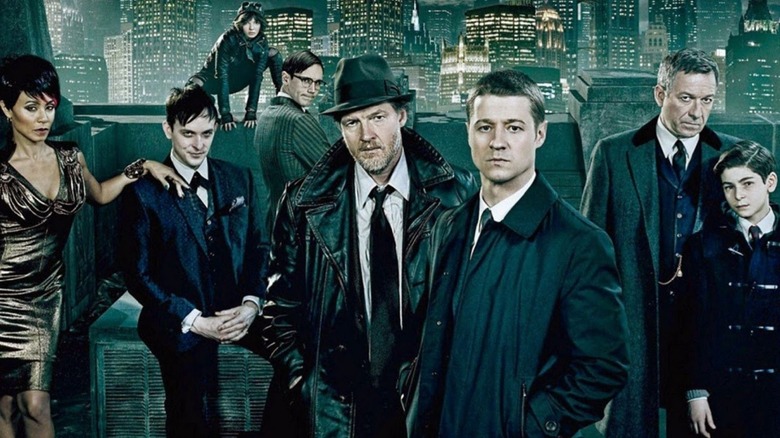 Warner Bros./Fox
It's hard to imagine Gotham City without Batman — the masked vigilante and superhero protector who fights against evil in his hometown and strikes fear into the hearts of criminals hiding underground. It's the story we've seen different iterations of — from "Batman" (1966) to Christopher Nolan's "The Dark Knight Trilogy," we've witnessed Batman's vigilante escapades in a city that does little to help itself. 
But Bruno Heller's "Gotham," a crime drama series produced by Warner Bros., puts the spotlight on detective James Gordon (Ben McKenzie) and the Gotham City Police Department (GCPD) as they navigate the dirty politics of the city's justice system and the rise of villains such as The Penguin, The Riddler, and Catwoman. Initially, there's little focus on the city's infamous vigilante because "Gotham" places emphasis on the police officers dealing with the city's corruption. The show is set in a pre-Batman era where Bruce (David Mazouz) is a young kid, coming to terms with the death of his parents.
Here's the synopsis for the show: 
"Gotham is an origin story of the great DC Comics Super-Villains and vigilantes, revealing an entirely new chapter that has never been told. It follows one cop's rise through a dangerously corrupt city teetering between good and evil and chronicles the birth of one of the most popular superheroes of our time."
The first season of the acclaimed television series starts as a violent but compelling backstory that cleverly sets the stage for Batman's future adventures — and the later seasons serve as something of an origin story for the Caped Crusader. If you're interested in learning more about what makes Gotham City a dangerous place — "Gotham" is for you!
Here's a handy guide on how you can watch "Gotham."
Where You Can Stream Gotham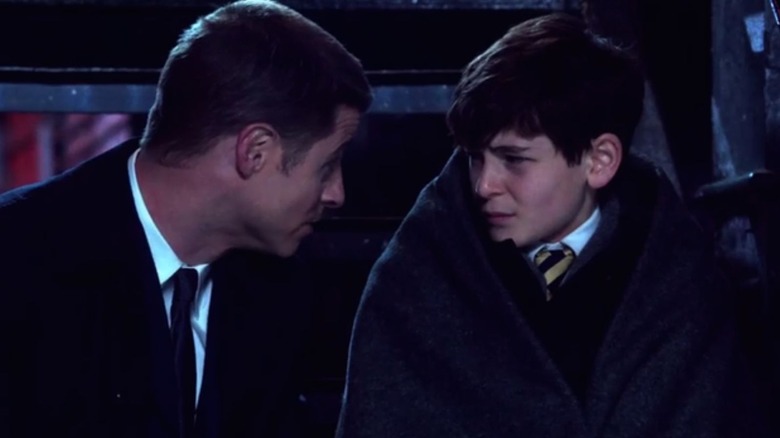 Warner Bros./Fox
"Gotham" is teeming with a cadre of iconic comic book characters that cross Batman's path. From the rise of Oswald Cobblepot (Robin Lord Taylor) as he adopts the mantle of Penguin and manipulates his way through Gotham; to Edward Nygma (Cory Michael Smith), whose transformation from the office nerd to the dangerous Riddler is worth viewing; and Selina "Cat" Kyle (Camren Bicondova), the young street-smart thief with fierce catlike instincts, it is the characters that make "Gotham" worthy of your time.
If you're looking at binge-watching the show, Netflix is the best place to watch "Gotham." The streaming service currently has all five seasons of the FOX series. If you don't have a Netflix subscription yet, it's pretty easy to subscribe and offers various plans — it costs $9.99 to get the Basic plan, $15.99 for Standard, and $19.99 for Premium. You'll also get a free trial month when you subscribe!
Where You Can Buy Every Season Of Gotham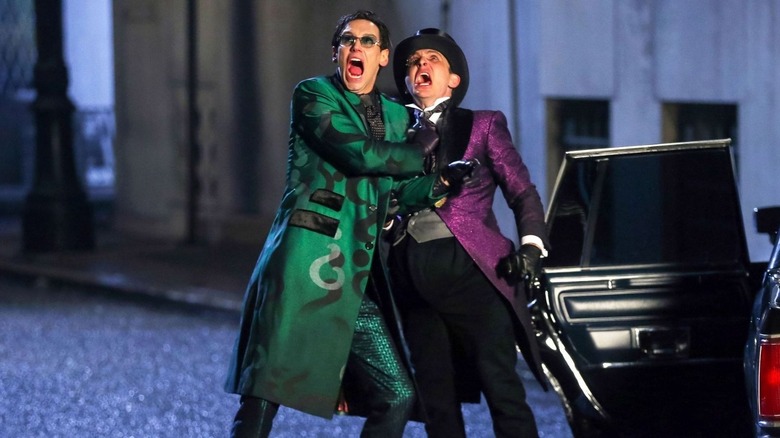 Warner Bros./Fox
If you'd rather own "Gotham" for the rest of time, keep reading to learn about all your options. There are four platforms that offer purchasing options — Vudu, Google Play, Amazon Prime, and iTunes! Vudu has each season of the crime drama series — season 1 is priced at $24.99, you can buy seasons 2, 3, and 4 for $29.99, and the final fifth season is reasonably cheaper than the rest and can be purchased at $22.99. If you'd like to buy a few episodes instead, you'd be happy to hear that every episode through the five-season series is priced at just $1.99.
Google Play has seasons 1 to 4 at $42.99, while the fifth season is priced at $32.99. Amazon Prime also offers all seasons of "Gotham" — seasons 1 and 5 can be purchased for $24.99, and seasons 2, 3, and 4 cost $29.99. iTunes has a great deal if you're looking at buying the entire show all at once — you could get all five seasons for $79.99.
If you've ever considered yourself a Batman fan, you might like "Gotham." It is the origin story of several DC Comics supervillains and reveals a rarely explored chapter in Batman mythos. Gotham has always existed — much before the birth of the Caped Crusader, and the series presents an insightful, gritty look at the city that made a notorious billionaire transform into one of the greatest antiheroes we've ever known.