No Exit Trailer: A Snowstorm Conceals A Dark Secret; Director Tells Us About The Movie's Cinematic Inspirations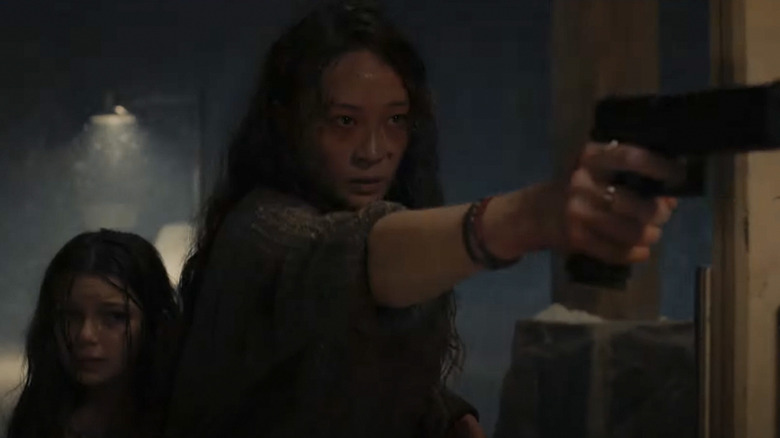 20th Century Studios
Director Damien Power made a well-received indie horror film in 2016 called "Killing Ground," and now he's back with "No Exit," a snowbound suspense thriller written by "Ant-Man" scribes Andrew Barrer and Gabriel Ferrari. Based on a 2017 novel of the same name, "No Exit" centers on a young woman who is waylaid by a blizzard, rerouted to a local visitor's center to wait out the storm, and soon discovers that one of the five strangers inside is hiding a dark, disturbing secret. Check out the trailer below.
No Exit Trailer
Here's the official synopsis:
In "No Exit," Havana Rose Liu ("Mayday") makes her feature film leading role debut as Darby, a young woman en route to a family emergency who is stranded by a blizzard and forced to find shelter at a highway rest area with a group of strangers. When she stumbles across an abducted girl in a van in the parking lot, it sets her on a terrifying life-or-death struggle to discover who among them is the kidnapper. Directed by Damien Power ("Killing Ground") from a screenplay by Andrew Barrer & Gabriel Ferrari ("Ant-Man and the Wasp") based on Taylor Adams' 2017 novel and produced by PGA Award winner Scott Frank ("The Queen's Gambit"), the film stars Havana Rose Liu, Danny Ramirez ("The Falcon and the Winter Soldier," "Top Gun: Maverick"), David Rysdahl ("Nine Days"), Dale Dickey ("Winter's Bone), Mila Harris ("Young Dylan") and Dennis Haysbert ("Breakthrough").
A Chat with Damien Power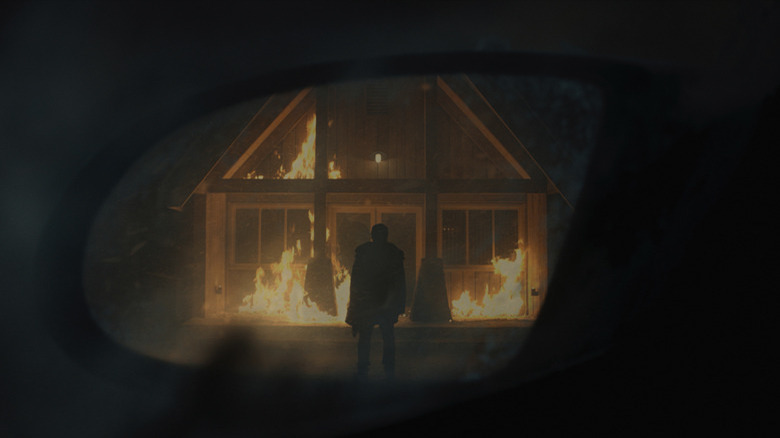 20th Century Studios
To prepare for the movie, Power watched small-scale, contained thrillers like "Prisoners" and "Green Room" for inspiration, but he also looked at movies like "Fargo," "A Simple Plan," and even the Liam Neeson film "The Gray" to figure out the best way to make a movie look properly cold.
"I think films set in the snow, there's the cold and that stark white and I think those films inevitably become these endurance tests that really reveals who the characters truly are," he told us yesterday over Zoom. "That's something this film does in its premise, with Darby drying to work out who the kidnapper is. The film constantly asks the characters, 'Who are you?'"
Power and his team shot the movie on a sound stage in Auckland, New Zealand, during that brief window when it appeared as if that country had figured out a way to largely avoid the spread of COVID-19. Building the sets — including the entire visitor's center extending out to the parking lot — in a practical, connected way created a "totally immersive environment" and allowed him to control every aspect of the production, making it easier to capture that sense of isolation and bone-chilling cold that the characters have to endure. That's a far cry from "Killing Ground," which was largely shot on location and was therefore subject to the whims of nature.
"We had an effects team on the ground who did snow. There were many, many different kinds of fake snow, something like 12 or more. So we had different snow for different occasions, as well as a lot of digital snow from weather. You'd be surprised how fussy you can get about particular snowfall ... I feel like you can continue being creative the whole way through the process, which is great. I think we'll know if we've succeeded if people start Googling, 'Where is Muir's Rest?'"
Power knows there's not much he can say about the movie yet without getting into specifics, but he described it as "an intense suspense thriller, maybe a bit old-fashioned, and I think a lot of fun," which definitely seems to be reflected in this trailer. "I personally like watching films [which ask] me what would I do if I were in that situation? I think this is very much one of those stories."
"No Exit" premieres on Hulu on February 25, 2022.