The Best New Blu-Ray Releases: Ghostbusters: Afterlife, Spencer, And More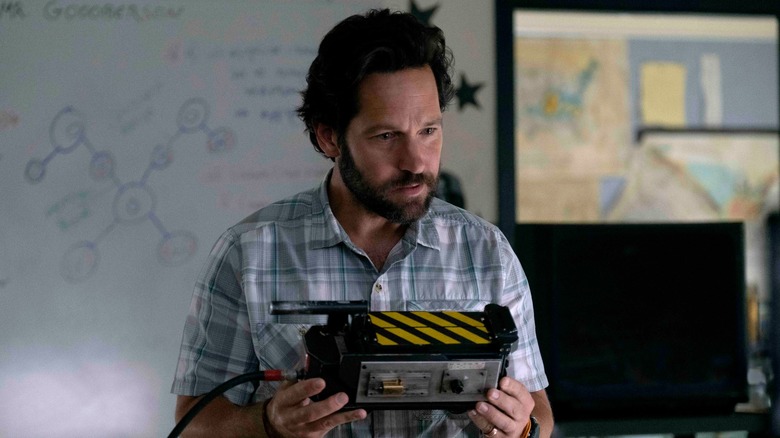 Sony
What's new in the world of big, beautiful Blu-rays? Well, I'll tell 'ya. There's a new "Ghostbusters" movie, did you know that? It's currently available on digital but hitting Blu-ray on February 1, so I'm including it here! Also included here: Edgar Wright is back with "Last Night in Soho," Kristen Stewart channeling Princess Diana in "Spencer," the underrated Australian thriller "The Dry," Ethan Hawke wandering around Rome in "Zeroes and Ones," and Jane Campion's "The Piano," which is now part of the Criterion Collection. Let's dig in, shall we? 
Ghostbusters: Afterlife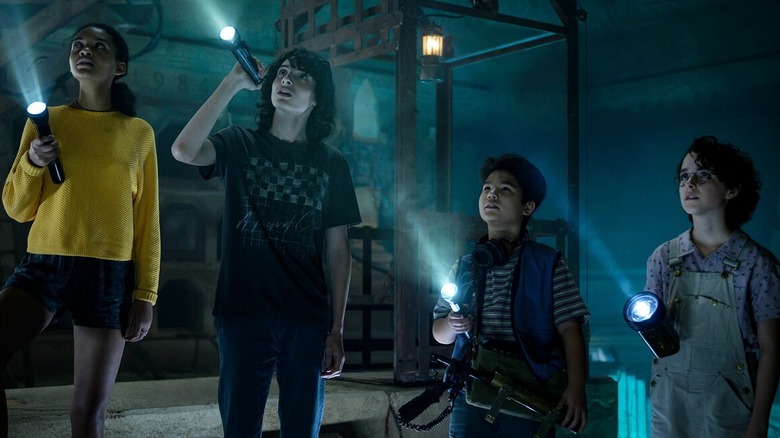 Sony
In 2016, Paul Feig dared to reboot "Ghostbusters" with an all-female cast. I personally thought the film was a lot of fun. Did I enjoy it as much as the original "Ghostbusters"? No, but I wasn't expecting to. Anyway, while that movie was not a flop, it did cause an uproar online, with toxic goons screaming to high-heavens about their childhoods being ruined. And while many of these folks will probably still swear up and down that their outrage had nothing to do with the fact that the movie was about lady Ghostbusters, c'mon – we all know that was the reason. Anyway, rather than continue with the world of the reboot, the franchise decided to go back and make a legacy sequel – you know the deal: a new cast of characters inhabiting the original franchise timeline, with legacy players popping up for extended cameos. And this time, Jason Reitman, son of original "Ghostbusters" director Ivan Reitman, was at the helm. The end result: "Ghostbusters: Afterlife," which isn't so much a movie as it is a series of references and Easter Eggs all strung together in a slick package.
I'll cut to the chase: "Afterlife" isn't some abomination, but it's also kind of a lifeless slog. I think this is ultimately a branding problem. Had this been a brand-new adventure done in the style of "Ghostbusters," it might go down smoother. Instead, this is a wall-to-wall "Ghostbusters" reference extravaganza with no identity of its own. The story: Egon (the late Harold Ramis, who is recreated here via ghoulish CGI) is dead, and his estranged family has moved into his spooky old farmhouse. His granddaughter Pheobe (Mckenna Grace) eventually follows in grandpa's footsteps to become a Ghostbuster and stop the impending apocalypse. Paul Rudd, who is perfect for a "Ghostbusters" film, is sadly wasted as a teacher; Carrie Coon is stuck in the "disapproving mom" role; and Finn Wolfhard is rather dreadful as Pheobe's whiny brother. Meanwhile, every scene is choked with needless callbacks. Here's just one example: Pheobe eventually discovers Egon's secret laboratory hidden beneath a shed. To get down to the lab she has to use a fireman's pole – you know, just like the kind they had in the "Ghostbusters" firehouse! But ... why would there be a fireman's pole in a shed? Did Egon get nostalgic for the old days of sliding down a pole so he installed this thing for fun? It makes no sense; it's just there so fans can point at the screen like Leonardo DiCaprio in "Once Upon a Time in Hollywood." 
There's also an issue of tone. This film does have a few jokes, but it's also weirdly serious, and even tries to get emotional on us. I'm sorry, but part of the fun of the original "Ghostbusters" was how unserious it all was. The Ghostbusters weren't guys who touched our heartstrings; they were wisecracking slob scientists, most of whom looked consistently hung-over, with cigarettes dangling from their lips. The original film's ironic tone is nowhere to be found here, replaced instead with a whimsical Amblin-style mode that just doesn't fit.
Special Features:
We Got One! Easter Eggs Revealed
Ghostbusters: A Look Back
A Look Ahead
Bringing Ecto-1 Back to Life
The Gearhead's Guide to Ghostbusters Gadgets
Special Effects: The Ghosts of Afterlife
Deleted Scene: Is It Ever Too Late?
Summoning the Spirit: Making Ghostbusters: Afterlife
Last Night in Soho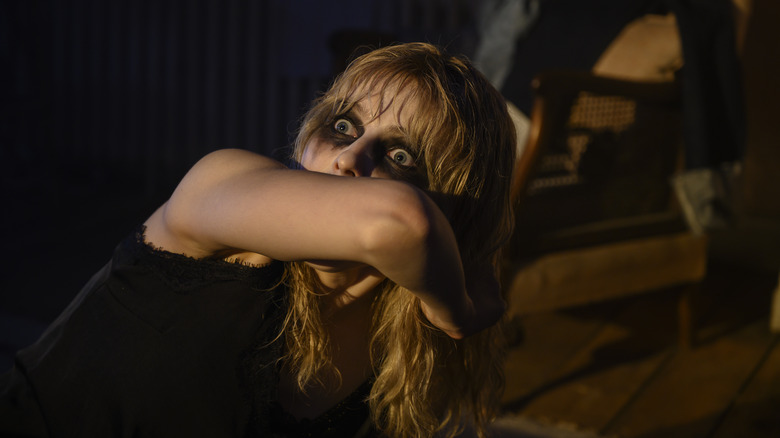 Focus Features
Edgar Wright is back with "Last Night in Soho," his first full-blown horror flick. Thomasin McKenzie is Eloise, a fashion student who heads to London to study. She's obsessed with the 1960s, and soon finds herself literally transported back there. Or does she? Perhaps she's hallucinating, or dreaming. Or perhaps she really has found a porthole into the past – one that connects her with a mysterious nightclub singer, played by Anya Taylor-Joy. And maybe, just maybe, that singer was murdered. 
Nothing is as it seems here, with Eloise tumbling further down into madness and terror as she jumps back and forth between present-day and the swingin' '60s. "Last Night in Soho" gets a little clunky in its third act, and the answers provided for some of the film's mysteries aren't entirely satisfying. But gosh, Wright sure directs the hell out of this thing, staging several show-stopping set pieces that highlight his skill with a camera. The problems here are primarily on the script level, but gosh, the filmmaking is top-notch. 
Special Features:
MAKING OF FEATURETTES

MEET ELOISE – An in-depth look at the character of Eloise and the challenges that star Thomasin McKenzie faced while bringing her to life.
DREAMING OF SANDIE – A closer look at the characters of Sandie and Jack and why Anya Taylor-Joy and Matt Smith were the perfect actors to embody the essence of the time period.
SMOKE AND MIRRORS – The cast and crew break down how lighting, makeup, special effects, and creative camerawork came together to create a collision between the present day and 1960's time periods.
ON THE STREETS OF SOHO – The cast and crew discuss the importance of shooting on location in Soho and the complexity of transforming the city streets back in time.
TIME TRAVELLING – A look into how the music, costume design, and production design of the film work together to immerse the audience into the world of 1960's Soho.

DELETED SCENES
ANIMATICS

FIRST DREAM
SHADOW MEN
MURDER
FINAL CONFRONTATION

EXTRAS

HAIR & MAKEUP TESTS**
LIGHTING & VFX TESTS**
WIDE ANGLE WITNESS CAM
ACTON TOWN HALL STEADICAM REHEARSAL**

"DOWNTOWN" MUSIC VIDEO**
TRAILERS**
FEATURE COMMENTARY WITH DIRECTOR/CO-WRITER EDGAR WRIGHT, EDITOR PAUL MACHLISS AND COMPOSER STEVE PRICE
FEATURE COMMENTARY WITH DIRECTOR/CO-WRITER EDGAR WRIGHT AND CO-WRITER KRISTY WILSON-CAIRNS
Spencer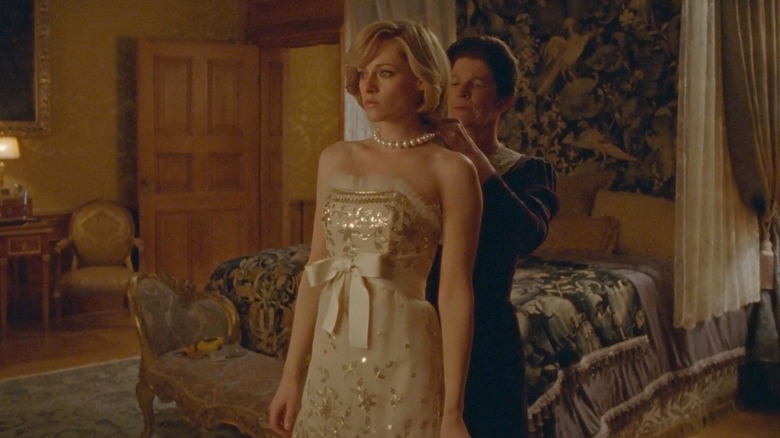 Neon
Kristen Stewart gives the best performance of her career in "Spencer," Pablo Larraín's haunting, unsubtle portrait of one long holiday weekend in the life of Princess Diana. This is not a traditional biopic. In fact, the opening title card even goes so far as to call this a "fable" – all that we're seeing is an elaborate fiction; it did not happen. But it doesn't matter, because it feels true, at least within the context of the movie itself. Larraín is using the Princess Di story to stage an ornate, strange, horror-adjacent portrait of a woman coming undone, and trying to hang on to some semblance of good in a chaotic world. 
Stewart is the main draw here, playing Diana as slowly losing her mind as she wanders about the Sandringham Estate, plagued by her tumultuous thoughts and eyed warily by the Royals and their servants who adhere rigidly to tradition. This is a frequently bleak film, but there are rays of sunshine poking through those clouds – like Diana's relationship with a Maggie (Sally Hawkins), a Royal Dresser who seems to be the only person who genuinely cares about her (although a sympathetic but uneasy cook, played by Sean Harris, also seems concerned for Diana's wellbeing). Claire Mathon's dreamy, gauzy cinematography really deserves to be seen in 4K, and it's a shame Neon didn't give this release that treatment. Still, "Spencer" remains one of 2021's best films, and worth seeing. 
Special Features:
The Paino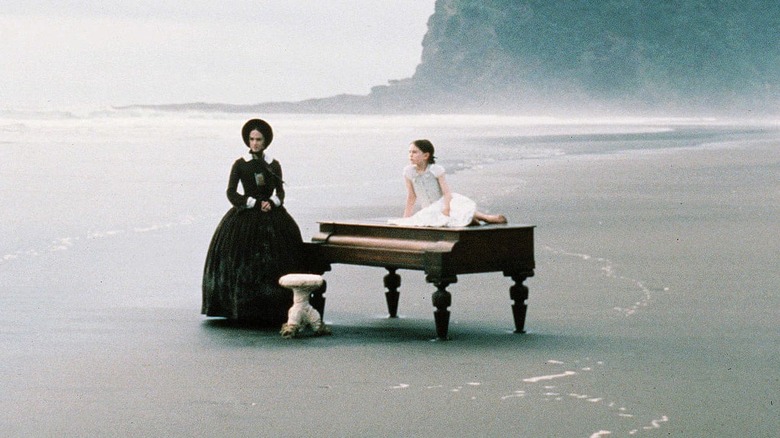 Miramax
Jane Campion's beautiful, unsettling "The Piano" is now part of the Criterion Collection. Campion because the first female filmmaker nominated for Best Director with this, a film that tells the story of a mute woman (Holly Hunter) who moves to New Zealand due to an arranged marriage to a man she's never met (Sam Neil). She brings along her daughter (Anna Paquin) and her piano – but the instrument is too big to haul to her new house, and she's forced to abandon it. 
Enter George Baines (Harvey Keitel), a local who buys the piano and says Hunter's character, Ada, can come to his house and play it. But he's not just interested in the music – he's interested in Ada, and a kind of psychosexual, lusty relationship swells up between the two. It's hard to believe a film like this could get such an Oscar push these days; it's a complex, complicated film filled with characters who are not easy to be around, and that's the type of material many modern-day audiences flee from. There's also a healthy amount of sexual activity, which, again, is something modern moviegoers seem to not want anymore. Go figure. But this is a truly gorgeous, unique film, with Hunter predictably fantastic in a mostly silent performance. 
. Special Features:
New, restored 4K digital transfer, supervised and approved by director Jane Campion and director of photography Stuart Dryburgh, with 5.1 surround DTS-HD Master Audio soundtrack
In the 4K UHD edition: One 4K UHD disc of the film presented in Dolby Vision HDR and one Blu-ray with the film and special features
Audio commentary featuring Campion and producer Jan Chapman
New conversation between Campion and film critic Amy Taubin
New interviews with Dryburgh, production designer Andrew McAlpine, and Maori adviser Waihoroi Shortland
Interview with actor Holly Hunter on working with Campion
"The Piano" at 25, a program featuring a conversation between Campion and Chapman
Interview with composer Michael Nyman
Excerpts from an interview with costume designer Janet Patterson
Inside "The Piano," a featurette including interviews with Hunter and actors Harvey Keitel and Sam Neill
Water Diary, a 2006 short film by Campion
Trailer
New English subtitle translation and English subtitles for the deaf and hard of hearing
PLUS: An essay by critic Carmen Gray
The Dry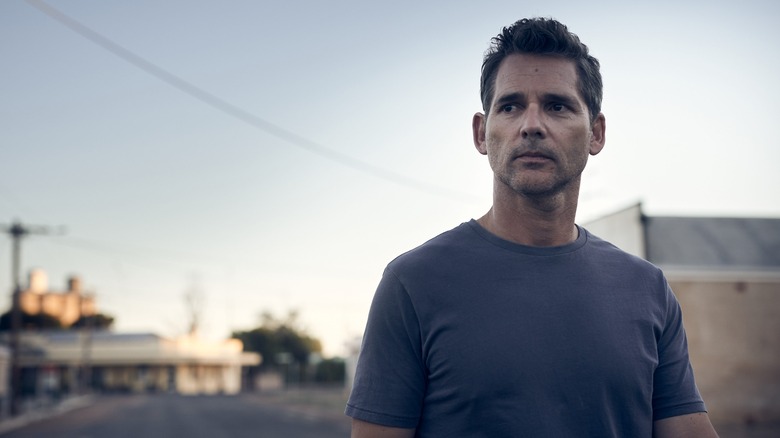 RLJE Films
"The Dry" is the type of mid-budget adult-driven thriller that people always say they want more of, but then ignore when they have the option. So I'm here to tell you: If you're on the lookout for a mid-budget adult-driven thriller, here you go! In "The Dry," Eric Bana plays a Federal Agent who returns to his small Australian hometown to look into a murder-suicide involving one of his childhood friends. Bana's character isn't exactly welcomed back home because, as we learn through a series of flashbacks, he was potentially involved in the drowning death of one of his high school friends. As you can probably guess, there's more than meets the eye going on with both cases. The majority of the movie takes place during a drought, and you can practically feel the dry heat radiating off of the landscapes as the characters move through them.
Unfolding at a slow-burn pace, "The Dry" is a mystery and a character study rolled into one, and it's the type of movie we need more of. To be fair, it's not like this had a huge, wide release, so it's okay if you totally missed it. But now that it's on Blu-ray I urge you to seek it out.   
Special Features:
Homecoming 
Page to Screen 
Jane Harper's Day on Set 
Two Timelines 
Falk and Gretchen 
Filming in the Wimmera Region 
Zeroes and Ones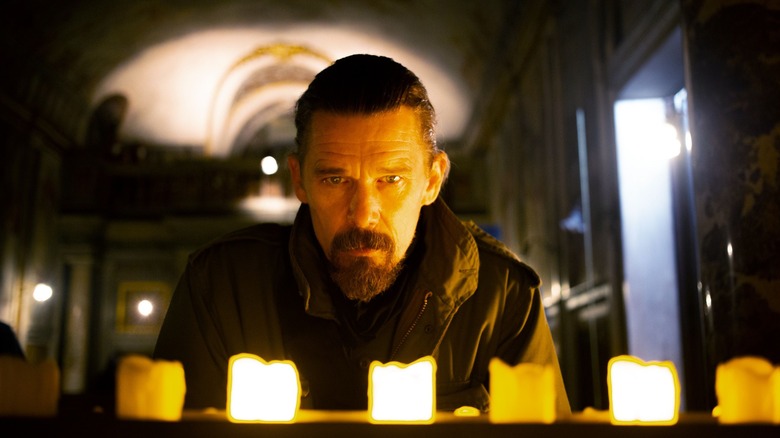 Lionsgate
Abel Ferrara's "Zeroes and Ones" is an oddball film; a shot-on-the-fly digital nightmare that has Ethan Hawke playing twin brothers involved in a terrorist plot in Rome. Mostly, though, it's an excuse to have Hawke wander around empty streets delivering strange, haunting soliloquies about faith. While COVID-19 itself isn't name-dropped here, there's a virus raging, and people don masks – or talk about being free of infection. It all swirls together into a murky, dreary apocalyptic extravaganza, complete with shots of the Vatican with badly rendered explosions layered over the footage. Has the Vatican just exploded? Is it all a dream, since it certainly doesn't look real? I don't know. One thing I do know: Some people will just plain hate this, and that's fine. It's definitely not going to be everyone's cup of tea. But I got a kind of sick thrill from all of this; from watching Hawke wander around delivering lines like, "The world is the hiding place of God. You know who said that? Jesus."
Special Features: