Three Minutes - A Lengthening Trailer: Memory Matters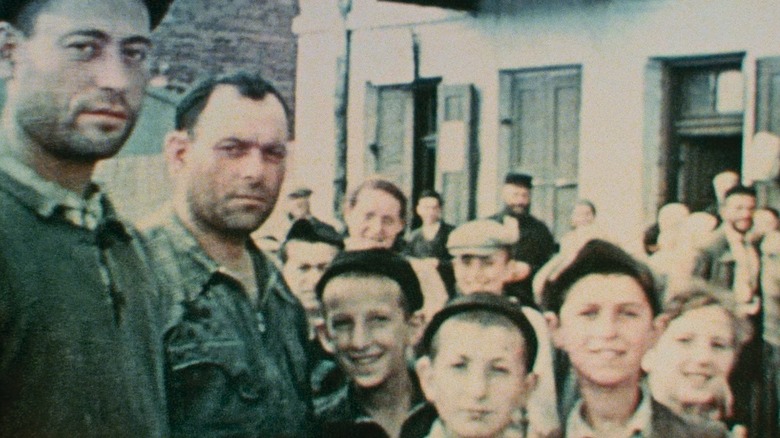 Neon
There is a documentary out at the Sundance Film Festival right now and even the trailer is haunting. It's called "Three Minutes — A Lengthening," and I cannot stop thinking about it. The trailer, I mean, as I haven't seen the film. Our own Chris Evangelista has and reviewed it for /Film. It's based around the mystery of a three-minute film of people in the Polish town of Nasielsk, most of whom were killed during the Holocaust. It's narrated by Helena Bonham Carter, with Maurice Chandler, who was 13 years old at the time the footage was taken. 
I'm going to give you the synopsis now so you get what you're about to see:
Three Minutes – A Lengthening presents a home movie shot by David Kurtz in 1938 in a Jewish town in Poland and tries to postpone its ending. As long as we are watching, history is not over yet. The three minutes of footage, mostly in color, are the only moving images left of the Jewish inhabitants of Nasielsk before the Holocaust. The existing three minutes are examined to unravel the human stories hidden in the celluloid.
Three Minutes – A Lengthening Trailer
The film from Bianca Stigler is also based on the book by Glenn Kurtz, "Three Minutes in Poland: Discovering a Lost World in a 1938 Family Film." Academy Award-winning filmmaker Steve McQueen co-produces. With the terrible amount of antisemitic hate crimes still going on all these years later, it's important to keep these things in the narrative. Here is a quote from /Film's review:
 ... "Three Minutes" isn't really about Glenn's search (although if someone wants to go ahead and make a documentary about that, they should, because it sounds like a compelling story). Instead, director Bianca Stigter wanted to use the film to answer a question: "could you make those three minutes last longer, to keep the past in the present?" ... Nearly everyone the camera captures has a smile on their face. They are blissfully unaware of what lies ahead. But we, firmly stuck here in the future, know the truth. We know that nearly everyone glimpsed here will be murdered, and there's nothing we can do to stop it. We can only watch and reach out towards the past, our fingers grazing through flickering light the way they might pass through a spirit.
Memory matters. Talking about it all matters. 
No release date has yet been set for "Three Minutes — A Lengthening."