Superhero Bits: The Batman TV Spot, The Madame Web Movie May Be Filming Soon & More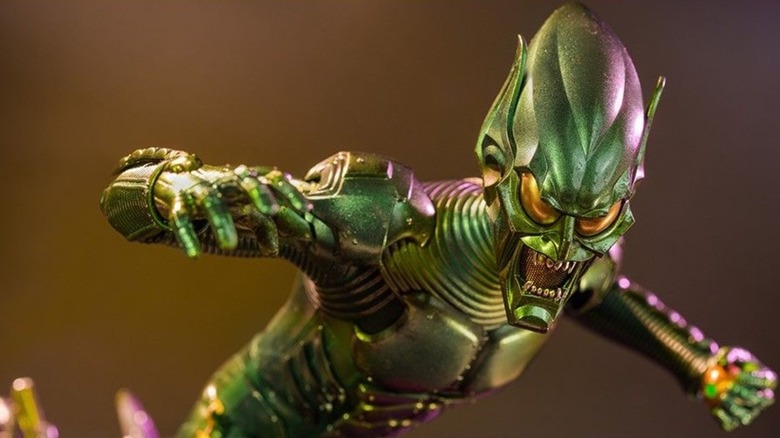 Marvel
(Superhero Bits is a collection of stories, updates, and videos about anything and everything inspired by the comics of Marvel, DC, and more. For comic book movies, TV shows, merchandise, events, and whatever catches our eye, this is the place to find anything that falls through the cracks.)
In this edition of Superhero Bits:
Hot Toys is bringing us Green Goblin from "No Way Home."
"The Batman" gets a new TV spot.
Sony's "Madame Web" movie may be filming soon.
The Arroverse gets a new crossover event (in comic book form).
Arrowverse Earth-Prime Event Happening at DC Comics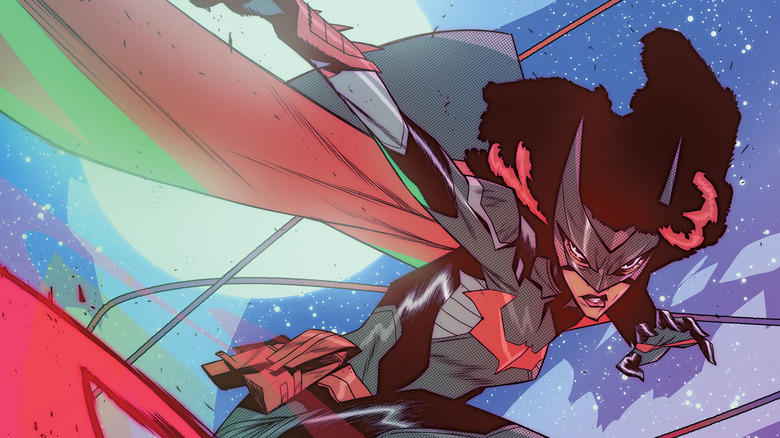 DC
As reported by GamesRadar, April will see DC Comics embracing The CW's Arrowverse on the page with a three-month-long, six-issue miniseries that will span the entire franchise, culminating in a big crossover event. The event kicks off with "Earth-Prime: Batwoman" on April 5, with "Earth-Prime: Superman & Lois" set to follow on April 19. The following three issues will features tales from "Legends of Tomorrow," "Stargirl," and "The Flash" before the final issue brings them all together for the big finale. Each issue will come with bonus material created by cast members of the shows, along with "teasers" that give readers clues to the "nature of the final crossover in issue #6." The first issues hit retailers in April.
Happy Birthday, John Romita Sr.!
Wishing a happy birthday to John Romita Sr.! 🎨 Celebrate the iconic artist's legacy with a look at some of his most memorable Marvel moments: https://t.co/45QdZAiVis

— Marvel Entertainment (@Marvel) January 24, 2022
Today, we celebrate an icon as John Romita Sr. celebrates his birthday! 92 years of life on this Earth and a whole lot of wonderful storytelling to show for it. As we can see in the above tweet, Marvel put together a little spotlight article to highlight some of the legendary artist's work, specifically in the pages of "Spider-Man." So toast to Mr. Romita today and go read some comic books in his honor.
Venom: Let There Be Carnage - VFX Fun Facts Video
The folks at visual effects studio DNEG have put together a fun little video breaking down "Venom: Let there Be Carnage," one of the biggest box office hits of 2021. Specifically, it looks at some fun facts relating to the film's effects. Aside from stating some of the interesting factoids, we also see some interesting before and after footage of these effects coming to life, which is pretty neat. Check it out for yourself above.
Rumor: Is the Madame Web Movie Filming This Year?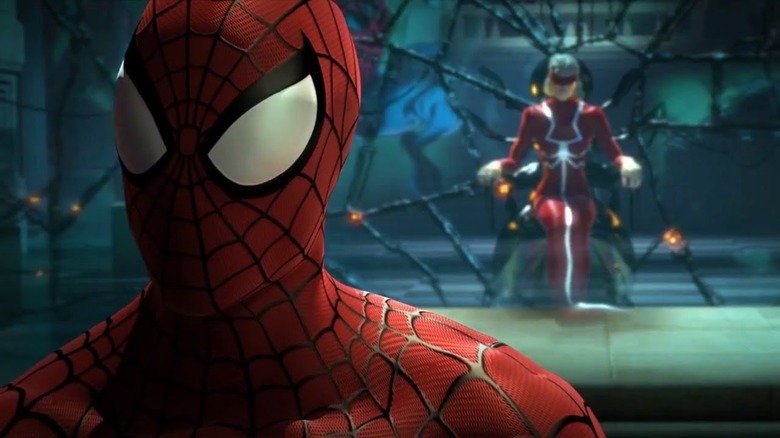 Marvel
What's the time? It's rumor time! According to Charles Murphy, founder of Murphy's Multiverse, an often accurate source for superhero information, Sony has another "Spider-Man" spin-off set to begin filming this year in the form of "Madame Web." We previously heard that a movie centered on the character was in development and now, Murphy reveals that the studio is seemingly further along in development with this one than we may have realized.
Also sounds like Sony is planning to get Madame Web going this year. Have a location but no dates yet. I'll update when I have all the details.

— Charles I Don't Know About That Trailer Murphy (@_CharlesMurphy) January 19, 2022
So there we have it. We know that "Morbius" (which has been delayed more than two years) is set to arrive later this year, with the "Kraven the Hunter" movie also on deck. This would give Sony yet another possible superhero flick, albeit an odd one, to put on the tee and potentially join "Venom" in the unlikely franchise arena. We'll keep an eye on this one and see if this actually proves true. If it is the case, we should be hearing word of casting and whatnot sooner rather than later.
Peacemaker Title Sequence BTS Video
For anyone who has watched "Peacemaker" on HBO Max, the opening credits have almost certainly stood out. Series creator James Gunn managed to craft a wildly entertaining song and dance number that makes the credits actually worth watching, wich is a rarity in the streaming era. Now, we have a new behind-the-scenes video (above) that offers a glimpse into what went into crafting the credits sequence. As one might expect, it looks like everyone had a very good time. "Peacemaker" returns with a new episode on Thursday.
Black Adam Training Was Arduous According to The Rock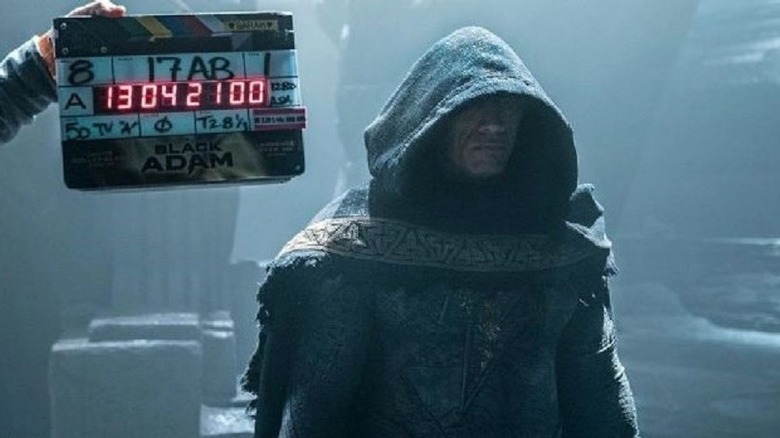 Warner Bros.
After many, many years of talking about it, Dwayne "The Rock" Johnson's "Black Adam" movie is finally coming to theaters this year. The wrestler-turned-actor has been attached to the role for over a decade, so this has been a long time coming. In a recent interview with Men's Journal, Johnson discussed training for the role and described it as "the most arduous I've ever done in my life." That is certainly saying something. The Rock then, once again, asserted that "The hierarchy of power in the DC universe is about to change." Aside from that, when asked when he started training for the role, Johnson gave a surprisingly intense answer.
"I started training for Black Adam when I came out of the womb. I believe I was born to play this character. But in all honesty, this project has been with me for 10 ten years now. The process began when we started to stand the material up and really developed it into what it is present day. Once the start date was agreed on by our Seven Bucks production company, the rest of my team, Warner Bros. Studio, and DC Comics, I started to build an exhaustive training program with my coach Dave Rienzi. I wanted to come into this in the best shape of my career."
We'll see if all that hard work pays off when "Black Adam" hits theaters on July 29.
The Batman - Game International Spot
The Warner Bros. Indonesia YouTube channel has revealed a brand new teaser for "The Batman," which is finally set to hit theaters in March, all three hours of it. This spot, however, is only 30 seconds long but it does give us a glimpse at Paul Dano's Riddler, as well as Robert Pattinson's emo Batman in action. There is a surprising amount of new footage crammed into this spot, so it may well be worth taking a look for those who are feeling particularly eager to see what director Matt Reeves has cooked up. Check it out for yourself above.
Spider-Man: No Way Home Green Goblin from Hot Toys
Lastly, Hot Toys has revealed a new Green Goblin figure from "Spider-Man: No Way Home," capturing Willem Dafoe's return as the villain in all of his glory. Two versions of the figure, a standard and a deluxe with a battery-powered glider, are going up for pre-order very shortly. As of this writing, no price has been revealed but this one will probably set you back a pretty penny I'm willing to guess. Photos of the toy can be seen in the Instagram post above. For those who are interested in potentially getting one of these for themselves, full information can be found on the Hot Toys website by clicking here.