The Wonderful Winter Of Mickey Mouse Trailer Teases The Next Seasonal Animated Special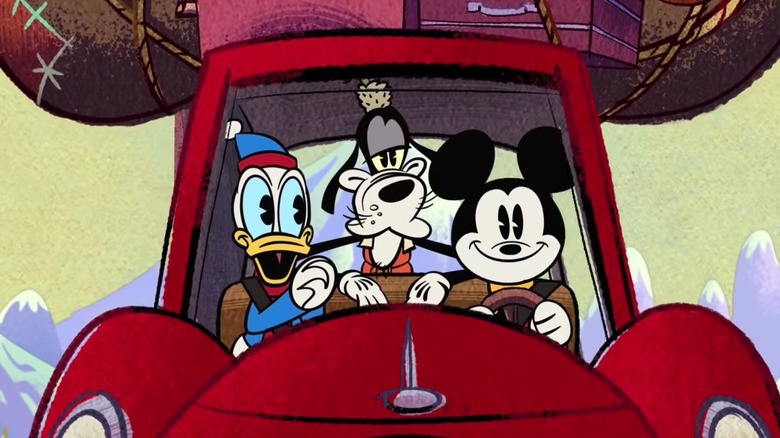 Disney+
The holidays have come and gone, and now we're just dealing with bleak winter. But hey, at least you can already begin looking forward to next year — and get a few ideas to make the time until the spring thaw pass faster — with everyone's favorite mouse, duck and, um, to quote Rob Reiner's excellent 1986 classic film "Stand By Me," "What the hell is Goofy*?" Today, Disney+ has announced the premiere date and released the trailer for "The Wonderful Winter of Mickey Mouse," a new special that will launch the second season of "The Wonderful World of Mickey Mouse."
The second season of the Disney+ project will be comprised of four different extended-length specials, each of which will be themed to celebrate each season: Winter, spring, summer, and fall. The new streaming special "The Wonderful Winter of Mickey Mouse" will premiere on February 18, 2022, exclusively on Disney+. 
This little mouse is almost 100 years old now, and he's still as spry as ever. He's withstood parodies, becoming a corporate symbol, and several makeovers. It's hard to argue with success. Plus, he's awfully cute.
Winter Checklist
In the trailer, which your children will surely watch over and over again, we get Mickey Mouse's winter checklist, including things like avoiding avalanches (always good advice), playing in the snow without getting a face full of it, checking that the heat is on in your winter cabin, ice skating safely, skiing, and wearing this rather fabulous purple coat with fluffy trim, purple eyeshadow, and a fetching chapeau, as Goofy models for us. Oh Goofy, you fashion icon, you!
Here is the official info for "The Wonderful World of Mickey Mouse" on Disney+:
"The Wonderful World of Mickey Mouse" spotlights the endearing, adventurous and comedic antics of Mickey Mouse, Disney's #1 star, and is geared towards kids, families, and fans of all ages. The series is produced by Disney Television Animation with Emmy Award-winning artist and director Paul Rudish serving as executive producer and supervising director. Christopher Willis, the Emmy Award-nominated composer of the "Mickey Mouse" shorts, also provides the music for this series. Philip Cohen is the series producer.
*By the way, Goofy is officially an anthropomorphic dog, but whatever. Though, to be fair, I have indeed seen dogs dressed up in things like that purple number. I do live in Los Angeles, after all.