Bill Skarsgard Was Just As Creepy Without The Pennywise Makeup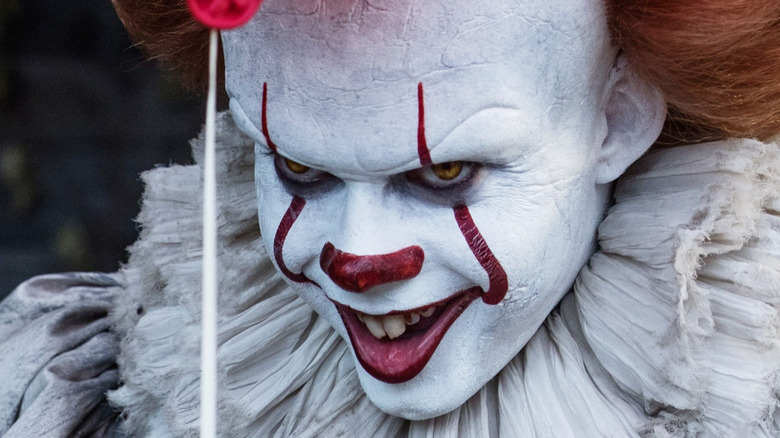 Warner Bros.
What is it that makes so many people scared of clowns? Is it their greasy white face paint? Their oddly child-like voices? Whatever the case, clowns have become a staple of the horror genre over time thanks to works like Stephen King's "IT." Written in 1986, the novel centers on Pennywise the Dancing Clown, an ancient shape-shifting creature that emerges from hibernation every 27 years to feed upon the unsuspecting children of Derry, Maine. Four years after its publication, King's book was famously turned into a TV miniseries starring Tim Curry as Pennywise. In the hands of the "Rocky Horror Picture Show" icon, the character was funny, outlandish, and more than a little disturbing, even when he wasn't snacking on kids.
Suffice it to say, Curry left some big shoes to fill when King's story made the jump to the silver screen with what would become the first of two movies based on his novel in 2017. The films' director, Andy Muschietti, ultimately entrusted Bill Skarsgård with the job of portraying the new Pennywise, at a time when the Swedish actor was only really known for playing the role of Roman Godfrey on the Netflix horror series "Hemlock Grove." Fortunately, Skarsgård knew better than to try to beat Curry at his own game and took his own approach to the character.
"He's Very Child-Like"
Where Curry's Pennywise had a deep, raspy voice and seemed very grown-up, Skarsgård's take on the character was much more child-like. He would speak in a higher-pitched tone and often keep his eyes wide-open in a way that made him come across as both innocent and creepy at the same time. This also made him very unsettling to watch, even when he auditioned for Pennywise without any of his makeup or his costume on. As Muschietti put it:
"There was a strange balance that [Skarsgård] brought, a strange energy, because he's very child-like. He has these big eyes [and a] sort of childish cute face, but he brings a darkness that is very unsettling. He can play this ambiguity, this dichotomy very well, it comes very easy to him. He understands it."
While he might've been perfectly scary on his own, Skarsgård felt that he didn't really have a firm lock on how to play the role until he wore his entire Pennywise getup for the first time. As the actor explained:
"It was hard for me to figure out what the character looked or moved like or anything because such a big part of it is the makeup and the costume, and I didn't know what that would be or how it would look or how it would feel to have on you. So, going into it, I kind of really broke down the character intellectually, like what I think this entity is, but I couldn't really physically become him until I got all the makeup and the costume on. So that was a very important piece to me."
Skarsgard's Career Since Then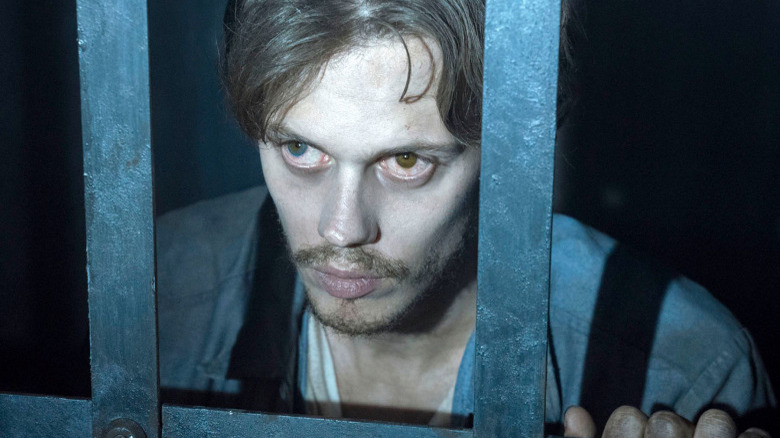 Hulu
Upon its release, Muschietti's first "IT" movie was a smash-hit, grossing over $700 million at the box office. It also opened to strong reviews, with critics praising Skarsgård for making the role of Pennywise his own and not repeating what Curry did. Two years later, Muschietti and Warner Bros. would return with "IT Chapter Two," a followup in which the now-grownup heroes from the earlier film are forced to return to Derry when Pennywise awakens from his slumber. Reviews were less kind this time around, but the movie was once again a commercial success and kept Skarsgård's star on the up and up.
Shortly after playing Pennywise for the first time, Skarsgård found himself in much greater demand. He would go on to star in Hulu's "Castle Rock," a series inspired by Stephen King's work in which Skarsgård played a mysterious inmate at Shawshank State Penitentiary known as "The Kid." The actor has since branched out beyond the world of horror with roles in films like "Deadpool 2" and "The Devil All the Time." Most recently, Skarsgård lent his voice to the movie "Eternals" as Kro, a villainous Deviant who does battle with the titular superheroes.
Up next, Skarsgård will add yet another franchise to his belt when he stars opposite Keanu Reeves in the forthcoming "John Wick: Chapter 4." At the moment, it's unclear whether Skarsgård's character will be Mr. Wick's friend or foe — but if he is playing a bad guy then he's bound to be a chilling one, even without his Pennywise makeup to assist him.