Patrick Stewart And Hugh Jackman Improvised One Of Logan's Most Intimate Scenes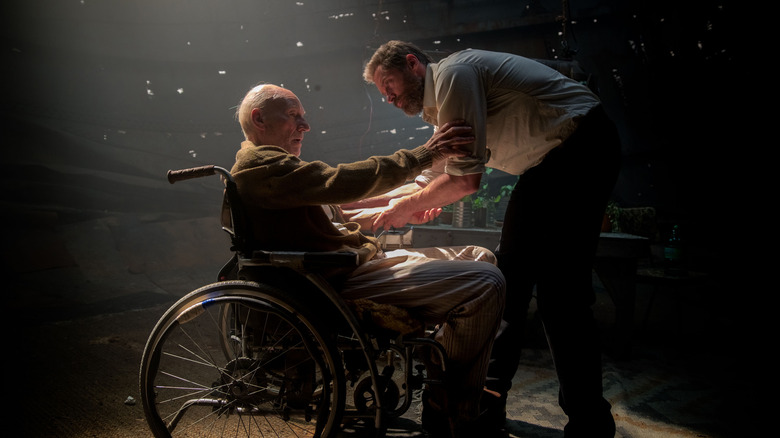 20th Century Studios
The "X-Men" franchise is largely responsible for ushering in the modern superhero movie era as we know it, along with "Blade" and "Spider-Man." That is in no small part thanks to the popularity of Hugh Jackman as the fan-favorite mutant Wolverine, who made his debut in the 2000 live-action adaptation of the Marvel Comics title and kept at the role for nearly 20 years. Jackman's run ended with "Logan" in 2017, and it's widely considered to be one of the best comic book movies ever made.
Directed by James Mangold, "Logan" moves the story well into the future, allowing for the filmmaker to tell a surprisingly intimate and emotional story, that doesn't skimp on the superhero goods. It is, in my humble opinion, pretty damn close to a masterpiece. And, as it turns out, one of the very best scenes in the entire movie largely came about through improvisation and was not scripted.
The Scene In Question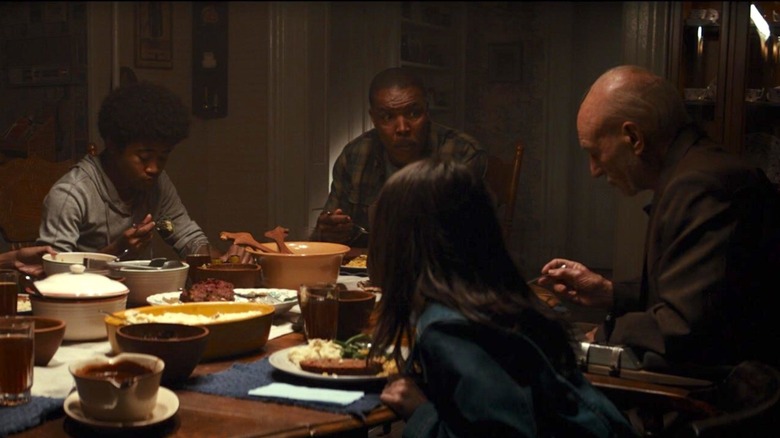 20th Century Studios
A little over halfway into the movie, Logan, Charles Xavier (Patrick Stewart), and Laura (Dafne Keen) find themselves enjoying the kindness of strangers that they helped on the road after their horses got loose on a rural highway. The trio join the family for dinner on their farm and plan to stay the night before hitting the road again. Gathered like a big, happy family, they sit down, and for a few minutes, things feel normal. They seem happy. And we get to relive some "X-Men" history in a rather sweet fashion. Here's the scene for those who might need a refresher:
Speaking to The Independent, Patrick Stewart revealed, rather surprisingly, that this scene was improvised, at least partially. The actor explained:
"There were occasions in one scene where [director] James Mangold said, 'Just improvise'. It's the scene where the family is talking about wanting to have a vacation and the kid says, 'I'm ready to drop out of school,' and Logan says something like, 'Well, you know, be careful what you say, because [Xavier] used to run a school.' James said, 'When you get to that moment, why don't you talk about your history a little bit more? Fill it out with something. Whatever feels appropriate to you.' So we did an eight or nine-minute improvisation, Hugh and myself."
The fact of the matter is that Jackman and Stewart had a long history together on these movies, representing a large chunk of both their lives. It makes sense, knowing they were both coming to the end of their journey with these characters, that taking some time to reflect naturally would pay off. Fortunately, Mangold had the vision to let it happen naturally. As Stewart tells it, one line from this improvised moment made it into the final cut.
"Only one line of that improvisation actually makes it into that scene. It was then that I realized that I really have a history. Again it's not in the movie, but I talked about Jean Grey and what she meant to me. I'd never talked about this before, and it was all coming out. We loved it, it was terrific – and the [actors playing the] family were saying: 'Where did all that stuff come from?'"
The Reason It Works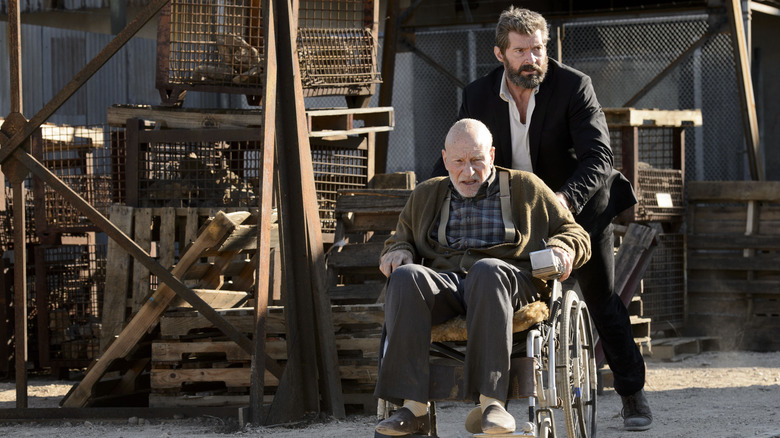 20th Century Studios
It's one thing for an actor to improvise in a scene with a character they are playing for the first time. It is another thing entirely for two actors who have lived in these characters' shoes for nearly two decades to improvise in long-form in such an intimate setting. Even if only one line from that improvised moment made it into the final cut, the genuine history that both actors had with these characters informed much of what was captured, and it allowed them to make this entire scene feel more authentic.
The reaction from the "Logan" co-stars speaks volumes about just how in tune the film's stars were with their characters after all those years. Since so much of this movie is pretty brutal, it's a sweet moment for them to recall that there were many good times for both Wolverine and Professor X, not just as mutants but as friends. It also serves as a calm before one hell of a storm, as things get especially ugly after this scene, with Charles meeting his demise at the hands of X-24.
This is but one of the little touches that helps make "Logan" what it is. It's a movie that transcends the genre to become more than your average superhero movie.