Loki Featurette Explores How The Show's Visual Effects Came To Be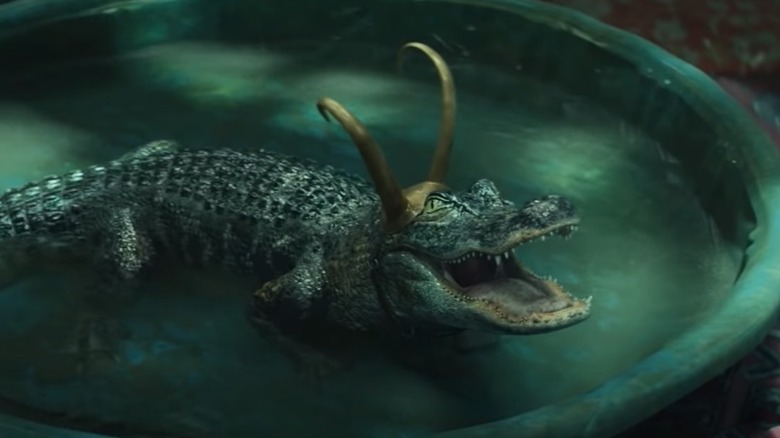 Industrial Light & Magic, Marvel Studios
Almost every sci-fi TV show and film runs on CGI these days. It's allowed studios to do some spectacular things. While viewers have quibbles with CGI that's overdone, there is no way we'd have, say, a believable talking tree as a character in Marvel films without it. Today Industrial Light & Magic, the effects company behind almost every single solitary genre film and show that you love, has released a video of how some of the special effects were done in the recent Disney+ TV series "Loki." 
There is no dialogue in this video, just a visual rendering of the effects, particularly in the (spoilers for "Loki" ahead) final episodes of the first season of the series. It's some of the coolest stuff ever, and honestly, it's kind of nice to just watch the different layers of effects versus the finished product without an explanation I'm not going to understand anyway. 
There are so many amazing things in here, like how they created Alligator Loki (Loki-gator? Alli-Loki?) By the way, they used a stuffed alligator with googly eyes on it for the actors to work with, something I found in an article at Marvel.com, not in the video. It just makes me happy to share that with you. We also get a glimpse of Frog Thor.
Loki Featurette
It's really beautiful to watch how each layer from lighting to color is added. What's even crazier to watch is what the actors are doing with their performances with what is essentially nothing. It's a very specific skill, and not only can we see how good Tom Hiddleston (Loki) is with it, we can absolutely marvel (yeah, I said it) over Richard E. Grant and his scene-chewing turn as older Loki in his comic-accurate outfit. It's pretty mind-blowing that Grant had to wear a baggy outfit with giant horns while playing against some really cool-looking versions of Loki, and pretend to raise an entire city behind him without actually having anything there. And he takes the entire thing super seriously. Richard E. Grant, you definitely deserve a statue of some sort for that moment.
We also get a look at the creation of Alioth, the giant dragon cloud of death, and the palace for He Who Remains. The whole thing is amazing, not that you'd expect anything less from Industrial Light & Magic. 
By the way, seeing Alligator Loki lounging on his back in his little kiddie pool at the 1:04 mark has vastly improved my day.