Robert Durst Is Dead, And HBO's The Jinx Has An Ending Now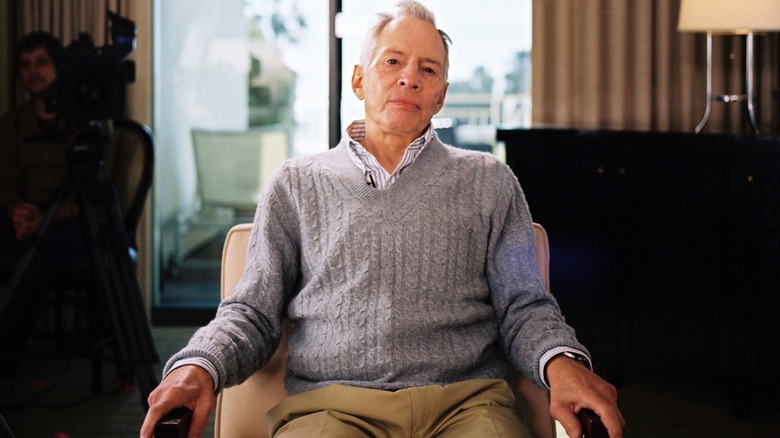 HBO Documentary Films
According to a statement to The New York Times by his lawyer, convicted murderer Robert Durst has died in custody at the age of 78. Durst's death finally brings a long-overdue ending to a dark, decades-long story that gained national attention with HBO's 2015 limited series "The Jinx: The Life and Deaths of Robert Durst."
"The Jinx" is a groundbreaking work of documentary filmmaking, both because it sheds light on a complex, bizarre, and contradictory true crime story, and because it was directly credited by many as leading to Durst's eventual arrest. The Emmy-winning series is a narrative high point of the ethically tricky true crime genre, a detailed character study that looks at its dark-eyed subject from every angle. But it also garnered backlash due to questions brought about by the timing of Durst's arrest, as the real estate heir — then already in his 70s — was charged with murder just one day before the show's explosive finale aired.
The Bizarre Saga of Durst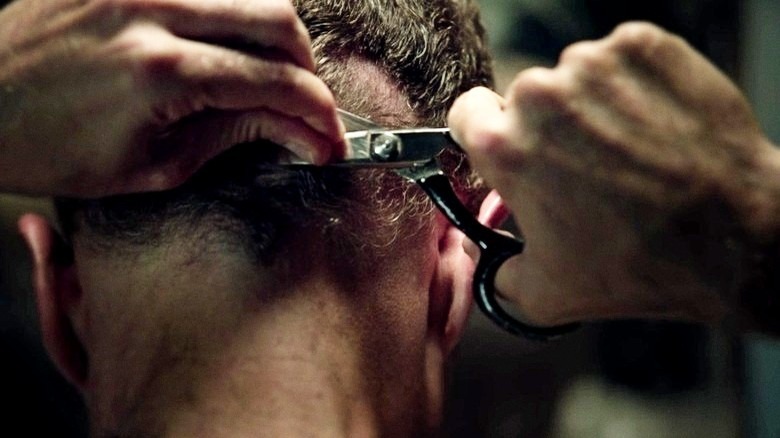 HBO Documentary Films
The story of "The Jinx" is bizarre from start to finish. The HBO docuseries came about when Durst saw a film by Andrew Jarecki, the Ryan Gosling-led mystery "All Good Things." The film was based loosely on Durst's life, and despite the fact that it implicated its main character in multiple murders, it apparently impressed Durst enough to call up Jarecki himself. The then-free man decided to sit with Jarecki for a series of interviews that veered back and forth between shocking honesty and coy manipulation. These interviews would eventually form the basis for "The Jinx."
A truly astounding six-episode series, "The Jinx" is a classic example of truth's ability to out-strange fiction. At the time of filming, Durst had been investigated for three murders, including one for which he was tried and acquitted. In 1982, Durst's wife, dental hygienist Kathleen McCormack, went missing in New York. In 2000, Durst's friend Susan Berman, who had provided an alibi for Durst during the McCormack investigation, was found dead in her Los Angeles home. And most bizarrely, in the case Durst faced a jury for in 2001, he was accused of killing his neighbor Morris Black while he was living in Texas — disguised as a non-verbal woman.
As detailed in "The Jinx," Durst disturbingly escaped conviction in the Black case by convincing a jury that he had disposed of Black's body, but hadn't actually killed him. This is just one of several examples of Durst's employment of mind-boggling manipulation tactics. On screen in "The Jinx," though, his cleverness has been dulled a bit by age, and he has trouble keeping all his stories straight. The one-on-one interview style is also a noticeable change of pace for the wealthy real estate heir, whom the documentary demonstrates often also used his resources to his advantage.
Justice in the Aftermath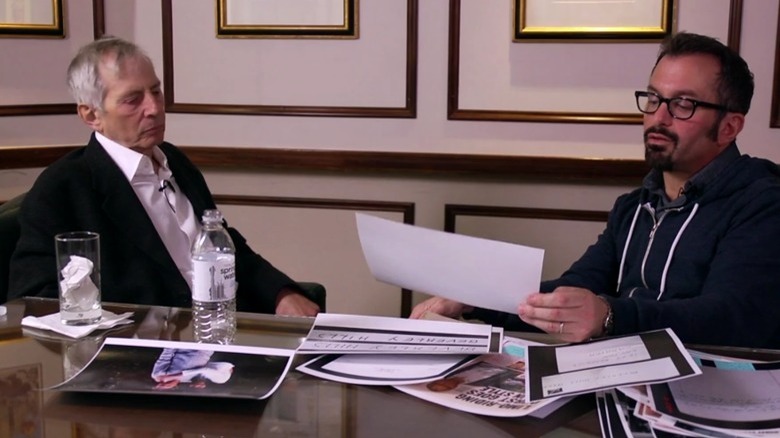 HBO Documentary Films
When "The Jinx" ended in 2015, it was with one of the most jaw-dropping moments in documentary history, accompanied by a real-life arrest. After being confronted with new evidence discovered by Berman's stepson Sareb Kaufman, Durst retreated to the bathroom, but didn't take off his microphone. In the audio heard around the world, Durst mumbled to himself on a hot mic, eventually saying, "What the hell did I do? Killed them all, of course."
Durst remained a surprising and complicated figure even after "The Jinx" ended. Despite his advancing age and the non-threatening front he tried to display during interviews with Jarecki, the killer was reportedly caught with a fake ID, a mask, and $42,000 in cash when he was arrested the day before "The Jinx" aired its finale (per NBC News). As recently as June 2021, AP reported that Durst's brother Douglas testified that he believed Durst was still an active threat to his life.
So, one of the most compellingly despicable figures in documentary history is dead. Where does this leave us? True crime will always be one of the thorniest genres of entertainment available, largely because real-life death and tragedy are not a viable basis for entertainment. But while it shocks, "The Jinx" doesn't simply aim to entertain; it's investigative journalism played out on the world stage. As with other true crime stories that led to breakthroughs, like the "In The Dark" podcast or the research of "I'll Be Gone in the Dark" author Michelle McNamara, "The Jinx" has real-world value far beyond that of its craft. 
In 2021, Durst was finally found guilty of the murder of Susan Berman, something that his history of outmaneuvering justice makes me think might never have happened without "The Jinx." Barely a week after sentencing, Durst was finally formally charged in the death of his wife Kathleen.
The Legacy of The Jinx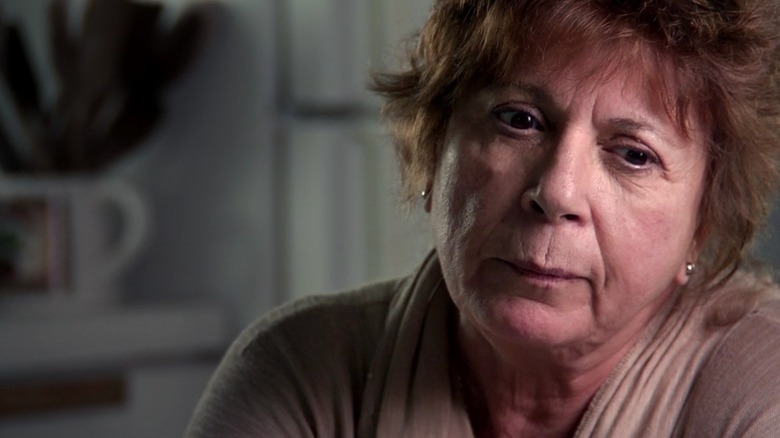 HBO Documentary Films
When I think of "The Jinx," I don't think first of Durst's narcissistic, almost Trumpian inability to stop talking about himself, even when he should. I don't think first of the docuseries' bold and stylish approach to a complicated story, one that's embodied by opening credits that re-enact Durst's most formative moments over Eels' song "Fresh Blood." I don't even think about that finale.
Instead, I think about a part of the series' second episode, when Kathleen McCormack's group of girlfriends details the great lengths they went to in order to convince police something had happened to their friend. These women — a group that included friends Gilberte Najamy, Eleanor Schwank, Ellen Strauss, and Geraldine McInerney — were dogged and brave. They dug through trash and looked for tire marks. They spent their days trying to kick-start a thorough NYPD investigation like it was a full-time job. I remember turning to my roommates with a somber sort of inspiration, and the three of us promising we'd do the same for one another if any of us was ever in trouble. Seven years later, I don't ever think about Robert Durst, but I still think about our solemn pact, and the women whose fierce love inspired it.
"The Jinx" ended with six episodes, and while other true crime phenomenons have stretched their stories to two seasons, the show never needed any more. Reality in all its strangeness kept going after the show aired its fateful finale. Bittersweet closure for the loved ones of Durst's victims came too little and far too late, but in a way, today it seems to have finally arrived.