Hotel Transylvania: Transformania Review: An Okay Closer To A Farcical Franchise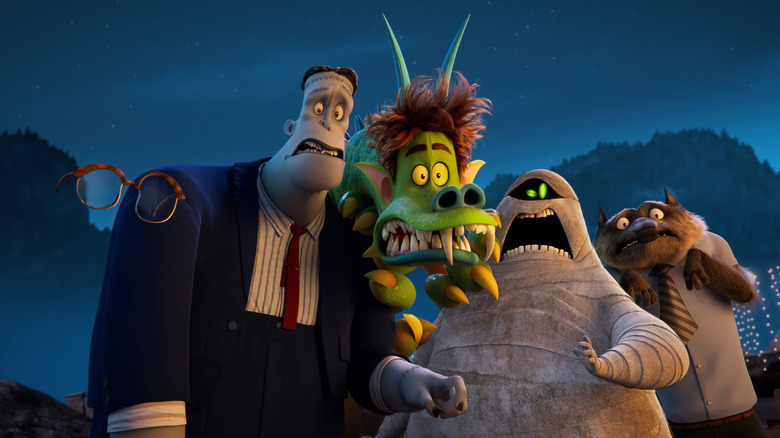 Sony Pictures
The "Hotel Transylvania" franchise has been reliable both financially for its parent studio Sony, and among audiences as a consistently daffy series of monster-driven farces, for nearly a decade. But there are a few signs that the franchise is aging with the fourth entry, "Hotel Transylvania: Transformania." Because the world is ... well, just look around. This new film had its release date delayed a few times before Sony sold the film to Amazon. It'll be available to stream on Amazon Prime almost everywhere in the world this Friday. Even without the onslaught of the pandemic, though, there are a couple of notable absences: neither star Adam Sandler nor series director Genndy Tartakovsky return in their respective roles. On one hand, they're badly missed. On the other, you kind of get why they may have bowed out.
Tartakovsky, to be fair, is credited with the story and is listed as a co-screenwriter. But fans of his work, both within the series and in works like "Dexter's Laboratory" and "Samurai Jack," will note a less comfortable hand on the manic and farcical proceedings, which instead feel somewhat desperate. In "Transformania," our good friend Count Dracula (now voiced by Brian Hull) is finally ready, after 125 years, to retire as the overseer of the eponymous monster hotel so he can relax with his paramour Ericak Van Helsing (Kathryn Hahn). That, however, requires Drac passing the torch to his daughter Mavis (Selena Gomez) and her goofy human husband Johnny (Andy Samberg). And while Drac knows he should, and everyone else expects him to, he delays the inevitable at a big anniversary party. Johnny is convinced that it's because he's not a monster, and decides to get imbued with a mysterious monster ray that turns him into a large dragon-like creature while it inadvertently turns Drac and his monster friends — Frankenstein (Brad Abrell, replacing Kevin James), werewolf Wayne (Steve Buscemi), invisible man Griffin (David Spade), and Murray the mummy (Keegan-Michael Key) — into humans. Hijinks, as you may expect, ensue.
There are few surprises, if any, within "Hotel Transylvania: Transformania." The basic premise being boiled down into "what if the monsters were humans, and what if the human was a monster?" leads to mostly predictable results. For much of the first hour (of a film that runs 78 minutes before the end credits roll), Johnny and Drac are on a mission of their own to find a McGuffin that will fix the monster ray and thus reverse the spell that's made them all transform. Their section is arguably stronger before the rest of the monstrous ensemble finds their way to South America (where the McGuffin is, because ... y'know, why not), but the fish-out-of-water elements of Drac struggling to grasp the vagaries of no longer being a vampire feel pretty facile and rarely inspired.
A Series That Knows That It Needs to End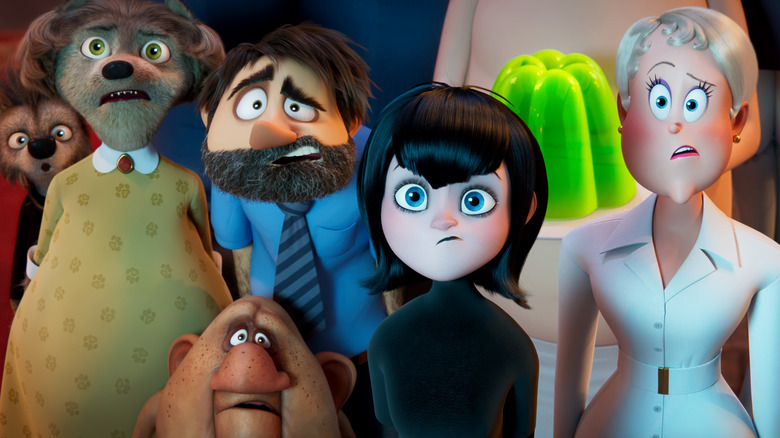 Sony Pictures
It's hard to know for sure if the feeling that "Hotel Transylvania: Transformania" is less clever and snappy than its predecessors is due to the absence of Sandler and Tartakovsky. (James, too, is absent here, which is something of a shame because Frankenstein's transformation into a suaver, buffer human leads to some of the few truly successful jokes in exploring how the monsters take to being humans.) Hull is a mostly solid replacement for Sandler, in that there are likely to be plenty of audience members who can't hear the difference between the two. Jennifer Kluska and Derek Drymon take over directorial duties for Tartakovsky, and while there are a few sly visual touches, the frenetic pacing is more a sign of shakiness than confidence. 
Part of the issue is that the character arcs here feel very much like the character arcs present throughout the rest of the series. Drac, once again, is too stuffy and conservative, and needs to learn to accept Johnny into the family; Johnny, meanwhile, needs to stop coming on so strong with his silliness. (Though Gomez is fine as Mavis, Drac's daughter doesn't have the opportunity to stretch too much outside of a few interactions with Ericka about her ex-monster-killing vehicle.) If there is anything new to this film, it's the sense that the series is self-aware enough to understand that it's time to wrap up. This movie isn't ever trying to hit the same kind of emotions as Pixar's "Toy Story" series, but it's quite clear that the filmmakers introduce the idea of Drac's retirement because it might be time for the series itself to be retired.
"Hotel Transylvania: Transformania" is ... y'know, it's fine. It's OKAY. Compared to last month's "Sing 2," this is vastly better (and again, if you're a Prime subscriber, you won't have to pay extra to watch it). This weekend, you'll have the choice of those two animated films, each with a host of pop-culture references and well-known actors. But depending on where you live, you'll also have the chance to watch a truly daring, brilliant animated film that analyzes social media and how we hide our true selves online. That movie is called "Belle," and it's one of the best films from 2021, an honest, perceptive, and ambitious story that succeeds at its aims. "Hotel Transylvania: Transformania" has far fewer ambitions, and the cleverness of the original entries has long since dimmed. Like a lot of films that have been sent to streaming since the pandemic, this movie feels like it was made for an HDTV screen, not a big one. It's okay. But you can do better.
/Film Rating: 5 out of 10