Watch The First 10 Minutes Of Ghostbusters: Afterlife In This Extended Preview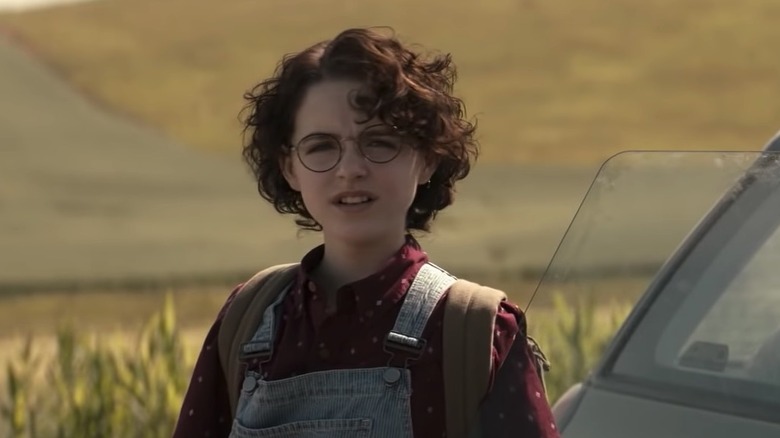 Sony Pictires
If you haven't seen "Ghostbusters: Afterlife" yet, Sony Pictures has a little enticement for you. Today the studio released the first 10 minutes of the film in an extended preview.
In the teaser, we get a good idea of three of the main characters and their lives. Carrie Coon plays Callie Spengler, the daughter of Egon Spengler (played by the late Harold Ramis). She never met her father, who recently passed away, but she inherits his old home in the middle of nowhere. (Great timing, because she's late on her rent.) We also meet Trevor Spengler (Finn Wolfhard) and Phoebe Spengler (Mckenna Grace), her children. She's a no nonsense mom who gives Trevor homemade haircuts and asks her tech-savvy daughter to kindly pick the lock at Casa Egon.
Before all this, though, we see an older Egon (sniff) heading out to this house, carrying a full trap. Something came to get him and it's clearly supernatural.
Check out the preview below.
That House is Definitely Haunted
"Ghostbusters: Afterlife" is based on the 1984 film "Ghostbusters," written by Dan Aykroyd and Harold Ramis, directed by Ivan Reitman, which was followed by "Ghostbusters II" in 1989, a film I have a soft spot for. After that we got "Ghostbusters" in 2016. Yes, that film exists, despite the fact that it isn't included The Ghostbusters Ultimate Gift Set. The latest film stars Coon, Wolfhard, Grace, Annie Potts reprising her role from the first films, and Paul Rudd. It's executive produced by Dan Aykroyd, Gil Kenan, Jason Blumenfeld, Michael Beugg, Aaron L. Gilbert, and Jason Cloth.
The film has gotten praise for its entertainment value and criticized for its reliance on nostalgia. Either way, it's a nice reminder of the films some of us grew up with. Here is the info for "Ghostbusters: Afterlife" for you:
From director Jason Reitman and producer Ivan Reitman, comes the next chapter in the original Ghostbusters universe. In Ghostbusters: Afterlife, when a single mom and her two kids arrive in a small town, they begin to discover their connection to the original ghostbusters and the secret legacy their grandfather left behind. The film is written by Jason Reitman & Gil Kenan.
The film hit theaters on November 19, 2021 and is rated PG-13. You can check out the /Film review for "Ghostbusters: Afterlife" here. If you're looking for full spoilers, here is the one you should check out as well.