The Office Season 4 Now Has Extended Superfan Episodes On Peacock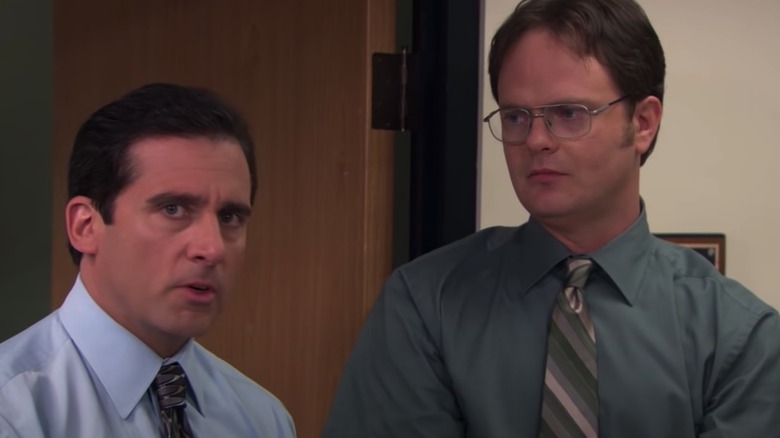 NBC
We may receive a commission on purchases made from links.
I miss "The Office," and I bet you do as well. The thing is, over the pandemic, you've probably rewatched it several times. It was the most streamed show in 2020. You know the episodes by heart, and after a while, it's all just stuck in your head. Back in April of 2021, however, superfan episodes began streaming on Peacock. As our own Ethan Anderton reported, "... the NBCUniversal streaming service knew they had to offer something a little more to entice some fans to follow the series instead of just buying it for themselves, so they made "Superfan Episodes" available. These extended cuts of episodes offer footage that was not widely seen and in some cases never even aired."
At first it was only season 3 superfan episodes with "never-before-seen moments, bloopers, featurettes, and alternate talking head interviews," then season 1 appeared in April 2021, and season 2 in July. Now we have a new clip from season 4, which began streaming its superfan episodes on January 1, 2022. Happy New Year to us!
'It is Not Toilet Humor — It is Toilet Tragedy'
Not only do we have more superfan fun, and likely other seasons on the way to get us through whatever the hell comes next in the pandemic (please let it be dinosaurs in little hats), but we have a season 4 cold open clip where Michael Scott has a bit of a toilet issue. We've all dropped our phone in the toilet, and oh man, does that suck. However, I doubt any of us could have come up with the "solution" that Michael does. 
In case you are one of the few people who haven't rewatched the series in a while, let's just say that this clip will remind you of why you loved it in the first place. Michael not only drops his cell phone in, but also his bluetooth, his wallet, his whitestrips, his tip calculator (which you don't need if you have a cellphone, Michael), and his candy corns. I ... I just ... why are you eating candy corns, Michael? I understand why Dwight would fish them out for him more than I understand why anyone would put such an abomination in their mouths. The toilet is where they belong! Fight me! Those candy corn Oreos can go in there as well. Rant over until October.
Just watch the clip. I promise that it will improve your day immensely. Happy New Year, enjoy the "Office" goodies and for Jack Skellington's sake, stop eating candy corns!