Why Emma Watson Almost Left The Harry Potter Franchise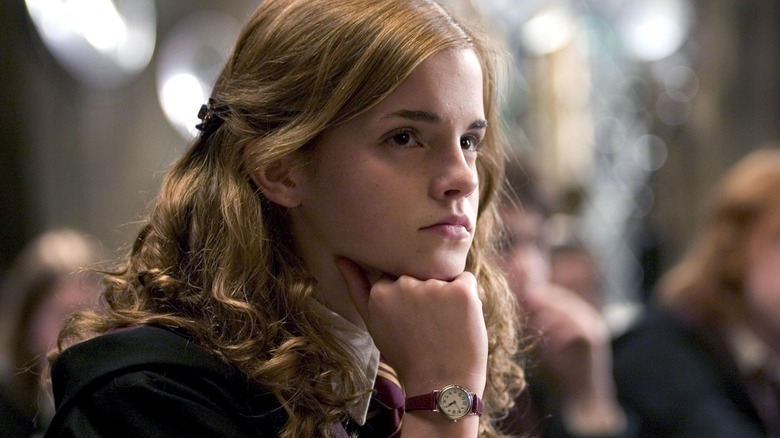 Warner Bros.
"Harry Potter: Return to Hogwarts" is a trivia fest, chock full of more than enough fun facts to make the world's Potterheads squeal with excitement (yours truly included). But much like the rest of the franchise, the special also comes with a tinge of bittersweetness, reflecting on some details that can be harder to swallow. Midway through the special, as the conversation approaches the fifth film ("Order of the Phoenix"), the Golden Trio discuss something they've never talked through before: Emma Watson once considered pulling out of the franchise completely. Speaking to Rupert Grint, Watson said,
"[Order of the Phoenix] was when things started getting spicy for all of us. I think I was scared. I don't know if you ever felt like it got to a tipping point where you were like, 'This is kind of forever now.'"
She goes on to explain that things got to a point where "the fame thing had finally hit home in a big way." Though this wasn't a feeling exclusive to Watson, it went undiscussed, even amongst the main trio. At this point in time, following the release of "Harry Potter and the Goblet of Fire," the young stars were dealing with global fame, leading a franchise that regularly broke box office records. Their faces were well beyond the big screen, plastered on merchandise, easily recognizable, and quick to catch the attention of fans everywhere. Grint added:
"I had moments like that all the way through. I also had similar feelings to Emma, kind of contemplating what life would be like if I called it a day, but we never really spoke about it. I guess we were just going through it at our own pace. We were kind of in the moment at the time. It just didn't really occur to us that we were all having similar feelings."
This sentiment is echoed by Daniel Radcliffe, who said:
"As a 14-year-old boy, I was never going to turn around to another 14-year-old and be like, 'Hey, how are you doing? Is everything okay?'"
"People definitely forget what she took on."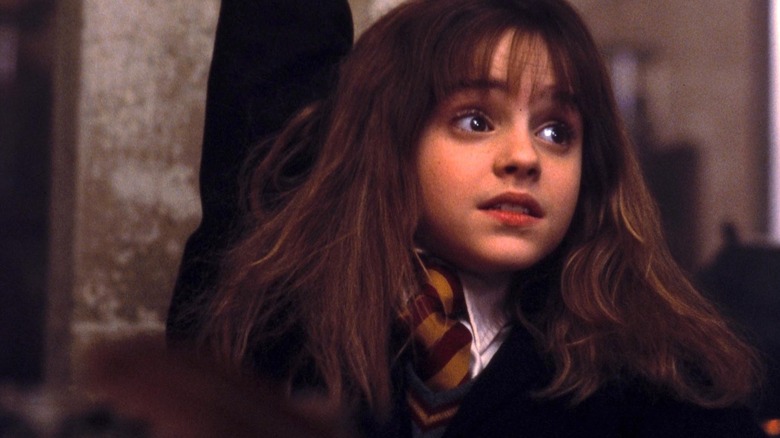 Warner Bros.
The thought of any actor leaving the franchise early — let alone the main three — is more than a little distressing, but I can't help myself from focusing on the Emma Watson of it all. Maybe because she was the only one reported to genuinely consider leaving, so seriously that director David Yates was warned by the producers, "Emma is not sure she wants to come back to do another Potter." In the end, the terrible thought of someone else in her role and the overwhelming fan support were more than enough to keep Watson onboard. Still, it's not hard to imagine how difficult things got for her.
Along with all the usual perils of young fame, Watson had to shoulder the responsibility of being the sole female lead. This meant everything from being treated differently by the media to all the pressure riding on her success. Reflecting on that time now, she mentions looking back on an old diary entry and says, "I can see that at times, I was lonely." Her close friend Tom Felton, who played Draco Malfoy in the series, added:
"People definitely forget what she took on and how gracefully she did it. Dan and Rupert, they had each other. I had my cronies, whereas Emma was not only younger, she was by herself."
I need not preach the gospel of Hermione Granger, a character who in-universe earns the title of "Brightest Witch of Her Age." Hermione quickly became a symbol and role model for all the nerdy bookworms of the world, especially when it came to young girls. So it's a relief to know that despite the drawback of superstardom, Watson found joy in the experience of bringing Hermione to the big screen — so much so that she decided to stick around for all eight movies.
"Harry Potter: Return to Hogwarts" is now streaming on HBO Max.