Movies Like Saving Private Ryan You Really Need To See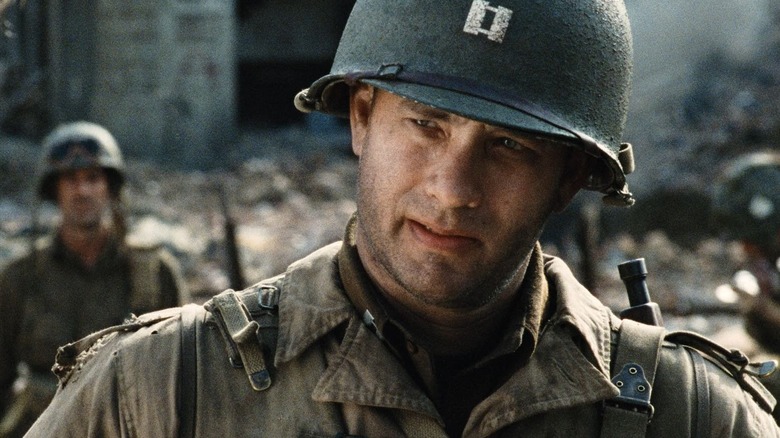 Dreamworks Pictures
In the pantheon of war movies, one film that is consistently hailed as one of the absolute best is "Saving Private Ryan" (1998). Steven Spielberg's epic, emotionally wrought drama is notable for its brutally realistic depictions of battle, its core themes of brotherhood and sacrifice, and the powerful performances of its stellar ensemble cast.
Set during the Invasion of Normandy in World War II, "Saving Private Ryan" follows the story of a squad of Army Rangers, led by Captain John H. Miller (Tom Hanks), ordered to find and retrieve the titular Private James Francis Ryan (Matt Damon). Private Ryan is presumed to be the last survivor of four brothers serving in the military, the others having been killed in battle, and the goal of their mission is to send him home so that his parents don't lose their last son.
Although it was infamously snubbed for Best Picture (losing out to "Shakespeare in Love"), "Saving Private Ryan" did take home five Academy Awards, including best actor for Hanks and best director for Spielberg. It has also served as an influence to many subsequent war films, including some on the following list, with its immersive portrayal of the battle at Omaha Beach being especially influential. If you're a fan of "Saving Private Ryan," we present to you now a bevy of other, similar films you really need to see.
Dunkirk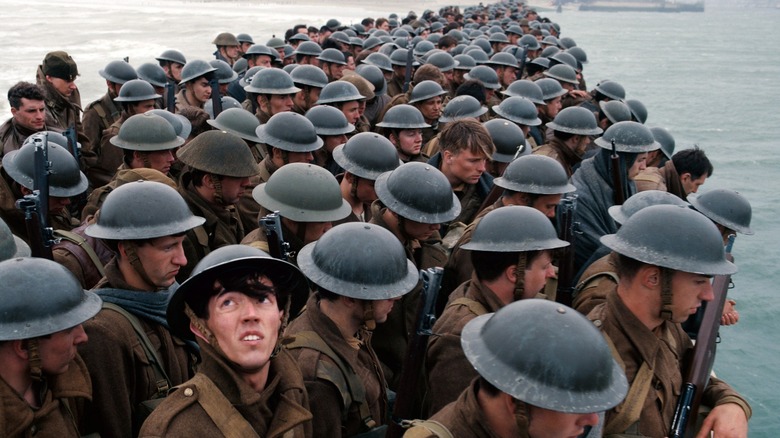 Warner Bros.
Christopher Nolan took the idea of an immersive war film to a whole new level in the breathtaking "Dunkirk" (2017). Set in 1940, the film centers around the white-knuckle evacuation of the Allied soldiers who were trapped on the beaches at Dunkirk as the Germans advanced into France.
"Dunkirk" is broken into three distinct segments — one for land, sea, and air — and each one's timeline intertwines and overlaps with the others. The land segment features Fionn Whitehead as Tommy Jensen, a British private and sole survivor of his unit who ends up at Dunkirk, where he encounters thousands of Allied soldiers awaiting evacuation. Meanwhile, a civilian sailor, Dawson (Mark Rylance) sails toward Dunkirk with his son and their boat hand (Barry Keoghan) in an effort to help transport soldiers. In the air, Spitfire pilot Farrier (Tom Hardy) is tasked with defending with evacuees from above.
Filmed with IMAX cameras, the visually stunning "Dunkirk" is epic in scale and riveting to watch. It was nominated for eight Academy Awards, winning three, while The Guardian called it Nolan's best film so far, and Quentin Tarantino called it his second favorite film of the decade.
1917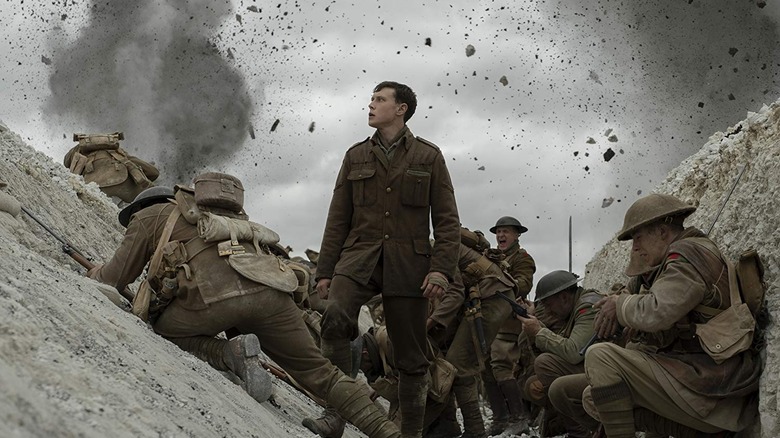 Universal Pictures
Sam Mendes' "1917" (2019) is another recent work that pushes the boundaries of how immersive a war film can be.
Set during WWI, George MacKay stars as Lance Corporal Will Schofield who, along with Lance Corporal Tom Blake (Dean-Charles Chapman), is assigned to deliver an important message to call off a doomed attack, an act that could potentially save thousands of lives, including that of Tom's brother (Richard Madden).
Cinematographer Roger Deakins and editor Lee Smith worked with Mendes in utilizing long takes to create the appearance that the film plays out as two continuous shots. This, along with natural lighting techniques and hard-hitting scenes of battle and trench warfare, creates a sense of urgency and immediacy, leading to a truly visceral experience, while the story itself follows a poignant emotional journey. It's no wonder then that "1917" was nominated for ten Academy Awards, winning three, including best cinematography.
Letters from Iwo Jima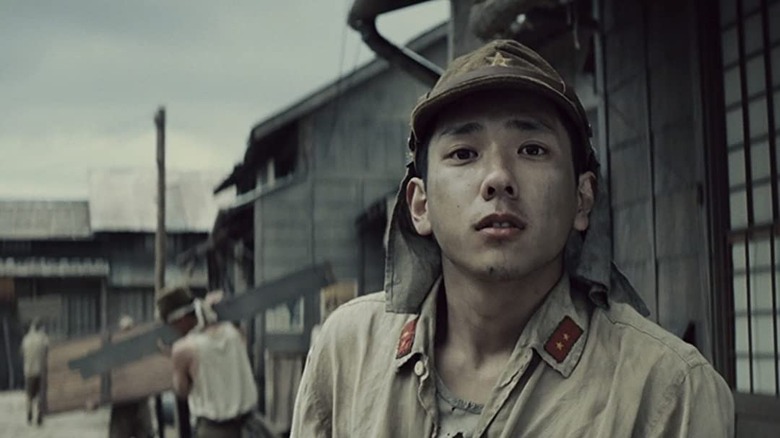 Warner Bros.
As a companion piece to his "Flags of Our Fathers" (2006), Clint Eastwood decided to make a World War II movie that portrays the war, specifically the Battle of Iwo Jima, from the perspective of the Japanese soldiers who fought in it. The result is the heart-rending "Letters from Iwo Jima" (2006).
"Letters from Iwo Jima" stars Ken Watanabe as garrison commander General Tadamichi Kuribayashi, who leads his men, including Private First Class Saigo (Kazunari Ninomiya), into the mountains despite the hesitancy of his fellow officers such as Lieutenant Colonel Baron Nishi (Tsuyoshi Ihara). Kuribayashi, knowing that they have virtually no chance of survival, decides that the best strategy is to buy time and hold off the American troops for as long as possible, a strategy that takes a toll on the men. Eventually, Saigo becomes bonded with another Private, Shimizu (Ryo Kase), as the two men fight to stay alive.
"Letters from Iwo Jima" is unique for a major American release in that it's told almost entirely in Japanese. The critically heralded film, which Steven Spielberg helped produce, was nominated for four Academy Awards, including best picture and best director.
The Thin Red Line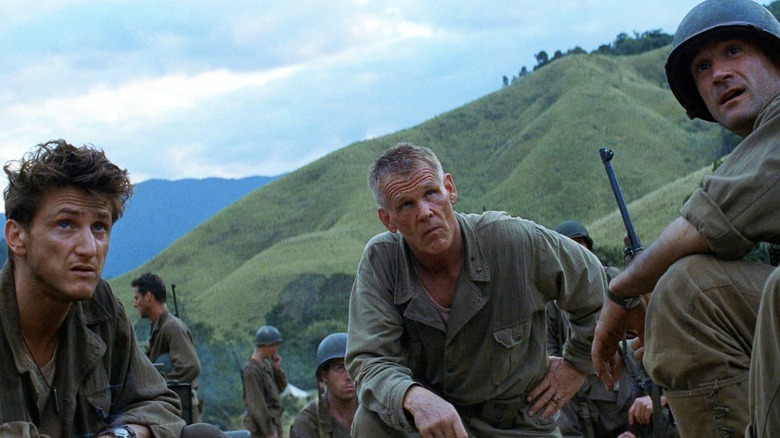 20th Century Fox
Filmmaker Terrence Malick offered a haunting, more overtly philosophical take on war with his epic war drama "The Thin Red Line" (1998).
Starring a powerhouse ensemble cast including Sean Penn, Nick Nolte, Adrien Brody, Jim Caveziel, Ben Chaplin, Woody Harrelson, John Cusack, John C. Reilly and George Clooney, "The Thin Red Line" follows the wartime journey of the soldiers of C-company during the conflict at Guadalcanal during World War II. As they encounter various horrific and life-threatening situations, the men find themselves confronting their own moral and philosophical beliefs.
With gorgeous cinematography by John Toll, a haunting score by Hans Zimmer, and memorable performances, "The Thin Red Line" is as much a lyrical poem of tragedy, beauty and humanity as it is a war film. It was nominated for seven Academy Awards, while film critic Gene Siskel called it, "the finest contemporary war film I've seen, supplanting "Saving Private Ryan."
Schindler's List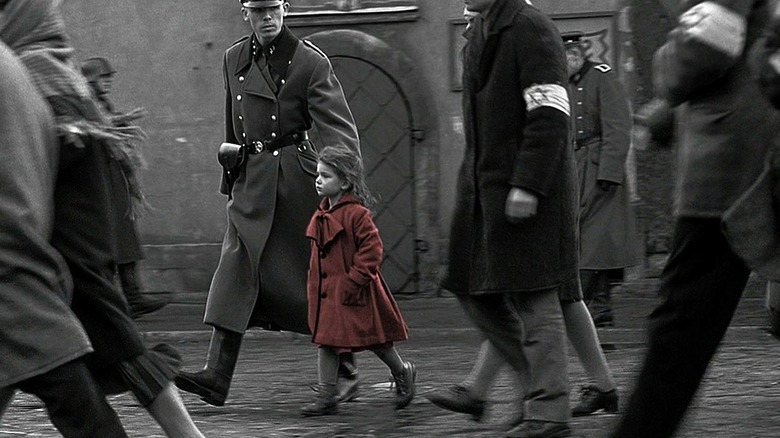 Universal Pictures
"Saving Private Ryan" is just one of several movies about World War II that Steven Spielberg has directed in the course of his career. His incredibly powerful "Schindler's List" (1993) is a historical drama about the horrors of the Holocaust, and about one particular real-life individual, businessman Oskar Schindler (played by Liam Neeson), who saved the lives of over a thousand Jews.
Set in Krakow, Poland, the story follows Schindler as he arrives in the city hoping to make his fortune. He opens a factory and staffs it with Jewish workers, and when SS Lieutenant Amon Goth (Ralph Fiennes) arrives and begins building the Krakow concentration camp and killing Jews, Schindler, partly inspired by a young girl in a red coat, decides to do what he can to save as many lives as possible.
"Schindler's List" vividly and unflinchingly portrays the horrors of the Holocaust, but in highlighting the heroic acts of one man, it also showcases the hope and beauty that humanity has to offer. Truly a must-watch film, "Schindler's List" is a staggering cinematic experience. It was nominated for twelve Oscars, winning seven, including for best picture, director, cinematography and score.
Empire of the Sun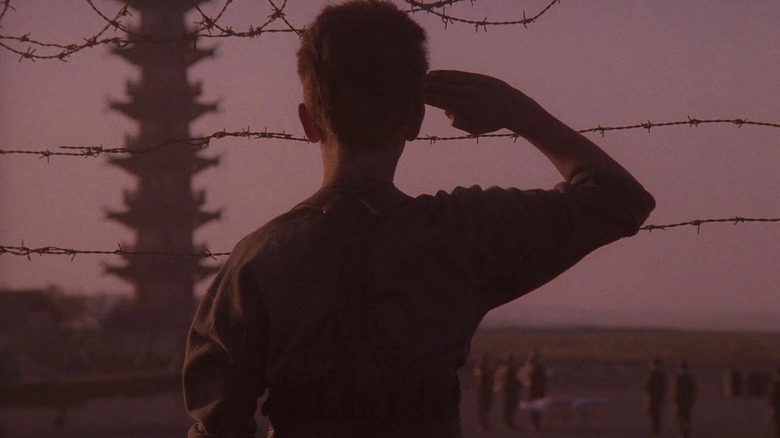 Warner Bros.
A few years before "Schindler's List," Steven Spielberg told a World War II tale from an altogether different perspective. Based on the semi-autobiographical novel by J.G. Ballard, "Empire of the Sun" (1987) follows the story of Jamie (Christian Bale), a British boy living in British occupied Shanghai with his parents during the war. When the Japanese invade, Jamie becomes separated from his parents and he is sent to a prison camp, where he befriends an American prisoner named Basie (John Malkovich).
Filmed by cinematographer Allen Daviau, a recurring Spielberg collaborator, "Empire of the Sun" is a gorgeously rendered and poignant coming of age tale, epic in scope and featuring a memorable performance by then 13-year-old newcomer Bale. It's a film that speaks to maintaining hope and dignity in the face of adversity, and it is a relatively underrated Spielberg film that is certainly worth a watch.
Inglourious Basterds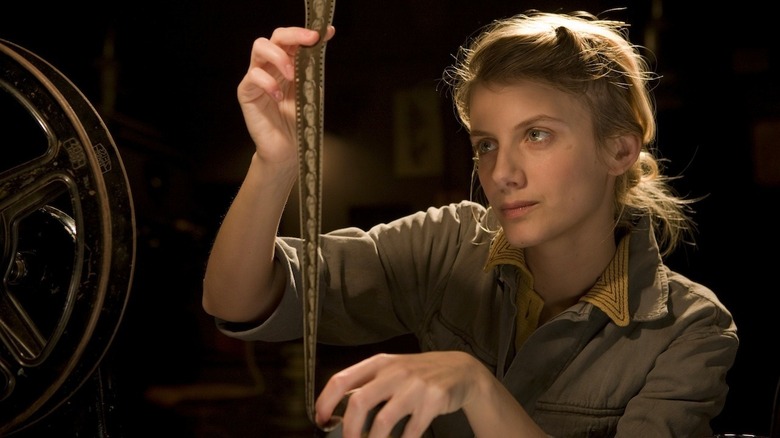 Universal Pictures
Quentin Tarantino's genre-blending "Inglourious Basterds" (2009) offers up a violent and dramatic yet blackly comedic revisionist history of World War II, in which two separate plots to take down the Nazis collide in an explosive way.
In German-occupied France, Lt. Aldo Raine (Brad Pitt) leads a team of Jewish-American soldiers nicknamed "The Basterds" who are tasked with killing and scalping Nazis, while ruthless SS Officer Hans Landa (Christoph Waltz) attempts to hunt the squad down. Meanwhile, Shosanna Dreyfus (Melanie Laurent), a French-Jewish theater owner, plots her own revenge against the Nazis for killing her family. Their stories ultimately intersect in thrillingly grand fashion.
"Inglourious Basterds" received eight Academy Award nominations including for best picture, best director, and best supporting actor for Christoph Waltz, which he won. Waltz also took home a best actor award at the Cannes Film Festival and a BAFTA for his memorably chilling performance.
Apocalypse Now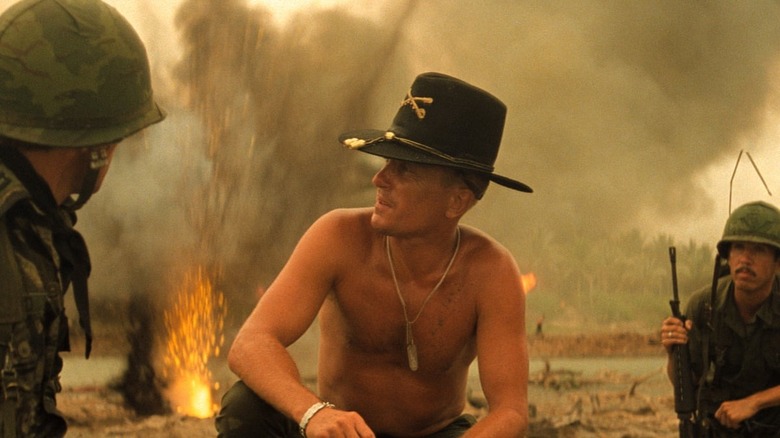 United Artists
Many great films have been made about World War I and II, but some of the greatest war movies are about the Vietnam War, including Francis Ford Coppola's "Apocalypse Now" (1979).
The film follows the journey of Captain Benjamin Willard (Martin Sheen), who is assigned to track down and assassinate the rogue Colonel Walter Kurtz (Marlon Brando), who has become dangerously unhinged. Living off-grid in the jungle, and seeing himself as a god of sorts, Kurtz has created his own commune with devout followers and is killing people without the Army's approval. Along his journey to find Kurtz, Willard is exposed to all kinds of shocking and surreal experiences, and once he does find Kurtz, things get even crazier.
"Apocalypse Now" suffered a host of setbacks during production, and was famously expensive to make, but the resulting film is an epic visionary masterpiece that unforgettably highlights the insanity of war. It won the Palme d'Or at Cannes and was nominated for eight Academy Awards.
Full Metal Jacket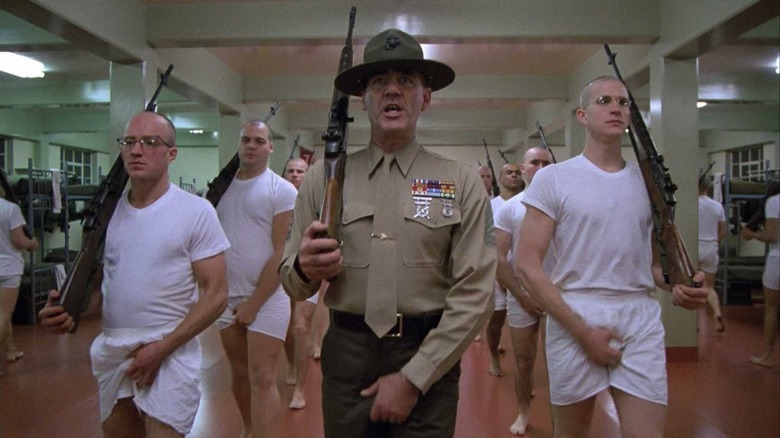 Warner Bros.
Stanley Kubrick's "Full Metal Jacket" (1987) is another film that highlights the insanity of war, and while it's similar to "Saving Private Ryan" in that it's one of the great anti-war films, Kubrick's take here is much more nihilistic, focusing more on war's dehumanizing effects and the dangers of indoctrination.
"Full Metal Jacket" is broken into two distinct parts. The first follows Marine Private "Joker" (Matthew Modine) as he and his fellow new recruits, including Private "Pyle" (Vincent D'Onofrio), endure the rigors of boot camp under the relentless abuse of Gunnery Sergeant Hartman (R. Lee Ermey). The second part follows Joker into Vietnam and onto the battlefield, where he finds himself entrenched in the Battle of Hue.
"Full Metal Jacket" is an intensely dark film and it divided critics upon its release. While some felt the film's second part lacked focus, most praised the iconic performances of Ermey and D'Onofrio.
Paths of Glory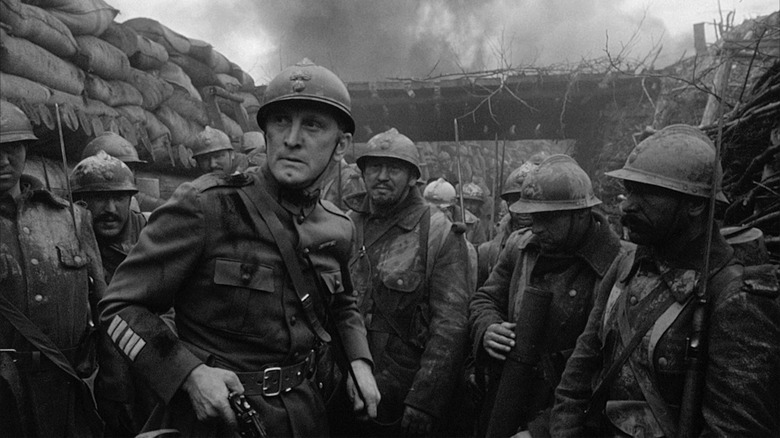 United Artists
Long before he made "Full Metal Jacket", Kubrick directed "Paths of Glory" (1957), which could be considered one of the prototypes in terms of immersive war films.
Set during World War I, the film revolves around a French Colonel, Dax (Kirk Douglas), who is handed off orders to plan an attack on a German trench position, a mission akin to suicide for his men. When the mission inevitably goes awry, Dax's commander, General Mireau (George Macready), court-martials three of Dax's men for cowardice, and Dax signs up to defend them in court.
Utilizing long tracking shots through the trenches and drawn-out scenes of battle, "Paths of Glory" is a powerfully visceral film that, like his later "Dr. Strangelove", also highlights the absurdity of war. The critically-heralded "Paths of Glory" is often cited as one of the greatest war films ever made, as well as one of the best Kubrick films.
Platoon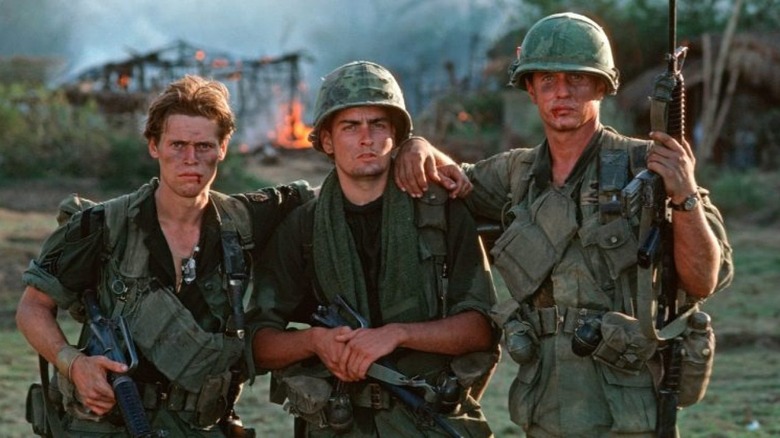 Orion Pictures
Filmmaker Oliver Stone was inspired by his own experiences from the Vietnam War to make a series of war-centered films, starting with "Platoon" (1986).
Charlie Sheen plays Chris Taylor, a naive university student who volunteers for the Army and is assigned to a platoon stationed near the Cambodian border. Two experienced non-commissioned officers, the hardened Sgt. Barnes (Tom Berenger) and the more empathetic Sgt. Elias (Willem Dafoe), are viewed as de facto leaders of the group, each with their own faction of supporters. As tensions and infighting grow, Chris finds himself caught between good and evil and questioning the meaning of it all.
Like "Saving Private Ryan," "Platoon" offers a viscerally realistic portrayal of war from the perspective of the infantry soldiers on the ground, and is itself an influential film in that regard. It won Academy Awards for best picture and best director, while Dafoe and Berenger were both nominated for their performances.
Black Hawk Down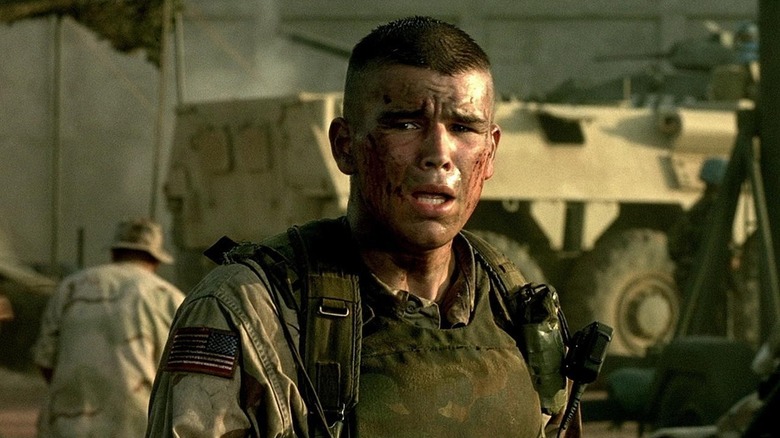 Sony Pictures Releasing
Another grittily realistic and immersive war film is Ridley Scott's "Black Hawk Down" (2001), which is about the 1993 U.S. military raid in Mogadishu, Somalia.
Based on journalist Mark Bowden's best-selling non-fiction book about the raid, the story centers around U.S. forces of Army Rangers and Delta Force operators, including Staff Sergeant Matt Eversmann (Josh Hartnett) and desk clerk John Grimes (Ewan MacGregor) as they are sent into Somalia on a mission to capture two lieutenants of a Somali drug lord. However, the group are overtaken by the Somalis, and two Black Hawk helicopters are shot down, leaving the men trapped and fighting their way out as a risky rescue mission ensues.
Featuring a large ensemble cast that also includes Eric Bana, Orlando Bloom, and Tom Hardy, "Black Hawk Down" is a powerfully visceral film. It received four Academy Award nominations, including a best director nod for Scott.
The Hurt Locker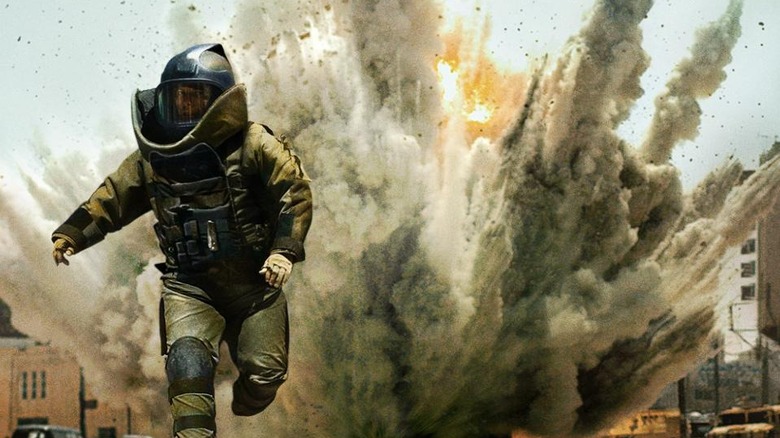 Summit Entertainment
Director Kathryn Bigelow made history when she became the first woman to ever take home an Oscar for best director, and the film she won for is "The Hurt Locker" (2008), another intensely immersive war film that highlights the psychological toll that the horrors and stress of war creates.
Set during the Iraq War, the film follows the members of a bomb disposal squad, including Staff Sergeant William James (Jeremy Renner), Sergeant J.T. Sanborn (Anthony Mackie) and Specialist Owen Eldridge (Brian Geraghty), as their unit is ​​targeted by insurgents in the waning days of their tour of duty. The highly suspenseful film sees the men facing incredibly risky life-threatening situations that take an emotional toll on them, leading to infighting within the group and general mental anguish.
"The Hurt Locker" was widely critically acclaimed, winning six Academy Awards out of a total of nine nominations. In 2017 critics from The New York Times named it the 10th "Best Film of the 21st Century So Far."