The Daily Stream: Zach Stone Is Gonna Be Famous Is The Lost Chapter Of Bo Burnham's Career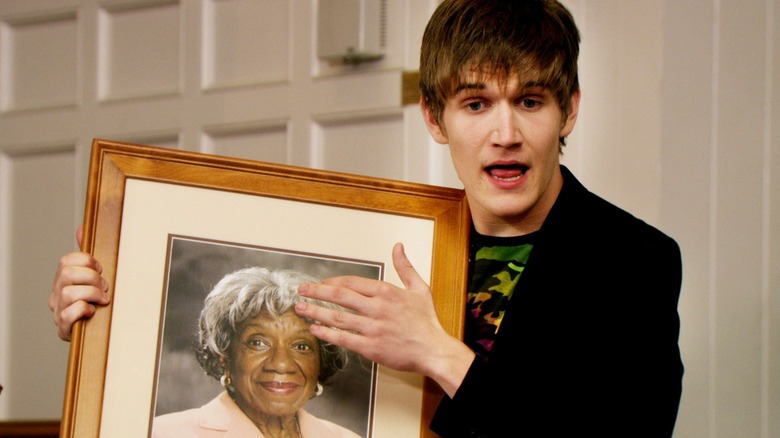 MTV
(Welcome to The Daily Stream, an ongoing series in which the /Film team shares what they've been watching, why it's worth checking out, and where you can stream it.)
The Series: "Zach Stone is Gonna Be Famous"
Where You Can Stream It: Netflix
The Pitch: Bo Burnham's single-season MTV comedy aired in 2013, but has rarely been available to stream until coming to Netflix this past week. The series follows a privileged suburban white boy named Zach (Burnham) who blows his college tuition money on a camera crew in hopes of making himself famous. Each episode follows self-centered, short-sighted Zach as he attempts to follow a different convoluted path to fame, from filming a horror hoax to creating a reality dating show called "The Zachelor." All the while, his loved ones — including best friend Amy (Caitlin Gerard) — discourage him from following this shallow path to stardom.
Why It's Essential Viewing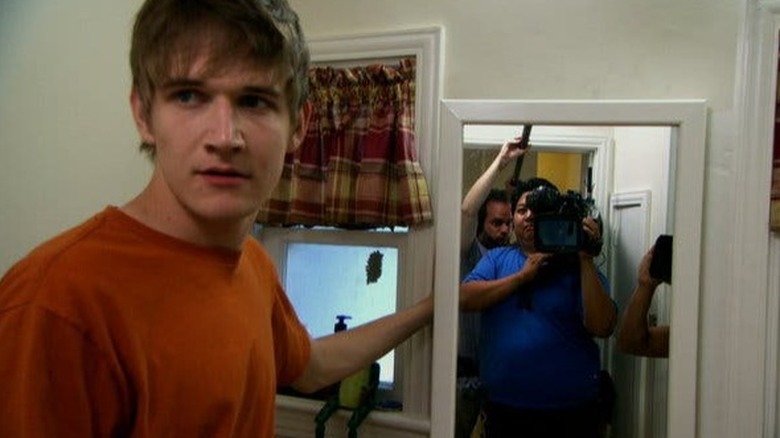 MTV
Anyone who has followed Bo Burnham's constantly-evolving career will recognize the hallmarks of his work in "Zach Stone is Gonna Be Famous." The sitcom is imperfect — its swing for the fences moments are often less funny than its quick quips — but it explores the themes that will continue to preoccupy Burnham in subtler shades throughout his career. Zach is obnoxious and un-self-aware, but he's also a clever kid with plenty of potential who's fallen victim to a culture of fractured attention and online artifice. It might be a coincidence that "Zach Stone is Gonna Be Famous" came out the same year Logan Paul created a YouTube channel, but Burnham's works often feel prophetic. He clearly saw the turning tide of social media as it was coming.
As a series, "Zach Stone is Gonna Be Famous" never quite got the chance to find its sea legs, but it exists as an ambitious and funny relic of an incredibly specific time. In a Vulture interview, Burnham says he pulled inspiration for the series from slyly dark cult favorites like "The Larry Sanders Show" and "The Comeback," yet the show aired on MTV, a network with an uneven commitment to scripted content whose big series at the time was "Teen Wolf." Despite these parameters, "Zach Stone" still manages to pull off some great, cringey gags, as when Zach is excited to "headline" his step-grandma's funeral and ends a deeply unserious eulogy by beat-boxing dubstep and throwing glitter in the air.
Burnham completionists might recognize this short-lived mockumentary sitcom as a dividing line in his career. Before "Zach Stone," the young comedian cultivated an edgy persona that could veer into offensiveness. After 2013, he channeled his energy into outright insightful, critically acclaimed works like "Eighth Grade" and this year's masterpiece, "Inside." Burnham's more recent works eye the web of modern technology's influence with a feeling that vacillates between wariness, weariness, and full-blown panic. "Zach Stone" is good enough as an offbeat comedy, but it's most actively interesting when viewed as a missing link within the artist's career. The show marks one of the last times the artist would look at the world through a shield of ironic distance, pretending to be an eager participant in an insincere internet culture which clearly haunts him.