The IT Chapter Two Scene That Terrified Bill Hader
When "It: Chapter Two" debuted in theaters in 2019, it was a mixed bag for horror fans who had been waiting years to see one of Stephen King's most popular works get a 21st century update. The second chapter of director Andy Muschietti's take on the series saw the Loser's Club all grown up, facing down Pennywise the clown monster in their hometown of Derry after 27 years apart. While the film garnered criticism for being overstuffed and repetitive, it also won some audiences over thanks to a few keen casting choices. Among the best: Bill Hader as the adult version of Richie Tozier.
Hader's take on Richie, the former foulmouthed comedic relief element of the Losers Club, is undoubtedly one of the most enjoyable parts of "It: Chapter Two." The character, who was played by Finn Wolfhard in the first film and grew up to be a comedian in the sequel, brings a relatable sense of humor to some genuinely horrific scenarios. His fear also feels very real, which makes sense, because apparently one of Pennywise actor Bill Skarsgård's special skills deeply spooked Hader.
Skarsgård's movable face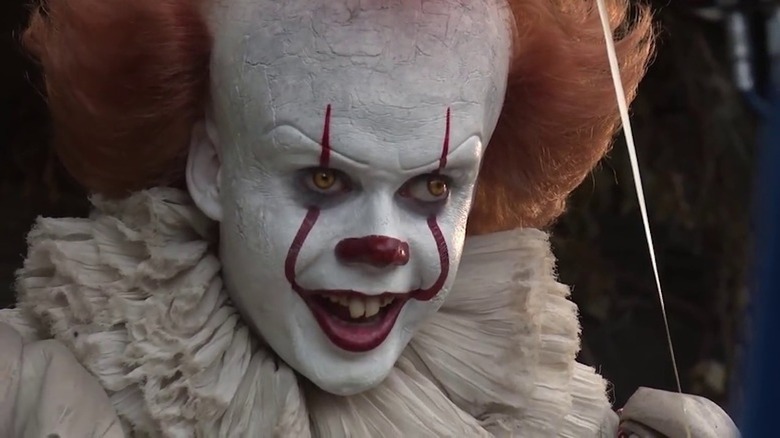 Warner Bros.
Skarsgård and Muschietti have gone on the record before about Skarsgård's impressive physical transformation into Pennywise. In an interview for Entertainment Tonight, the actor and the filmmaker talk about how Skarsgård can arrange his expressions in a terrifying way without the aid of CGI. He's able to arrange his lower lip in an unnerving curl, and can also make his eyes cross and uncross at will, giving the uncanny appearance that each is working independently of the another. The overall effect is one of typical human features that are just distorted enough to look wrong. It's the same type of off-putting exaggeration that makes clown makeup seem scary to some people, only real.
It was Skarsgård's knack for un-syncing his eyes that apparently sent Hader running for the hills when he first found out about it. Per Vulture, Hader appeared on "Conan" during the film's press tour to talk about hilarious set photos that went viral during the filming of "It: Chapter Two" after they were published by The Daily Mail nearly a full year before the movie hit theaters.
Definitely not a digital thing
In the pictures, Hader is in a park speaking with Skarsgård, who is decked out in full clown make-up and costume. The two seem to be sharing a laugh, but in the next photos, Hader is captured looking startled, and actually begins to run away from the actor. It's a hilarious image thanks both to Hader's frightened facial expression and the abrupt turn he appeared to have made in a matter of seconds. Although these shots appear to capture the actors in-character shooting a scene, the actor told Conan O'Brien the true story behind them in an appearance on the comedian's show.
According to Hader, Skaarsgard can be really scary when cameras are rolling, but it was specifically that unnerving eyeball trick that really freaked him out. "I go, how do they do that thing in the first movie, where your eye kinda goes out?" the comedian said. "I go, 'Is that a digital thing?' And he goes, 'Oh, you mean this?' And he did it!" Hader then impersonated his reaction, which can be best described as a disturbed scream.
We'd be rattled too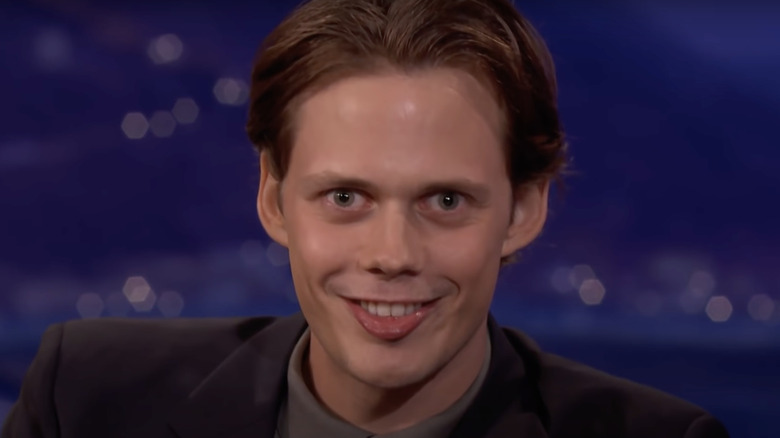 TBS
If Hader got up close and personal with Skarsgård's wandering eyes during shooting, it's tough to spot the moment in the final cut of "It: Chapter Two." In a scene in the Derry park, the monster who feeds on fear taunts Richie about a long-hidden childhood secret. Pennywises' eyes start to cross, but a second later, his whole face also seems to melt in a shot that's clearly CGI. Presumably, the actor was doing the eye trick in real life, but the look was enhanced after the fact for maximum freakiness. This scene matches up with the now-memed photos of Hader running from Skarsgård, so it's a safe bet it's the one that had the actor rattled.
Hader wasn't the only "IT" castmate who found Skarsgård scary when coming face to face with him in full Pennywise garb. In a behind-the-scenes featurette for "It: Chapter One," producers reveal that Muschietti kept the cast of child actors separate from the actor for as long as possible during filming, so he could capture their authentic reactions to his menacing look and performance on camera. Their fear is captured on camera partway through the film, when the Losers Club gathers together to watch a photo slideshow and ends up surprised by the killer clown's sudden appearance.