The Scariest Scene In Krampus Is Full Of Festive Fear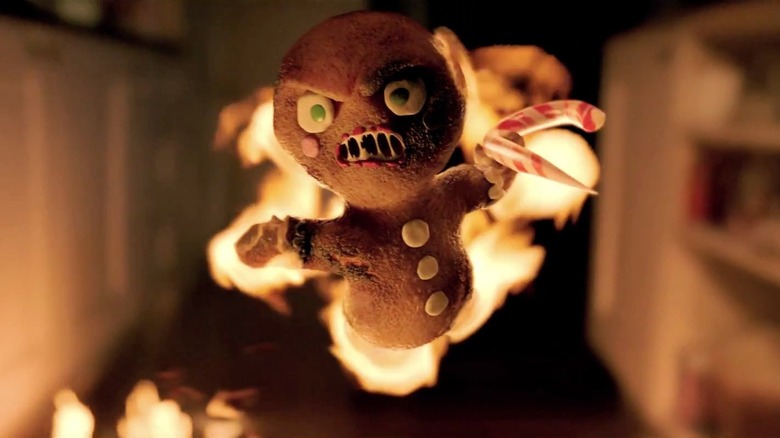 Universal Pictures
(Welcome to Scariest Scene Ever, a column dedicated to the most pulse-pounding moments in horror with your tour guides, horror experts Matt Donato and Ariel Fisher. In this edition: Ariel unwraps a terrifying gift in Michael Dougherty's "Krampus," and Matt chimes in with his unabashed love for the festive fright-fest.)
It's a mighty task to take on the Christmas post for Scariest Scene, especially given Matt's well-known love of not only all of the reds but Christmas horror. Inspired by some of his previous work, including but not limited to his poems on strange Christmas horror, Ho Ho Huh? and its sequel, I decided to write this week's column to the tune of Clement Clarke Moore's "A Visit From St. Nicholas."
Better known as "The Night Before Christmas," the venerated poem was originally published in 1823 and is widely considered to be one of the best-known American poems. So, naturally, it only made sense to use it as the framework for writing about Michael Dougherty's "Krampus," which is widely considered (at least by myself) to be one of the best Christmas horror movies. Fun, creepy, campy, and at times truly horrifying, in my opinion, it lands in the same ranks as "Gremlins" when it comes to festive fear.
Time for some merry mayhem.
The Setup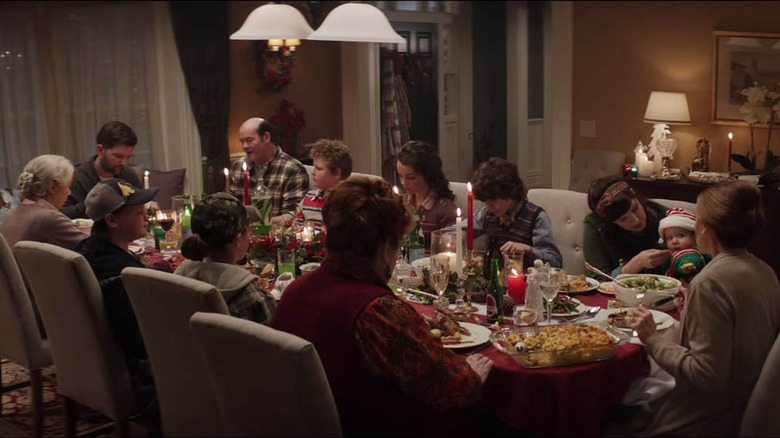 Universal Pictures
'Twas three days before Christmas at the Engel home,
And young Max caused a fight at the hippodrome.
A kid in his class had declared Santa fake,
And this was a lie that young Max couldn't take.
They returned from the mall, Tom and Sarah agitated.
In their son's behavior, they were disappointed.
Together they prepared for their cousins to visit,
Any minute they'd arrive with their great aunt, the bigot.
Beth was resentful to share space with these people;
Sure, they're related, but their behavior was baneful.
Then dinner went sideways, as it always does,
Dessert was ruined, the whole room was abuzz.
Jordan and Stevie had taunted young Max,
Read his letter to Santa, and at him they laughed.
Heartbroken once more, his Christmas spirit besmirched,
"I hate Christmas," he screamed, as he ran up the stairs,
"I hate all of you," he continued, not putting on airs.
His dad tries to comfort him, returning his letter,
But Max is fed up, and now he's turned bitter.
He tears it up and throws it outside.
What's the worst that could happen? There's no downside.
Alas, young Max, in the heat of the moment,
His anger and heartbreak awoke an evil once dormant.
The Story So Far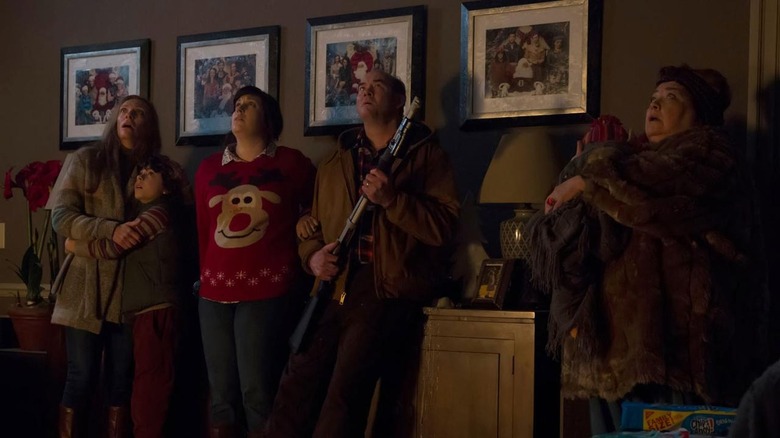 Universal Pictures
'Twas the day before Christmas, and inside a red sack,
evil creatures were stirring, they were Krampus' claque;
Aunt Linda had taken the package inside,
More presents for the Engels, it seemed to imply.
Omi was tending to the fire with care,
Making sure that no evil things intruded there.
The power went out, and the storm raged outdoors,
"We should've gone to my brother's," Howard implored.
With the heat from the fire to keep them all warm,
Max's sister, Beth, went out in the storm.
She wanted to check on her boyfriend up the street.
She was worried about him. Aw, isn't that sweet?
Sarah and Tom did reluctantly agree,
She could check in on Derek if she didn't dally.
Beth made her way swiftly, not wasting any time,
When something did stalk her, the roofs it did climb.
She ran away, frightened, hiding under a car,
But she was swiftly captured, she didn't get far.
After waiting for hours, Beth hadn't returned,
So Howard and Tom went out looking for her.
They took Howard's truck, along with his guns,
If anything tried it, they weren't the ones.
But they weren't prepared for this kind of foe,
And something grabbed Howard from under the snow.
Tom saved his life and got him to safety,
They boarded up windows with everyone edgy.
Then later that night, while Howard stood guard,
Something came down the chimney but didn't get charred.
A big nasty hook with some gingerbread men
Dangled in front of Howard Jr., and then,
Intelligent though he certainly is not,
He bit into the treat without another thought.
Quickly they swooped down and wrapped him up tight,
And dragged Howard jr. out into the night.
Now Omi chimed in with a tale of her own,
About the time she met Krampus and survived all alone.
She'd lost the Christmas spirit, and so had her town,
And Krampus showed up to shut it all down.
He dragged them to hell, but left Omi there,
To tell folks the tale of this great despair.
The Scene
The children were terrified, huddled in fear,
While frightening visions from hell did appear;
Young Max had seen vicious snowmen on their lawn,
And somehow, mysteriously, more of them spawned.
Aunt Dorothy sat, wrapped up tight in her fur,
And held baby Chrissy, as things got bleaker.
Up in the attic, there arose such a clatter.
You see, Stevie and Jordan thought they heard Beth's chatter,
So they followed the sound, and they made such a clamor
As something did snatch them, an inhuman captor.
Their parents could hear their screams from downstairs,
For Linda and Howard, it was the stuff of nightmares.
Then Linda and Sarah and Tom made their way
To find Linda's daughters and enter the fray.
The power was out, and their flashlights did shine,
So they climbed up the stairs in a single file line.
Their breath you could see as they looked all around,
When Linda found presents unwrapped on the ground.
Then something fell, clattering down in the darkness,
And all three of them jumped, clearly making them anxious.
Downstairs in the kitchen, Howard heard a strange sound,
So he went to investigate, and oh, what he found!
Cut to upstairs as they rounded a corner,
The sight before them a festive eldritch horror.
Jordan was swallowed by a Jack-In-The-Box,
Its mouth opened wide, its jaw did unlock.
"Shoot it, Tom! Shoot it!" Sarah did cry,
And the evil thing, terrified, ran away and said "Bye!"
It darted away in a moment quite wry,
And that not-so-small bastard was shockingly spry.
Meanwhile, in the kitchen, Howard lamented
Not going to his brother's, as confections fomented.
Gingerbread men had grabbed a nail gun,
And shot Howard in the leg before he could run.
A cutting board he used as a bit of a shield,
It was all he could do as he suddenly keeled.
Back up in the attic, more toys did appear,
A sadistic angel and bear, striking fear.
They attacked them forthwith and showed them no mercy,
As the situation went south rather quickly.
We cut back to Howard and the malevolent cookies,
Firing all of the nails, their weapon did empty.
And then with a swiftness, Howard took aim
And fired his rifle at the lantern flame.
In a flurry of fire, an artillery blitz,
Their pieces did scatter, their scorched ginger bits.
As Howard attempted to get the last word,
The killer confections suddenly stirred
And leaped to their feet with a sugary purpose
To maim and dismember and take care of business.
He quickly took aim at the charging desserts
And blew one away — oof, that must hurt!
The last one, however, still charged at him fast,
A sharpened candy cane clasped in its grasp,
When out of the blue, bulldog Rosie flew
And monched on that treat, its face she did chew.
Then up in the attic while wrestling with toys,
Linda saw Stevie and was counterpoised.
Fearless and ruthless, she stabbed the bear's eye
And charged across the room to save that Tom guy.
She cut down her sister, now hanging from lights,
And moved with a swiftness to end that Jack's life!
But before she could get to that demonic plaything
It escaped through the vent, its box clinking and clanging.
As everyone settled, that situation sucked,
Allow me to say that these toys can get f***ed.
The Impact (Matt's Take)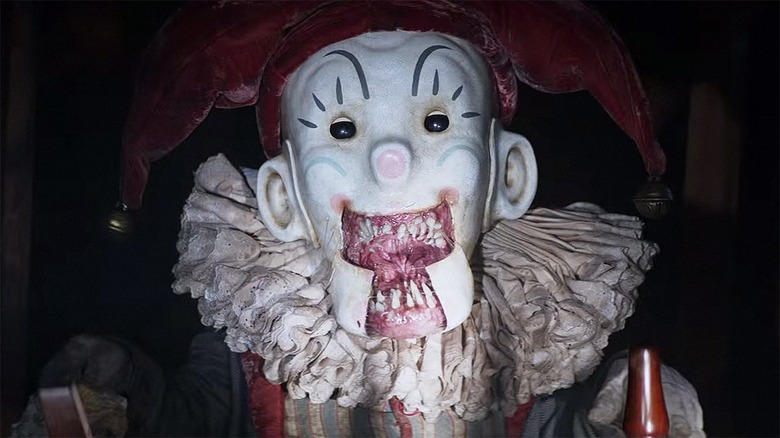 Universal Pictures
Ariel can handle holiday poem duties this year — I'll effuse about "Krampus," Weta Workshop, and Michael Dougherty for a frosty second.
The entire "Attack Of The Killer Toys" sequence is the closest to yuletide glee I've felt since watching "Gremlins" anew. On a purely visual level, the puppetry and creative design blend whimsy with wickedness as bells jingle-jangle a dreadful playtime tune. It's all magnificently imagined: a teddy bear with razor claws, the scorned angel with a cackle most pitchy, the anaconda Jack-in-the-Box (Freddy Krueger / "The Taking Of Deborah Logan" vibes). That's not even counting the gingerbread ninjas, quite possibly my favorite festive fiends in the entirety of "Krampus." Weta nails the macabre, malevolent, holly-jolly deviance that mixes innocence with insolence under frigid attic temperatures.
Dougherty is the G.O.A.T when it comes to holiday horror — two for two, prove me wrong — because he understands there's more to Christmas terror than blinky colored lights and the calendar date. "Krampus" weaves fairy tales, capitalist plights, and the American bastardization of a meaningful celebration like it's easy as Sunday brunch. Listen to the score. Look at the decorations. Feel the warm embrace of frightening traditions turned against take-for-granted characters like a seven-course meal that leaves you as stuffed as a Thanksgiving turkey (make it three for three with a T-day feature, please, Mr. Dougherty). I could watch this assault over spiked cocoa a billion times every December and still giggle aloud.
Does the clip in question make me quiver in my ugly sweater? Hardly, but that's not a knock on how this sequence lives in my head rent-free, no matter which holiday's next. Honestly? Give Michael Dougherty a new "Gremlins" feature based on these roughly seven minutes alone. Or a murderous toy factory nightmare. Imagine that "Child's Play" reboot I shan't discuss with Dougherty at the helm?
Other filmmakers would sell their soul to the naughty list for test footage this seasonally sublime. I love "Krampus," I love flaming gingerbread assassins, and I love Dougherty's dedication to setting the charms of Santa's workshop ablaze with the utmost frenzied unload.