Every Law & Order Series, Ranked From Worst To Best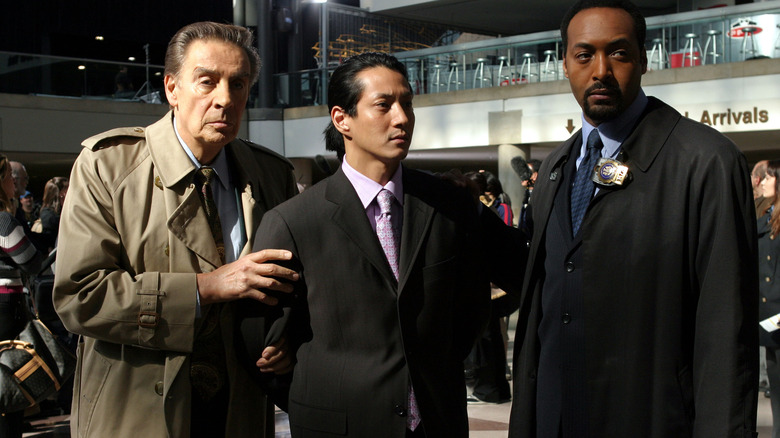 NBC
In this year's excellent sci-fi comedy "Resident Alien," an extraterrestrial arrives on Earth and absorbs our culture. Its primary entry point is NBC's "Law & Order." 
This is a very good joke. You know it and I know it. We know this because the DNA of any given "Law & Order" episode, dating back to its premiere in 1990, is practically enmeshed in our primal coding. To be human is to have heard the "cunk-cunk" noise, to wonder if a perp played by an actor who will be famous five years from now is getting away with murder (or assault or animal endangerment, etc). If all the "Law & Orders" ever leave our screens for good, it will briefly feel like a medium without oxygen. We haven't watched "Law & Order" — we've inhaled it, like we do air or news or the fries at McDonald's. It is, to its core, digestible.
McDonald's is an appropriate frame for "Law & Order," in fact. Both are ostensibly comfort food, yet both have remained popular for decades by both sharpening their brands and trying to expand their reach and aims. Is "Law & Order: Trial By Jury" not Dick Wolf's McSpaghetti (I.e. something which eradicates the franchise's appeal)? Is the McFlurry not "Law & Order: Organized Crime?" (Scoffed at, but actually awesome after midnight.) In the annals of fast-food television, the people have been served by multiple "Law & Order" shows, each of them worthy — here are their rankings, from worst to best.
7. Law & Order: Trial By Jury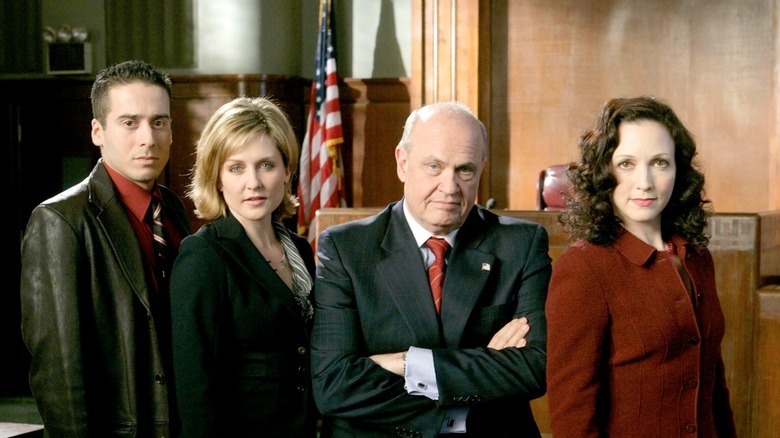 NBC
"Law & Order: Trial By Jury" is one of Dick Wolf's biggest misses. It's also a massive swing.
And, yes, let us elucidate that in further baseball terms.
One of the keys to playing America's Pastime professionally is plate discipline, which is defined by FanGraphs as "swinging at pitches that you can handle and taking pitches that you can't." I would argue that more than any other producer alive today, Dick Wolf has this in spades. His shows are broadly constructed to prevent overreaching. They follow a formula that minimizes errors. If "Law & Order" rarely reaches for abject greatness, that is by design and realized through effort. Artistic plate discipline is what keeps Dick Wolf, and NBC, in the financial black. He rarely strikes out.
"Law & Order: Trial By Jury" is not an act of plate discipline. It's batting with its less dominant hand and gunning for a grand slam to boot because, why not, Wolf's up by 10. The show quickly establishes a culprit. It extends one-half of a typical "Law & Order" episode, the trial, to a 13-episode length. Those are both worthy ideas, but they don't connect in the way Wolf wants. "Trial By Jury" is too much an imitation of its predecessor that's simultaneously striving for originality. It's a strikeout.
It should be noted, though, that "Trial By Jury" was likely not the show it initially aimed to be. Star Jerry Orbach succumbed to cancer two months before the premiere of "Trial By Jury," and his ailing health seems to explain why his iconic detective Lennie Briscoe factors heavily in the first two episodes but then disappears from the story altogether. Even for a creative as victory-prone as Dick Wolf, it's hard to score a win when the heart of your team goes missing.
6. Law & Order: True Crime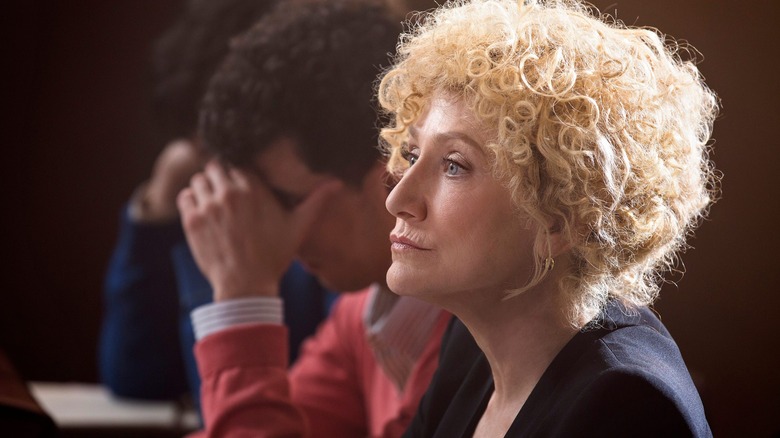 NBC
"Law & Order: True Crime" isn't an objectively bad show.  Any season of television which offers Edie Falco the opportunity to transcend a "Sherri Lewis from 'Lamb Chop'" wig will have its pleasures, and Falco's work as criminal defense attorney Leslie Abramson is relentlessly intriguing. It earned the actress an Emmy nomination — and rightfully so — but it doubled as the show's secret albatross. "Law & Order: True Crime" is only the most excellent version of itself when Falco's on screen.
The rest of the season is a whole other story.
In fairness, "Law & Order: True Crime" had massive shoes to fill for NBC. It followed on the heels of "American Crime Story: The Trial of OJ Simpson," a smash for FX Networks that is arguably one of producer Ryan Murphy's best-ever efforts.  That show corralled a talented ensemble into sustained, company-wide excellence. It not only resurrected the star of Cuba Gooding Jr., but minted a new one for Sterling K. Brown. The roles of Johnnie Cochran and Marcia Clarke netted Courtney B. Vance and Sarah Paulson, respectively, much-lauded Emmy wins. There's not a character in "Crime Story" whose narrative doesn't feel fully realized.
That isn't the case for "Law & Order: True Crime." It vacillates between hyper-specificity and broad, freshly-ripped-from-the-headlines strokes. Sometimes it's a soap. Sometimes its prestige. The previously mentioned Ryan Murphy has proved many shows can be both, but here they're oil and water. It's not objectively bad, but it just doesn't work. 
5. Law & Order: Los Angeles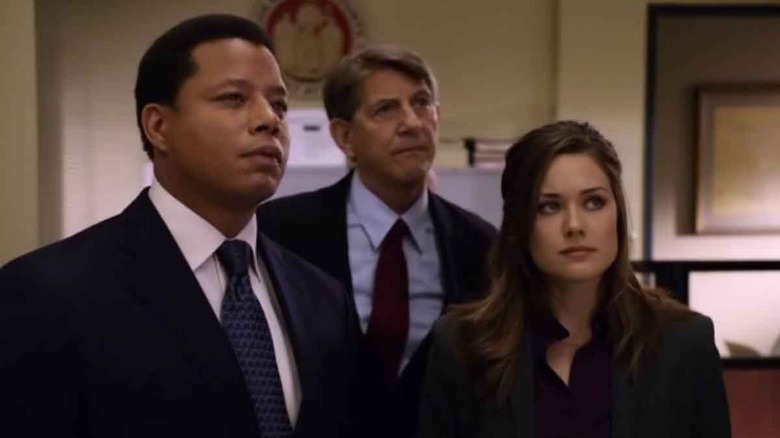 NBC
Earlier this year, Twitter user @charles_jensen asked what line reading from a movie or television show lives free in people's heads. The responses were generally excellent. One of mine comes from "Return Of The Jedi," when Billy Dee Williams, Lando Calrissian himself, pleads with Rebel forces during their last, desperate siege on the Empire: "Han will have that shield down. We've got to give him more time!"
That's the phrase that runs through my head whenever I think of "Law & Order: Los Angeles." A tremendously hyped, West Coast spin-off of Dick Wolf's stalwartly East Coast institution, the 2010 show premiered just as the original "Law & Order" shuttered after 20 long years. It was intended as a fresh start; sadly, it was stale from the jump. Skeet Ulrich of "Scream" and "Riverdale" fame failed to find much chemistry with a then-unknown Corey Stoll ("Ant Man," "West Side Story"), and the show's biggest stars, Alfred Molina and Terrance Howard, were relegated to recurring player status. What might've been an opportunity to expand the idea and reach of what "Law & Order" was mostly served to remind grieving viewers of the show they'd lost. 
Except: "Law & Order: Los Angeles" started improving. It wrote Ulrich and his fellow cast members Regina Hall and Megan Boone out of the show by season one's end, promoting Molina and Howard to full-time status thereafter. The writing became more sun-drenched and James Elroy-indebted, eschewing New York toughness for secretly white-hot remove. Had it reached a second season, there's reason to believe "Law & Order: Los Angeles" could've become an institution not on the level of "Law & Order" so much as one of its own making. We just had to give it more time.
4. Law & Order: Organized Crime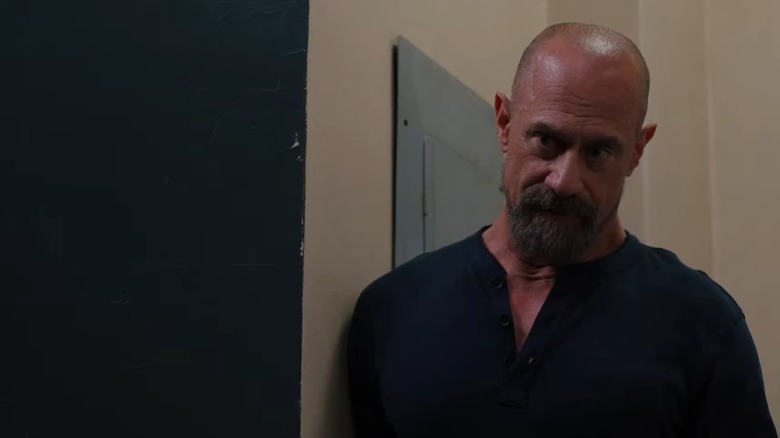 NBC
At the risk of sounding thirsty: the world is hot for Christopher Meloni. This isn't projection. This is fact. When a photo of Meloni looking particularly caked up on  "Law & Order: Organized Crime" hit the internet, the internet responded with flushed, ecstatic swooning. Meloni even cheekily responded to his admirers. The man was, briefly, a sensation.
I mention all this because, two seasons into its run, "Law & Order: Organized Crime" has embraced that Christopher Meloni is the draw. Its loftier ambitions — to merge the procedural world of Dick Wolf with a more sordid, action-packed mob drama — are admirable, but they aren't the show's fervent pulse. That is, and will always be, Meloni. So, whereas season one treaded water while dividing its focus between Meloni's legendary Elliot Stabler and Dylan McDermott's rouge crime boss Richard Wheatley, season two is the Chris Meloni show, thrusting Stabler undercover in the Albanian mob and setting him against tech-savvy anarchists. Accordingly, it's become a better show. What's more, the shift in focus has allowed for a season-long crossover with "Law & Order: SVU" that brings Mariska Hargitay's Olivia Benson into the fold both as a professional ally and romantic foil. 
If this all sounds deeply silly, that's because it is. But "Law & Order" is, at its core, a deeply silly franchise. That's part of its charm. (No less than Stabler himself once went undercover alongside a rapper named Gots Money to bring down animal smugglers. Silly!) "Organized Crime" blends story beats both boneheaded and baroque to its will, largely through the lens of an actor and character audiences fall for. That's having your cake and eating it, too. 
3. Law & Order: Criminal Intent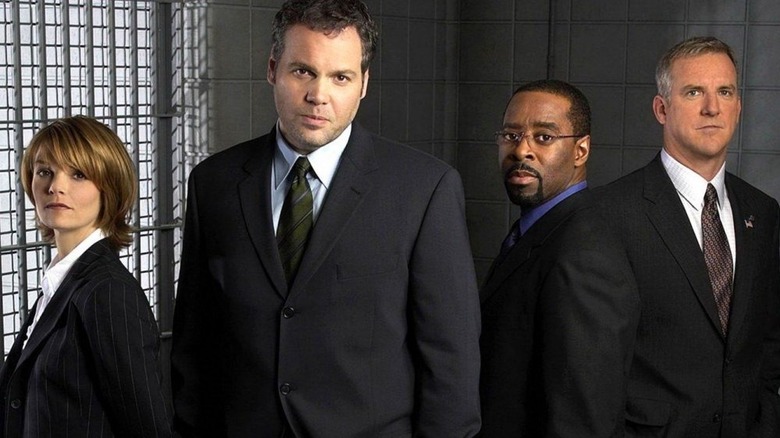 NBC
The "Law & Order" franchise makes stars. And if the actors who anchor Dick Wolf's shows often become household names, it isn't just because they're good — it's because few shows enter viewers' households with more frequency. A lead role on "Law & Order" is fame achievement as white noise. To a certain degree, the work you do is irrelevant. 
Having said that: there's Vincent D'onofrio. The 62-year-old actor is rarely less than iconic, having left searing impressions in everything from "Full Metal Jacket" to "Men In Black." His contribution to "Law & Order: Criminal Intent" was as lead detective Robert Goren, a character more in line with Sherlock Holmes than Tubbs or Crockett. Goren's damaged heart sat fully on his sleeve for each and every "Criminal Intent" episode, rendering the show's status quo more volatile than any other in Dick Wolf's canon. And by the end of the series run, it was clear Wolf himself understood that Goren's bruised psyche and shocking behavior were the program's primary draws; the decision to bring on no less than Julia Ormond as a psychologist tasked with evaluating Goren confirms as much. D'onfrio made "Criminal Intent" complicated comfort food, a show which could flip your brain off and leave it buzzing simultaneously. 
That's some truly star-making stuff. 
2. Law & Order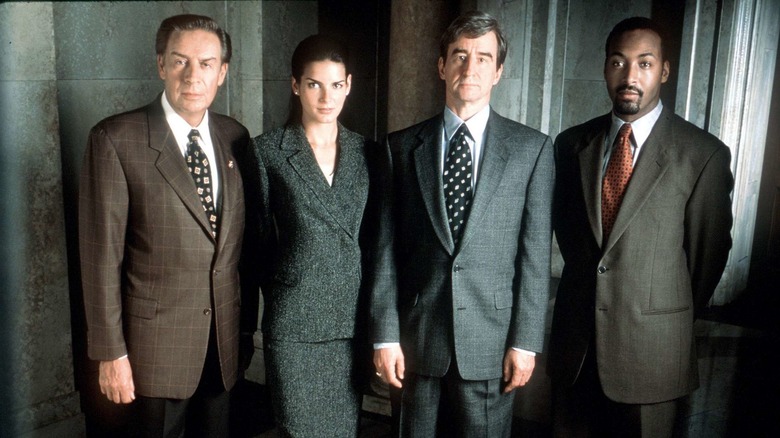 NBC
More often than not, we admire shows which broke the mold. That's the understandable temptation given how often life is a series of molds we bounce between ad nauseaum, from one of daily routine to those of courtship and nuclear family building. There's a blueprint for everything — why not cheer the ones who rip it up?
"Law & Order" isn't comprised of those persons and it doesn't have fiery instincts. It's a deeply passionate show, but it contains its rage and sparks to narrow, rock-solid boundaries. "In the criminal justice system, the people are represented by two separate, yet equally important, groups: the police, who investigate crime; and the district attorneys, who prosecute the offenders. These are their stories." That's "Law & Order," week in and week out. No deviation. 
That is, to put it mildly, remarkable. Trying to imagine modern television both pulpy and prestige is impossible without the luminous rigidity of "Law & Order," its reliable assemblage of officers, lowlifes, and everyday New Yorkers. In no world do procedurals become a network bedrock without "Law & Order," nor is there a runway for "True Detective" to twist the engine of the police drama into something both souped-up and broken. Genius is purported to feel electric, something which inspires on sight or through experience. But as the toils of George Orwell, Hwang Dong-hyuk, or Marie Curie readily prove, genius itself may be methodical. And in its week in, week out toil, "Law & Order" presents something so common we forget its also brilliant. Here's to the mold.
1. Law & Order: SVU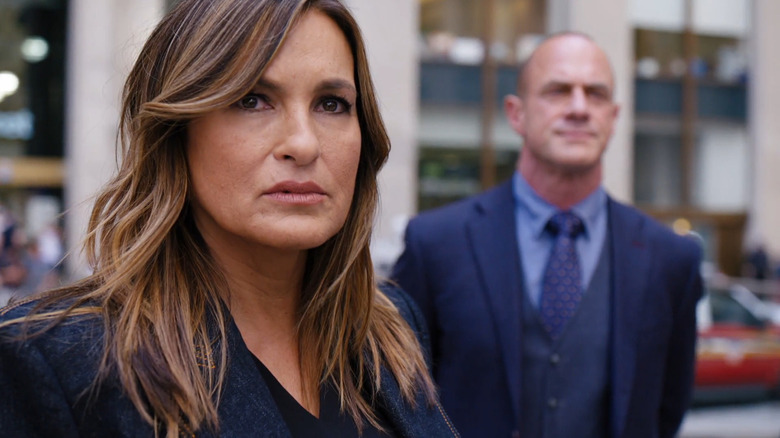 NBC
There's a litany of shows whose spin-off either matched or eclipsed the original. Think "Fraiser." Think "Better Caul Saul." And, yes, think of "Law & Order: SVU," which didn't lap Dick Wolf's original show in terms of overall quality so much as it did pole position and low-key iconography. Simply put: "Law & Order: SVU" is the sun of television procedural's galaxy. It is the force that makes a "Blue Bloods" or "Elementary" possible, the reason Ice T remains fun and relevant, a machine still capable of surprising 23 seasons in. Because more than any "Law & Order" before or after it, "Special Victims Unit" is adaptable.
Yes, "SVU" still depends on the constant frame that gives "Law & Order" its unmistakable character. But the show has, in the last two years, tackled life with COVID and an "Organized Crime" crossover this season that's growing more complex by the episode. Its made room for additionally compelling long-form storytelling, as well, particularly in season 21, which found Olivia Benson squaring off against a media mogul played by A-list heavy Ian McShane. Most shows struggle to find creative spark five or six seasons in — "SVU" is still starting fires every time it hits the air more than two decades into its existence. It's given us four of the franchise's most recognizable characters (Benson, Stabler, Fin, Munch). It brought difficult conversations about sexual assault, gaslighting, and rape culture further into the mainstream. It's not eclipsed "Law & Order" as the franchise's best show so much as continuously redefined what "Law & Order" can be. It's an all-time television great and it takes number one on our list. 
Case closed.