Raising Dion Season 2 First Look: Michael B. Jordan's Netflix Superhero Show Is Finally Back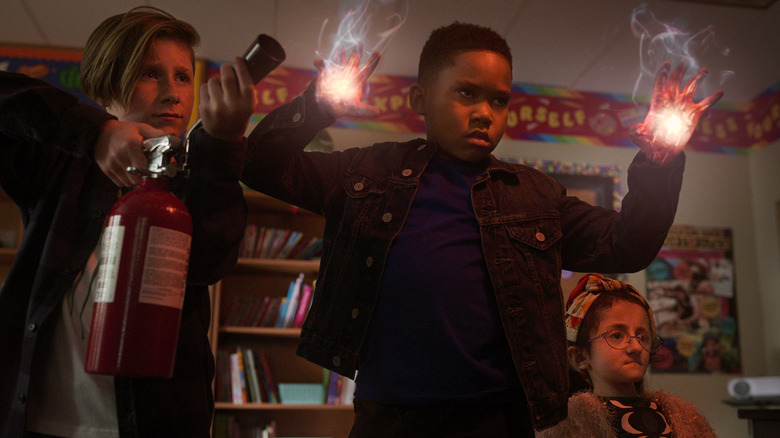 Netflix
Two years after gaining superpowers and saving the world, young Dion (Ja'Siah Young) returns to our screens, a little older and ready to face off against his next batch of challengers. In the time since he last led us through episodes of the coming-of-age saga "Raising Dion," the titular character has clearly spent some time honing his abilities, finessing his strengths and doing some good ol' fashioned growing up. After a long wait, Netflix has revealed our first look at the series' second season, offering a glimpse of Dion in action, along with all the people guiding him along.
In case you missed it the first time around, this is the perfect opportunity to get caught up on "Raising Dion," a sweet show that blends typical coming-of-age struggles with the added worry of supernatural abilities. It's not an unfamiliar narrative at this point – and you won't be surprised to learn that this tale is actually a comic book adaptation — but the series does have its own special charms. Much of it comes from the focus on Dion's mother, Nicole (Alisha Wainwright). When we first meet her in season 1, the single mother is still grieving the loss of her husband — who happens to be played by series executive producer, Michael B. Jordan. In the midst of just figuring out how to raise her son alone, she learns that he's developing strange telepathic abilities and must figure out how to keep him safe from those who might exploit his new powers.
The first season grappled with the origins of Dion's powers, and the second will continue his journey as the mystery continues to unravel. Let's delve into what we can expect from "Raising Dion" season 2, based on some of the first look photos below.
First Look at Raising Dion Season 2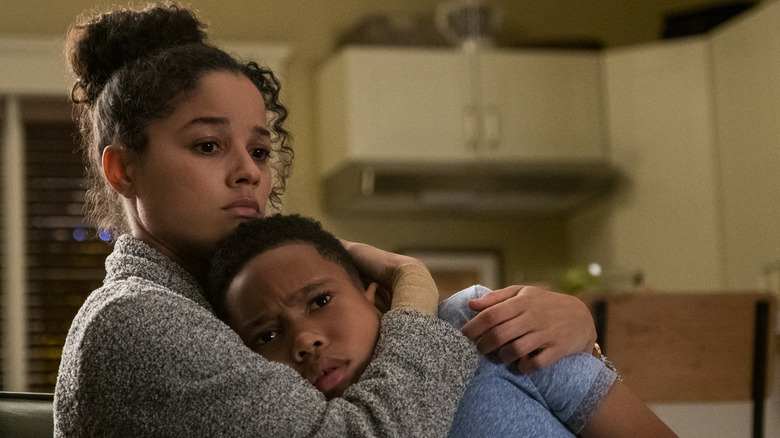 Netflix
Just as before "Raising Dion" season 2 will continue centering the relationship between Nicole and her son, as the pair cope with their new reality. Secrets, conspiracy, and mystery will continue to linger around them, but having one another has always been a major source of comfort to both — especially in wake of Mark Warren's (Jordan) loss. Also easing the struggle is the fact that Nicole isn't alone in her fight to keep Dion safe.
Jazmyn Simon returns to "Raising Dion," now a series regular. Simon stars as Kat Neese, Nicole's older sister. Hopefully this means she'll be around to help out throughout the season, though newcomer Tevin Wakefield (Rome Flynn) should also help lighten Nicole's load as Dion's BIONA trainer. In fact, the image seems to hint that he catches Nicole's eye as the pair spend time together. Wonderful as it is to see the mother-son duo with friends, the story wouldn't be complete without a few foes.
Griffin Robert Faulkner returns as Brayden Mills and Jason Ritter is back as Pat Rollins aka The Crooked Man. Thankfully, he's in cuffs this time and no longer a terrifying storm-entity, thanks to Dion defeating the villain at the end of season 1. But a new problem may arise in the form of young Brayden Mills, a superpowered kid who Dion befriends. Though he seems innocent enough, causally munching on some chocolate cereal, the image has ominous implications.
The second season of "Raising Dion" premieres on February 1, 2022 and you can read the official synopsis below.
Raising Dion follows the story of Nicole (Alisha Wainwright) and her son Dion (Ja'Siah Young) after Dion starts to manifest several mysterious, superhero-like abilities. Two years after defeating the Crooked Man (Jason Ritter), Season Two follows Dion as he continues honing his powers with the support of his mom and Tevin (Rome Flynn), his Biona trainer who catches Nicole's eye. After befriending new student Brayden (Griffin Robert Faulkner) – a fellow powered kid – a series of alarming events unfold, and Dion learns that danger is still looming. Navigating twists, turns, and surprise visitors, Dion and Nicole must prevail again — not just to save themselves, but the entire city of Atlanta.