Watch 88MPH, A Documentary On The Greatest Movie Car Of All Time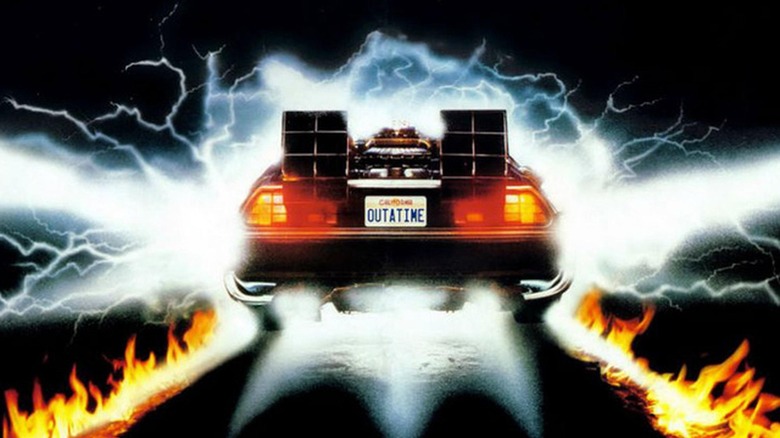 Universal Pictures
There is no doubt about it. You can debate all you want, but the greatest movie car of all time is the 1981 DeLorean DMC-12 from 1985's "Back to the Future." I mean, yeah, there's the Batmobile and Bumblebee, but really, the crazy doors, the OUTATIME license plate, and the fact that it's clearly responsible for Christopher Lloyd never ageing means it's the cream of the crop. (Seriously, that man has been the same age since the 1980s. Exactly. The. Same!
There is now a documentary out called "88MPH: The Story of the DeLorean Time Machine" that you can watch in full on YouTube. We've even got it conveniently located for you, right below the description. Here is the key info:
The 1981 DeLorean DMC-12 "Time Machine" Hero Car used in the hit 1985 time-travel movie "Back to the Future" is an international cultural icon. The car's legacy transcends borders and generations as one of the world's most recognizable and beloved automobiles. Attesting to the impact of the DeLorean "Time Machine" and the movie, enthusiasts the world over have built countless replicas of the movie car out of stock DeLoreans. It is likely among the most replicated film car in history.

Sections of this documentary contain material from "OUTATIME: Saving the DeLorean Time Machine", a movie dedicated to the restoration of the A-car "Time Machine" used in the "Back to the Future" franchise.
OUTATIME
Now, I haven't watched "88MPH" yet, and it's just gone up on YouTube today. It's directed by Tom Quigley (and this is the only credit listed for him on IMDb) and features Tamir Ardon, who appeared as himself in the film "Framing John DeLorean" with Alec Baldwin. It comes to us from the Hagerty Drivers Foundation and features Claudia Wells among its cast list. If you recall, she was the first person to play Jennifer Parker in the "Back to the Future" franchise. They replaced her with Elisabeth Shue when Wells had to leave acting to take care of her mother, who had been diagnosed with cancer. 
This documentary is almost two hours, and I will be planting myself somewhere this weekend to watch. As a child of the '80s, I love this car with my entire heart. As a resident of Los Angeles, I have seen many, many obnoxious producer-like people climbing out of them on Ventura Blvd. I say "climbing," because it's never graceful. I want one, but if I ever manage to get one, I will practice, so I don't look like an idiot.