Song Kang-Ho Reteams With Age Of Shadows Director Kim Jee-Woon For Cobweb
"Parasite" star Song Kang-ho is teaming up with famed Korean filmmaker Kim Jee-woon for the fifth time for the upcoming film "Cobweb." It's been two years since the Korean actor rocked American audiences with his layered role in the film that won the Oscar for Best Picture, and even longer since he's worked with director Kim Jee-woon.
Kim, who is perhaps best-known in America for the horror classic "A Tale of Two Sisters" and the gut-wrenchingly intense thriller "I Saw The Devil," described the new project as "experimental," according to Variety. Although the plot of "Cobweb" is not yet public knowledge, Kim also revealed that it'll be shot on a soundstage that will serve as the setting for a film-within-a-film structure.
Song and Kim Have A New Production Studio
Although the duo has worked together before, this will be their first project under the banner of Anthology Studios. The studio is a new production house jointly co-founded by Song, Kim, and former Warner Bros. Korea production head Jay Choi. According to Variety, Anthology Studios' goal is to produce exciting projects with Kim serving in a mentorship role for first-time filmmakers.
Anthology Studios may have just opened its doors, but it's already a hot commodity. The studio was reportedly acquired by JTBC Studios soon after its launch for the equivalent of nearly $18 million. JTBC Studios is making big moves in the global film industry, branding itself as the first Korean studio to encompass all aspects of filmmaking, from production to distribution and beyond. With the worldwide success of recent South Korean projects like Bong Joon-ho's "Parasite" and Netflix's "Squid Game," these major moves within the Korean film industry are both an expected next step and an exciting one.
Two Decades of Collaboration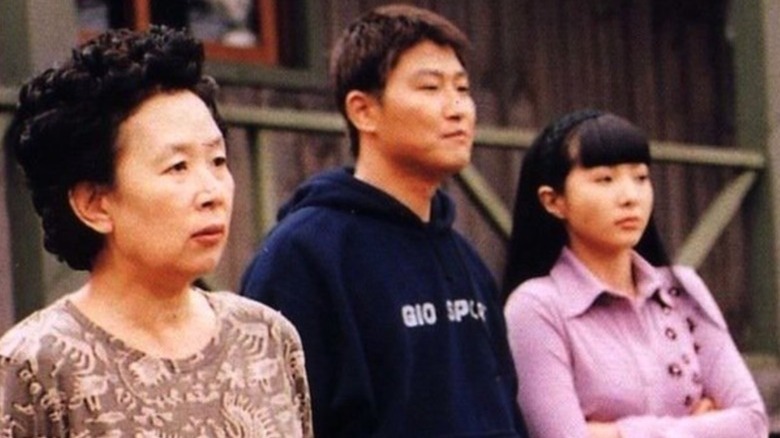 Myung Films
Casual fans of Song and Kim might expect "Cobweb" to be another white-knuckle thriller, but the duo's decades-long partnership has been genre-spanning and full of surprises. The two first worked together on "The Quiet Family," a bloody 1998 black comedy. Since then they've collaborated on the wrestling comedy "The Foul King," the Cannes selection Western "The Good, The Bad, The Weird," and most recently on 2016's period action film "The Age of Shadows."
If Kim's recent work is any indication, though, he still has plenty of macabre thrills up his sleeve. The director made his first foray into television this year with the Apple TV+ series "Dr. Brain," which follows a brain surgeon who searches the memories of the dead in order to solve a mystery. Meanwhile, Song Kang-ho recently wrapped production on a sports film called "One Win," which was written by "Cobweb" scribe Shin Yeon-shick.
Song Kang-ho and Kim Jee-woon have long-since been a powerful creative pair, and their work can only get even more interesting with an entire production company at their disposal.
There is currently no set release date for "Cobwebs."