The Best Movies Streaming Right Now: The Power Of The Dog, Pig, And More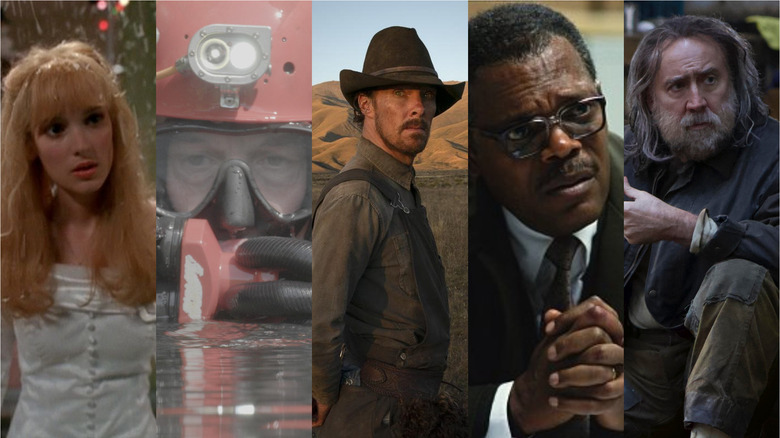 Warner Bros., National Geographic Documentary Films, Netflix, Paramount, Neon
(Welcome to Now Stream This, a weekly column dedicated to the best movies streaming on Netflix, Amazon, Hulu, and every other streaming service out there.)
As another week winds down, it's time to kick back with some movies. Sure, I guess you could go somewhere. But yuck, who wants to leave the house? Not me! The weekend is the perfect time for some streaming, dear reader. And since the world of streaming services is so cluttered these days, it can be helpful to have a guide. Well, consider me that guide. I am the Virgil to your Dante, guiding you through the nine circles of streaming hell! So, TGIF, folks. Let's get streaming.
The Power of the Dog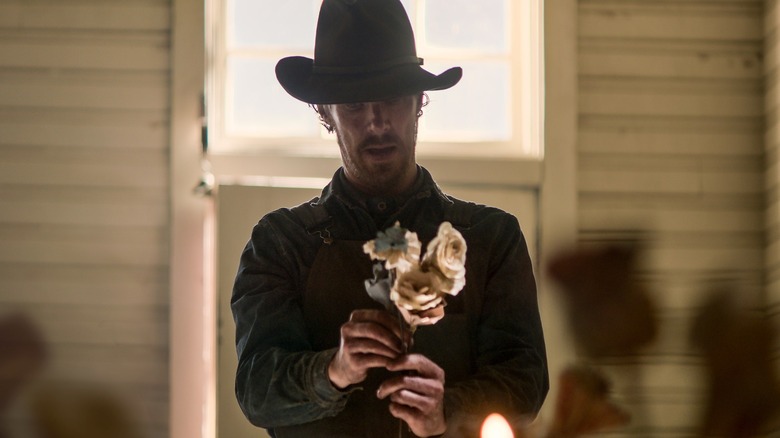 Netflix
Now Streaming on Netflix
Jane Campion's "The Power of the Dog" is one of the best films of the year, a stark, quiet, often disturbing story that plays its cards extremely close to the vest. This is the type of film where you don't really know what's going on until the final frames, and it can be very difficult to pull that sort of thing off. But Campion does it, and makes it look easy, because she's such a damn good filmmaker. Lonely widow Rose (Kirsten Dunst) runs an inn with her strange, quiet son (Kodi Smit-McPhee). One day, some cattle drivers come in, including brothers Phil (Benedict Cumberbatch) and George (Jesse Plemons). George is awkward but kind, while Phil is loud and cruel. Both brothers are wealthy, and we eventually learn that Phil has an Ivy League education but chooses to play cowboy. Rose and George marry, but to Phil's annoyance – he has no patience for outsiders like Rose, and he mocks both her and her son. And then a curious thing happens. The son, Peter, starts trying to befriend Phil. And Phil, despite his cruelty, takes a liking to the boy. And that's all I'm going to tell you, because like I said, "The Power of the Dog" is in no hurry to reveal its secrets. Cumberbatch has never been as good as he is here, making Phil into a truly ominous character who instills dread every time he appears.
Pig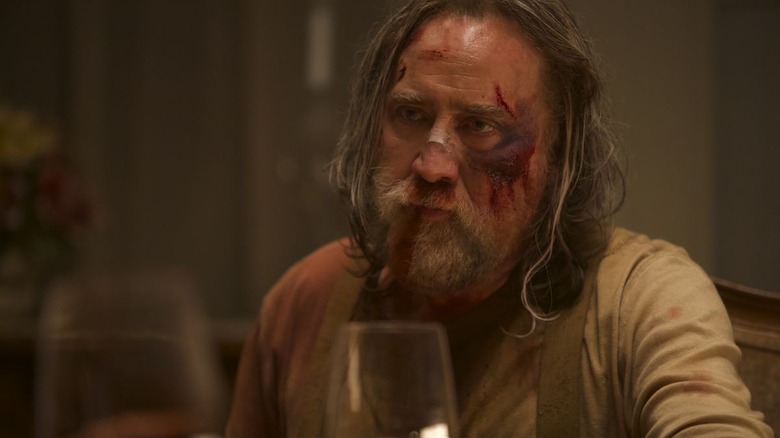 Neon
Now Streaming on Hulu.
Lots of people like to point out how wacky Nicolas Cage can be, and sure, that's fair. Cage can definitely go over the top. But it's important to remember that he's a great actor, too, and if you've forgotten that, please go watch "Pig." The premise, which has Cage playing a former chef trying to find out who kidnapped his prized truffle pig, sounds like the set-up for some sort of "John Wick" style tomfoolery. But that's not what "Pig" is. Instead, it's a quiet, reflective story about trying to grab hold of something special in a world that feels designed to crush you. Cage's performance is subtle and strong, some of the best work of his entire career, and it's a travesty that he'll probably be completely overlooked this awards season. 
The Rescue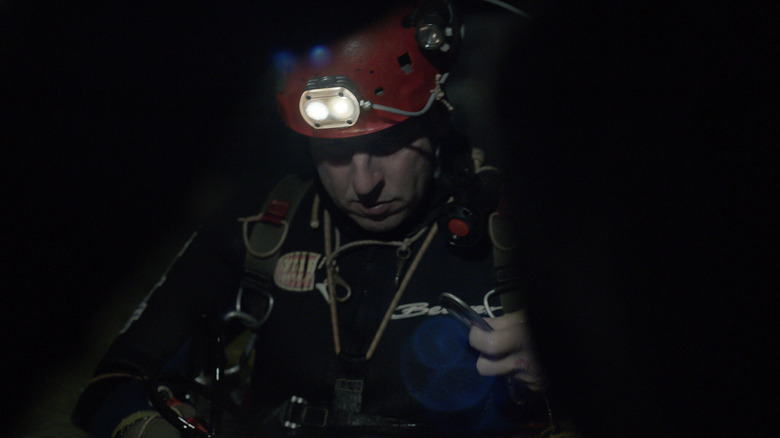 National Geographic Documentary Films
Now Streaming on Disney+.
Elizabeth Chai Vasarhelyi and Jimmy Chin, the team behind the anxiety-inducing documentary "Free Solo," are back with another doc about people who risk their lives partaking in a seemingly insane hobby. This time that hobby is cave diving, wherein people strap on SCUBA gear and dive into dark, narrow underwater caves. For fun. But unlike "Free Solo," the subjects at the center of "The Rescue" aren't just doing this for their own personal glory. Instead, they've been called in to help rescue a young soccer team trapped in the Tham Luang Nang Non cave in northern Thailand. The clock is ticking – if the kids don't die of hunger or thirst, the threat of rising waters will surely drown them. And so an extremely dangerous plan is put together. Using a blend of real footage and recreations that look like real footage, "The Rescue" paints a harrowing, hopeful story of people going above and beyond in order to save total strangers. That's a sentiment we could use a lot more of these days. 
Edward Scissorhands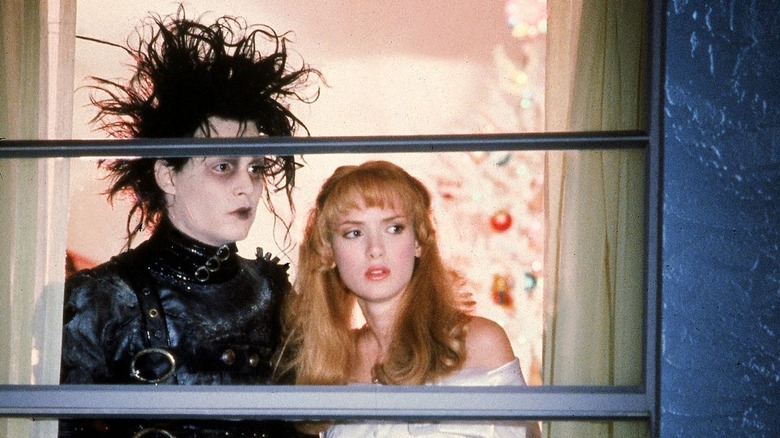 20th Century Studios
Now Streaming on Amazon Prime Video and Disney+.
When I was a young goth loser, I idolized the work of Tim Burton, especially his fairytale-ish "Edward Scissorhands." The weird outsider at the center of that story really appealed to me; I saw in him a kindred spirit. Then, at some point, I grew warry of Burton. It didn't help that his work began to decrease in quality, and he descended into self-parody. The filmmaker's weaker efforts made me adopt a blase attitude to his filmography in general, and I felt I had grown beyond it. But the thing is, while Burton's modern-day work doesn't hold water, a lot of his earlier films are worthwhile. And when I revisited "Edward Scissorhands" last year for the first time in a long time, I was blown away by how well it's held up. For all of Burton's flaws, this tale of a Frankenstein-like figure (Johnny Depp) who heads down into candy-colored suburbia, remains fairly magical. The suburbanites take to poor Edward at first, and Edward is instantly smitten with Kim (Winona Ryder). But before long, the locals turn on this hapless creature, because he will always be an outcast, even if he does manage to win Kim's love. Few moments in Burton's career are as effective and heartbreaking as a climactic scene set during Christmastime, where Jen asks Edward to hold her, and Edward, with his blade-like fingers, quietly responds, "I can't." Brutal, man. Brutal. Throw in one of Danny Elfman's most gorgeous scores, and you've got something special. 
Changing Lanes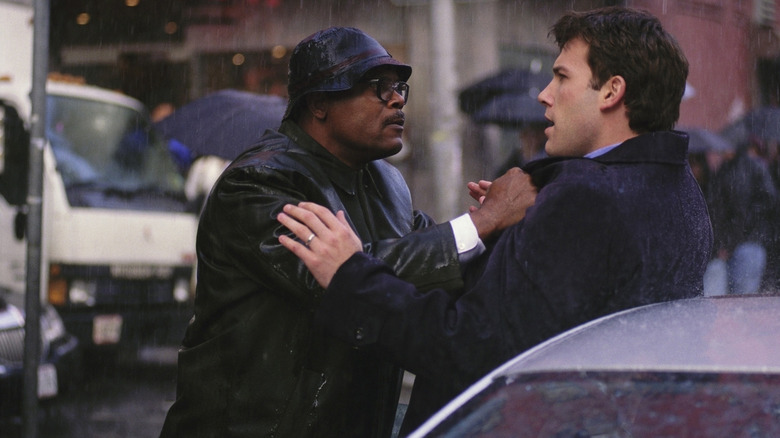 Paramount
Now Streaming on HBO Max.
When was the last time you heard anyone talk about "Changing Lanes"? I'm guessing the answer might be "never," and that's a darn shame! Because this forgotten 2002 thriller is quite good, and it's the type of mid-budget, adult-driven drama we don't really get anymore. As the story begins, two very different guys are rushing to court. One of them, played by Samuel L. Jackson, is a recovering alcoholic trying to win joint custody of his kids. The other, played by Ben Affleck, is a Wall Street attorney on his way to file some very important paperwork. Both men end up in a car accident, and Affleck's character, Yuppie scumbag that he is, ends up leaving Jackson stranded. As a result, Jackson misses his court appearance. But unfortunately for Affleck, he accidentally left the important documents he needed to file behind – and Jackson finds them. Soon, the men are locked in a battle to ruin each other's lives. It's a unique scenario, and Affleck and Jackson are both great here, backed up by a crackerjack cast that includes Toni Collette, Sydney Pollack, and William Hurt.