15 Movies Like Midsommar That Will Surely Give You A Scare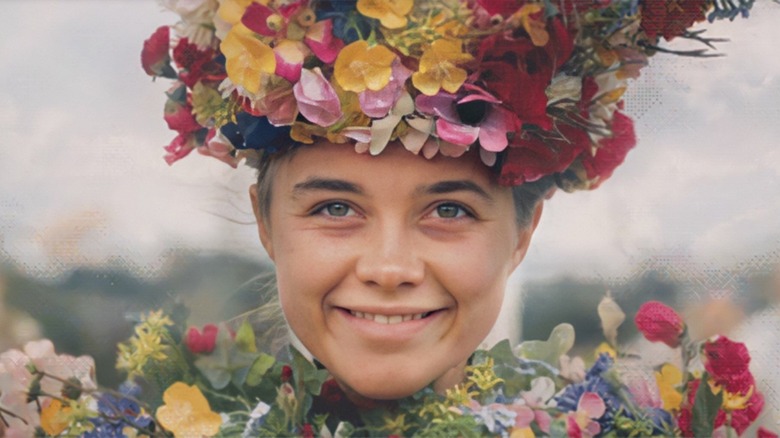 A24
"Midsommar" (2019) is a memorable folk horror film about a dysfunctional couple on a Swedish holiday from hell. Writer-director Ari Aster's sophomore feature follows Dani (Florence Pugh) and Jack (Jack Raynor) as they travel, along with a few friends, to the remote Swedish village of Harga on a senior thesis trip where they plan to study the locals' customs and attend their midsummer festival. But they soon discover that the cultish Hargans participate in some pretty disturbing rituals (to say the least), and that their odds of escaping the village are slim.
The events of "Midsommar" culminate in a twisted but cathartic ending that had anyone who's ever been involved in a bad relationship saying, "Yas queen." But it's also a movie about how we deal or don't deal with trauma, and how unprocessed trauma or grief can impact our lives and the lives of those we love. 
Fans of "Midsommar" may be interested in seeking out similar horror films to watch, whether they be about cults, bad relationships, grief, trauma, solid folk horror films with freaky endings, or some combination of all of the above. We're happy to help in that endeavor by providing a list of 15 movies like "Midsommar" that will surely keep you up at night.
Hereditary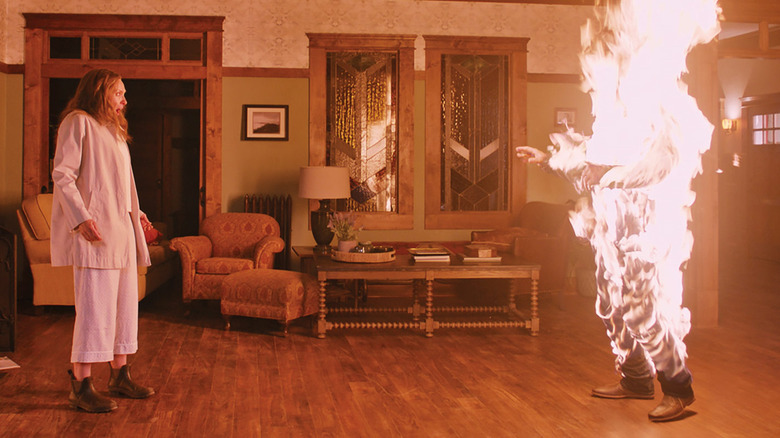 A24
Ari Aster's first feature, "Hereditary" (2008), shares many traits with his second, including the fact that both films feature freaky storylines involving ritualistic cults. Both serve as metaphors exploring the horrors of family trauma and the devastating effects it can have on one's mental state and relationships, and both culminate in an intense and shocking ending.
The "Hereditary" storyline revolves around a family led by Annie (Toni Collette), whose own mother dies at the beginning of the movie, leaving her in a state of grief. When a second tragedy strikes the family, it sends Annie spiraling, and things only get much worse when it becomes clear that a demon named Paimon is involved. Just as we wonder whether Dani will succumb to the Harga cult in "Midsommar," we wonder whether Annie will be able to save herself and her remaining family members from Paimon's curse (we learn her mother was in fact, a worshipper).
With strong supporting performances by Alex Wolff, Milly Shapiro and Gabriel Byrne, "Hereditary" offers a thought-provoking and intensely disturbing family portrait that is almost guaranteed to mess you up.
The Wicker Man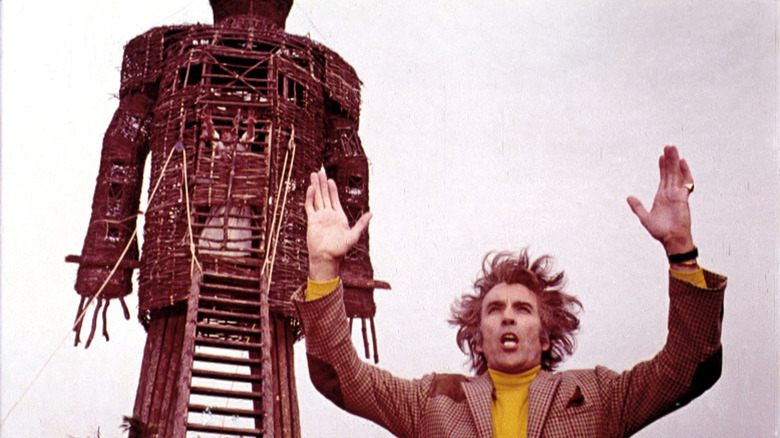 British Lion Films
If you're a fan of "Midsommar," then you'll want to make sure you've seen one of its biggest influences, "The Wicker Man" (1973). Directed by Robin Hardy, the film is a seminal work of the folk horror genre, one which The Guardian ranked as the number four best horror movie of all time.
"The Wicker Man" follows Sergeant Neil Howie (Edward Woodward) as he travels to the remote Hebridean island of Summerisle to investigate the disappearance of a little girl. When he arrives, however, he's given the runaround by the island's free-wheeling, paganistic inhabitants, all of whom are busily preparing for their upcoming May Day celebration.
Eventually, Sergeant Howie meets the enigmatic Lord Summerisle (Christopher Lee), who reveals the terrifying true intentions behind their festival. Like the Harga of "Midsommar," the residents of Summerisle have their own disturbing rituals. And as in "Midsommar," a fiery sacrifice threatens those who don't belong.
Rosemary's Baby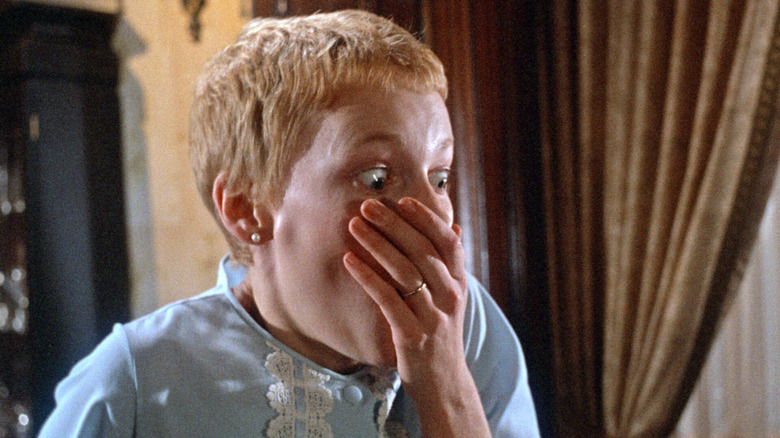 Paramount Pictures
"Rosemary's Baby" (1968) is another disturbing horror film about a woman in a bad relationship becoming trapped by a cult. In this case, the cult happens to be Satanic.
Mia Farrow stars as the titular Rosemary Woodhouse, who lives with her actor husband, Guy (John Cassavetes), in an upscale NYC apartment. After becoming pregnant, Rosemary starts to become paranoid. Her doctors, husband, and neighbors are all behaving strangely. Eventually this leads her to conclude they are all members of a Satanic coven, though what they want from her isn't fully clear until the end.
Based on a novel by Ira Levin, the suspenseful "Rosemary's Baby" is widely considered a horror classic. Ruth Gordon won both a Golden Globe and an Academy Award for her portrayal as Rosemary's pushy neighbor, Mrs. Castevet, and both Mia Farrow and director Roman Polanski were nominated for multiple awards as well.
Get Out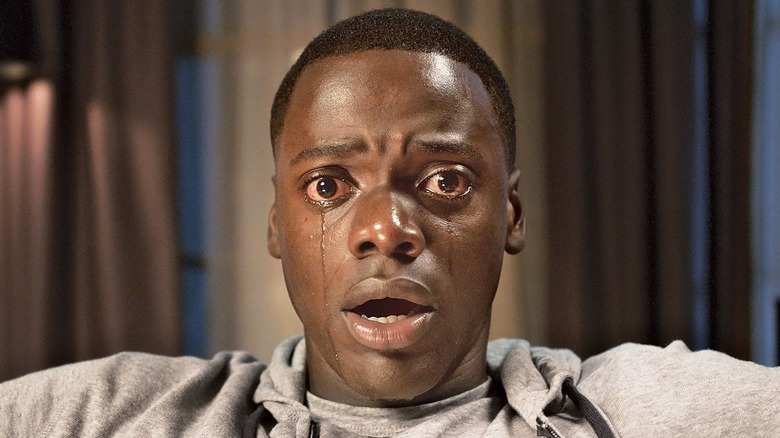 Universal Pictures
As in "Midsommar," the main character in "Get Out" (2017) becomes trapped in a dangerous, twisted, cult-like environment. Jordan Peele's scathing social thriller stars Daniel Kaluuya as Chris, who travels to Upstate New York with his white girlfriend, Rose (Allison Williams), to meet her upper-middle-class parents (Bradley Whitford, Catherine Keener) for the first time.
Though they initially seem polite on the surface, the pair don't seem fully comfortable with the fact their daughter is dating a black man, making passively racist comments. Her brother (Caleb Landry-Jones) is even downright threatening. Eventually, Chris discovers that beneath their "friendly" exterior lies a sinister dark truth, one that threatens his life and that of other black people who enter their world.
In addition to becoming a breakout hit, "Get Out" received much critical acclaim, earning four Academy Award nominations, including best picture, best directing, best actor for Kaluuya, and best original screenplay, which Peele won.
A Cure For Wellness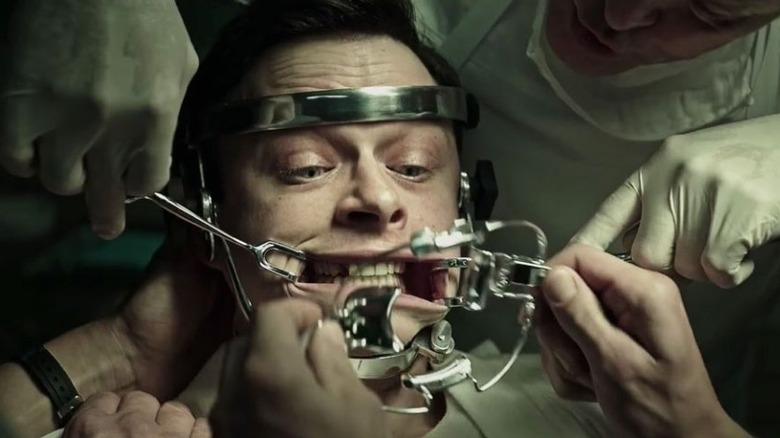 20th Century Fox
Gore Verbinski's underseen "A Cure For Wellness" mirrors "Midsommar" in that what appears to be a retreat turns into a nightmare.
The big-budgeted gothic horror stars Dane DeHaan as an ambitious financial executive named Lockhart, who is sent by his boss to retrieve a colleague from a mysterious upscale wellness resort in the Swiss Alps. After getting in a car accident on the mountainside, Lockhart ends up a "guest" at the resort himself, under the care of head doctor Heinrich Volmer (Jason Isaacs). There he befriends a strange girl named Hanna (Mia Goth) and comes to realize that the spa, which offers treatments involving eels and water tanks, holds a sinister secret, and that wellness is the last thing it offers.
Lushly shot and richly atmospheric, "A Cure For Wellness" has shades of horror classics such as "Frankenstein" and "Dracula." Though it was a box office bomb, the spookily disturbing film is worth a watch.
The Witch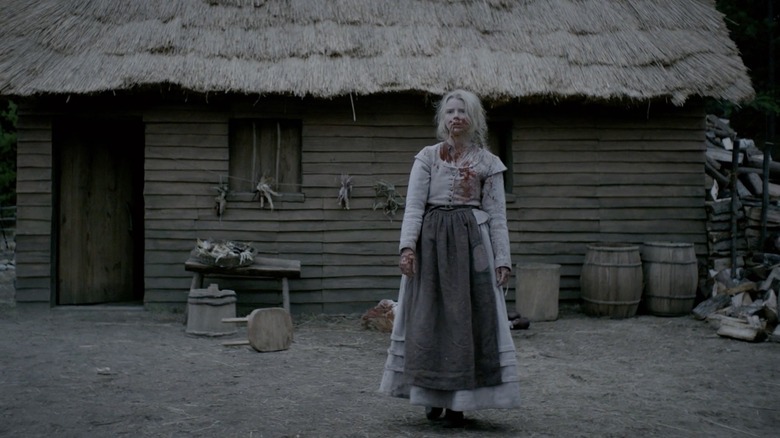 A24
Like "Midsommar," the female protagonist of Robert Eggers' "The Witch" finds salvation in paganism, while breaking free of bad relationships through violent and extreme means.
Anya Taylor-Joy stars as the teenage Thomasin, who lives with her family in a remote area in 1630's New England after they were banished from the colony over religious differences. One day, while Thomasin is playing with her baby brother at the edge of the woods, he disappears, taken by a witch. Thomasin's devout mother and father (Kate Dickie, Ralph Ineson) lay the blame on her for inviting evil into their lives. When their eldest son develops a fever and dies, things only get worse, and their religious fervor grows.
In the same way Dani in "Midsommar" finds a new family in the Harga cult members, Thomasin eventually finds one, as well, thanks to the guidance of the family's possessed pet goat, Black Philip, who entices her to "live deliciously."
Saint Maud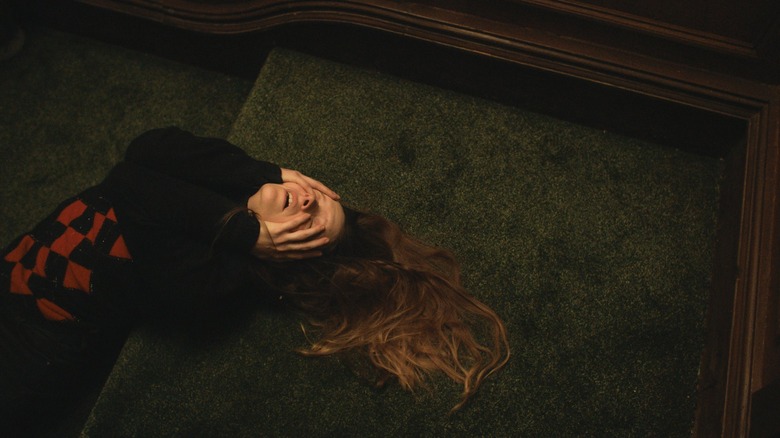 A24
Rose Glass' feature debut about a young hospice nurse named Maud (Morfydd Clark) has shades of "Midsommar" in the way its traumatized protagonist descends into madness while finding a twisted, fiery salvation in faith.
"Saint Maud" finds its titular lead caring for a terminally-ill dancer, Amanda (Jennifer Ehle), an atheist with a bitter outlook on death and the existence of God. The devoutly Catholic Maud, who found religion after unspecified traumatic events, comes to believe it is up to her to save Amanda's soul, and makes efforts to convert her. But when Amanda rejects her efforts and expels her, Maud takes it as a rejection from God himself. Believing she has failed Him, she steps up her devotion, which leads to a shocking conclusion.
Saint Maud shares similarities with other films such as "Carrie" and "Taxi Driver." Its stunning ending should leave fans of "Midsommar" equally disturbed.
Children of the Corn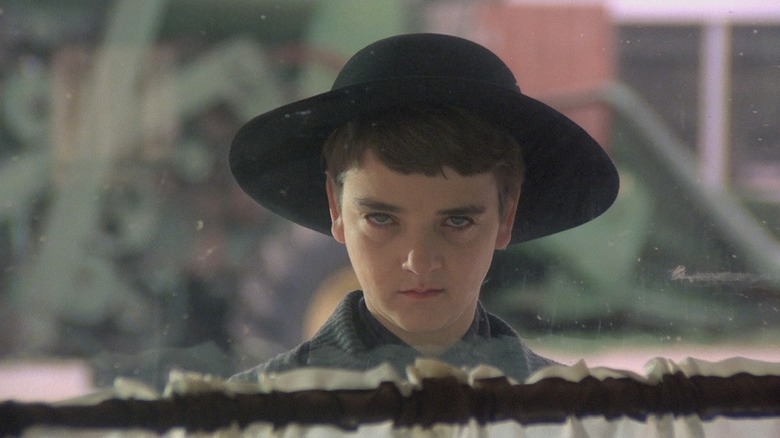 New World Pictures
Much like "Midsommar," "Children of the Corn" (1984) is a folk horror movie in which a couple gets trapped in the midst of a dangerously devout cult in the remote countryside.
Based on a short story by Stephen King, "Children of the Corn" follows Duke and Vicky (Peter Horton and Linda Hamilton) who, while driving through Nebraska, run over a boy who has run out of the cornfields into the road. This leads them to the tiny town of Gatlin, abandoned except for a cult of children led by the zealous Isaac (John Franklin) and Malachai (Courtney Gaines), who intend to sacrifice Vicky to their deity, the mysterious "​​He Who Walks Behind the Rows."
Another similarity it shares with "Midsommar" is that the children expel the elders once they've turned a certain age, much like in one of the Harga's rituals. Though "Children of the Corn" wasn't well-received by critics, it has remained a fixture in pop culture, spawning a host of sequels, and making us all a little wary of the corn — and quite frankly, kids.
The Descent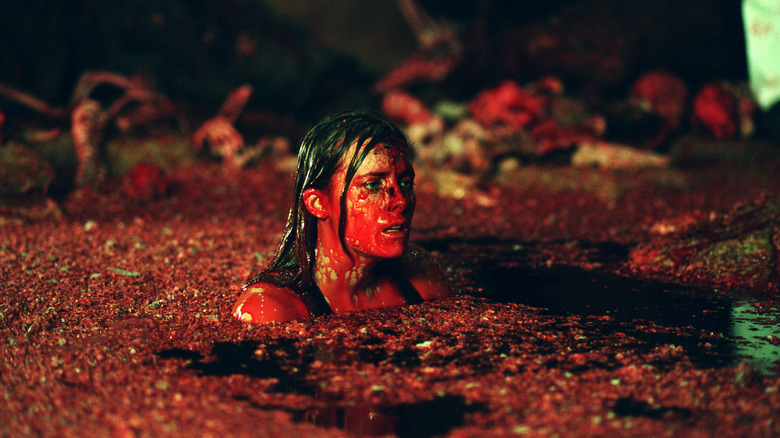 Pathé Distribution
Neil Marshall"s "The Descent" (2005) is another horror movie that, like "Midsommar," features a doomed trip, a traumatized female protagonist, and horrific events that lead to madness.
One year after Sarah (Shauna MacDonald) survives a car accident that kills her husband and daughter, she and her adventurous girlfriends go on a spelunking trip. Unbeknownst to them, Sarah's close friend Juno (Natalie Mendoza) has led them to an unexplored cave system not listed in the guidebooks. Upon their descent, the opening collapses behind them, and if you think claustrophobic environments are scary, just wait until you see what else is down there with them.
"The Descent" is a deeply scary movie, and, as in "Midsommar," prior trauma haunts the characters and affects their actions. "The Descent" notably has two different endings, one for the US release and one for the UK, but in each version, one of the main characters loses her mind.
The Blair Witch Project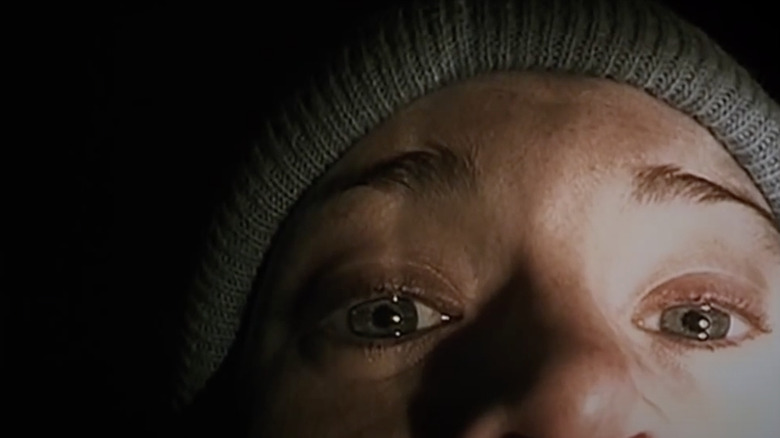 Artisan Entertainment
Speaking of doomed trips, "The Blair Witch Project" (1999) is another folk horror film in which a group of students head to a remote area to investigate the local culture, only to end up meeting a nightmarish fate.
Presented in a "found footage" documentary style, "The Blair Witch Project" follows the journey of three film students (Heather Donahue, Joshua Leonard, Michael C. Williams) who set out to make a documentary about the Blair Witch, part of the local lore in the Black Hills Forest around Burkittsville, Maryland. The witch had been accused of murdering children, banished and presumed dead, but locals claim that a hermit named Rustin Parr actually killed the kids, making one child stand in the corner while the others were killed.
The film students become lost in the woods, beginning a harrowing ordeal in which the Blair Witch seems to be leaving them clues. As in "Midsommar," the friends' journey doesn't end particularly well for them, as they find themselves part of the next chapter in the lore.
Suspiria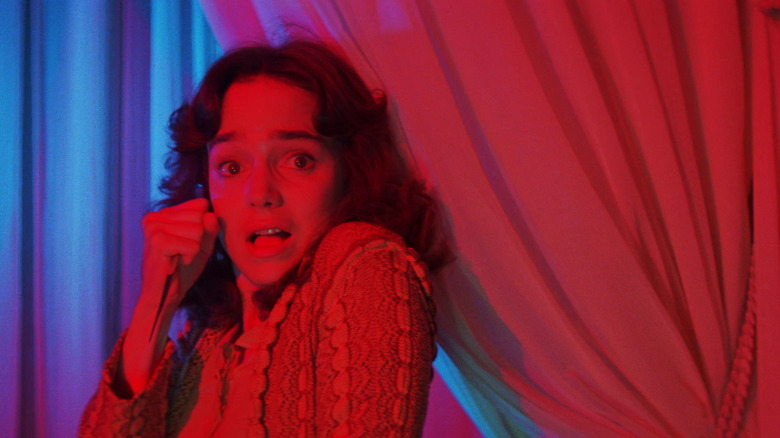 20th Century Studios
Speaking of witches, Dario Argento's "Suspiria" (1977) is another horror film in which a woman finds herself trapped by a cult-like coven.
A naive American ballet student, Suzy (Jessica Harper), arrives at the prestigious Tanz dance academy in Germany, headed by Miss Tanner (Alida Valli) and Madame Blanc (Joan Bennett), where things immediately seem strange and sinister. Not only do students begin to be murdered, but Suzy discovers that the school's founder, Helena Markos, was a witch.
Argento's "Suspiria" is a terrifying feast for the senses, a stunningly-rendered grand Giallo, dripping with blood and suspense and gorgeously shot with vibrant reds and blues. Fans of "Midsommar" should enjoy the 1977 original, as well as Luca Guadagnino's more overtly politically-charged 2018 reimagining, which stars Dakota Johnson as Suzy and Tilda Swinton as Madame Blanc.
The Ritual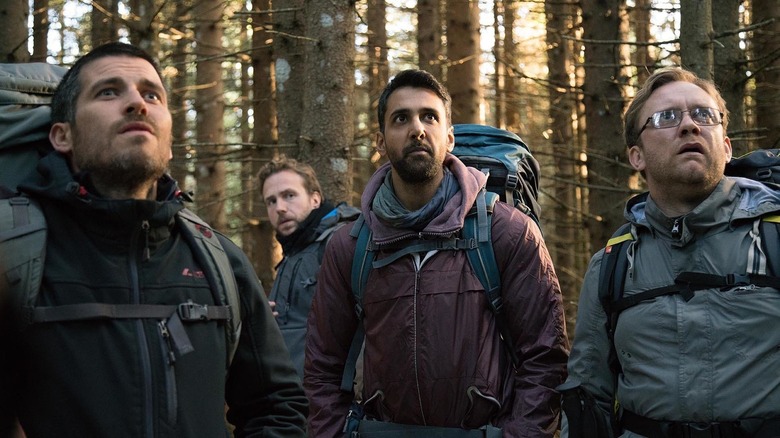 Netflix
In a plot very reminiscent of "Midsommar," "The Ritual" sees a group of college friends go on a trip to Sweden and end up in a ritualistic nightmare.
In this case, a group of guy friends goes hiking in Sweden one year after a tragedy takes the lives of one of their own. There to reunite and honor his memory, the group — led by Luke (Rafe Spall) — ends up on an unplanned route after one of them gets injured. Soon they start experiencing weird phenomena and eventually get kidnapped and taken to a small village. What's causing all this strangeness? They'll find out soon enough.
Directed by David Bruckner, "The Ritual" follows the tradition of other folk horror films in the way it uses nature, mythology, and the locals' devout belief systems as part of the terror. This one also involves the extra element of a creature, which helps amp up the scare factor.
The Invitation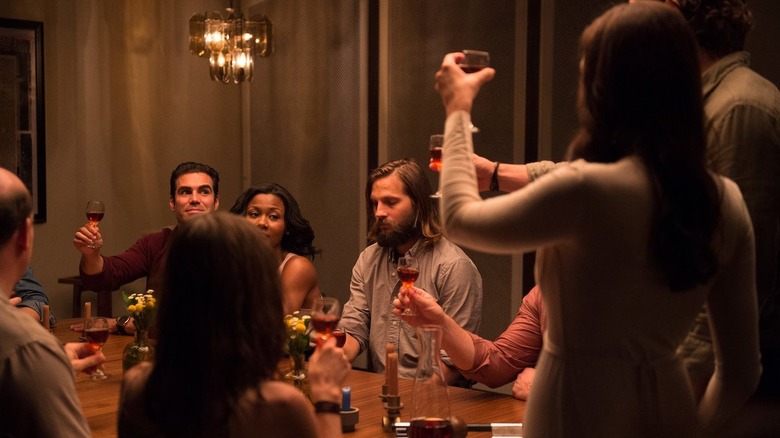 Drafthouse Films
Instead of traveling abroad to find themselves ensnared in the trappings of a cult, the characters in "The Invitation" simply attend a local dinner party.
Will (Logan Marshall-Green) and his girlfriend Kira (Emayatzy Corinealdi) attend a dinner party put on by his ex-wife Eden (Tammy Blanchard) and her husband, David (Michael Huisman). During dinner, Eden and David begin sharing stories of how they had joined a cult-like group called "The Invitation," as a way to help Eden cope with the death of the son she shared with Will. The generally suspicious nature of the guests throughout the evening leads Will to become paranoid. He confronts them about it, suspecting they are all involved in the cult, and the situation goes south from there.
Directed by Karyn Kusama, "The Invitation" illustrates how grief can make us vulnerable, much as Dani's grief in "Midsommar" does to her, and highlights the damaging ways in which people attempt to cope.
Invasion of the Body Snatchers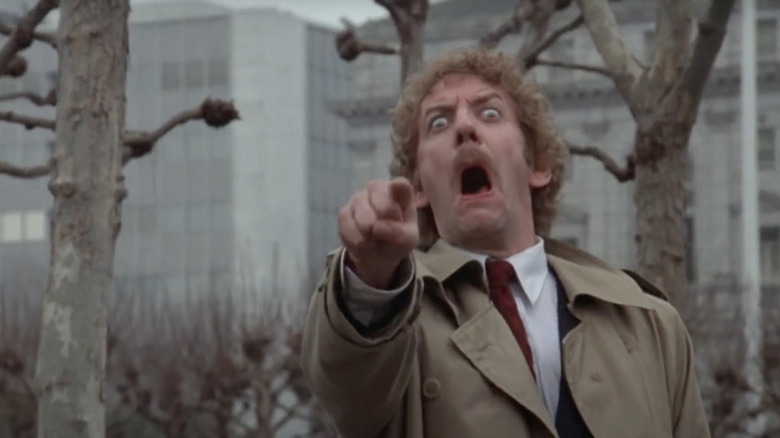 United Artists
"Invasion of the Body Snatchers" (1974) revolves around a theme of cult-like conformity. It's also pretty scary, making it a no-brainer addition to this list.
A remake of the 1956 film of the same name, the film stars Donald Sutherland as Matthew Bennell, a San Francisco-based health-code inspector who finds himself caught in the middle of an invasion of pod-like plants, which contain alien life forms who imbed themselves within human hosts. The pod aliens then duplicate their hosts' bodies, shedding the dead husk and blending in with society. As one of the first people to figure out what's going on, it's up to Matthew to try and save the world, along with his friends including co-worker Elizabeth (Brooke Adams), psychiatrist David (Leonard Nimoy), Jack (Jeff Goldblum), and Jack's wife (Veronica Cartwright).
Do they all become pod-people? It's up to you to watch and find out. It can be said that it does share a similarly memorable ending to "Midsommar," in which conformity is the ultimate terror.
The Shining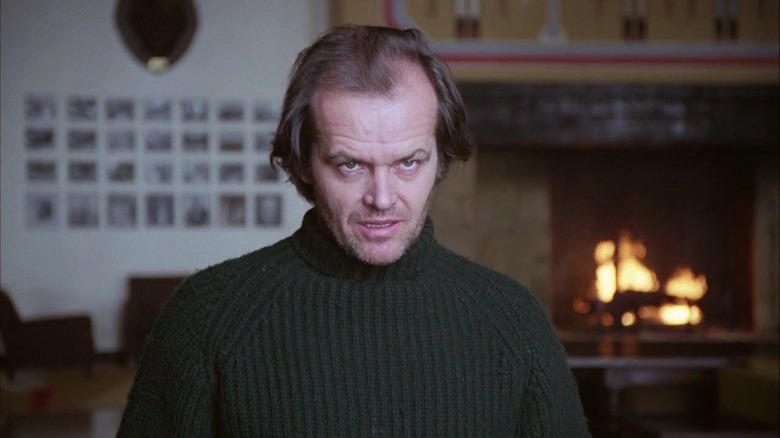 Warner Bros.
Dani and Jack from "Midsommar" might have relationship problems, but they seem trivial in comparison to Jack and Wendy's marital strife in "The Shining." Stanley Kubrick's classic horror is also like "Midsommar" in that it features a storyline in which relocation to get some work done turns into a descent into madness. Plus both movies have a guy named Jack, too, so ... I rest my case.
In "The Shining," the Jack in question is alcoholic writer Jack Torrance (Jack Nicholson), who takes up residence at a Colorado ski resort for the winter with his wife Wendy (Shelley Duvall) and son Danny (Danny Lloyd), where he's accepted a job as the winter caretaker in the hopes he can get some writing done. Instead, Jack finds himself cavorting with ghosts, falling off the wagon, and threatening to kill his wife and son with an axe.
Like Dani and Jack's relationship, Jack and Wendy's marriage doesn't end well, but in the end, it's probably for the best. You might be asking, "Ok, but is it scary?" It is! Not only is "The Shining" often cited as one of the best and scariest horror films ever made, but the infamous scene involving Room 237 has also been called one of the scariest scenes of all time.