Shang-Chi Deleted Scene Offers Layers To The Movie's Tough Guy Henchman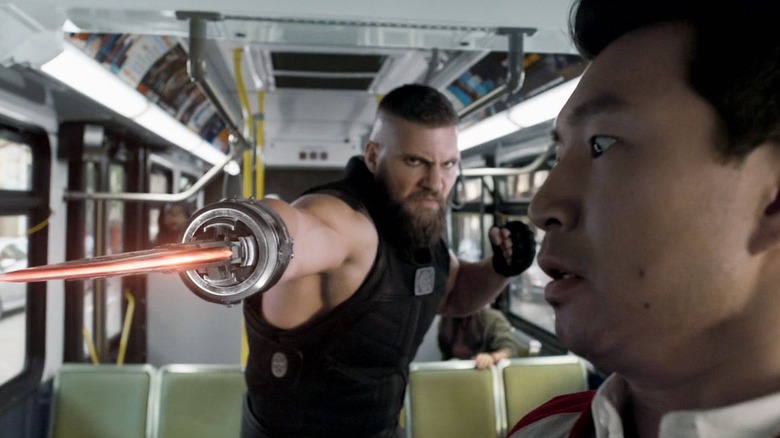 Marvel Studios
"Shang-Chi and the Legend of the Ten Rings" is out on DVD, Digital, and Blu-ray now, and a deleted scene from the film has been released on Marvel Studio's Instagram. The clip is introduced by star Simu Liu and gives us a look at how Razor Fist (Florian Munteanu) joined up with Wenwu (Tony Leung). It's really funny, actually. Though the tone is a bit different than the rest of the film, it gives Wenwu a bit more humanity and a bigger part for Razor Fist. It also refers to him as Shang-Chi's brother. 
By the way, if you're in the market for the home entertainment version of the film, you have a lot to choose from. You can get the DVD, the Blu-ray plus a digital code, the Cinematic Universe Edition which includes the 4K UHD, the Blu-ray, and the digital code, the Exclusive Art Edition (exclusive to Target) with two foil-etched prints, the 4UHD, Blu-ray, and digital code or the Best Buy exclusive Collectible Steelbook with the 4K UHD, Blu-ray, and digital code. Whew!
Two Sons
In the deleted scene, we have Wenwu, Shang-Chi, Katy (Awkwafina), Razor Fist, and Xialing (Meng'er Zhang) sitting around the dinner table. Wenwu is trying to calm a fight between Shang-Chi and Razor Fist, telling them that they're on the same side. He points out that he was heartbroken when his own son ran away, and while in Romania, he saw a boy on the street that reminded him of Shang-Chi. Wenwu says:
"He was standing on a box, juggling three balls with his one arm. I was so impressed, I adopted Mattias as my own." 
Razor Fist explains that he not only got a home, but also his razor fist. Of course, that starts a discussion about why it's called that and how it's confusing. (I'm assuming the Awkwafina lines were ad libbed, and if so, it's no surprise that they're funny.) Pop shuts the kids up by saying:
"Mattias can call his razor fist whatever he wants." 
Everybody Loves a Gag Reel
I'm a huge fan of deleted scenes. They give you a deeper look at the characters that sometimes doesn't make it to the final product. Razor Fist didn't get a ton of time in the final film, and though the scene doesn't really feed the storyline, seeing it now is pretty nice. Marvel also released a gag reel, which you can check out above. 
Marvel Studios' "Shang-Chi and The Legend of The Ten Rings" stars Simu Liu as Shang-Chi, who must confront the past he thought he left behind when he is drawn into the web of the mysterious Ten Rings organization. The film also stars Awkwafina as Shang-Chi's friend Katy, with Michelle Yeoh as Ying Nan, and Tony Leung as Xu Wenwu, Shang-Chi's father; as well as Meng'er Zhang, Fala Chen, Florian Munteanu, Benedict Wong, Yuen Wah, Ronny Chieng, Zach Cherry, and Dallas Liu.