Halle Berry Signs Major Deal With Netflix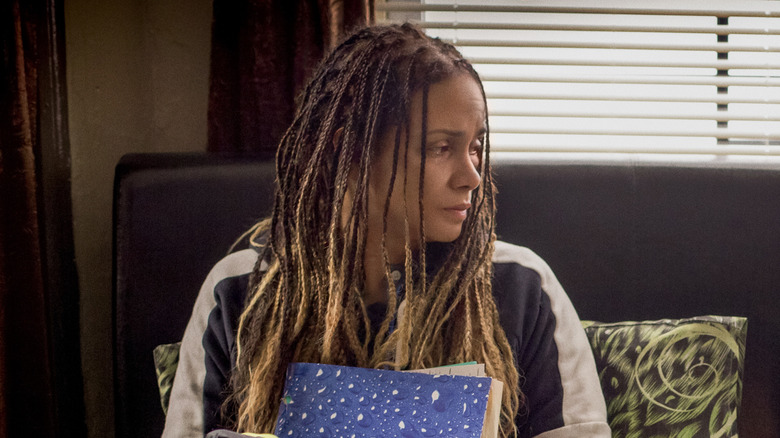 Netflix Press Site
Halle Berry's Netflix film "Bruised" premiered on November 17, 2021, and it looks like Berry is officially part of the Netflix family. She's just entered a multi-picture deal with the streaming service, according to The Hollywood Reporter. "Bruised" was the top flick on Netflix domestically the week it premiered and hit the second spot worldwide. Not a bad deal for Berry's directorial debut. Per the report, she will reportedly produce and star in Netflix features with her multi-picture deal. 
If you haven't seen "Bruised" yet, here is the info:
Jackie Justice (Halle Berry) is a mixed martial arts fighter who leaves the sport in disgrace. Down on her luck and simmering with rage and regret years after her fight, she's coaxed into a brutal underground fight by her manager and boyfriend Desi (Adan Canto) and grabs the attention of a fight league promoter (Shamier Anderson) who promises Jackie a life back in the octagon. But the road to redemption becomes unexpectedly personal when Manny (Danny Boyd, Jr.) — the son she gave up as an infant — shows up at her doorstep. BRUISED marks the directorial debut of Academy Award winner Halle Berry and also stars Adriane Lenox, Sheila Atim, Valentina Shevchenko, and Stephen McKinley Henderson in a triumphant story of a fighter who reclaims her power, in and out of the ring, when everyone has counted her out.
But Will She Direct?
Netflix Press Site
Berry has two Netflix movies coming up including "The Mothership" which is a sci-fi story, and "Our Man From Jersey" as well as the Roland Emmerich film "Moonfall." She told the site: 
"The Netflix team has not only been collaborative and creative, but extremely passionate and a delight to work with. I am beyond grateful for the partnership and look forward to telling more stories together."
So, will she direct? Netflix film head Scott Stuber said:
"There are few people with a career like Halle Berry ... She's an award-winning actress, producer and as audiences saw this past week, she's an incredible director. We're thrilled to be in her corner as she delivers power in front of and behind the camera in "Bruised" and look forward to telling more stories together."
Well, he does mention her directing, and mentions being behind the camera, though that could mean producing. Still, "Bruised" did well for them. The site reports that it was streamed for 47.7 million hours in the first five days. So, basically the length of one of my binge sessions. Let's hope that does mean more flicks with Berry at the helm!