Ghostbusters Afterlife Gave Ivan Reitman A Stealthy Cameo That You Almost Certainly Missed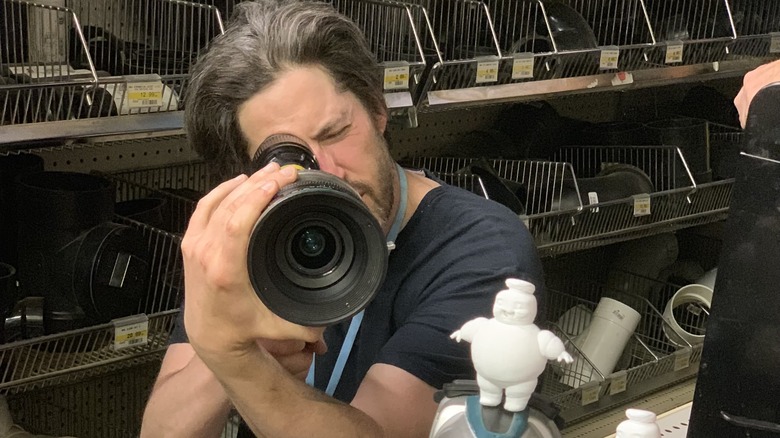 Sony Pictures Press Site
"Ghostbusters: Afterlife" hit theaters on November 19, 2021, and it's chock full of nostalgia. The film is directed by Jason Reitman, son of Ivan Reitman, director of the first two films in the franchise. Jason Reitman just posted a behind-the-scenes shot on Instagram from a cameo he had his dad do, and there is no way you would know where it was unless you check this out. Here is the info for the film in case you haven't seen it yet:
From director Jason Reitman and producer Ivan Reitman comes the next chapter in the original Ghostbusters universe. In Ghostbusters: Afterlife, when a single mom and her two kids arrive in a small town, they begin to discover their connection to the original ghostbusters and the secret legacy their grandfather left behind.
"Ghostbusters: Afterlife" is written by Gil Kenan and Jason Reitman and based on the 1984 film "Ghostbusters" from Ivan Reitman, written by Dan Aykroyd and Harold Ramis. It stars Carrie Coon, Finn Wolfhard, Mckenna Grace, Annie Potts, and Paul Rudd.
Stealthy Dad Cameo!
In the Instagram post, Jason Reitman writes:
Directing dad. For an insert shot of Venkman firing up his proton pack, we brought in the hands of another Ghostbuster. My favorite Easter egg.
That's a pretty good Easter egg! Dr. Peter Venkman is, of course, played by Bill Murray. No word on why his hands weren't in here. You'd never figure out that Ivan Reitman's hands are stand-ins for Murray in a million years, but it gives you another reason to rewatch the film. 
"Ghostbusters: Afterlife" has gotten some mixed reviews from critics, though audiences seem to love it. The Rotten Tomatoes score as of the time of this writing stands at 63 percent from critics and 95 percent from the audience. Reitman the younger is known for directing "Juno," "Up in the Air," "Young Adult," and "Tully," and has been nominated for four Academy Awards. 
Fun fact: Jason Reitman played the role of Brownstone Boy #2 in "Ghostbusters II." 
The Legendary Ivan Reitman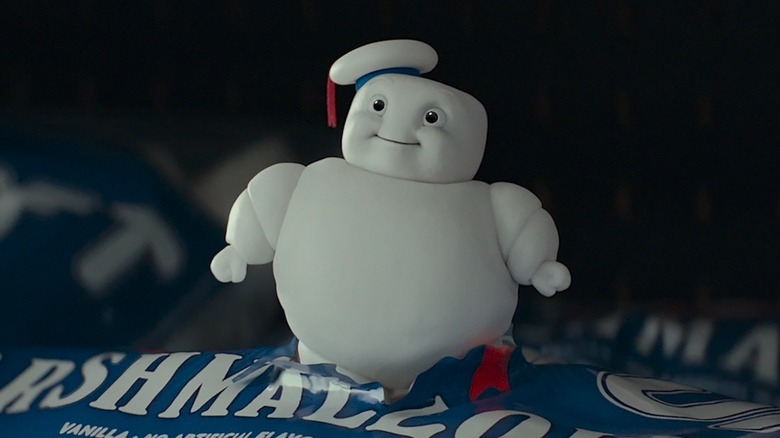 Sony Pictures Press Site
It seems only fitting to have Ivan Reitman in the film. Of course, he directed "Ghostbusters" in 1984 and "Ghostbusters II" in 1989, but he voiced Zuul and Slimer in the first as well as Man Walking Outside Firehouse and Slimer in the second. He's also responsible for some of the most beloved films of the past few decades. He directed films like "Meatballs," "Stripes," "Twins," "Kindergarten Cop", "Dave," "Junior," and "Legal Eagles." (Okay, that last one might not be great, but it's nostalgic.) In addition, he produced "Animal House," "Space Jam," "Beethoven," "Private Parts," and his son's work, "Up in the Air." 
For a film that is full of childhood memories and nods to the past, it's sort of lovely that he's in here, even if it's just his hands. FYI, Jason Reitman later commented on his own post saying:
"My father only suited up for this one shot. The brilliant Bob Gunton also did some incredible work in the flight suit, however we wouldn't want to talk about the ending."
That's character actor Bob Gunton who you've seen in "The Shawshank Redemption," the "Daredevil" series on Netflix, and "24." 
"Ghostbusters: Afterlife" is now playing in theaters.