Movies Like Titanic That You Definitely Need To See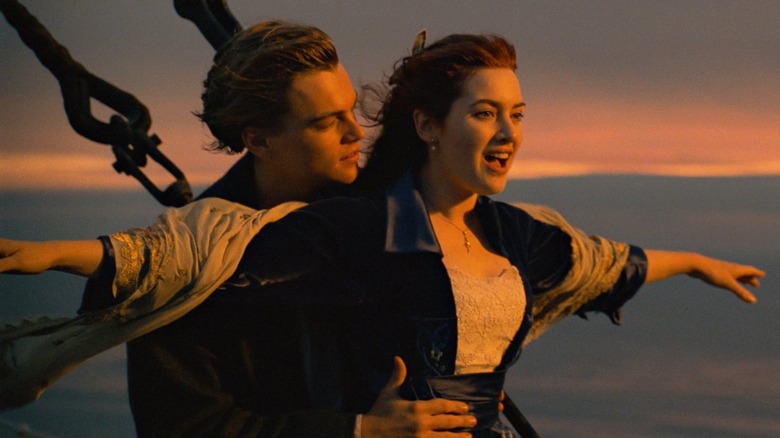 Paramount Pictures
The 1997 release of James Cameron's "Titanic" is one of the most fundamental moments in blockbuster cinema history. Cameron was known for his highly popular blockbusters "The Terminator," "Aliens," "T2: Judgment Day," and "True Lies," but a historical romantic epic was new territory for the groundbreaking filmmaker. With a $200 million budget and a runtime of 195 minutes, the success of "Titanic" was far from guaranteed, and its failure could have signified the end of Cameron's string of successes. It was certainly not a failure.
"Titanic" became a blockbuster event that dominated the box office in unprecedented ways. It became the first film in history to earn more than $1 billion, and took the title of highest grossing film of all-time from Steven Spielberg's 1993 "Jurassic Park," and retained the title for 12 years. No one but Cameron could top the success of "Titanic," as it lost its status to his next film, "Avatar." A 2012 3D re-release pushed "Titanic" beyond $2 billion worldwide. It remains #3 at the worldwide box office, an impressive achievement considering the changing ticket prices over the past two decades.
"Titanic" also topped records during awards season. The record for most Academy Award wins had long been held by the 1959 religious epic "Ben-Hur," which won 11 awards. "Titanic" earned 14 nominations and won 11, and now ties the record with both "Ben-Hur" and "The Lord of the Rings: The Return of the King."
If you loved "Titanic," then you should probably watch these movies, too.
Casablanca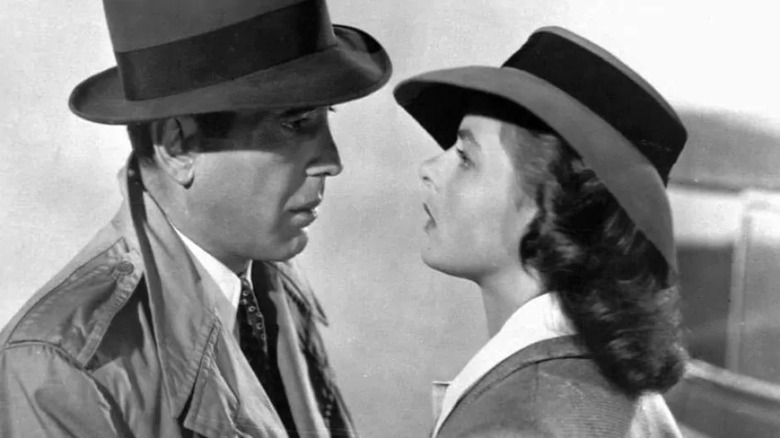 Warner Brothers
"Titanic" offers one of the quintessential love stories of modern Hollywood, and features one of the most iconically tragic endings in cinematic history. The "Romeo and Juliet"-esque love story between poor traveler Jack Dawson (Leonardo DiCaprio) and high society teenager Rose DeWitt Bukater (Kate Winslet) was a touching union of idealistic young lovers that creates an inspiring, yet ultimately doomed union in the build-up to the historical tragedy every viewer knew was coming. While the ending has been mocked and parodied countless times since, it's one of those enduring cinematic moments that held significant weight for viewers at the time that's become lost to popular culture.
If "Titanic" is the most iconic romance of the past several decades, 1942's "Casablanca" is possibly the greatest romantic movie ever made. While "Titanic" looked to the realms of history, as it was set amidst an infamous historical tragedy, "Casablanca" unfolded amidst what were then-current events. There are countless films set during the heights of World War II, but "Casablanca" has the novelty of being released while the war was ongoing.
"Casablanca" was directed by the legendary Michael Curtiz, who, like Cameron, has quite the eclectic filmography: His credits include everything from "White Christmas" to "The Adventures of Robin Hood." The film follows the American exile Rick Blaine (Humphrey Bogart), who considers returning to his former flame Ilsa Lund (Ingrid Bergman) amidst the Czech resistance against the Nazis.
Revolutionary Road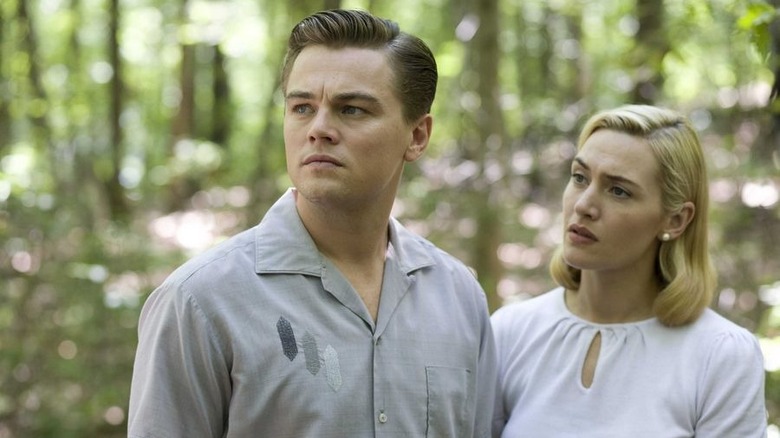 Paramount Vantage
"Titanic" was a breakthrough film for both Leonardo DiCaprio and Kate Winslet, both of whom would go on to become some of the greatest performers of their generation. Both have shown diversity within their filmography and a willingness to show emotional complexity in projects that span multiple genres, and have worked with many of the industry's greatest filmmakers. In fact, it's strange to see the pair in a more mainstream film like "Titanic" considering they've made their name on arthouse and awards fare. 
DiCaprio and Winslet finally reunited in 2008 for a much different type of historical romance. Sam Mendes' romantic drama "Revolutionary Road" cast the pair as the Wheelers, Frank and April, a middle-class couple who struggle through a difficult marriage in the 1950s. The romance of "Revolutionary Road" plays out almost like a funhouse mirror version of "Titanic:" Instead of being separated by a tragedy, the two are pulled apart by societal pressures and begin shedding their youthful passion for one another other.
Their relationship begins in a similarly earnest manner to Jack and Roses' relationship. Frank charms April with his ambitions to rise beyond the "average" suburban lifestyle and pursue an elevated life dedicated to adventure. The two settle down, and as the years go by, their dreams of traveling grow diminished as they begin to feel just like everyone else. April grows increasingly unsatisfied, and Frank begins an affair with his secretary Maureen (Zoe Kazan).
Cold War
Amazon Studios
The eventuality of history weighs down on the events of "Titanic," as from the title alone viewers know what direction the story will head. It casts a looming shadow over the early romantic moments between Jack and Rose, and, as a result, their playful interactions are tragic even while they're occuring. While Cameron was very meticulous in recreating certain elements of the ship's design and details of the actual voyage, the story itself is fictitious. This allows viewers to cling to the hope that the pair will survive the sinking, even if their chances are slim.
Historical pressure based on surrounding events is essential to the romance in Pawel Pawlikowski's 2018 masterpiece "Cold War." It was a very personal story for the Polish filmmaker, as the film's central narrative was inspired by his own parents, as referenced in the film's title cards. The black-and-white drama is set amidst the political strife in Poland and France in the post-World War II era, and spans from the immediate aftermath of the conflict to the mid-1960s. Just like "Titanic" utilizes a voiceover to foreshadow Rose's future reflections, "Cold War" is framed like a fleeting, distant memory.
The film follows music director Wiktor Warski (Tomasz Kot), who becomes smitten with young, aspiring singer Zula Lichoń (Joanna Kulig) after she impresses him with an unexpected audition. The pair begins to perform together, but Wiktor becomes resistant when he's asked to include pro-Stalin propaganda within his show's programming.
Charade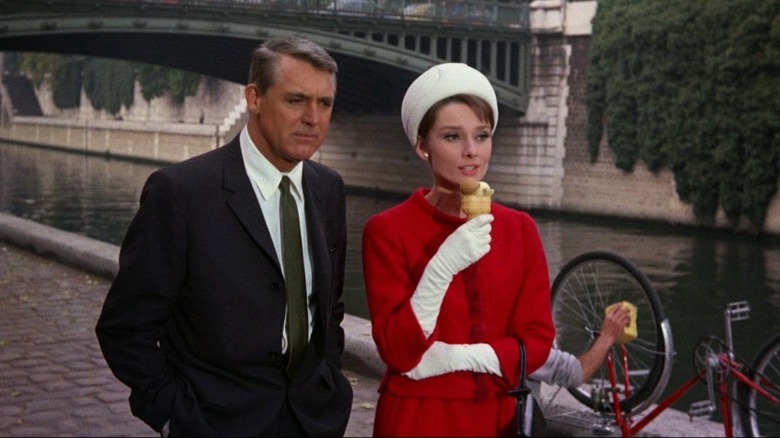 Universal Pictures
"Titanic" isn't only a romantic epic, but a great adventure film. There's a sense of whimsy and even comedic elements across the front half of the picture, as viewers root for Jack and Rose to unite amidst all the pressures that their respective social classes bring to the equation. It's an unlikely match, and particularly amusing to see the feathers they ruffle as a result of their unusual relationship. Once the action kicks in, the film's pacing grows even more kinetic as they try to survive the dangerous events that befall them. "Titanic" is far from just a series of romantic yearnings — it's an exciting thrill ride.
1963's romantic mystery "Charade" captures all the thrills of the Golden Age of Hollywood, along with dynamic performances from two of the greatest movie stars of all time. Often described as a Hitchcock film that didn't come from the man himself, "Charade" was actually directed by noted musical director Stanley Donan ("Singin' in the Rain," "On the Town," "Funny Face"). Like Cameron, Donan has an eye for choreography and pulls off exciting chase sequences in exotic environments.
The film follows a pair of American tourists, Brian Cruikshank (Cary Grant) and Reggie Lampert (Audrey Hepburn), who find themselves caught up in a murder investigation while on vacation in the French Alps. The strangers are forced to go on the run together, but Brian has more secrets than he lets on.
The Good German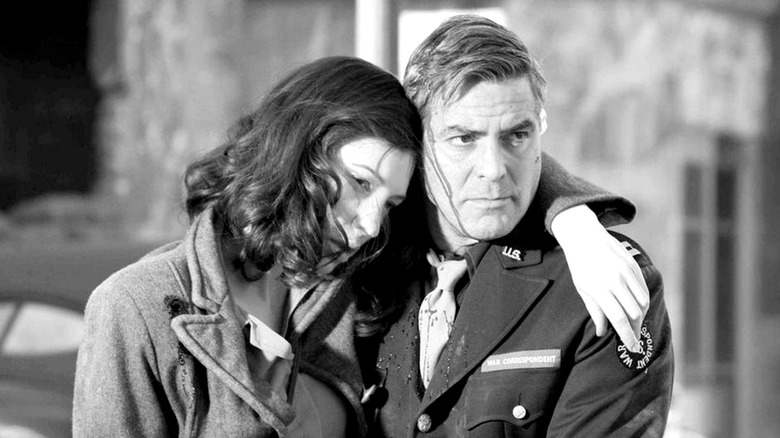 Warner Brothers
Historical films can be unfairly labeled as "dull" if they aren't told in a compelling way, and the term "romantic epic" may not inherently excite younger audiences. It was part of the reason that Cameron was such an unlikely choice to helm a three-hour love story, as his name was associated with action, science fiction, and horror. However, the story of "Titanic" is universal, and as a result, mainstream audiences were able to connect with it.
Steven Soderbergh's throwback historical epic "The Good German" unfortunately didn't boast the same mainstream success that "Titanic" did, as the film bombed at the box office and is rarely spotlighted when discussing Soderbergh's filmography. Like Cameron, Soderbergh is an innovator who enjoys retooling familiar genres with his own twist. "The Good German" was shot in the style of classic Hollywood films, and even utilized historical sound stages and archived film footage (There are also many specific references to "Casablanca"). Despite these older influences, it's very much a relatable story like "Titanic" that subverts expectations. Explicit R-rated content and shocking plot twists come as a surprise throughout.
The film follows American journalist Captain Jacob Geismer (George Clooney), who is assigned to cover the Potsdam negotiations amidst the immediate aftermath of World War II. While traveling through post-war Germany, Jake encounters his old flame Lena Brandt (Cate Blanchette) and suspects she may have ties to a plot by surviving Nazi scientists. Jake investigates Lena's involvement, but she once again draws him in.
Allied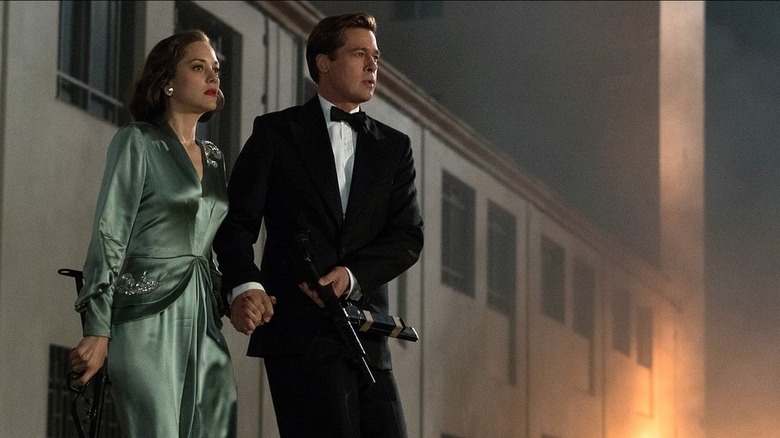 Paramount Pictures
"Titanic" was a work of novel ambition from Cameron. He was experimenting with unprecedented special effects, and though he had used extensive CGI in "The Abyss" and "T2: Judgment Day," crafting a science fiction epic was much different than creating a historical one. Cameron and his generation of filmmakers made advancements with technology that make many of the blockbusters of today possible. In fact, many of that era's leading directors are friendly with one another and often meet to discuss their latest work, including Cameron, Peter Jackson, George Lucas, Steven Spielberg, and Robert Zemeckis.
Like Cameron, Zemeckis can't be pinned down to just one genre, and he's made visual breakthroughs in many different types of projects: The eye-popping visuals of "Back to the Future," digital restoration of historical events in "Forrest Gump," and performance capture animation of "A Christmas Carol," "The Polar Express," and "Beowulf" were all groundbreaking in their own ways. Zemeckis is also like Cameron in that he has continued to stay relevant amidst the later stages of his career, and in how he took a step back from his usual fare to try his hand at an old-fashioned historical romance.
2016's "Allied" is set amidst World War II, and follows a critical mission to assassinate a German officer by American spy Max Vantan (Brad Pitt) and French Intelligence Operative Marianne Beauséjour (Marion Cotillard). Amidst the dangerous mission, in which both are presumed to die, they become intimate and fall in love.
Atonement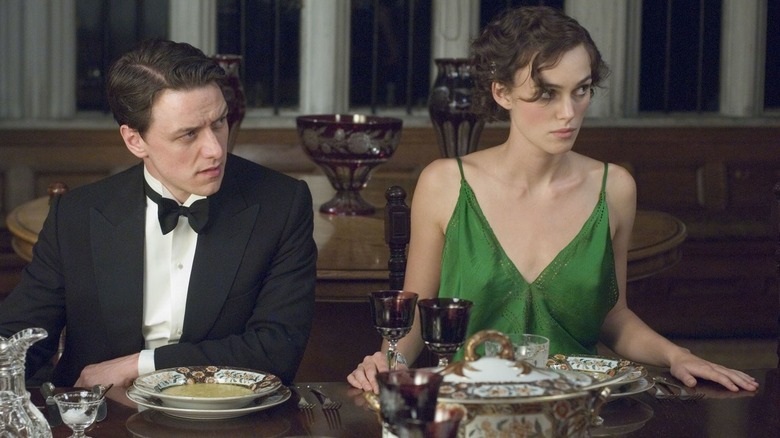 Focus Features
The energy of young love is a prominent factor within "Titanic" — seeing the youthful Jack and Rose unite their passions at a stage when neither are cynical is quite heartwarming. Youthful romance can be mishandled onscreen, however, and the worst crowd-pleasers can either delve too deep into the melodrama or not treat the young characters with the respect they deserve. Part of the reason "Titanic" was so successful with audiences was its authenticity, not only in its portrayal of Jack and Rose but also in the constraints inherent to the historical era in which it was set. 
The 2007 romantic epic "Atonement" has a similar appeal, as it's also a historically-bound love story about two young people who are separated by their different social classes ... and ultimately doomed to tragedy. Like Cameron, director Joe Wright has an eye for creating intimate romantic moments as well as epic action setpieces, and "Atonement" features some incredible recreations of key World War II battles, including one unforgettable tracking shot. It also uses a flashback framing device in order to foreshadow the upcoming tragic events.
"Atonement" follows the early flirtatious encounters between the wealthy Cecilia Tallis (Keira Knightley) and the son of her family's housekeeper, Robbie Turner (James McAvoy). Robbie's heart is set on Cecilia, but their romance would be considered a scandal if it ever broke out. Cecilia and Robbie fall deeply in love, but a damaging lie destroys Robbie's reputation.
Days of Heaven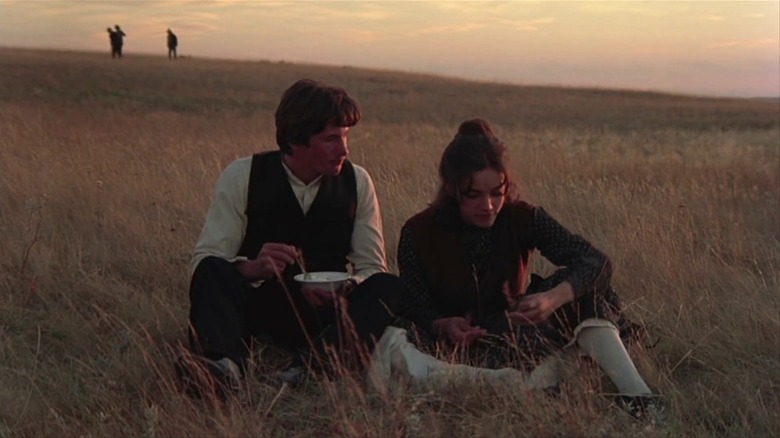 Paramount Pictures
Outside of its technological breakthroughs and impressive scale, "Titanic" is also a film of great formal beauty. Some of the film's most iconic shots are etched within pop culture not because of their famous reputation, but because of the care and dedication that Cameron and his team of artists took with the foundations of great filmmaking. It's no wonder cinematographer Russell Carpenter took home the Academy Award for best cinematography.
Terrence Malick's 1978 romantic historical epic "Days of Heaven" is quite simply one of the most beautiful films ever made. Malick doesn't seem like an obvious comparison to Cameron, but both frequently experiment with different genres and take chances with unusual stories. They're both known for their precision and patience, as well, as Malick also took a lengthy break from filmmaking between the release of "The Thin Red Line" and "Days of Heaven," which — like "Titanic" — also concerns young lovers forced who are forced to fight for their love.
The film follows the young couple Bill (Richard Gere) and Abby (Brooke Adams), who are forced to flee their home in Chicago after an accident at Bill's workplace. Their old home promised safety and security, but their new life in the Texas panhandle is filled with potential dangers. Just as Jack and Rose were looked down upon because of their unusual relationship, Bill and Abby are seen as outsiders and mask their romance.
Notorious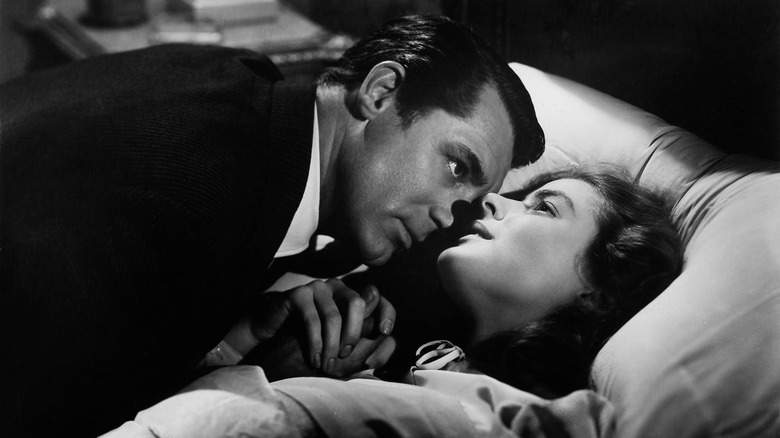 RKO Pictures
"Titanic" was seen as a more serious filmmaking effort from Cameron, who at the time was viewed mostly as an artist of pop entertainment. It can be challenging for a filmmaker to break through such perceptions: One may have found success within a particular type of storytelling or genre, but they may also have other interests and approaches they'd like to explore. Cameron successfully merged the gap between romantic authenticity and massive setpieces. In short, he made a more conventional "Hollywood" movie, but on his own terms.
Cameron has made some of the most popular films in history, but the great Alfred Hitchcock was the original superstar director. Hitchcock was more famous than his movie stars, and like Cameron, his name alone was enough to excite audiences. Hitchcock's films were seen as crowd-pleasing pop entertainment and drew massive box office success, but he wasn't always seen as "serious" by Hollywood skeptics; famously, when his 1940 film "Rebecca" took home best picture at the Academy Awards, Hitchcock did not win best director. Hitchcock decided to craft something more in line with Hollywood's expectations of an auteur with his 1946 film "Notorious," and like Cameron, he broke from his usual suspense films for a sincere romantic drama.
"Notorious" is still an exciting mystery, and shows that Hitchcock did not forget his roots. The film follows the American secret agent T.R. Devlin (Cary Grant), who recruits the beautiful daughter of a former Nazi commander, Alicia Huberman (Ingrid Bergman), to help him steal the Germans' war plans.
Sense and Sensibility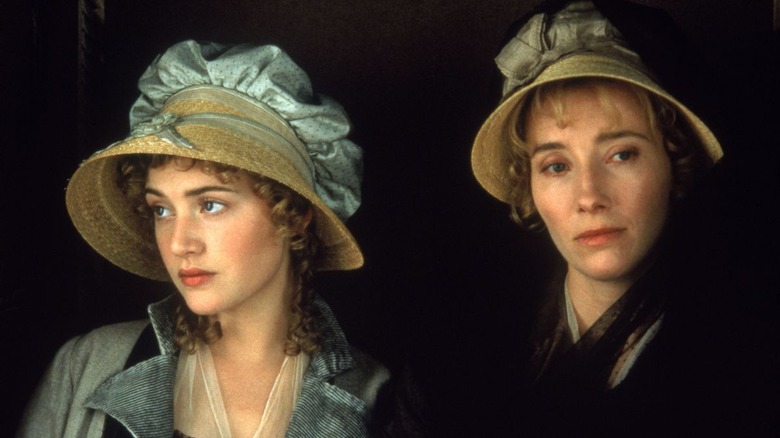 Sony Pictures
The romance within "Titanic" was effective partially because of the patience with which it was told. Had Jack and Rose quickly fallen in love, the film wouldn't have felt so substantial ... and the romance itself may have felt less believable. Cameron was meticulous in crafting the rising action around the development of their relationship, and that attention to detail paid off.
Like Cameron, Ang Lee is a filmmaker who is no stranger to epic action spectacles, as his credits include "Life of Pi," "Crouching Tiger, Hidden Dragon," "Hulk," and "Ride With The Devil," among others. Lee's period drama "Sense and Sensibility" adapted Jane Austen's classic novel, which chronicles the romantic pursuits of sisters Elinor (Emma Thompson, who also wrote the screenplay) and Marianne Dashwood (Kate Winslet, in her breakout role ahead of "Titanic"). Both roles required Winslet to show a youthful earnestness, yet still face responsibilities that were beyond her years.
Frida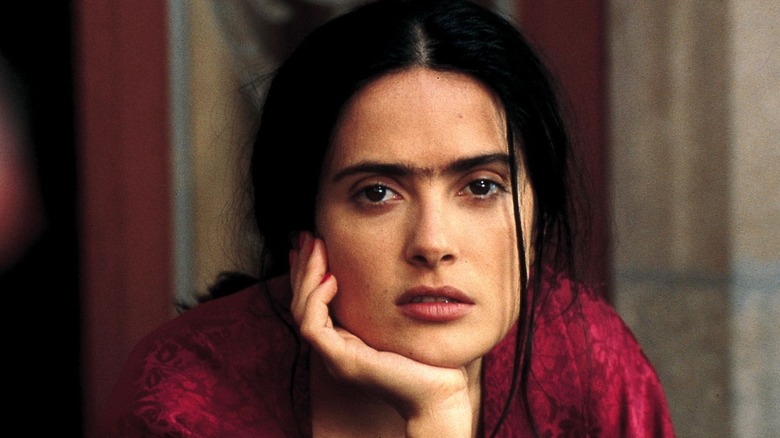 Miramax Films
A striking visual design is a trademark of the unique storytelling within "Titanic." While Cameron's film has flashes of Old Hollywood influences, it is infused with modern sensibilities, including the action elements and the film's sweeping cinematography. The interior design of the ship is simply beautiful, and Cameron isn't afraid to spend time luxuriating in that grand environment. It never feels indulgent, either: Viewers end up just as wowed as the characters are by the vastness of the doomed vessel.
Julie Taymor's 2002 biographical drama "Frida" has a similar affinity for idiosyncratic stylistic choices. The film follows the life of the surrealist Mexican artist Frida Kahlo (Salma Hayek), who begins painting at the age of 18 after a series of traumatic accidents, including a debilitating car crash and a critical illness. Like Rose, Frida is a relatable character who is forced to deal with serious trauma at a young age. Frida shows her work to the elder artist Diego Rivera (Alfred Molina), who falls in love with her and asks for her hand in marriage.
The African Queen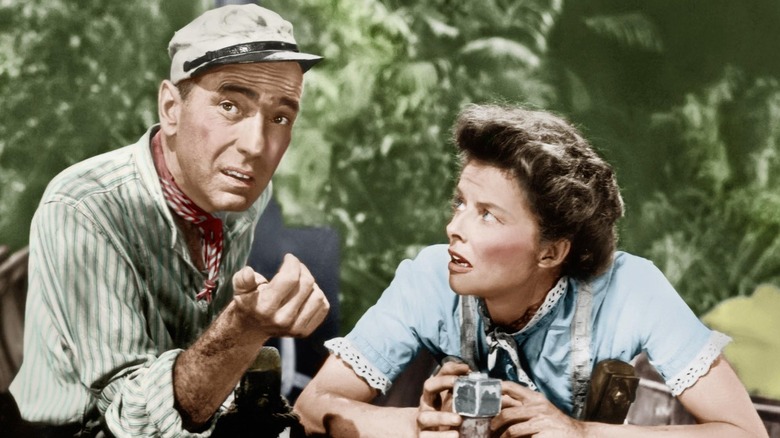 United Artists
Jack and Rose's relationship felt compelling for many reasons, one of which was the conflict between their social classes. Jack doesn't understand the pressure Rose faces because of her familial expectations and the restrictions she's been under, but Rose has no way of understanding the hardship that low-income workers like Jack face. Although this occasionally leads to more serious arguments, it's fun to see these two very different characters play off of each other, and even makes their conversations more interesting. Their very different experiences give them unique skills.
Like "Titanic," the 1951 John Huston classic "The African Queen" is a perfect combination of adventure and romance that matches two very different characters with one another. Humphrey Bogart stars as the rowdy mechanic Charlie Allnut, who is tasked with transporting the wealthy Rose Sayer (Katherine Hepburn) across East Africa in the early stages of World War I. The dangerous environment forces the pair to work together, and they ultimately develop feelings for one another.