The Real Charlie Chaplin: Release Date, Cast, And More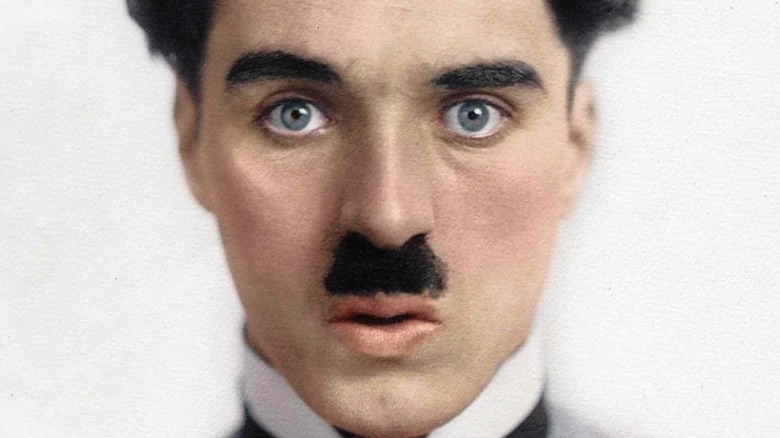 Showtime
(Welcome to ...And More, our no-frills, zero B.S. guide to when and where you can watch upcoming movies and shows, and everything else you could possibly stand to know.)
There's no question Charlie Chaplin is a vital figure in movie history. Whether they've actually seen any of his many silent works or handful of sound films, everyone has surely absorbed the image of him as the slapstick-prone, mustached trouble-maker with a heart of gold known as The Tramp. He was a true innovator in the way he used populist cinema to tell stories that not only mixed balletic physical comedy with rich sentiment but broadcast radical social and political messages to the world, landing him in hot water with the likes of J. Edgar Hoover and Nazi sympathizers. (So those you should want to upset.)
Chaplin also degraded and emotionally abused his romantic partners, avoided potentially being charged with statutory rape by getting married (twice), and otherwise preyed on underage women before settling down with his fourth and last wife, Oona O'Neill, who he wedded when he was 54 and she had barely turned 18 — and yes, this was a scandalous thing for him to do, even in 1943. It's impossible to really delve into Chaplin's legacy without dealing with these dark truths, in other words, so it will be interesting to see how the documentary "The Real Charlie Chaplin" handles them.
The Real Charlie Chaplin Release Date and Where You Can Watch It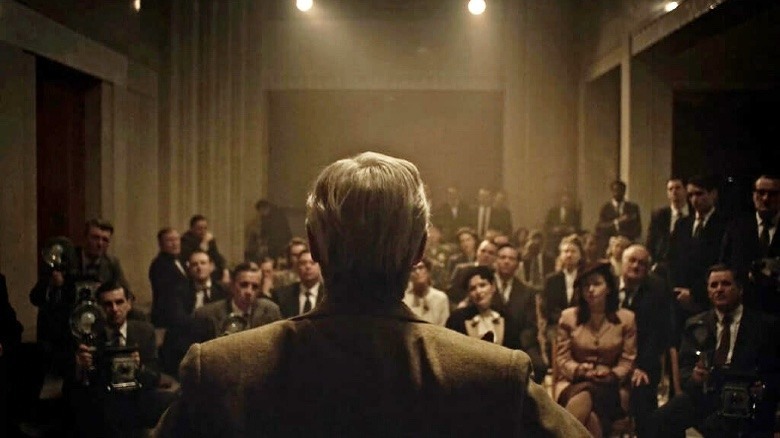 Showtime
"The Real Charlie Chaplin" will premiere on Showtime on December 11, 2021, and will (one assumes) become available to stream through Showtime Anytime not long after. Previous documentaries about the comedian and filmmaker include 2003's "Charlie: The Life and Art of Charles Chaplin," a movie written and directed by the venerated late cinema historian and literary critic Richard Schickel. Chaplin's life and times were also dramatized in director Richard Attenborough's 1992 biopic "Chaplin," starring Robert Downey Jr. (in a typically great turn) as the man himself.
Why do another Chaplin film then? Well, Chaplin was often elusive when he wrote about what seem like major events and people in his life in his 1964 autobiography (which is unhelpfully entitled "My Autobiography"). In fact, Attenborough's "Chaplin" invented a fictional editor for his autobiography, played by Anthony Hopkins, whose purpose in the film was basically to ask Chaplin about the things he barely talked about or mostly left out of the book. There are still some gaps in his life's story, in other words, many of which "The Real Charlie Chaplin" aims to fill.
What Is The Real Charlie Chaplin?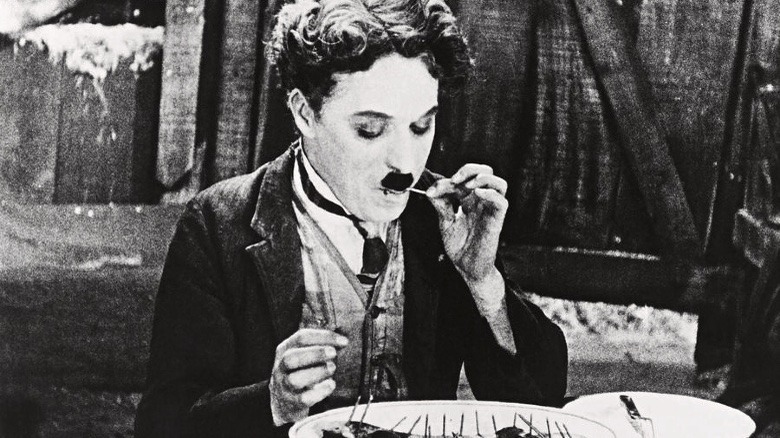 United Artists
It sounds like "The Real Charlie Chaplin" will span Chaplin's 88 years alive on this Earth, which only makes sense. His life reads like a Charles Dickens novel at times, complete with a childhood in London that was stricken by hardships and his success as a music hall star before he had even become a legal adult. Things didn't slow down from there, between his movie career, personal scandals, run-ins with the FBI, allegations of Communist ties, and his years of exile in Europe after being banned from re-entry into the U.S. That's more than enough ground for a miniseries to cover, much less a single film. 
On top of touching upon or, at the least, alluding to all the big things any Chaplin documentary worth its salt should bring up, "The Real Charlie Chaplin" will feature never-before-seen footage from home movies Chaplin and his family made in the latter half of his life. It also promises to deliver fresh insights from those who knew him, be they his loved ones or his descendants.
The Real Charlie Chaplin Cast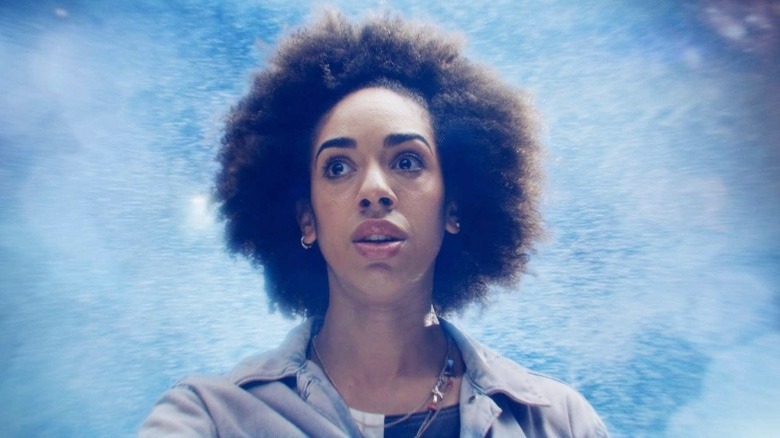 BBC One
If you're confused why a documentary has a cast of actors playing people other than themselves, it's because "The Real Charlie Chaplin" combines archived footage from Chaplin's films and life with dramatic re-enactments of not just key events but audio recordings and interviews with Chaplin that have never been made widely available to the public before. 
Paul Ryan ("The Trial of Christine Keeler") and Jeff Rawle ("Harry Potter and the Goblet of Fire") play Chaplin at different points in his life in the film, with Dominic Marsh ("Doctors") co-starring as Kevin Brownlow, the real-life film historian and author of the 2010 book "The Search for Charlie Chaplin." Charlie Carter ("EastEnders") similarly co-stars as David Gill, the film historian who co-wrote and co-directed the 1983 documentary series "Unknown Chaplin" with Brownlow. 
Last but certainly not least, Pearl Mackie — who's perhaps best known for playing the Doctor's companion Bill Potts during Peter Capaldi's run on "Doctor Who" — serves as the narrator leading audiences on their journey to meeting "The Real Charlie Chaplin."
The Real Charlie Chaplin Director, Writers, and More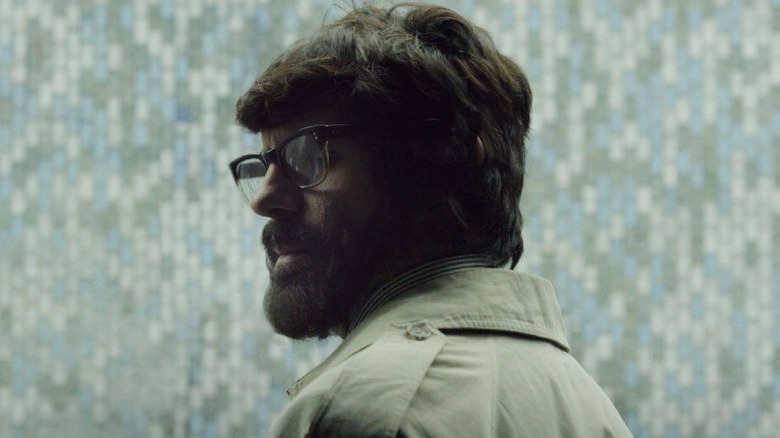 Artificial Eye
Calling the shots on "The Real Charlie Chaplin" are Peter Middleton and James Spinney. The duo previously directed 2016's "Notes on Blindness," a critically acclaimed documentary based on writer and theologian John M. Hull's audio cassette recordings and autobiography about his experiences after going blind in his late 40s. Middleton, Spinney, and Oliver Kindeberg (a relative unknown) also share writing credit on "The Real Charlie Chaplin," with James Blann ("The Mystery of D.B. Cooper") acting as cinematographer and Julian Quantrill ("Next Goal Wins," "Notes on Blindness") serving as editor.
Early reviews for "The Real Charlie Chaplin" are generally positive, which is encouraging, given how easy it would've been for the movie to merely retread the same ground as the many Chaplin documentaries before it. For those who are unfamiliar with the filmmaker's personal life and/or want to see his legacy re-evaluated from a modern, Me Too-era vantage point, this might even be the perfect primer on the subject.
The Real Charlie Chaplin Trailer and Synopsis
Having unprecedented access to the Chaplin archives, THE REAL CHARLIE CHAPLIN blends dramatic reconstructions with never-before-heard recordings, intimate home movies, behind-the-scenes material, and newly restored classic films to reveal a side of the worldwide icon that – until now – has been shrouded in mystery. Tracing back a century ago – when Chaplin first stepped onto the screen – the film recounts his meteoric rise from the slums of Victorian London to the heights of Hollywood superstardom to his scandalous fall from grace. For decades, he was the most famous man in the world. But who was THE REAL CHARLIE CHAPLIN?