Why You Never Hear Vigo's Real Voice In Ghostbusters II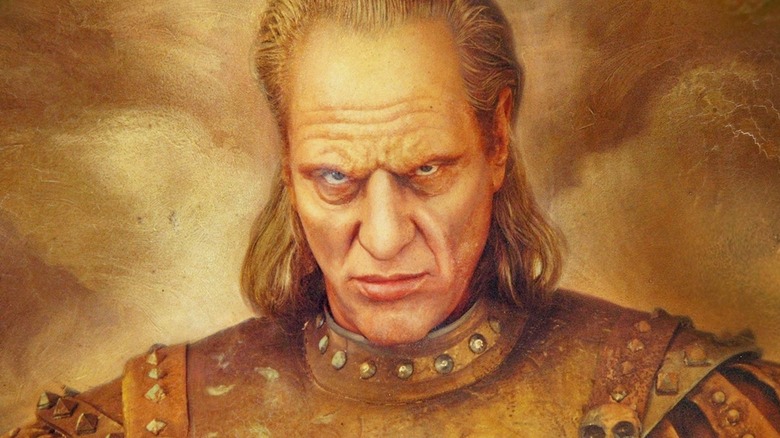 Columbia Pictures
"Ghostbusters II" is proof that sometimes the worst thing a sequel to a hit movie can be is "disappointing." Far from a flop upon its release, director Ivan Reitman's 1989 followup to his beloved 1984 horror-comedy earned middling reviews and turned a healthy profit while falling well short of its predecessor's box office gross. This was enough to sour franchise mainstay Bill Murray on the idea of making "Ghostbusters III" for 20-plus years, but not so much as to convince Sony to reboot the property until after Harold Ramis passed away in 2014.
It's since become popular to argue that "Ghostbusters II" isn't as bad as you remember and, honestly? It isn't ... With some caveats. Much like certain modern legacy sequels bank too much on audiences' nostalgia, the movie rehashes a lot of what worked in the first "Ghostbusters" (be they plot points, jokes, scares, or even montages) to diminished returns, rather than forging a new path. However, "Ghostbusters II" also has a better human antagonist and clearer message, evolves Murray's Peter Venkman from a borderline sex pest into more of a harmless rascal who, surprisingly, embraces fatherhood — and when it wants to be scary, it's dang scary.
Case in point: the film's supernatural villain, Vigo the Carpathian, a genocidal sorcerer turned baby-napping haunted painting brought to physically intimidating life by German boxer, wrestler, and actor Wilhelm von Homburg. But while he boasts an equally menacing voice, we can't give Homburg credit for that aspect of the character.
Who's the Voice Behind the Painting?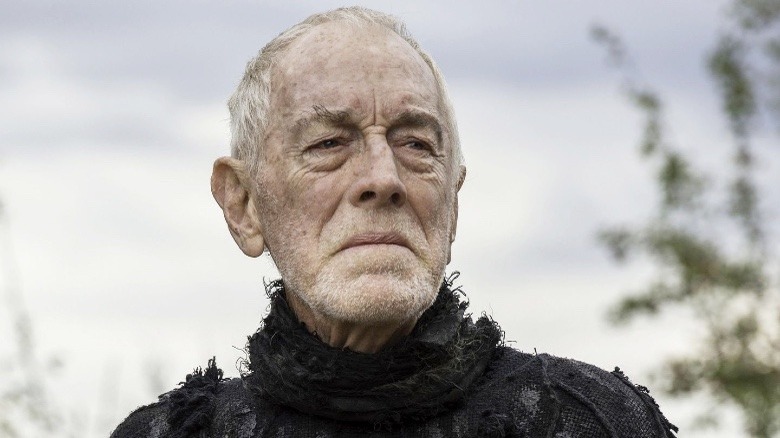 HBO
Homburg did, in fact, voice Vigo during filming on "Ghostbusters II," but his lines were later re-dubbed during post-production after it was decided his delivery was too slurred and unrefined for the specter of the self-described "Scourge of Carpathia, the Sorrow of Moldavia." Adding insult to injury, Homburg wasn't informed of this ahead of the movie's premiere and stormed out of the screening when he learned this information firsthand.
Ultimately, it was Max von Sydow who voiced Vigo's lines in "Ghostbusters II." The Swedish screen icon starred in no less than 11 movies helmed by Swedish auteur Ingmar Bergman, most notably 1957's "The Seventh Seal" (where Sydow portrayed Antonius Block, the knight who played literal chess with Death). Sydow continued to act until his death at 90 in 2020, working with such esteemed directors as Steven Spielberg ("Minority Report"), Martin Scorsese ("Shutter Island"), and Ridley Scott ("Robin Hood") along the way. He even played the Three-Eyed Raven in "Game of Thrones" season 6 after Struan Rodger brought the mystical character to life in Season 4.
Homburg (born Norbert Grupe), on the other hand, appeared in a handful of Hollywood films after "Ghostbusters II" before his acting career fizzled out and he passed away from cancer in 2004. (His greater life story is even darker, if you can believe it.) And while his "Ghostbusters II" villain was fully named Vigo Von Homburg Deutschendorf in his honor, one imagines that didn't mean much to him.