The Only Piece Of Movie Memorabilia Jimmy Stewart Ever Kept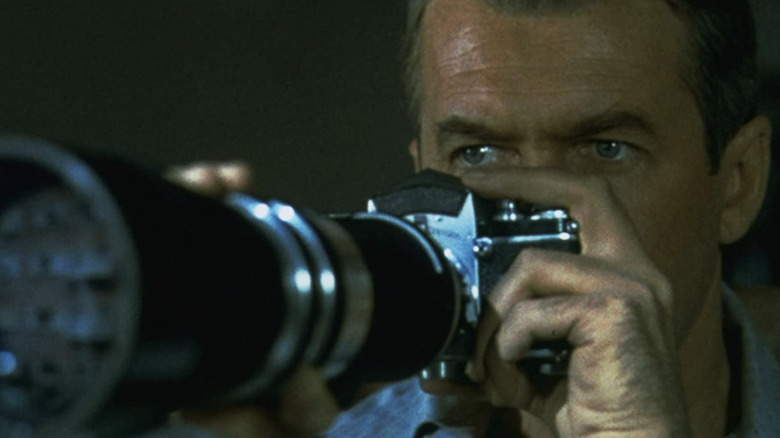 Paramount
With a career as storied as James Stewart's, one might imagine that when Stewart was alive, his home would have been a shrine to the memorable roles he played in some of the world's most beloved movies. It turns out the opposite is true: late in his life, Stewart's house had almost no signs of his life on the big screen. There was one piece of memorabilia displayed prominently in his home that served as a touching reminder of his long hours spent on movie sets, but it's not what you might expect.
As Easy As Pie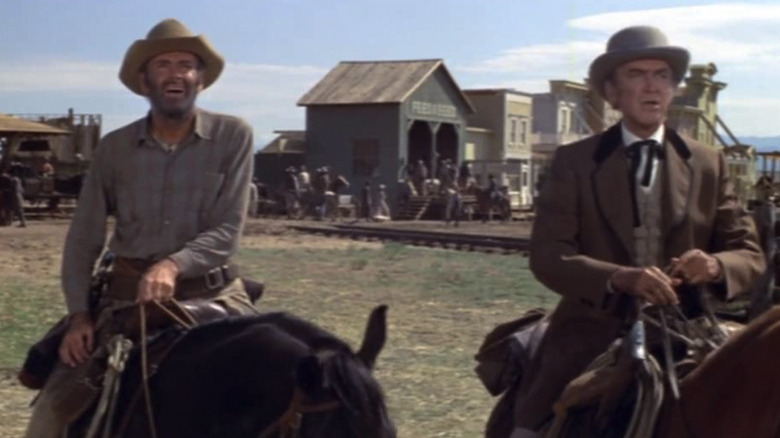 National General Pictures
According to Tom Hanks, who once visited the veteran actor's home, there was practically no sign of Stewart's legendary career to be seen displayed the man's house: except for a painting of a very special horse named Pie. As Hanks explained to Stephen Colbert, Stewart rode the same horse across multiple movies for more than twenty years, including on a 1970 western called "The Cheyenne Social Club," and the painting came from a dear friend of Stewart's: his co-star on that movie, Henry Fonda.
In an interview with the British Film Institute, Stewart described Pie like this: "He was a little bit small, a little quarter horse and Arabian. I got to know him like a friend. I actually believed that he understood about making pictures. I ran at a full gallop, straight towards the camera, pulled him up and then did a lot of dialogue and he stood absolutely still. He never moved. He knew when the camera would start rolling and when they did the slates. He knew that because his ears came up."
In that same interview, Stewart explained how the painting came into his life:
"And the last picture that Hank Fonda and I made, The Cheyenne Social Club, Pie was getting old. We did it in Santa Fe, New Mexico. Pie got sick and I couldn't use him the whole time. And, unbeknownst to me, Hank painted a picture of the horse in watercolour. He's an excellent artist – watercolours, oils, ink, lithograph, anything. He has an amazing talent. When we got home, he brought me the picture and two days later Pie died. It was a great loss. But I have Pie in our library and I consider him a friend."
You can see a photo of Stewart with the painting here.
The long-lens camera from "Rear Window," Zuzu's petals from "It's a Wonderful Life," the rope from "Rope" – there's no shortage of options Stewart could have kept to commemorate his outstanding film career. But it says a lot about Stewart's taste and what he valued in life that his friend's watercolor painting of his on-screen horse was the one piece of memorabilia he treasured.