Ozark Season 4 Teaser: Marty Byrde Looks Back On The Sins Of His Past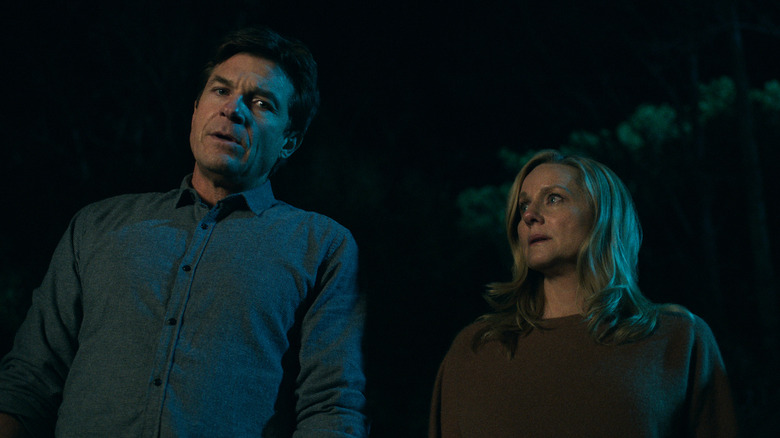 Netflix
In a way, the Byrde family is flying high. Four seasons into the Netflix crime drama "Ozark," they've managed to avoid being murdered by various mob bosses and angry criminals, and now find themselves welcomed into the inner circle of Omar Navarro (Felix Solis), leader of the Mexican drug cartel. By some metric, somewhere, this is a positive, right? And yet, the Byrdes have never been more in danger.
"Ozark" is set to close with its fourth season, split into two seven-episode parts. And when it comes to the question of where this damaged family goes from here, all we can do is look to their past. It shouldn't be too hard to trace their story back to the beginning — the path is soaked in blood. A new season 4 teaser from Netflix reflects on the many terrible decisions the Byrde family has made, hinting at the darkness that awaits them in season 4.
Ozark Season 4 Teaser
"Human beings make decisions, they commit acts. And that makes things happen." In the final chapter of his story, Marty Byrde (Jason Bateman) is ready to take some responsibility. The teaser reveals nothing new, instead reminding us of crucial moments tragedies from seasons passed.
The Byrde's came to the Ozarks like a whirlwind, and sure enough, all the disastrous events highlighted in this teaser lead back to them. What feels like a lifetime ago, Marty Byrde was a simple Chicago-based financial advisor with a terrible marriage. Also, he was laundering money for a Mexican drug cartel, but just as a side gig, ya know? Now, it's become his whole life. To save his family from a painful death at the hands of said cartel, Marty moved them to the Ozarks, where he could launder money at an even grander rate — now with some assistance from his wife and kids! But their little family affair has gotten way out of hand, and this family has buried more lives than they're willing to claim responsibility for. As Marty says in the teaser, even a single decision can create snowball effect.
This glimpse at the past also came with insight for the future — we now have a logline for "Ozark" season 4, which you can read below, along with some first-look photos at season 4.
Marty and Wendy are rid of Helen and climb to the top of Navarro's empire. They find another opportunity to get out of the Ozarks but some past sins won't stay buried and the most dangerous threats come from blood.
Sneak Peek at Ozark Season 4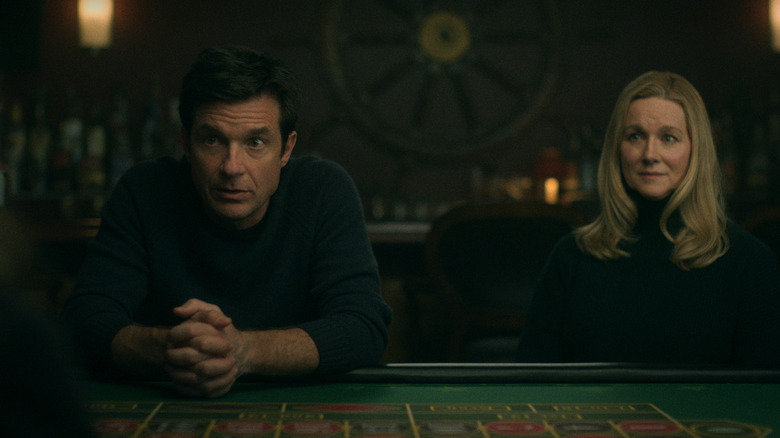 Netflix
Season 3 of "Ozark" concluded with Navarro choosing the Byrdes over his cartel lawyer, Helen Pierce (Janet McTeer), deciding that her services could be provided by someone else. To him, Marty and Wendy (Laura Linney) are currently valuable assets. That puts them right in the lion's den, literally covered in blood, though luckily it's not their own. But killing Helen right in front of their eyes also doubled as a message: this could be you.
Going into the next season, their past mistakes are sure to haunt them. Along with scheming enemies, Marty and Wendy lost one of their most reliable allies in Ruth Langmore (Julia Garner), who's hitched her wagon to Darlene's (Lisa Emery) heroin operation. 
At the same time, even their children have grown doubtful, as young Jonah (Skylar Gaertne) recently discovered the truth behind his uncle's death — moments after threatening to murder Helen Pierce. While Charlotte (Sofia Hublitz) seems to have accepted her family's criminal status, she spend previous seasons trying her hardest to escape, including an emancipation attempt.
Along with the many beloved returning characters pictured above, the fourth season is also introducing some new players to the mix. 
Alfonso Herrera arrives on the scene as Javi Elizonndro, Navarro's power-hungry nephew, who is "tired of playing the obedient lieutenant and looks to seize power for himself."
Adam Rotherberg will star as Mel Sattem, a disgraced ex-cop-turned-P.I. who arrives to get Helen's signature for her divorce papers and stumbles upon the Byrdes' dirty laundry. This is the start of a very familiar tale — yet another person is about to be mixed up in the Byrdes deadly mess by unfortunate coincidence. Mel is present to investigate Helen but when he catches the Byrdes in a lie, the consequences may be dire.
Another newcomer is Katrina Lenk as Clare Shaw. The CEO of a leading biopharmaceutical company, Shaw cuts a "deal with the Byrdes and learns the true cost of power." These new characters, the ominous teaser and this latest sneak peek at the season are all laying track for a messy end to the Byrde story. So far, they've always managed to walk away with their lives but now that we're in the endgame, there's no telling what they'll be up against.
Season 4 of "Ozark" streams on Netflix January 21, 2022.