The One Scene In Goodfellas That Wasn't Directed By Martin Scorsese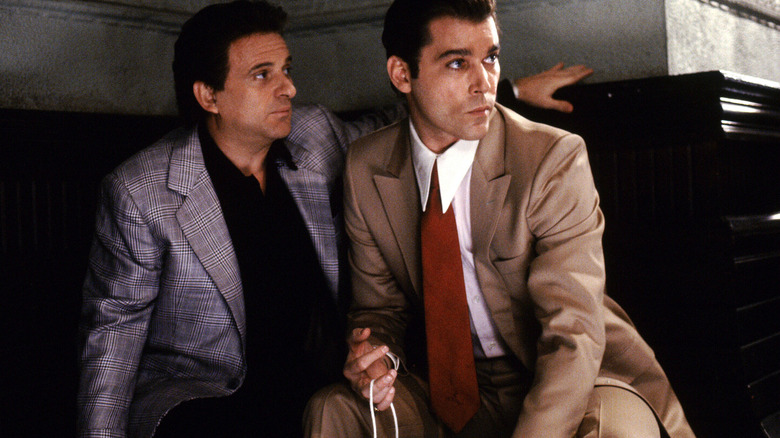 Warner Bros
You probably don't need me to tell you that Martin Scorsese is one of our greatest living directors, and any conversation about his work inevitably touches upon those iconic cinematic moments he's given us over the past five decades. Then you know it won't be long before someone mentions the Copacabana scene in "Goodfellas," the stunning steadicam shot that takes us from the street, through the kitchens, and out across the swanky club to a prime spot for a dinner show.
If Scorsese had us at the line, "Ever since I can remember, I always wanted to be a gangster," this scene is the moment when he completes his seduction, making us feel like we want to be gangsters, too. The opening scenes of "Goodfellas" put us right in the shoes of Henry Hill (Ray Liotta), a young Brooklyn kid who grows up idolizing the wiseguys on his block before eventually becoming one of them.
There are many other examples of Scorsese's virtuosity in this classic mob epic. Watch how effortlessly he transfers us into young Henry's POV early on, using subjective shots so we come to see the story through his eyes. The unbearable tension and release of the "Funny how?" scene. The sheer ridiculous brilliance of the "Last Day as a Wise Guy" sequence.
Yet among all this, there is also one scene where Scorsese chose not to call the shots...
Sounds interesting. Where do we find this scene?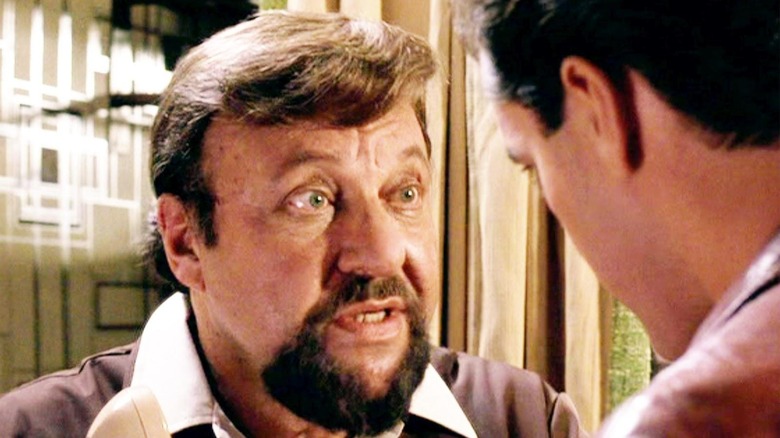 Warner Bros
One of the colorful characters we meet in "Goodfellas" as we follow Henry's rise-and-fall is Morrie Kessler (Chuck Low), a low-level associate of the Lucchese crime family and purveyor of some rather unconvincing wigs. Morrie is harmless, but he's got a big mouth and he's incredibly annoying. After Hill and his friend Jimmy Conway (Robert De Niro) pull off the record-breaking Lufthansa heist, poor old Morrie just can't stop badgering Jimmy for his cut of the money. Jimmy isn't the kind of guy you want to pester, and Morrie is finally silenced when Conway starts bumping off all the people who could incriminate him.
Earlier on in the movie, it is Jimmy chasing Morrie for some cash. Along with Henry, Jimmy visits Morrie's Wig Shop to collect on a debt — plus an exorbitant "vig." Despite Henry's pleas to be reasonable and cough up the dough, Morrie's in no mood for paying. Jimmy eventually snaps and starts throttling the toupee salesman with a telephone cord, causing Morrie's own rug to come unstuck, much to Henry's amusement.
This scene opens with a crappy TV commercial for the wig shop, starring Morrie himself, which is the reason why Morrie borrowed money from Jimmy in the first place. Scorsese might have already received two Oscar nominations for best director to that point, but when it came to making the ad for Morrie's Wig Shop, he decided to turn to an expert...
Who directed the Morrie's Wig Shop commercial?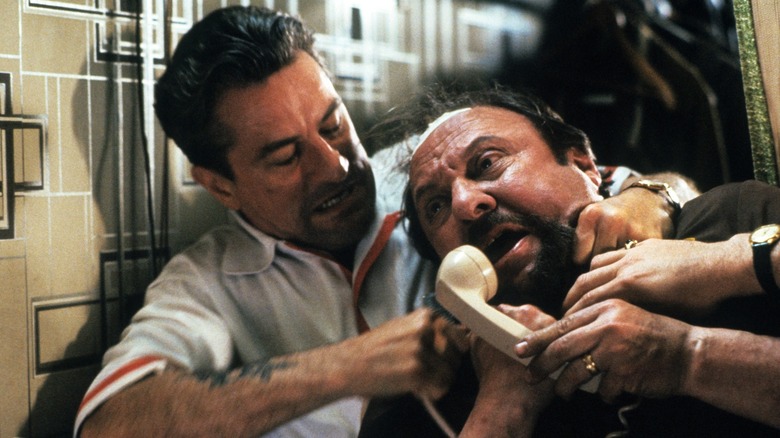 Warner Bros
Scorsese saw a low-budget advert on TV for a replacement windows company and decided it was exactly what he wanted for the Morrie's Wig Shop commercial. He contacted the company, Aalco Windows, and found out that the owner, Stephen R. Pacca, both starred in and directed it. Originally intending to bring him on board as a consultant, Scorsese decided to hand the whole project over to Pacca.
Pacca, in his distinctive low-tech style, wrote, directed and edited the ad, as well as finding the locations and using his own technical staff – ie. Aalco employees – to film it. According to first assistant director Jason Reidy (talking in GQ's oral history of "Goodfellas") the commercial was the first scene of the production, made a week before cameras rolled on the rest of the film. Scorsese wanted it that way so his crew wouldn't interfere with Pacca's work and make it look more professional.
The end result is absolutely perfect for Morrie's Wig Shop; of course a cheapskate like Morrie would have a naff commercial like that. Thanks to Scorsese's willingness to step back and leave it to the experts, Stephen R. Pacca, who passed away in 1994, has one credit on IMDb: "Goodfellas." Not bad for a guy who made a living selling windows.