Watch: The Halloween Episode Of Chucky Is Now Online For Free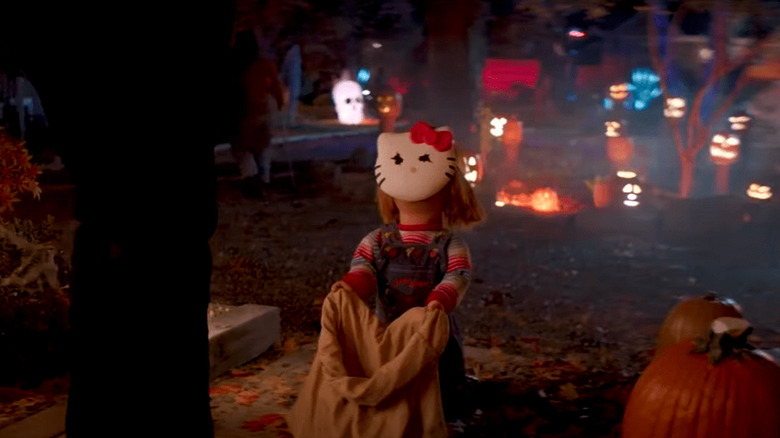 SYFY
The "Chucky" TV series just gave us something we never knew we needed until now: Chucky wearing a Hello Kitty mask. Chucky dons the mask to blend in during Halloween in the latest episode of the SYFY series. And if you're still waiting to check the show out, you can watch that second episode – titled "Give Me Something Good to Eat" – online, for free, right now. The Hello Kitty moment is a brief, but memorable, moment, with Chucky strolling along amongst other trick or treaters. "Surely, someone will notice this is a walking doll," you might think. But no. That's not how things work in the world of "Chucky." So put on your Good Guy overalls, comb your hair to the side, and watch the full Halloween episode of "Chucky" below. 
Chucky Episode 2
"Child's Play" is my all-time favorite horror franchise – yes, really – so I was excited for "Chucky," the new SYFY series set within the continuity of the original movies (let's all ignore that remake, shall we?). That said, the first four episodes of the show, which I've seen, left me a little cold. Don't get me wrong – I'm happy to have Chucky creator Don Mancini still working in this world, and it's great to have Brad Dourif back as the voice of Chucky. But there's just something off about the show for me – but I will definitely be sticking with it in the hopes it gets better. 
For now, though, you can watch the second episode of the show for free above. The second episode is set during Halloween, which gives Chucky a chance to wear a Hello Kitty mask – and it's adorable. Chucky also has some fun with a razor blade in an apple, because of course he does. The next episode of the show airs on October 26, 2021, so you should probably catch-up now! And here's the show's synopsis for good measure. 
Chucky Synopsis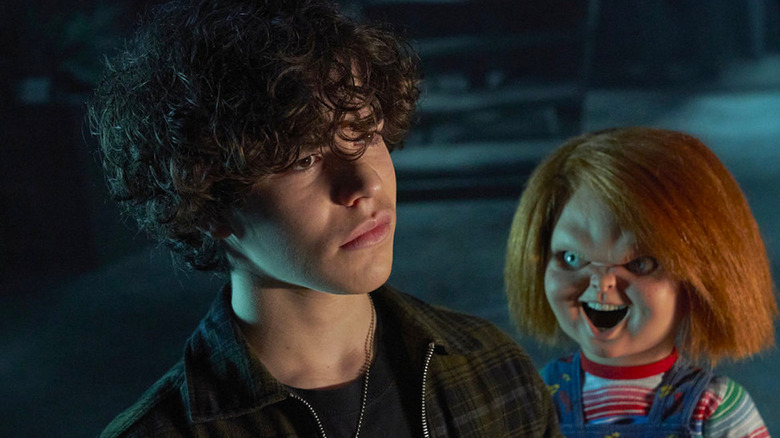 SYFY
Here's the "Chucky" synopsis: 
In the new CHUCKY television series, an idyllic American town is thrown into chaos after a vintage 'Good Guy' doll turns up at a suburban yard sale. Soon, everyone must grapple with a series of horrifying murders that begin to expose the town's deep hypocrisies and hidden secrets. Meanwhile, friends and foes from Chucky's past creep back into his world and threaten to expose the truth behind his mysterious origins as a seemingly ordinary child who somehow became this notorious monster. CHUCKY is produced by UCP and executive produced by creator Don Mancini, David Kirschner, Nick Antosca and Alex Hedlund. Harley Peyton will also serve as executive producer. Mancini, who penned the film franchise, wrote the television adaptation, will direct the first episode and serves as showrunner.