Superhero Bits: DC FanDome Edition: The Flash Finally Gets Gold Boots, Catwoman: Hunted Trailer & More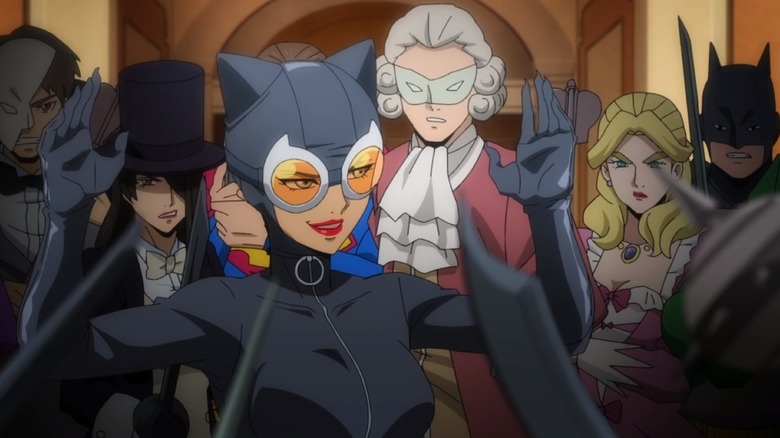 Warner Bros.
(Superhero Bits is a collection of stories, updates, and videos about anything and everything inspired by the comics of Marvel, DC, and more. For comic book movies, TV shows, merchandise, events, and whatever catches our eye, this is the place to find anything that falls through the cracks.)
In this special DC FanDome edition of Superhero Bits:
Watch the "Catwoman: Hunted" trailer
Find out about the upcoming DC Comics animated movies
Get a first look at The CW's "Naomi"
"The Flash" on The CW gives Barry Allen his gold boots
McFarlane Toys Reveals New Goods
Todd McFarlane popped by DC FanDome to dish on some upcoming products coming from McFarlane Toys. Per DC, here is some of what fans can expect next year:
In 2022, McFarlane Toys will release a new statue, Joker: Purple Craze, based on Greg Capullo's frightening "faceless Joker" from Batman: Death in the Family; continue the incredibly popular Batman Black & White line and release new statues based on The Batman in time for its theatrical release.
Monkey Prince Gets His Own Comic Book Series In 2022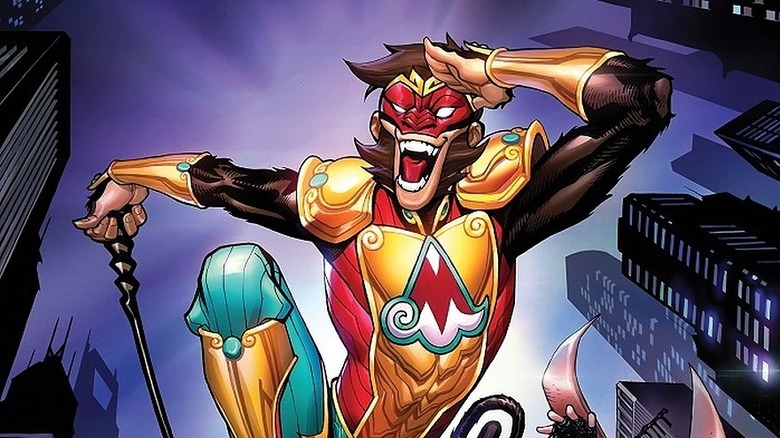 DC
Inspired by the 16th-century Chinese novel "Journey to the West," DC's shape-shifting hero Monkey Prince, a.k.a. Marcus Sun, is returning to headline his very own series next year. A cover by artist Bernard Chang with colorist Sebastian Chen, and a variant cover by artist Stanley "Artgerm" Lau, were debuted during FanDome. The first issue of "Monkey Prince" will also have a special team variant cover by artist Zao Dao. The book will continue the adventures witnessed in "DC Festival of Heroes: The Asian Superhero Celebration #1," which hit stands in May. "Monkey Prince" is scheduled to hit shelves in February 2022. Be on the lookout.
My Adventures With Superman Art
As shared via IGN, DC FanDome included an early look at the upcoming animated series "My Adventures with Superman." The series is currently in production and will center on Clark Kent, Lois Lane, and Jimmy Olsen. The series does not yet have a release date. 
DC Heroes & Villains Video Game Teaser
Also revealed during the event was a brand new mobile game, "DC Heroes & Villains." While no firm released date has been set, it is expected in early 2022. Here's the official synopsis
A mysterious pulse has stripped away all super powers, and it's up to you to assemble the ultimate super team and fend off this galactic threat. Become the master with your very own team of DC Super Heroes and Super-Villains, and prepare for epic battles in this all-new puzzle RPG game! Explore iconic locations from the alleyways of Gotham City to the depths of Atlantis, and prepare for epic battles. Build your very own team of fan favorite DC Super Heroes, Super-Villains or both, and become the master in RPG Puzzle games to wipe out your enemy and survive extinction. Strengthen your team and unite with others across the universe. Work together to defeat foes and bosses for awesome rewards in limited time events.
Wonder Woman: Trial of the Amazons Announced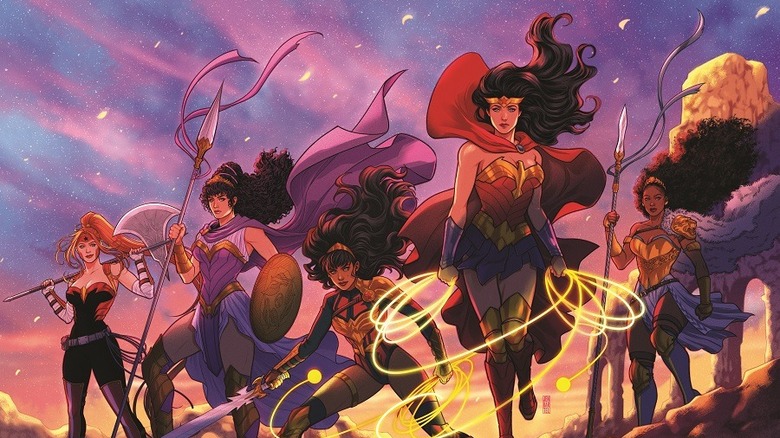 DC
On the comics front, DC announced a massive crossover event that will affect the future of the Amazons, appropriately titled "Trial of the Amazons." Here is the logline for the event:
In this event, which will affect all corners of Wonder Woman's world, Diana and Queen Hippolyta leave Nubia to lead the Amazons of Themyscira. In the process, Yara Flor, aka Wonder Girl, and Nubia find themselves in the heart of a power struggle that will redefine the future of all the Amazonian tribes!
Writers for the series include Becky Cloonan, Michael Conrad, Vita Ayala, Stephanie Williams, Joelle Jones, and Jordie Bellaire. The action will kick off in "Nubia & The Amazons" #1, on sale October 19.
The Flash Season 8 Finally Gives Barry Allen Gold Boots
"The Flash" is returning for its eighth season later this year, with Grant Gustin once again suiting up as Barry Allen. One huge change will be made to the suit this year though, with the speedster finally getting his signature gold boots. A new look at the suit was revealed at DC FanDome, which we've included for you to check out above.
Naomi First Look Revealed
Ava DuVernay's "Naomi" is the latest DC superhero series coming to The CW in 2022. During the event, a first-look clip was revealed, offering our first taste at what's to come in what appears to a very different type of show within the ArrowVerse fray. The series is based on the comic book by Brian Michael Bendis, David F. Walker, and Jamal Campbell, with Kaci Walfall starring in the lead role. Be sure to check out the clip for yourself above.
DC Animated Movies Galore
🚨FILMES ANIMADOS DA DC EM 2022 #DCFanDome

•Catwoman
•DC Showcase - Constantine: The House of Mystery
•Teen Titans Go! vs Superhero Girls
•Green Lantern: Beware My Powers
•Battle of the Super Sons pic.twitter.com/EvCZvzDgNN

— DC Brasil #DCFandome (@_DCCBRASIL) October 16, 2021
DC did not skimp on the animated movie announcements during the event. Aside from "Catwoman: Hunted" (more on that in a bit), several other projects were announced. These movies include "Teen Titans Go! & DC Super Hero Girls: Mayhem in the Multiverse," "Green Lantern: Beware My Power," and "Battle of the Super Sons," as well as the short, "Constantine: House of Mystery." We'll be sure to keep you posted as further updates on the projects come our way.
Catwoman: Hunted Trailer
Last, but certainly not least, we got a trailer for the upcoming animated flick "Catwoman: Hunted." Not only does it involve Selina Kyle, but Batwoman is getting in on the action for this one as well. Here is the movie's official synopsis:
In the all-new original Catwoman: Hunted, Catwoman's attempt to steal a priceless jewel puts her squarely in the crosshairs of both a powerful consortium of villains and the ever-resourceful Interpol, not to mention Batwoman. It might just be enough to contain her. Or not.
"Catwoman: Hunted" is set to arrive on 4K Ultra HD, Blu-ray, and Digital on February 8, 2022.