The Best Halloween Movies On Hulu You Can Stream Right Now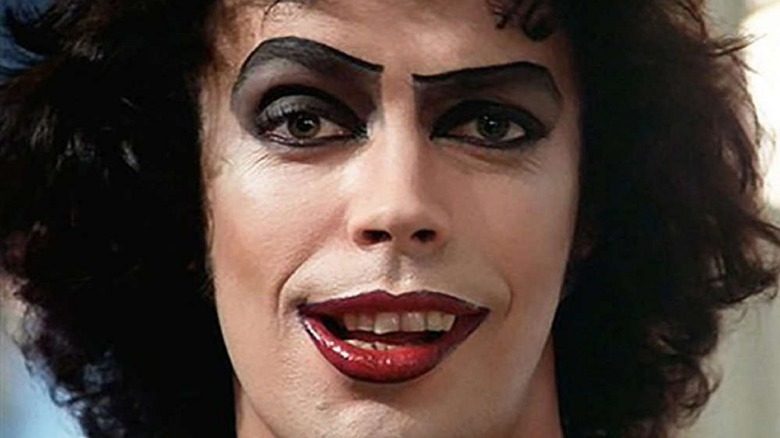 20th Century Fox
Fall is in the air and the spooky season is officially upon us. With All Hallow's Eve right around the corner, it's time to begin preparing your Halloween movie marathons. However, with more and more Halloween flicks arriving every year, it can be hard to determine what to watch as you carve pumpkins, make costumes, and greet trick-or-treaters.
That's why we've compiled the best Halloween movies on Hulu that you can stream right now. Yes, there are some horror films here, but Halloween is about more than simply being scared. Atmosphere, design, and fun and spooky iconography play a big part in the holiday, too. On Hulu, you'll find everything from fun animated fare to campy musical classics to sendups of horror favorites. That's the nice thing about Hulu's Halloween selection: The service has something every Halloween fan can enjoy.
Thelma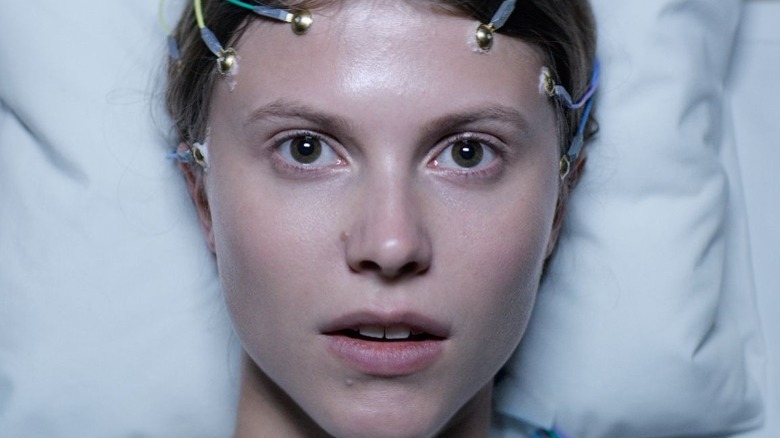 Motlys
The only non-English language film on this list, "Thelma" is a queer paranormal thriller set in Norway. The film follows the eponymous Thelma (Eili Harboe), a sheltered young woman who goes to university in Oslo against the better judgment of her strict and religious parents. At college, Thelma experiences the world outside of her quiet and insular countryside home for the first time and begins to learn more about herself and those around her.
Though she's lonely, Thelma makes friends with another student, Anja (Kaya Wilkins), who awakens surprising feelings inside of her. As she gets to know Anja, the feelings take the form of seizures that appear to be paranormal manifestations. As their relationship deepens, Thelma has to determine whether there's something wrong with her, or whether her religious upbringing is simply forcing her to repress her true nature. If you're looking for atmospheric, creepy queer romance this Halloween, "Thelma" is a great choice.
Victor Frankenstein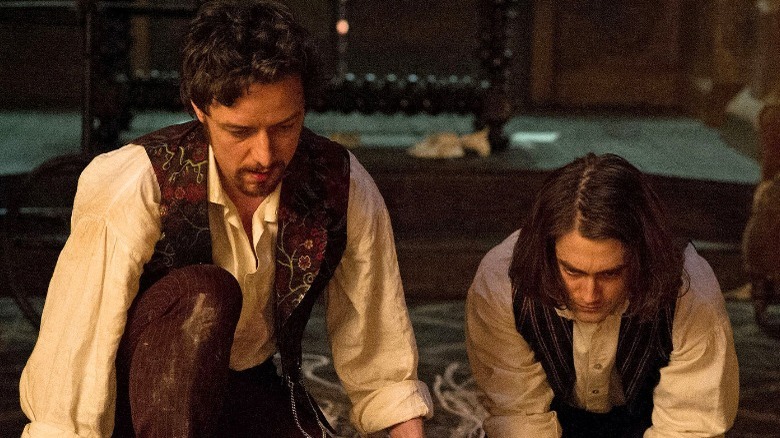 Twentieth Century Fox
A retelling of Mary Shelley's classic story from Igor's (Daniel Radcliffe) perspective, "Victor Frankenstein" begins before the famous lab assistant meets his future master. At the beginning of the film, Igor works for the circus and studies anatomy in his free time. When his unrequited love Lorelei (Jessica Brown Findlay) falls from the high wires, Igor figures out how to save her when no one else can, attracting the attention of a medical student in the crowd, Victor Frankenstein (James McAvoy). Victor takes Igor into his employ and transforms him, getting rid of his hump and enlisting him on his mission to create life.
For fans of creature features, "Victor Frankenstein" provides many gruesome steampunk-inspired moments of monster bashing. The film also sneaks a lot of queer subtext into Victor and Igor's relationship, as the two seem to be more than just friends — just look at how jealous Victor appears to be of Lorelei. If you're looking for a fun reimagining of a classic Halloween tale, look no further.
The Village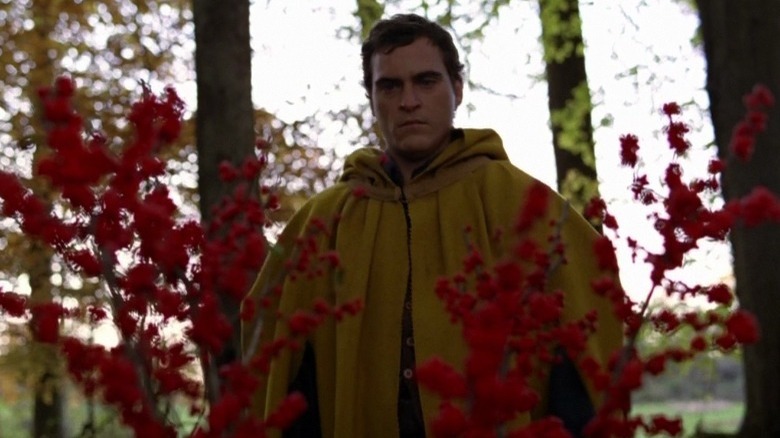 Touchstone Pictures
One of M. Night Shyamalan's best films and a visual masterpiece, "The Village" is set in a quiet countryside village in rural Pennsylvania. By appearances, the residents of the town live in the colonial era and follow strict rules. They wear muted colors and bury the color red any time it appears for fear that it will attract a monster that lives in the woods. However, when a young boy dies at the beginning of the film, Lucius (Joaquin Phoenix) implores the elders to go on a mission outside the village, thinking he can find medicines that might prevent other children from dying. 
The elders don't want anyone to leave, but Lucius' curiosity continues, attracting the attention of Ivy (Bryce Dallas Howard). Right when Lucius and Ivy get engaged, a horrible accident threatens Lucius' life, leading Ivy to take on Lucius' mission herself, despite the fact that she's blind. The incredibly brave Ivy ventures out beyond the village and into the woods, facing the threat of the unknown and the monsters that lie beyond. "The Village" is a beautifully made film with delightfully spooky moments that will absolutely put you in the mood for fall and Halloween.
Edward Scissorhands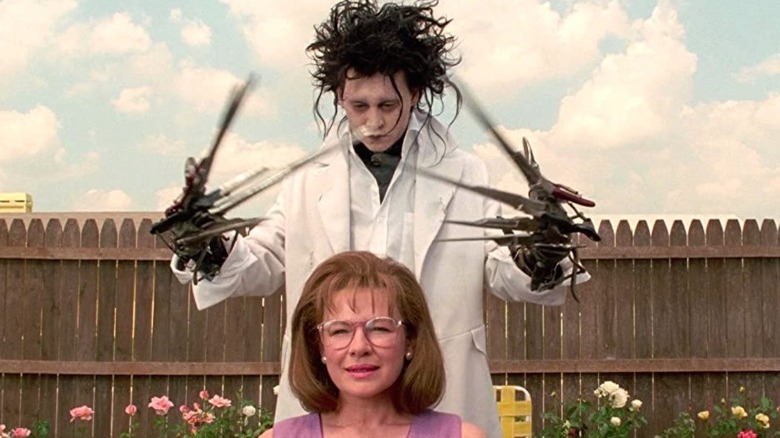 Twentieth Century Fox
A classic and beloved Halloween film, "Edward Scissorhands" is a tragic supernatural romance that stars Johnny Depp as the title character, a robotic boy created by a kind and unconventional inventor (Vincent Price). Sadly, the inventor dies before he can finish his masterpiece, leaving Edward with scissors for hands and a naive understanding of the world. When Peg Boggs (Dianne Wiest), the local Avon lady, knocks on the door of the inventor's abandoned and creepy mansion, she discovers Edward and brings him home to the suburbs to live with her family.
As Peg introduces him to her friends, Edward's talent for haircuts become the talk of the town, although the local teens don't understand him. Edward does manage to connect with one of them, though — Kim (Winona Ryder), the Boggs' daughter. As Edward connects with the Boggs family and the local community, he and Kim grow closer, until one disastrous night strikes and Edward and Kim have to fight for their safety. If you're looking for a paranormal romance this Halloween, "Edward Scissorhands" is a great choice with its fantastical and gothic atmosphere.
Little Monsters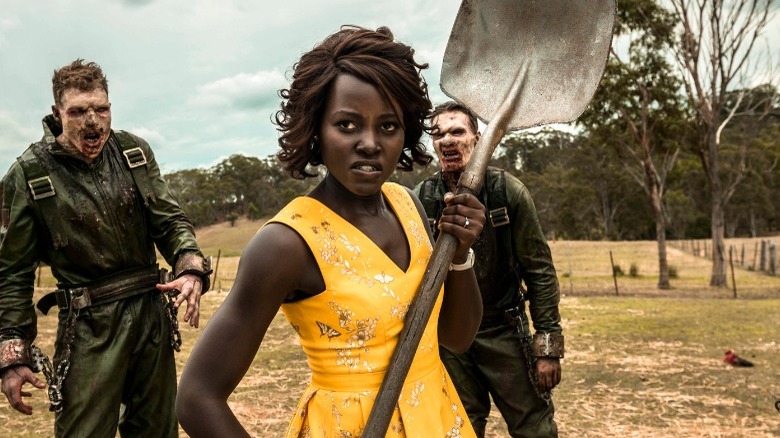 Screen Australia
Set in Australia, "Little Monsters" follows Dave (Alexander England), the washed-up lead singer of a metal band whose girlfriend has just dumped him. Immature and lacking direction, Dave moves in with his sister and nephew while he regroups. When taking his nephew to school, he sees his nephew's kindergarten teacher Miss Caroline (Lupita Nyong'o) and crushes hard, volunteering to chaperone a school trip to a nearby petting zoo. Unfortunately for the kids, the zoo is near a US military facility where testing has gone haywire, leading to a zombie uprising.
As a result, the trip soon goes off the rails and Dave, Miss Caroline, and the zoo's children's entertainer Teddy McGiggle (Josh Gad) have to band together to protect the kids until they're rescued. "Little Monsters" is shockingly sweet and funny despite the gore and violence, with a charming throughline that will keep you watching. If you're looking for funny flicks this Halloween, chances are you'll love "Little Monsters."
The Addams Family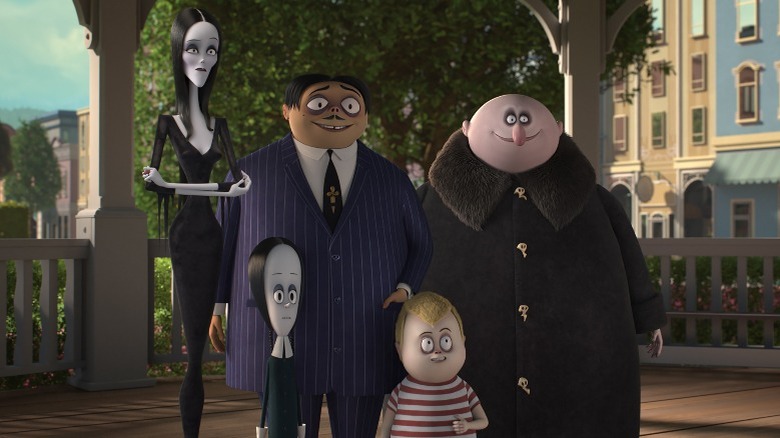 Metro-Goldwyn-Mayer (MGM)
An animated reinvention of the classic television series, "The Addams Family" finds Morticia (Charlize Theron) and Gomez (Oscar Isaac) settling into an old sanitarium to raise their children, Wednesday (Chloe Grace Moretz) and Pugsley (Finn Wolfhard). The family is doing just great in their "altogether ooky" way until an HGTV-style reality television host, Margaux Needler (Allison Janney), moves into town, bringing tourists and visitors upon them. Worse yet, Margaux is developing the neighborhood to sell homes, putting an end to the Addams' solitude.
While Morticia and Gomez look on in concern, Wednesday befriends Marguax's daughter, and both girls begin to rebel against their parents. The film makes good use of its animated format and has an all-star voice cast. With a groovy soundtrack and lots of cute jokes, "The Addams Family" is a safe bet if you're looking for fun, family-friendly Halloween fare.
The Final Girls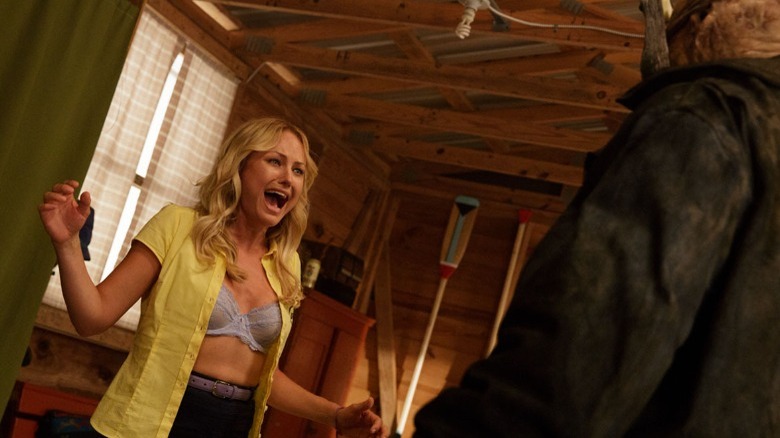 Groundswell Productions
A sendup of classic '80s horror films, "The Final Girls" follows Max (Taissa Farmiga), daughter of Amanda Cartwright (Malin Akerman), the one-time star of the campy '80s slasher series Camp Bloodbath. A year after her mother dies in a tragic car crash, Max and her friends attend a "Camp Bloodbath" retrospective. During the movie, the theatre catches on fire, and Max saves her friends by cutting through the screen to take them to an exit. However, instead of escaping, they end up inside of the film.
Once inside, the girls have to adapt to the movie logic of "Camp Bloodbath" in order to survive, while Max comes face to face with the character her mother played. While Max fights for herself and her friends, she also tries to find a way to save her mother. If you love classic horror films, you'll love this smart take on genre, which boasts both a strong, beating heart at its center and an excellent ensemble cast.
Odd Thomas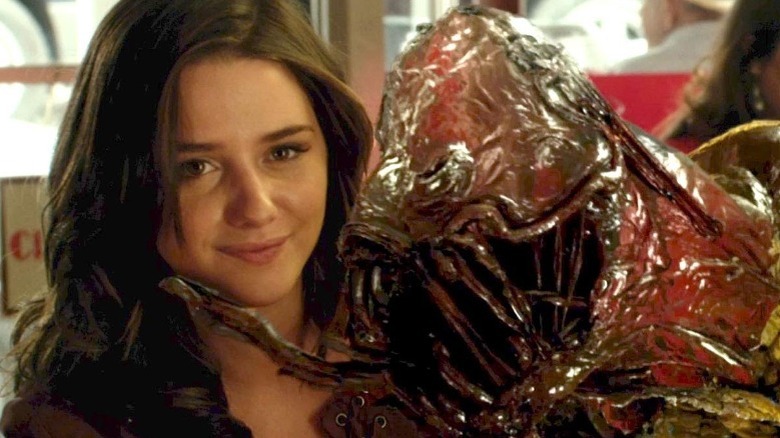 Fusion Films
Based on the novels by Dean Koontz, "Odd Thomas" follows the eponymous title character, Odd (Anton Yelchin), a kind, brave, and quiet man with psychic abilities. Aside from spending time with his girlfriend, Stormy (Addison Timlin), Odd mostly keeps to himself. However, when a group of supernatural beings attracted to death descends on those around him, Odd begins to fear that something bad is brewing in his small California town.
As the film progresses, Odd investigates the mystery along with the help of the local police chief (Willem Dafoe). As he collects clues, including a nightmare from his friend Viola (Gugu Mbatha-Raw), Odd determines that a mass murder is about to unfold. "Odd Thomas" is definitely chilling and haunting in the way it grounds its supernatural elements, but for those looking for a paranormal romance and a heroic performance this Halloween, "Odd Thomas" is a great choice.
The Rocky Horror Picture Show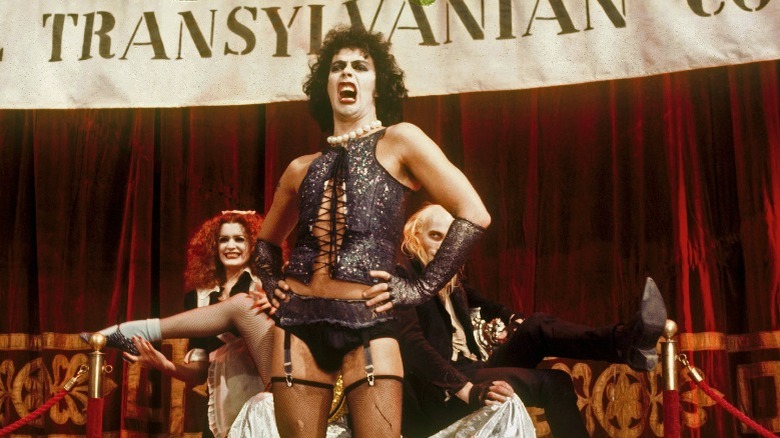 20th Century Fox
"The Rocky Horror Picture Show" has been a Halloween camp classic for nearly as long as it has been around. The film follows a young couple, Brad (Barry Bostwick) and Janet (Susan Sarandon), who stumble on an old mansion on a rainy night. Inside, they meet Dr. Frank-N-Furter (Tim Curry) and his unusual entourage of friends as he hosts a party.
Of course, not everything is as it appears — Dr. Frank-N-Furter soon unveils his latest creation, Rocky Horror (Peter Hinwood), a perfect male specimen who offers both visual and sexual pleasure. Brad and Janet's innocence fades away as they're seduced by Dr. Frank-N-Furter, and campiness ensues. If you want a fun musical classic to watch this Halloween, look no further than "The Rocky Horror Picture Show."
Ghost Team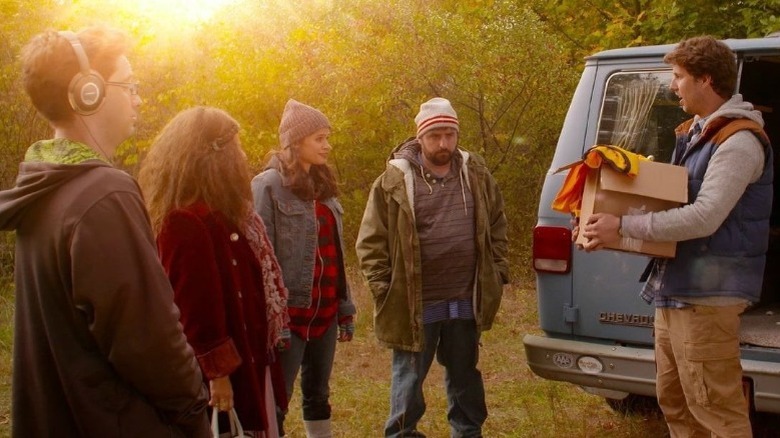 Tandem Pictures
A comedic sendup of television series like "Ghost Hunters" and films like "Paranormal Activity," "Ghost Team" follows a group of paranormal-obsessed friends who decide to form their own group to investigate ghosts and the world beyond. Jon Heder stars as Louis, who is eager to find evidence of the paranormal along with his best friend Stan (David Krumholtz), who is convinced that his wife was abducted by aliens.
The two are joined by a tech whiz (Paul W. Downs), security guard (Justin Long), cable television medium (Amy Sedaris), and researcher (Melonie Diaz), each one of whom has something to prove to themselves and each other. Of course, as they investigate, they get more than they bargained for, as the threat turns out to be very real. For those looking for a paranormal comedy with solid friendships this Halloween, "Ghost Team" is exactly what you need.
Suburban Gothic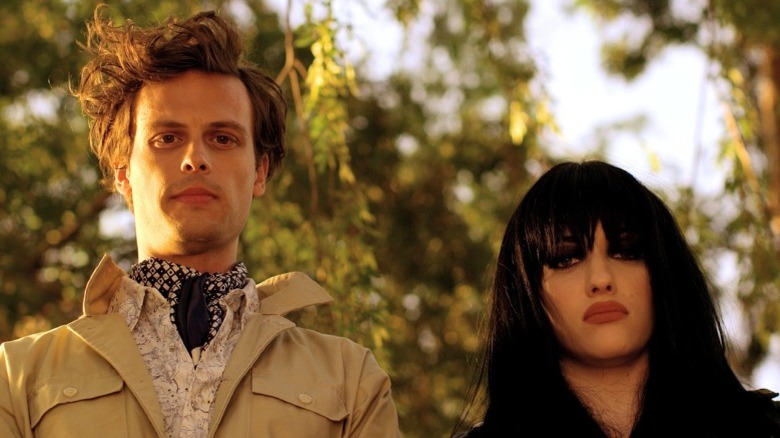 New Normal Films
"Suburban Gothic" follows Raymond (Matthew Gray Gubler), an educated but aimless young man who comes back home to live with his parents after completing graduate school. When he moves back in, he discovers that his childhood home is haunted, and that his long-dormant psychic powers have been reawakened by a seemingly malevolent spirit in the house.
As Raymond works to discover why the house is haunted and how to stop it, he has to combat his controlling father, Donald (Ray Wise), who believes that he's crazy. Meanwhile, Raymond enlists the help of a fearless local bartender, Becca (Kat Dennings), to vanquish the spirit and help prevent his father from committing him. Suburban Gothic has some genuinely creepy moments while maintaining levity and jokes throughout. If you're looking for a lighthearted, but adult, paranormal family comedy with a romance subplot, "Suburban Gothic" is for you.
Attack the Block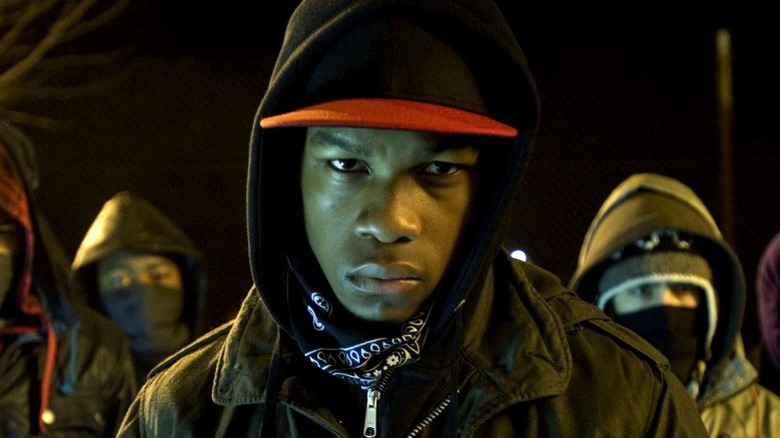 StudioCanal Features
Those looking for extraterrestrial fare this Halloween should watch "Attack the Block." A young John Boyega stars in his breakout role as Moses, the leader of a teenage gang that finds itself forced to defend its neighborhood block from a sudden and unexpected alien invasion.
At the beginning of the film, Moses and his friends mug Sam, a young female nurse, but are interrupted by something crashing down from the sky. As Sam runs away, Moses kills the alien, but fate keeps bringing Moses and Sam back together until they decide to team up to survive, save each other, and protect their block. Fans of Edgar Wright will love the action and comedy at play in "Attack the Block." If you're looking for an action-packed movie with genuine scares, violence, and a unique take on alien invasions, look no further than the out of this world "Attack the Block."
Heathers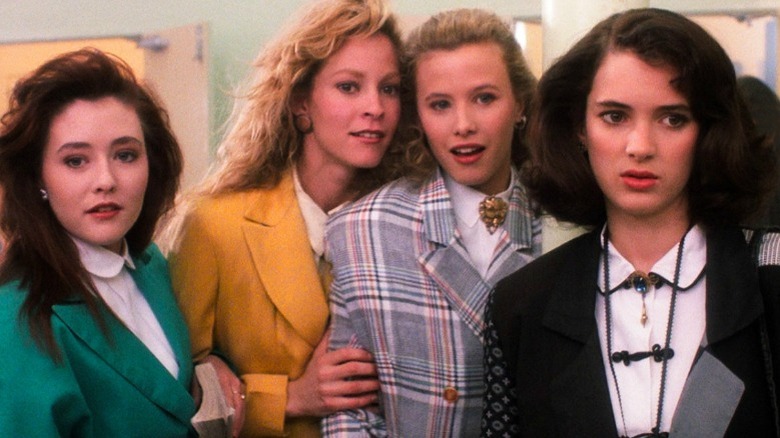 New World Pictures
A black comedy with an edge, Heathers is a great fit for the teen movie slot in your Halloween marathon. This classic '80s flick follows Veronica Sawyer (Winona Ryder), a disaffected teenage girl who attends a highly polarized high school where cliques rule the day. Veronica has infiltrated the Heathers, an elite group of girls who each share the same name. Veronica is the black sheep of the gang, unmoved by the Heathers' cruel behavior and vanity. 
When Veronica meets a new student at school, J.D. (Christian Slater), the two start dating, and he encourages Veronica to externalize her inner qualms about her friends. The two start playing pranks on the Heathers, but things turn murderous and Veronica must decide what kind of person she wants to be. If you're looking for a dark comedy with an edge this Halloween, "Heathers" will fit the bill.
Shirley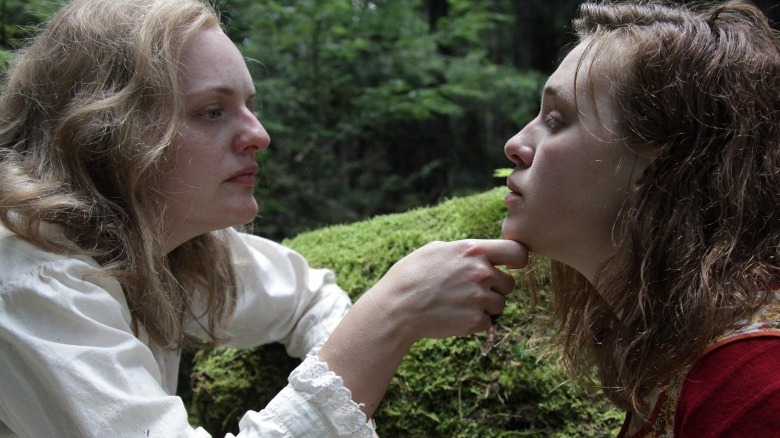 Killer Films
The newest film on the list, "Shirley" is a loose biopic about Shirley Jackson (Elizabeth Moss), the writer of one of the most famous short stories of all time, "The Lottery," and the novel "The Haunting of Hill House." The film follows Jackson soon after the publication of "The Lottery" as she tries to write her next novel, "Hangsaman."
At the beginning of the film, a young married couple move in with Shirley and her husband, Stanley (Michael Stuhlbarg). While the wife, Rose (Odessa Young), works for the household, the husband, Fred (Logan Lerman), works with Stanley at the university. With the two women at home together most of the time, they develop a friendship and romantic tension that inspires Shirley's novel. While the film itself is mostly a story about the two women and their relationships, "Shirley" is an excellent choice for an atmospheric Halloween movie, especially because of the figure at its center.