Win A Snake Eyes Prize Pack, Including A Copy Of The Film On 4K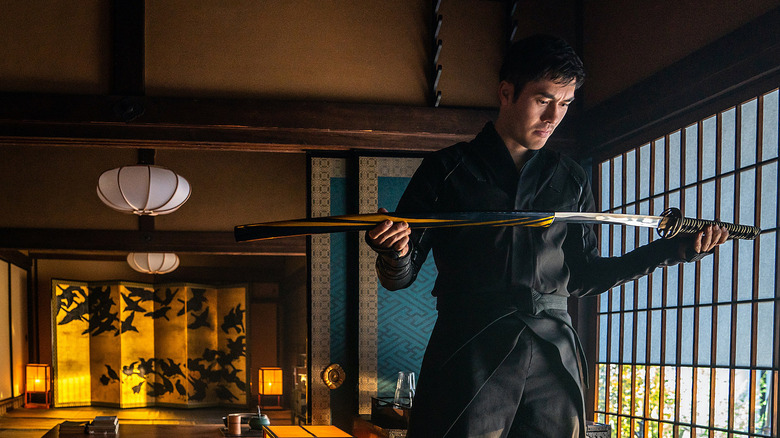 Paramount Pictures
This past year played host to a pretty unusual summer movie season, as moviegoers tentatively made their way back to theaters. Given all the hesitation and extra pandemic caution, it's likely that a few summer blockbusters slipped your notice — but the time for home releases has finally arrived. "Snake Eyes: G.I. Joe Origins" is making its way to home video and on October 19, 2021 and will be available to purchase in digital on 4K Ultra HD, Blu-ray & DVD. To celebrate, we're offering fans the chance to win some cool "Snake Eyes" swag — all you have to do is enter the contest below.
The Contest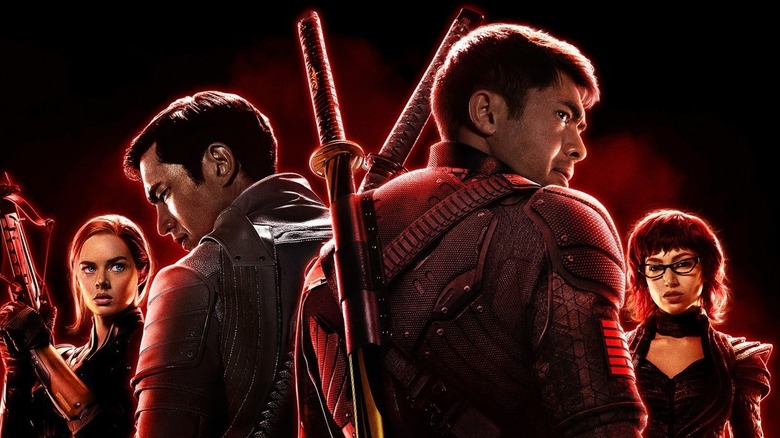 Paramount Pictures
With "Snake Eyes" coming to home video, we thought it only fair to give our lovely readers the opportunity to enjoy the film in 4K Blu-ray. But why stop there? Along with a copy of the movie, winners will receive a "Snake Eyes" t-shirt, pullover, hat, towels, face mask, sunglasses, and two temporary tattoos. Check out the full collection of loot pictured below.
That's right, an entire package of goodies just for you, and the rules are simple. To enter, start by following /Film on Twitter. Then, quote tweet the following Twitter message with an answer to this very important question; "Who is your favorite GI Joe character?"
#SnakeEyes is headed to 4K and Blu-ray tomorrow — and we're giving away some prize packs full of @SnakeEyesMovie swag to celebrate! Follow @slashfilm and quote tweet this with your favorite GI Joe character for a chance to win. pic.twitter.com/iftF0DNvde

— /Film (@slashfilm) October 18, 2021
And since you can't have Snake Eyes without that lucky number two, /Film will randomly select two winners.
Snake Eyes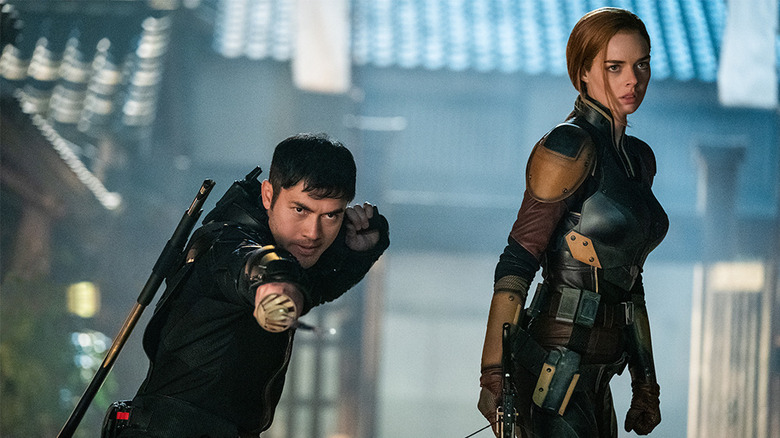 Paramount Pictures
From director Robert Schwentke (Flight Plan, Red, R.I.P.D), "Snake Eyes" tells the origin story of the famous G.I. Joe character as he's welcomed into an ancient Japanese clan called the Arashikage. Played by the ever-charismatic Henry Golding, the budding hero is taught the ways of ninjas, undergoing a series of challenges and tests to prove his place amongst the many warriors. Having spent much of his life searching for home, the opportunity to join their ranks is a gift, but his journey is complicated as secrets from his past are revealed, putting his honor to the test. The film released this past July and for a closer look at the plot, here's the official synopsis:
Snake Eyes: G.I. Joe Origins stars Henry Golding as Snake Eyes, a tenacious loner who is welcomed into an ancient Japanese clan called the Arashikage after saving the life of their heir apparent. Upon arrival in Japan, the Arashikage teach Snake Eyes the ways of the ninja warrior while also providing something he's been longing for: a home. But, when secrets from his past are revealed, Snake Eyes' honor and allegiance will be tested – even if that means losing the trust of those closest to him. Based on the iconic G.I. Joe character.
"Snake Eyes" also stars Andrew Koji, Úrsula Corberó , Samara Weaving, Haruka Abe, Takehiro Hira, Iko Uwais and Peter Mensah.